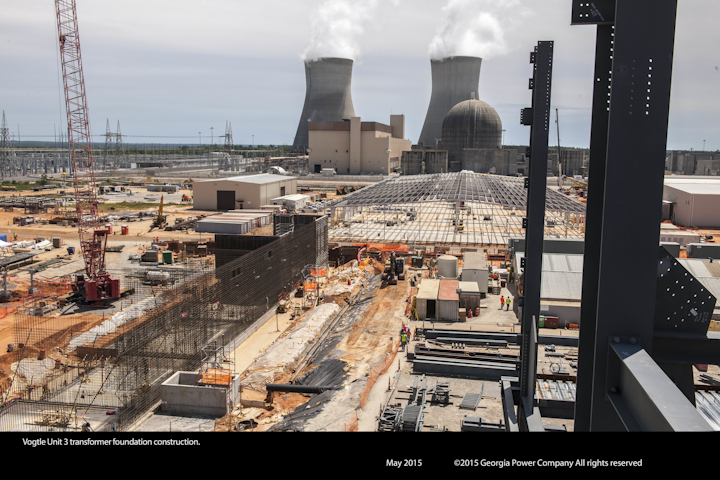 ATLANTA (AP) — The rising cost of building a new nuclear plant in Georgia will swallow most of the $2.7 billion in newfound savings that Southern Co. has publicly touted, a state analyst said Tuesday.
Southern Co. and its partners are building two more nuclear reactors at Plant Vogtle, a project running more than three years behind schedule. Time is money. The longer it takes to build, the more Southern Co. unit Georgia Power must pay in construction and finance charges.
Since state regulators approved the plant in 2009, power company executives said they secured $2.7 billion in newfound savings, making the project more financially attractive. For example, the utility benefited from cheaper-than-expected borrowing and inflation costs, received government loans and expects to get tax credits.
But the actual savings could be as small as $208 million after subtracting new costs related to the delays, according to financial analyst Philip Hayet, who monitors project finances for the state Public Service Commission. By comparison, Georgia Power now expects to spend $7.5 billion on its share of construction expenses.
"It's now virtually negligible," Hayet said, describing the value of the savings identified by the utility.
The first of the reactors is supposed to be complete in 2019, with the second following a year later. State monitors have cautioned that construction schedules could see more delays, further decreasing savings. Ultimately, Georgia Power customers will pay for the company's share of building costs unless the elected members of the PSC intervene.
The steps Georgia Power took to win cheaper loans "are doing exactly what they are meant to do — offsetting higher costs related to delays," power company spokesman John O'Brien said in a statement.
If deciding from scratch, building a natural gas plant would now be cheaper than a nuclear plant, PSC analysts previously found. But when deciding whether to finish a project, economists typically consider only future costs because past spending cannot be undone. By that standard, finishing the nuclear plant is $3 billion cheaper than abandoning it and building a gas-fired plant.
The nuclear plant in eastern Georgia near Augusta is one of three under construction in the United States, and all have suffered from delays and cost increases. A nuclear plant using the same design is under construction in South Carolina. Meanwhile, the Tennessee Valley Authority is finishing a reactor at its Watts Bar plant.
Besides Georgia Power, the owners of Plant Vogtle are Oglethorpe Power Corp., the Municipal Electric Authority of Georgia and the city of Dalton.