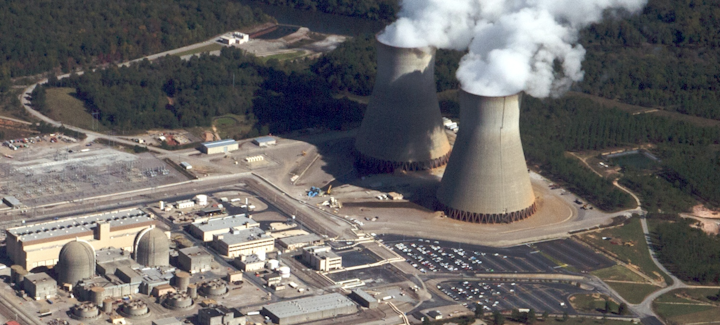 ATLANTA (AP) — Southern Co. has an emerging message when talking about its over-budget nuclear plant in Georgia: It's not our fault.
The cost of building two nuclear reactors at Plant Vogtle has grown since the project was first approved years ago.
"The company does not direct the contractor how to build the plant," said David McKinney, a Southern Co. vice president tasked with overseeing Vogtle development, during a public hearing. "That's a risk that the contractor took when they signed up."
Southern Co. unit Georgia Power owns a 46 percent stake in the project. Its share of construction costs has grown from roughly $6.1 billion to $7.5 billion in the company's latest filings. Analysts working for the state's Public Service Commission expect the costs will go higher.
In testimony Tuesday, Southern Co. executives said they were responsible for project oversight generally, but not nuts-and-bolts construction. Southern Co. says responsibility for most construction decisions and costs rests with its contractors, Toshiba Corp.'s Westinghouse Electric Co. and Chicago Bridge & Iron Inc.
That message reflects the tension between Plant Vogtle's owners and its builders over who must ultimately pay for delays costing billions of dollars. Elected regulators will face pressure to protect the public, Georgia Power's customers, from additional charges. But Southern Co. shareholders have no incentive to eat those costs. Neither do shareholders of Toshiba or CB&I. Those firms are now suing each other over who's responsible for what costs.
Regulators questioned Georgia Power executives Tuesday about what the utility meant when it promised to actively manage the project. Public Service Commissioner Lauren "Bubba" McDonald pointed out that Georgia Power agreed years ago to act as a manager on behalf of the plant's other co-owners.
Utility officials say finishing the work is a better economic deal for the public than stopping construction on the nuclear reactors and building a gas-fired plant instead. The nuclear plant will shield customers from volatile fossil fuel prices in the future and produce power without creating carbon emissions, the utility said.
Under state law, Georgia Power can charge its customers for the price of the plant unless the state's elected utility regulators block those costs, forcing losses onto shareholders. The other project owners — Oglethorpe Power Corp., the Municipal Electric Authority of Georgia and the city of Dalton — regulate their own spending.
A construction contract limits the extra construction charges that Georgia Power and other owners must pay as a result of delay. However, the utilities are responsible for increased borrowing costs. The longer it takes to build the plant, the more its owners must pay to borrow money for the construction effort.