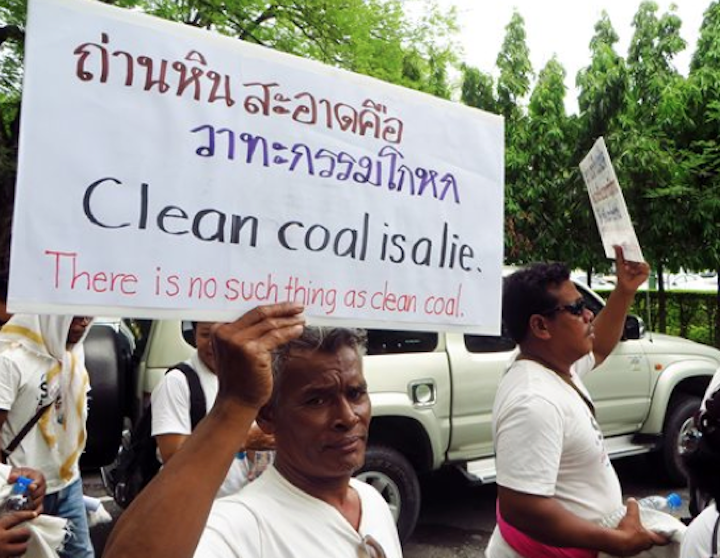 BANGKOK (AP) — Activists applauded the Thai prime minister's order that tentatively halts a planned coal-fired power plant and seaport near popular tourist beaches in southern Thailand's Andaman Sea coast.
The decision Thursday by Prime Minister Prayuth Chan-ocha to suspend the project put an end to demonstrations and a hunger strike that began on July 10. A representative of the prime minister met Friday with officials from the Energy Ministry and members of the protesting Save Andaman from Coal Network to make plans for a joint committee to explore renewable energy options.
Bidding for the 800 MW power plant in Krabi province will continue on Aug. 5, but the government has promised that no binding agreement will be signed and the project will be frozen pending exploration of alternatives.
"This is acceptable, and that is why everyone is going home now," Janrumapai Chaisompongpan, an organizer of the Save Andaman from Coal Network, said of the decision. "Of course we have to work very closely with this committee, so there is a lot to be done."
The joint committee is likely to be set up in the coming weeks and the government agreed that the outcome of its deliberations would be final, she said.
The Energy Generating Authority of Thailand, a state enterprise, has plans to build nine coal energy plants in the south. Its power development plan for 2015-2036 is designed to lower gas consumption for electricity production from 70 percent to 40 percent while nearly doubling coal use from 20 percent to between 35 and 40 percent, Energy Ministry Permanent Secretary Kurujit Nakornthap told the Bangkok Post newspaper. He said that rolling blackouts would soon affect tourism in the south if more power were not supplied.
Protesters say a coal-power plant could damage the environment, public health and the lucrative tourism industry. Tourism in the provinces along the Andaman coast generated more than 376 billion baht ($11 billion) in 2014, according to the Tourism Authority of Thailand. Krabi is about 100 miles (160 kilometers) from the hugely popular resorts of Phuket.
They also criticized the power plant's bidding process for moving ahead despite a rejection in March of the project's environmental impact assessment.