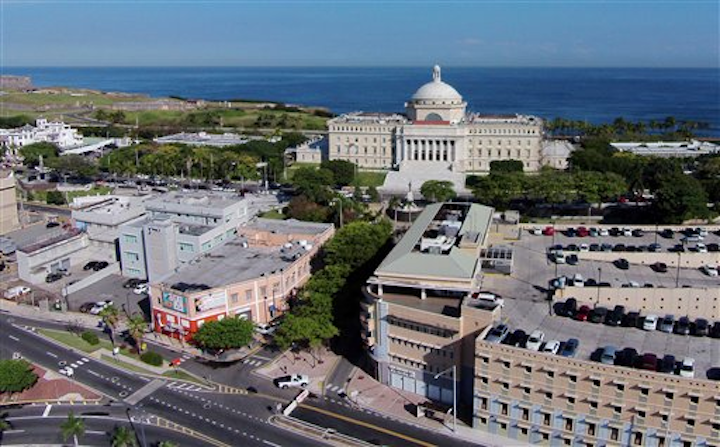 SAN JUAN, Puerto Rico (AP) — Puerto Rico's power company on Thursday rejected a new proposal from bondholders that calls for an $8.1 billion debt exchange amid growing concerns the public agency could be the first one in the U.S. territory to go bankrupt.
The Electric Energy Authority said the proposal would not lead to a successful restructuring and does not share the burden of its more than $9 billion debt.
"It imposes disproportionate risks on ratepayers and other creditors," the company said in a statement. "In addition to being unachievable, it is not supported by other creditor constituencies such as the bond insurers or the revolving fuel line lenders."
The negotiations between the power company and the bondholders group comes nearly two months after the agency submitted a long-awaited restructuring plan that calls for a minimum investment of $2.3 billion and a revision of rate structures, among other things. The full plan has not been publicly released.
At the time, the Los Angeles-based investment bank Houlihan Lokey, an adviser to bondholders, said parts of the plan were positive but that others were unworkable and needed further negotiation.
In its new counterproposal, the bondholders group seeks to privatize generation to lower rates and delay debt payments for $2.5 billion in savings it said could be invested elsewhere by the power company.
"These savings would fund billions in capital investment for (the power company) without the need for external financing with consumers directly benefiting from this approach by way of lower, more stable rates and a more modern and reliable utility," said Stephen Spencer, a managing director at Houlihan Lokey.
Power bills in Puerto Rico are on average twice that in the U.S. mainland given the government's heavy reliance on petroleum. While Gov. Alejandro Garcia Padilla has said he supports privatizing power production and has pushed to find alternate energy sources, Lisa Donahue, the power company's chief restructuring officer, has said Puerto Ricans will see some sort of rate increase regardless of what type of final plan is approved.
Last month, the Electric Energy Authority was forced to sell $128 million in bonds to generate liquidity as it struggled to avoid defaulting on a $415 million debt payment. The bondholders group agreed to extend the debt payment deadline to Sept. 15 but warned it would automatically end if a deal to restructure the company is not reached by Sept. 1.
The group also said it would take legal action if bondholders are treated unfairly or if negotiations derail.
Puerto Rico's power company has obtained several extensions this year to avoid default and make payments.
The negotiations come as the U.S. territory enters its ninth year in recession and struggles with a $72 billion public debt the governor has said is unpayable because of current economic conditions.
Garcia's administration is pushing for the right of Puerto Rico's public agencies to file for bankruptcy under Chapter 9, but the proposed measure has not drawn any Republican co-sponsors. The White House has said no one was contemplating a federal bailout of Puerto Rico.
Moody's issued a statement Wednesday warning that Puerto Rico's economic crisis is worsening.
"We now believe the probability of default is approaching 100 percent and that losses given default are substantial," it said. "We also believe Puerto Rico's pursuit of Chapter 9 bankruptcy is not a viable solution. Changing the U.S. bankruptcy code faces significant challenges, and bankruptcy authorization would not be sufficient by itself to manage Puerto Rico's current pressures."