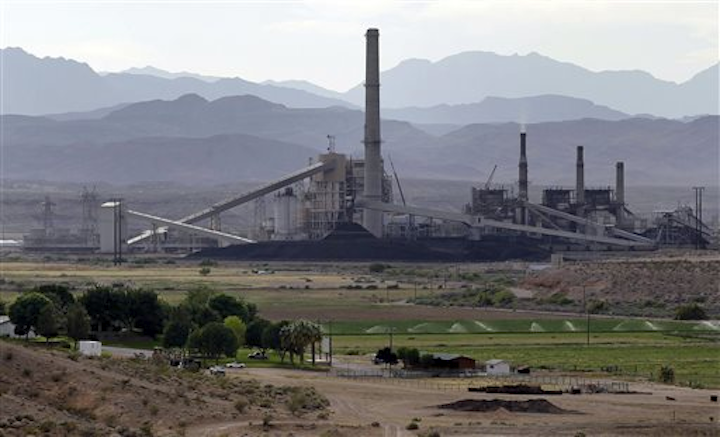 LAS VEGAS (AP) — Owners of a soon-to-close coal-fired power plant outside Las Vegas are agreeing to pay $4.3 million to settle a lawsuit and clean up contamination that neighboring Native Americans blame for health problems and water pollution.
Some $1.5 million of the funds from NV Energy and the California Department of Water Resources are earmarked for a community health wellness center on the nearby Moapa Band of Paiute Indians reservation, attorney Robert Wiygul said Thursday.
Wiygul represented the Moapa band and the Sierra Club as plaintiffs against the two corporate owners of the Reid Gardner Power Generating Station, which opened in the 1960s and 70s about 40 miles northeast of Las Vegas.
Barbara Boyle, a Sierra Club official, noted that another $2.7 million of the settlement will help the tribe buy water rights, monitor air quality and hire technical help to oversee the cleanup.
The companies don't admit liability or wrongdoing in the proposed settlement filed Tuesday in U.S. District Court in Las Vegas. The agreement is slated to become final Sept. 8.
Publicly-traded NV Energy is owned by Berkshire Hathaway unit MidAmerican Energy Co. of Des Moines, Iowa. An NV Energy spokeswoman didn't immediately respond Thursday to messages.
Moapa band Chairman Darren Daboda also did not immediately comment.
At its peak, the four-unit power plant produced up to 557 MW of electricity.
For years, many of the about 320 Moapa Paiute tribe living nearby complained about respiratory ailments from plant emissions and coal ash dust that advocates said contains high levels of mercury, arsenic, chromium, lead and other toxins. But health officials didn't directly link ailments to the plant.
Band members and advocates said groundwater monitoring found pollution in and around the Muddy River, a tributary to the Colorado River at the Lake Mead reservoir behind Hoover Dam. The lake is the primary drinking water supply for 2 million Las Vegas residents and hundreds of thousands of tourists.
The federal lawsuit filed in August 2013 claims violations of the federal Resource Conservation and Recovery Act and the Clean Water Act.
U.S. Sen. Harry Reid, D-Nev., has for years backed tribe members' efforts to shutter the plant. He noted Thursday that three of the four boilers were retired last December and the fourth is due to be shut down by 2017.
"For years the band has suffered the consequences of breathing dangerous dirty air from the Reid Gardner coal plant," Reid said. "While the settlement will provide relief and help make the tribe's home healthier and safer, no amount of money can pay for the sickness caused by a half-century of pollution from the coal plant."
Reid bears no relation to the man for whom the plant was named.