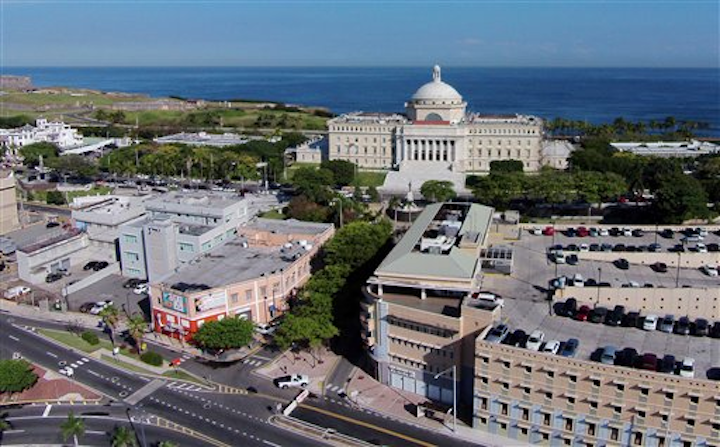 SAN JUAN, Puerto Rico (AP) — A group of U.S. bondholders on Wednesday offered to invest $2 billion in energy production and other measures that it said would help improve the finances and infrastructure of Puerto Rico's power company amid fears it will go bankrupt.
The announcement comes just days after the government of the U.S. territory obtained a two-week extension from creditors as the company prepares for a potential restructuring. The Electric Energy Authority holds nearly $9 billion in debt and owes investors some $400 million by July.
The bondholder group said the $2 billion would be used to bolster infrastructure, including possible construction of a natural gas-powered electricity generating plant that would allow the agency to sell power at a lower rate and stabilize its finances.
Officials said the money would not be used for an operational restructuring plan.
"It provides a critically needed positive signal to the capital markets," said Stephen Spencer, a managing director with Los Angeles-based investment bank Houlihan Lokey, an adviser to bondholders. "The creditor plan is a big step toward restoring market confidence in the overall island economy."
Lisa Donahue, the power agency's chief restructuring officer, said officials were evaluating the proposal and had asked for additional details.
"While we appreciate that the bondholders have produced a plan that recognizes our need to be in regulatory compliance, we remain convinced that a public airing of only certain aspects of the substance or merits of the bondholder plan at this point is premature and could be misleading," she said.
Spencer said the plan would allow the power company to offer rates more than 20 percent lower than what customers paid last year. Power bills in Puerto Rico are on average more than twice those on the U.S. mainland, with the island depending on oil to generate nearly 60 percent of its electricity.
The plan would help lower oil dependence to less than 15 percent within a decade, said Derek HasBrouck with London-based PA Consulting, an adviser to bondholders. The plan calls for the bondholder group to invest in thermal and renewable energy sources as well as the natural gas plant in partnership with General Electric and then sell the electricity to the power company.
"It's an extraordinary proposal," economist Antonio Rosado said in a phone interview. "It's something the Electric Energy Authority should have done years ago."
The plan would help postpone the need for a complete restructuring of the agency, he said, adding that the island needs to embrace the use of natural gas.
Puerto Rico is in its eighth year of recession and struggling with $73 billion in public debt as the government seeks new revenue sources. Officials are preparing to issue more than $2 billion in bonds in upcoming months in part to help strengthen debt-ridden agencies.