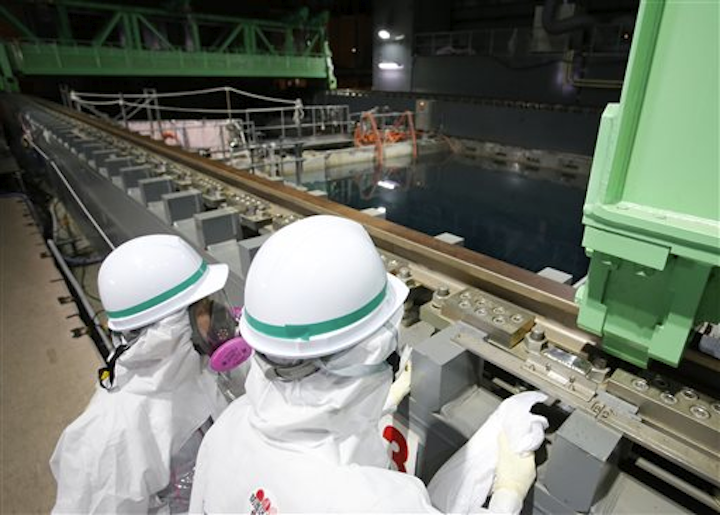 TOKYO (AP) — A court issued an injunction Tuesday ordering two nuclear reactors in western Japan to stay offline, rejecting regulators' safety approval of the reactors' planned restart later this year, a decision that could further delay the government's restart plans.
The Fukui District Court ordered the operator, Kansai Electric Power Co., not to restart the No. 3 and No. 4 reactors at the Takahama power plant in Fukui prefecture, which is home to about a dozen reactors.
The court criticized the Nuclear Regulation Authority's safety standards for being too lax even with stricter requirements imposed following the Fukushima crisis after the March 2011 earthquake and tsunami.
The ruling said meeting the new standards does not guarantee the safety of the Takahama reactors.
Kansai Electric said it planned to appeal the ruling, calling it "extremely regrettable and unacceptable." It said the Takahama reactors' safety had been endorsed by the regulators.
In the wake of the crisis, all 48 reactors in Japan were taken offline for safety checks. None have gone back online except for another two reactors in Fukui for a brief period in 2012 and 2013.
The first two reactors, in southern Japan, scheduled to go back online have also received regulatory approval and are making final preparations toward a planned restart this summer. But there is also a separate injunction request before a court seeking to halt that.
Prime Minister Shinzo Abe's pro-business government has been pushing for a restart, saying prolonged stoppages are not good for Japan's economy. His government is also expected to compile a new energy mix that would keep nuclear power at around 20 percent of Japan's energy needs.
Chief Cabinet Secretary Yoshihide Suga told reporters that the government was watching the Takahama development and that it hoped the reactors are deemed safe by the regulators to restart.
In the ruling, the court cited that four of Japan's 17 nuclear power plant complexes had endured earthquakes exceeding their anticipated maximum seismic motions over the past decade and that the Takahama plant could be next.
"Excluding the Takahama plant from the risk of such earthquakes is merely a groundless optimism," said the ruling, released by a group of lawyers for the plaintiffs. "An accident at the plant could cause irrevocable damage."
The presiding judge, Hideaki Higuchi, cited spent fuel storage pools without proper containment and a moratorium for a compulsory radiation-free emergency command center among examples of "the lack of rationality" by Japanese nuclear regulators.
In Japan, unlike the U.S. and Britain, evacuation plans for residents are not part of safety requirements for nuclear plant operators to get the regulatory agency's safety permits.
A group of residents and their supporters requested the injunction in December, saying a massive earthquake exceeding the facility's quake resistance standards could cause tremendous damage to the region, similar to the Fukushima crisis.