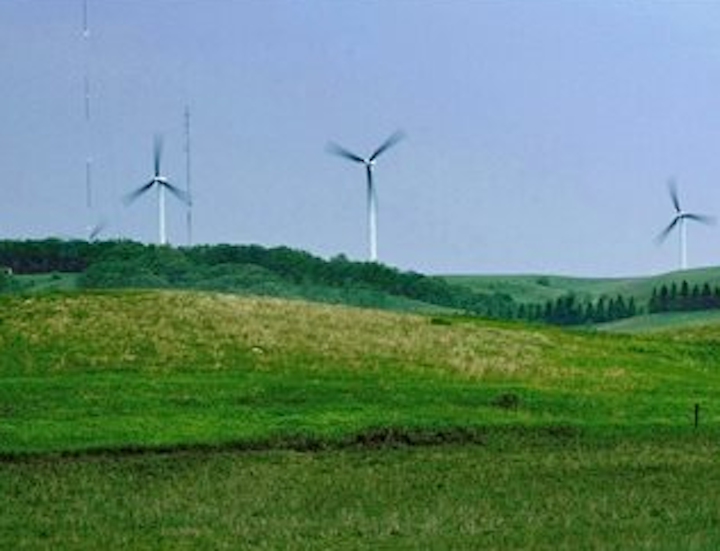 TOPEKA, Kan. (AP) — Kansas would no longer require utilities to generate a portion of their electricity from wind power or other renewable energy resources but the state also would not impose a new tax on the power under a proposal Republican Gov. Sam Brownback announced Monday.
The proposal embodies an agreement between the wind energy industry and critics of the green energy mandate. The deal is designed to end a debate over a 2009 law requiring renewable energy resources to account by 2020 for 20 percent of each privately owned utility's capacity to generate electricity.
The mandate would become a non-binding goal. But legislators would drop a proposal to impose a 4.33 percent tax on the electricity generated from renewable resources, and they would rewrite laws dealing with property taxes on renewable energy projects.
The House Energy and Environment Committee approved the proposal shortly after Brownback unveiled it, sending the measure to the full chamber for debate.
Wind energy companies and environmentalists — who aren't part of the agreement — have thwarted a repeal of the renewable energy mandate. Critics of the mandate include the Kansas Chamber of Commerce; Americans for Prosperity, the free-market group backed by billionaire political donors Charles and David Koch; and their company, Koch Industries Inc., which has energy interests.
"You've had a lot of frothing about the policy issue, and now you've got major players on both sides of this saying, 'OK, this gets us to a stable policy atmosphere,'" Brownback said during a Statehouse news conference.
Brownback said during his re-election campaign last year that he was open to phasing out the renewable energy rule if the parties could reach a compromise.
The American Wind Energy Association said 29 states, including Kansas, have renewable energy requirements, and six are considering raising their standards. Eight states have renewable energy goals.
Supporters of the Kansas mandate said it has helped develop a robust wind energy industry in the state and more than 12,000 jobs. Utilities are expected to meet it next year.
"This gives us long-term certainty, and that's the most important thing," said Jeff Clark, executive director of The Wind Coalition.
Critics of the mandate have said such mandates lead to significantly higher electric rates — something environmentalists strongly dispute.
"This is about achieving a free-market energy policy in the state of Kansas," said Jeff Glendening, AFP's state director.
Environmentalists criticized the proposal. Zack Pistora, a Kansas Sierra Club lobbyist, said there's broad public support for keeping the renewable energy mandate.
"Other states, our neighboring states, are hitting the gas pedal, and we're pressing the brakes," he said.
Renewable energy projects are exempt from property taxes, but lawmakers were considering proposals to impose a 10-year limit on exemptions as they looked to close a budget shortfall. The agreement imposes that limit on new projects, but promises they would face the same rates for commercial property, which are lower than for utility property.