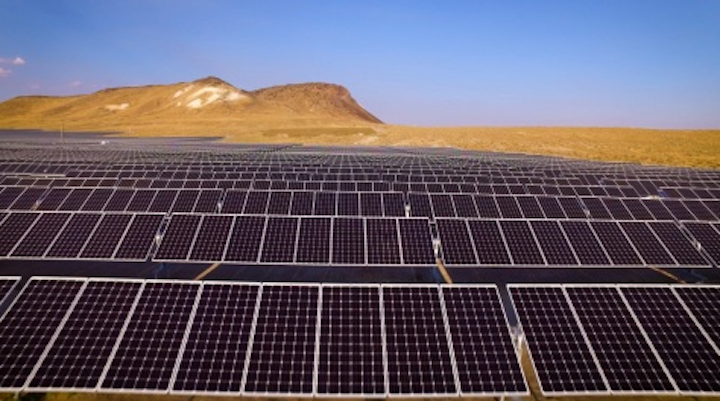 TOKYO (AP) — SoftBank Group Corp. CEO Masayoshi Son announced Wednesday a $200 billion solar power project in Saudi Arabia.
The project is in cooperation with the kingdom's Crown Prince Mohammed bin Salman, a partner in the SoftBank Vision Fund, set up in 2016. The fund has already invested in companies in the U.S., India and Europe.
The deal is the first major investment by the fund in Saudi Arabia. It was announced in New York after a Saudi-U.S. CEO forum held on the sidelines of the crown prince's multi-day tour across the U.S.
The ample sunshine and land and Saudi Arabia's pool of engineers and skilled workers make the foray into solar there lucrative, Son said.
He said the project will create 100,000 jobs, reduce Saudi Arabia's dependence on oil for its electricity, which it can sell internationally instead, and will generate 200 GW of electricity by 2030.
The kingdom, which is one of the world's largest oil producers, estimates its local energy consumption will increase three-fold by 2030. To build up its renewable energy sector, the crown prince has outlined an initial target of generating 9.5 GW of renewable energy in his "Vision 2030" plan, which is a blueprint of mostly economic targets aimed at creating more jobs for the country's majority young population entering the workforce in the coming years and diversifying the economy away from its reliance on oil exports for revenue.
The solar panels for the project will be imported at first but will later include a panel manufacturing and assembly site, according to Son. Construction on the project begins immediately, and electricity generation will start next year, he told reporters.
Son has been a critic of nuclear energy after the 2011 tsunami set off multiple meltdowns in Fukushima, northeastern Japan, the worst nuclear disaster since Chernobyl, and sees solar energy as a key part of his company strategy.