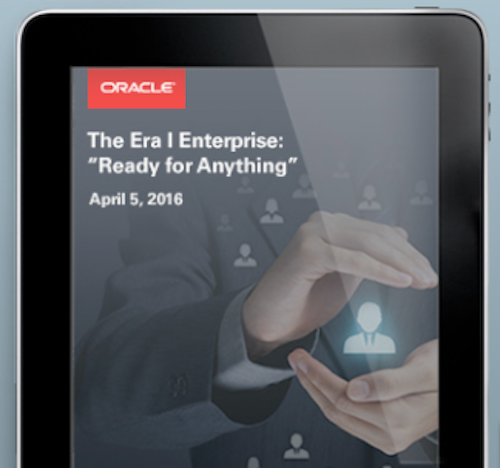 Oracle announced the findings of its report "The Era I Enterprise: Ready for Anything"—which surveyed 300 C-level executives across 10 industries to understand how prepared organizations are to address the fact that consumers increasingly expect, and even demand, to have it their way—whether transacting, communicating, working, or simply enjoying leisure time. The new report revealed that most organizations are dealing with this shift—84 percent of respondents say their organization has experienced a trend toward customers wanting a more individualized experience and 70 percent have experienced this trend from employees—but fewer than 20 percent give their organization an "A" in its ability to offer those experiences.
"Today, whether shopping for an item, making reservations, examining a bill, evaluating projects, or viewing medical information, the digital age has brought us to a point where we now expect the ability to make real-time decisions, transact, and customize options at the tap of the screen. In the new service-driven economy, innovative enterprises must focus on two things: taking care of their customers and taking care of their employees," said Bob Weiler, executive vice president, Global Business Units, Oracle. "Our study reveals that organizations are unprepared to manage the need for personalization in Era I, but those seeking a competitive advantage stand to gain tremendously. Those that invest in their customers and employees will reap the benefits now and into the future."
Inability to Individualize Reduces Competitiveness, Leaves Money on the Table
Nearly two-thirds of respondents—across the Communications, Education and Research, Engineering and Construction, Financial Services, Healthcare, Hospitality, Life Sciences, Public Sector, Retail, and Utilities industries—say the shift is a growing challenge in their ability to compete effectively. Drilling down even further, organizations estimate that if they were able to successfully offer customers and employees a highly personalized experience, they would earn an additional 18 percent in annual revenue. For a $1 billion company, that is $180 million a year.
Cloud Will Help Organizations Get Ready for Anything
97% Think They Can Deliver
To gain the flexibility needed to succeed in Era I, nearly all organizations (97 percent) believe IT investments—from business intelligence tools to customer experience solutions to industry-specific applications—will play a vital role in improving their ability to offer individualized customer and employee experiences. Furthermore, 81 percent believe there is an important link between cloud-based IT solutions and their ability to offer an individualized experience.
In terms of benefits, managers believe personalization will lead to greater customer and employee retention. In fact, organizations believe they could increase employee satisfaction by 94 percent if they were to offer a highly individualized employee experience and more flexible, industry-specific applications that help them to thrive on the job.
Leaders Get Personal
81% See the Link Between Cloud Based
Further proof that agility is a key business enabler, the study found that organizations that have increased their revenue by more than 10 percent in the last year are significantly ahead of the curve when it comes to offering individualized experiences. Forty-nine percent of Era I leaders can act on customer feedback versus just 18 percent of other organizations, and 38 percent of leaders can respond effectively to changing market conditions versus just 10 percent.
Access the full report—which delves extensively into how prepared organizations within each industry are as well as the resources they need to meet Era I needs.
For more information about Oracle or other products, click here to go to Utility Products' Buyers Guide.