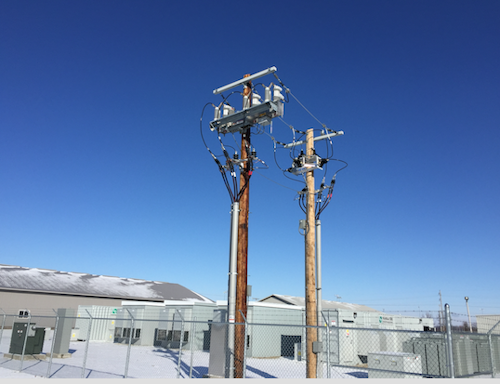 Energy storage: S&C Electric Co., a provider of energy storage integration, has completed one of the largest energy storage systems in Ohio. The 7-MW system located in Minster, Ohio, was built in conjunction with Half Moon Ventures (HMV) and the local municipal utility, the Village of Minster.

HMV and the Village of Minster will benefit from four unique revenue streams, which will offset the costs of grid improvements while improving the rate of return. HMV will be able to sell into PJM's frequency regulation market, which helps to provide grid reliability for more than 60 million customers. The Village of Minster will use the energy storage system to defer $350,000 of T&D costs, improve power quality and shave peak demand.
"Working with the Village of Minster, we have proven a very unique business model that will allow us to bring more solar and energy storage to public utilities," said Michael Hastings, CEO, HMV. "This revenue stacking approach assures that projects are viable and valuable for both parties."

HMV is using S&C's 7-MW PureWave® SMS Storage Management System, providing fully integrated storage management and power conversion for 3-MWh of lithium ion-batteries. The system is tied to HMV's adjacent 4.2-MW solar plant, allowing Minster to further reduce their peak demand charges in the middle of the day. This solar + storage system is the largest U.S. facility of its kind connected through a municipal utility.

S&C served as energy storage system integrator for HMV by performing all major power system studies and complete engineering, procurements, and construction of the project. The complexities of this delivery have been documented in a time-lapse video brief of the Minster facility. S&C will also be providing ongoing operation and maintenance services for the facility.

"Energy storage systems are so much more complex than the chemistry of batteries. If just one piece doesn't work in concert with the rest of the system, the impacts to owner's return on investment are huge," said Mike Edmonds, President – U.S. Business, S&C Electric Company. "It's essential for success, to have an integrator – who is able to implement the power electronics, controls and high voltage into a successful solution. HMV chose S&C for this project because of our expertise. We were able to move from contract to successful grid trading quickly, due to our integrated solution."

About S&C Electric Company
S&C, with global headquarters in Chicago, USA, is applying its heritage of innovation to address challenges facing the world's power grids and is thus shaping the future of reliable electricity delivery. The mission of employee-owned S&C is to continually develop new solutions for electricity delivery, fostering the improved efficiency and reliability required for the intelligent grid.

About Half Moon Ventures
HMV is a fully integrated U.S. renewable energy company. We draw on resources from around the world to develop, build, and operate the most competitive and efficient renewable energy projects. We help businesses, schools, and municipalities achieve energy independence through renewable energy projects. Additional information about HMV is available at www.hm-ventures.com.
For more information about S&C Electric Co. or other products, click here to go to Utility Products' Buyers Guide.