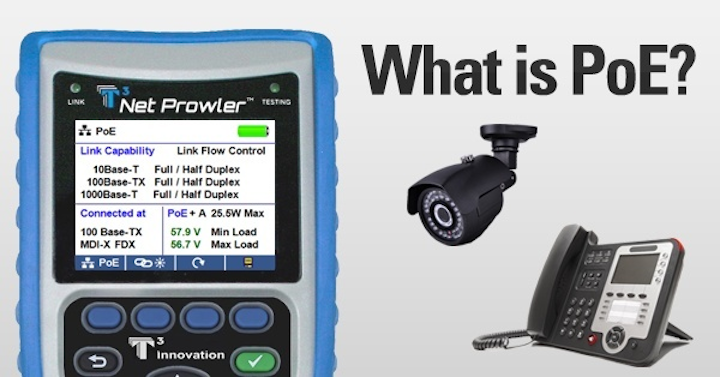 Utility equipment: T3 Innovation discusses how power over the Ethernet, or POE, provides power through an Ethernet cable to a remote device such as a VOIP phone or IP camera. It works by injecting power into the data cable and extracting the power at the remote device. POE greatly simplifies the installation of IP devices as there's no need for a local power source. Two standards exist, providing the option of 12.95 watts or 25.5 watts of power at the device.
POE Standards
The older POE standard, IEEE 802.3af, is capable of supplying 12.95 watts of DC power at a maximum voltage of 57 volts and a current of 350 mA. Power at the power supply is slightly higher at 15.4 watts to compensate for cable power losses.
The later IEEE 802.3at standard, sometimes known as POE Plus, increases the power to 25.5 watts. The maximum voltage and current are 57 volts DC and 600 mA, while the maximum power at the point of injection is 30 watts.
Data Cables
12.95 watt POE is supported by Category 3, 5, 5e and 6 cables, while the higher current drawn by 25.5 watt POE limits its application to Category 5, 5e and 6 cables. POE is compatible with all Internet speeds up to 1000BASE-T (Gigabit Internet).
Power Supply Modes
There are two power supply modes, Mode A and Mode B. These determine which cores of the 8-core Cat 5 or 6 cables are used for the transmission of power. In all cases, two cores are used for the positive and two for the negative supply.
When Mode B is used with 10BASE-T and 100BASE-T Internet, power is supplied on the 4 cores not used for data transmission. For higher Internet speeds, and in Mode A, a mixed mode is used where data and power are supplied over the same core.
The power mode is determined by the power source and all POE enabled devices are compatible with Mode A and Mode B.
POE devices operate within one of four power classes (only three for 802.3af). When a POE device is powered up, the power supply looks for a valid signature resistance of between 19 and 26.5 k. Once this is detected, it then communicates with the device to identify the power class and only once this is established will power up POE.
Power Supplies
POE can be supplied through POE capable network switches or by using midspan power sources connected between the network switch and the POE powered device. Because midspan devices supply power to unused cores, they operate in Mode B and are incompatible with 1000BASE-T Internet.
POE enabled devices extract the power directly from the Ethernet cable. If the camera or other device isn't POE enabled, POE power is extracted by a device known as a picker or tap. This converts POE to standard DC power, which is plugged into the device's power port.
Fault Detection
If the power supply does not receive the correct signature, POE will not be powered up. Additionally, if the power drawn is more than the specified power or falls below a specified minimum level, it will shut down the POE to protect the device.
Test POE with Net Prowler™
There are many reasons why POE may not work, so it's best to have a network tester at hand to check the POE power supply and eliminate potential faults. T3 Innovation's Net Prowler detects, measures and tests both 12.95 and 25.5 watt POE. Additionally, it is capable of identifying Ethernet cable faults that may be causing cause POE problems as well offering advanced network testing capabilities.
For more information about T3 Innovation or other products, click here to go to Utility Products' Buyers Guide.