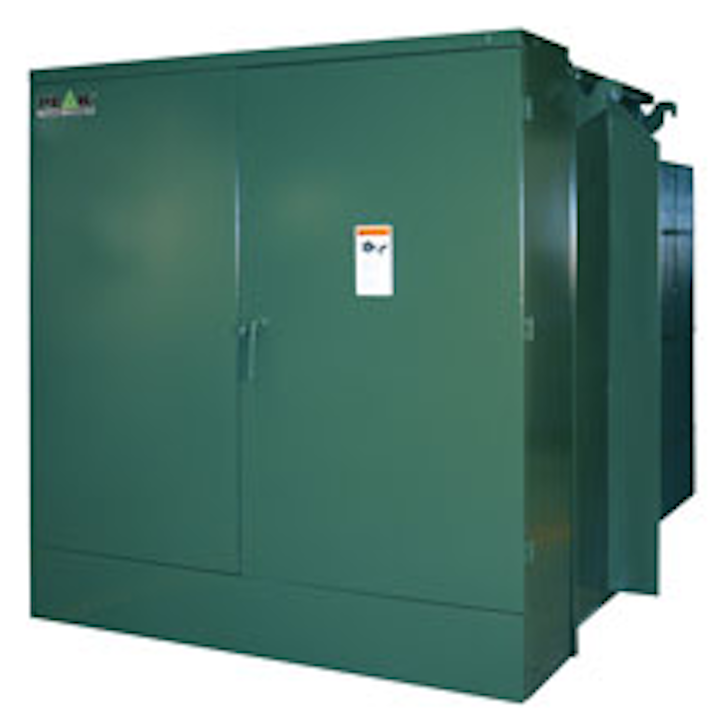 Electrical distribution: PEAK™ transformers from Cooper Power Systems are designed to allow you additional capability to manage increased loads and temporary overload capacity without loss of life expectancy when compared to mineral oil-filled transformer alternatives.
Utilizing an advanced high-temperature insulation system approach — comprised of thermally upgraded kraft paper, Envirotemp™ FR3™ dielectric fluid, and an optimized core and coil design — a 75 °C Average Winding Rise (AWR) PEAK transformer results in a smaller footprint and a lighter unit capable of the same ratings as a physically larger 65 °C AWR rated unit.
Features:
• Meet or exceeds ANSI/IEEE and NEMA standards
• Meets DOE Energy Efficiency Standard 10 CFR Part 431 for distribution transformers
• Envirotemp™ FR3™ fluid
• Tank coating exceeds IEEE Std C57.12.28™-2005 and C57.12.29™-2005 standards (stainless steel units only)
• Full compliance with IEEE Std C57.12.28™-2005 standard enclosure integrity requirements
• Laser engraved nameplate
• Recessed stainless steel lifting provisions
• Tank grounding provisions
• Automatic pressure relief device
• Hinged door with stainless steel hinge pins and barrels
• Floating lock pocket for easy alignment
• Captive stainless steel pentahead door locking bolt
• Oil fill and drain provisions
• Removable sill
• Welded domed tank cover
• 200 A bushing wells (15, 25, 35 kV)
• 200 A, 35 kV large Interface
• 600 A (15, 25, 35 kV) integral bushings (dead-front)
• Electrical-grade wet-process porcelain bushings (live-front)
• Ground strap from X2 to tank ground
• Tamper strips of noncorrosive material
• Decal bushing designations
• Quality System ISO 9001 certified
For more information about Cooper Power Systems or other products, click here to go to Utility Products' Buyers Guide.