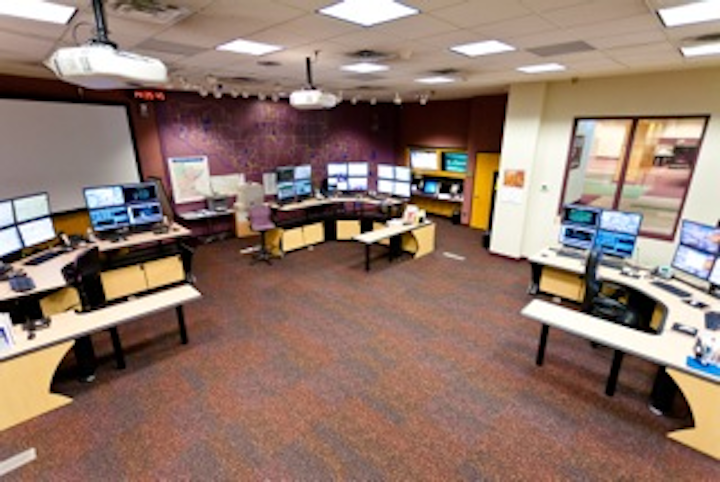 Connexus Energy is the largest electric distribution cooperative in Minnesota, serving about 126,000 members in a seven-county service territory north of the Twin Cities.
Recently, the cooperative completed a significant upgrade to its system operations control center that includes the necessary technology to support a new Supervisory Control and Data Acquisition (SCADA) system designed to enhance communication with substations and improve response time to outages.
"The control center is really the nerve center of our company," said Nick Loehlein, Connexus Energy Group Leader - System Operations. "From here our operators monitor and analyze the operating performance of the cooperative's distribution system to ensure safe and reliable electric service."
Designed in 1997, when the building was constructed, the original control room made use of CRT monitors. When these were replaced with flat panel monitors there was room for only three on each console, which was hardly enough to support the multiple software applications the operators monitor at any given time.
Major components in any control room are the consoles that tie the technology to the operators. When Connexus Energy began designing the new control room it quickly became clear that new consoles would be needed. The existing console was simply not flexible enough to accommodate the new technology.
"There was not enough desk space and not enough space for monitors," said Loehlein. "That's why we needed to upgrade the console. We actually had flat panel monitors in the old holes for tube-type monitors."
Some of the different operations that are performed and monitored at the workstations include: dispatching, trouble information, outage information, communication with line crews, answering customer calls, responding to alarms from various systems and monitoring both security and control systems.
There are three console workstations in the new control center. At any given time one to three of them are manned. Each console is an identical copy of the next, which was a request from the system operators.
Previously, there may have been only one point of access for each system, which meant that the operators were having to move from workstation to workstation in order to address the demands of the system.
For instance, if the phone that connects to the county dispatch centers rang and the operator that worked at that workstation was responding to a different alarm another operator would have to come over to answer the call.
Now every aspect of the control system can be accessed from any workstation and operators can move seamlessly between workstations if necessary.
"It's a much more efficient way to approach the control room setup that allows operators to easily collaborate and provide coordinated control of all the activities on the distribution system," said Loehlein.
Connexus Energy engaged a designer within the organization to work with operators to design a console that met the unique requirements of this operations center. She created a U-shaped console design that would bring together all of the new technology and provide sufficient monitors at each workstation.
The preliminary design was then sent to several vendors with requests for bids. As always, cost was a consideration but in the end the decision came down to the need for fabricated furniture that would be both durable and flexible vs. cubicle-type furniture that was largely pieced together.
"We really felt, on the advice of our designer, that the pieced together cubicle type furniture offered by other vendors would not be sufficient," said Loehlein. "It wasn't appropriate for a control room environment. It wouldn't have the strength we needed to support all the systems, computers and, of course, 24/7 use."
Connexus Energy selected an Ascend Sit/Stand console from Winsted Corporation. Ascend consoles are ergonomically designed to help minimize physical stress and fatigue by providing a range of movement that allows operators to alternate easily between sitting and standing at the push of a button.
"We went with the Winsted furniture because it is so durable and is simple enough that it could be flexible," said Loehlein. "So, ten years down the road, if the needs of our business are such that we need something different we could work with it."
Each of the three workstations houses four CPUs that are mounted on easy-access double-panel doors in the base of the console. These drive a total of twelve 21-inch monitors at each workstation, two high and six across, which are mounted directly on the workstation.
There are also three phones at each workstation, which support five different communication lines, including police/fire, county dispatch centers, outage, security and direct dial employee lines as well as radio equipment for communication with crews on site and in the field.
Because the operators typically work long shifts without the ability to leave their workstations at will, comfort and ergonomics were important considerations in the design of the console.
The previous console was one height, which worked fine for average or shorter operators. But for the taller operators it wasn't very comfortable. As technology changed and they began stacking monitors, system operators were also having trouble seeing through their bifocals or were craning their necks to see the higher monitors, resulting in sore necks and back problems. The one size fits all solution just didn't work.
Now, with the new Ascend Sit/Stand consoles, operators can raise and lower the workstations to their individual height and have them at whatever level is most comfortable.
What Loehlein and his team didn't anticipate is that by and large the operators leave the consoles in the stand position as the default. They had assumed the standing position would be the exception rather than the rule.
"They're standing during their night shifts," said Loehlein. "If they want to sit, they take a tall chair and maybe sit for a half an hour then they stand right back up again. It's been a huge hit to have the sit/stand option."
According to Loehlein, the operators find the furniture comfortable and sufficient to meet their needs. Now they've got all the technology they need right at their fingertips and all the monitors they need within easy view. Plus, operators are reporting that their back feels better now that they're able to stand during their shifts.
"We would definitely work with Winsted again," said Loehlein. "We think the furniture is good and it's going to last for us. We're satisfied overall and our operators are more comfortable."

For more information about Connexus Energy or other products, click here to go to Utility Products' Buyers Guide.