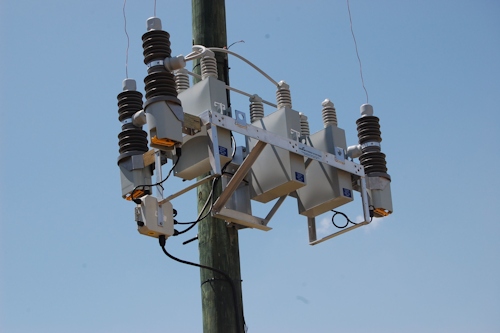 WAUKESHA, WI—Electric distribution: Simplify capacitor switching while increasing system reliability with the new easy-to-use Cooper Power Systems Edison capacitor switch. Utilizing a direct drive, permanent magnet solenoid and dual coil design, the switch eliminates the need for cams, linkages, struts, or electronic circuit boards or relays reducing the potential for electrical failure. The heart of the switch is the field-proven Eaton vacuum interrupter specifically designed for capacitor switching. To ensure long life in the harshest environmental conditions, the vacuum bottle is encapsulated in a rugged cycloaliphatic epoxy bushing that offers superior hydrophobic properties. The alternating bushing shed design provides effective self-cleaning to improve flashover performance over porcelain bushings.
"Our new Edison capacitor switch has a revolutionary modular terminal ring design, which allows for 360-degree termination of load ­ in 60-degree increments. This eliminates the need to rotate the switch body to accommodate installation," said Pat Bowers, global product manager, capacitors, Cooper Power Systems. "This not only increases reliability by eliminating the need to remove the head and break seals, but allows for multiple terminals or additional loads by simply adding another terminal clamp.

The Edison capacitor switch can also be used with any industry standard capacitor controller such as the Cooper Power Systems CBC-8000 capacitor bank control to provide Integrated Volt/VAR Control (IVVC), leading to overall cost savings for utilities.
The product's non-metal tank design is constructed of fiberglass reinforced polyester to prevent corrosion, and has an integrated rain shield and hotstick guide for the trip handle. The standard manual trip handle provides easy hotstick operation, a visual trip indicator and allows quick verification of switch state.

Applications for the new Edison capacitor switch include distribution capacitor switching, IVVC/ Conservation Voltage Reduction (CVR), capacitor racks, metal enclosed capacitor banks and outdoor distribution substation banks.
For more information about Cooper Power Systems or other products, click here to go to Utility Products' Buyers Guide.