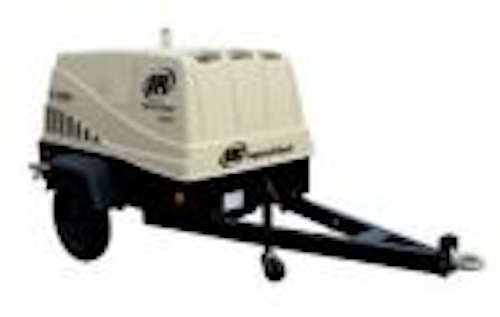 Doosan Infracore Portable Power's portable air compressor, the Ingersoll Rand C185 compressor, builds on the strong legacy of Ingersoll Rand and adds technological advancements for today's contractor needs. The C185 is designed for rental customers and offers quality and reliability with enhanced performance and value.
The Ingersoll Rand C185 compressor produces 185 cfm at 100 psi, runs off a high-performance 49-hp Kubota diesel engine and has an eight-hour runtime. The C185 weighs only 1,825 pounds and has two service air ports for multi-tool use, creating very good value in a 185-cfm compressor size. The C185 is compact, with an overall width of 66 inches and an overall height of 58 inches.
The C185 features a single-piece canopy that is lockable, lightweight, aerodynamic and made of virtually indestructible composite material. In addition, the compressor's compact frame and tow bar go through a three-step paint process for excellent resistance to corrosion and abrasion.
Doosan Infracore Portable Power