Power transmission and distribution
Utility supplies: Thomas & Betts brochure outlines solutions for power transmission and distribution industry.
Jan 29th, 2014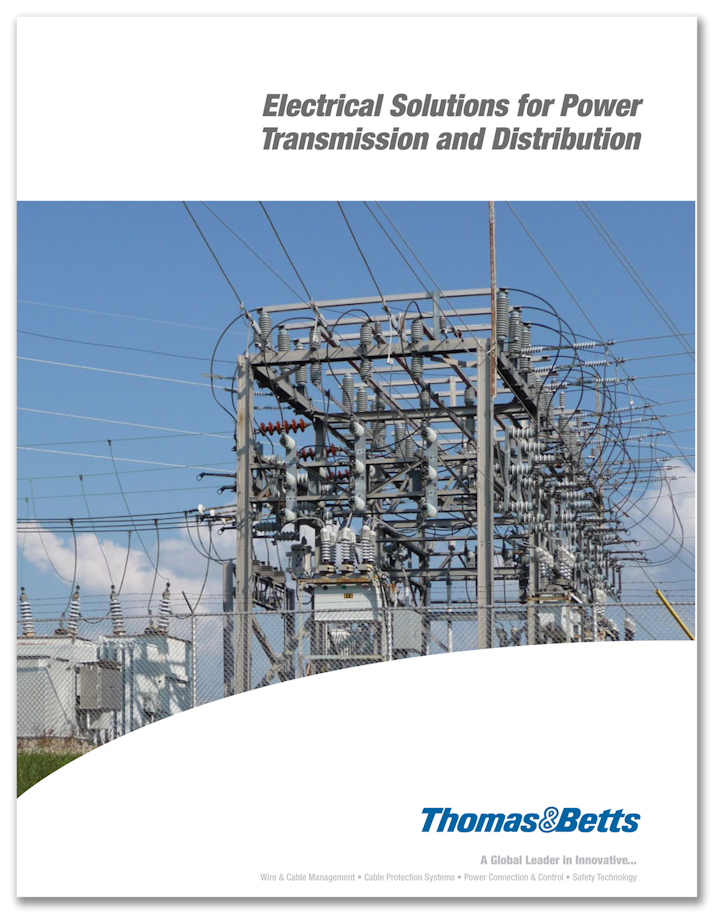 Electrical power distribution: Thomas & Betts (T&B)'s brochure, "Electrical Solutions for Power Transmission and Distribution" outlines the company's product solutions for challenges typically encountered in the power transmission and distribution (T&D) industry. The brochure provides product groupings that respond to demands for product quality, efficiency and reliability; continuous operation and sustainability; grounding and bonding; and space savings. It also indicates which T&B product line is designed to address each of these issues, as well as the services and training T&B offers to support many of these lines.
"The power and transmission industry affects almost everyone in every industry," said Chad Smith, vice president, product management and marketing, at Thomas & Betts. "This industry must respond to the demand for continuous and reliable electric service everywhere, which poses unique challenges. The most significant challenges facing the T&D industry are outlined in this brochure, along with the T&B products that meet these challenges. The product offerings are organized by Solution Sets that address each of these challenges."
Thomas & Betts Corporation, a member of the ABB Group, is a global leader in the design, manufacture and marketing of essential components used to manage the connection, distribution, transmission and reliability of electrical power in utility, industrial, commercial, and residential applications. With a portfolio of more than 200,000 products marketed under more than 45 premium brand names, Thomas & Betts products are found wherever electricity is used. Thomas & Betts' headquarters are in Memphis, Tenn.
For more information about T&B or other products, click here to go to Utility Products' Buyers Guide.