Utility equipment: Frequency-shifted 900 MHz Wi-Fi by Moxa
Utility supplies: High penetration and long distances possible with AWK-3191 wireless AP/bridge/client.
Nov 7th, 2014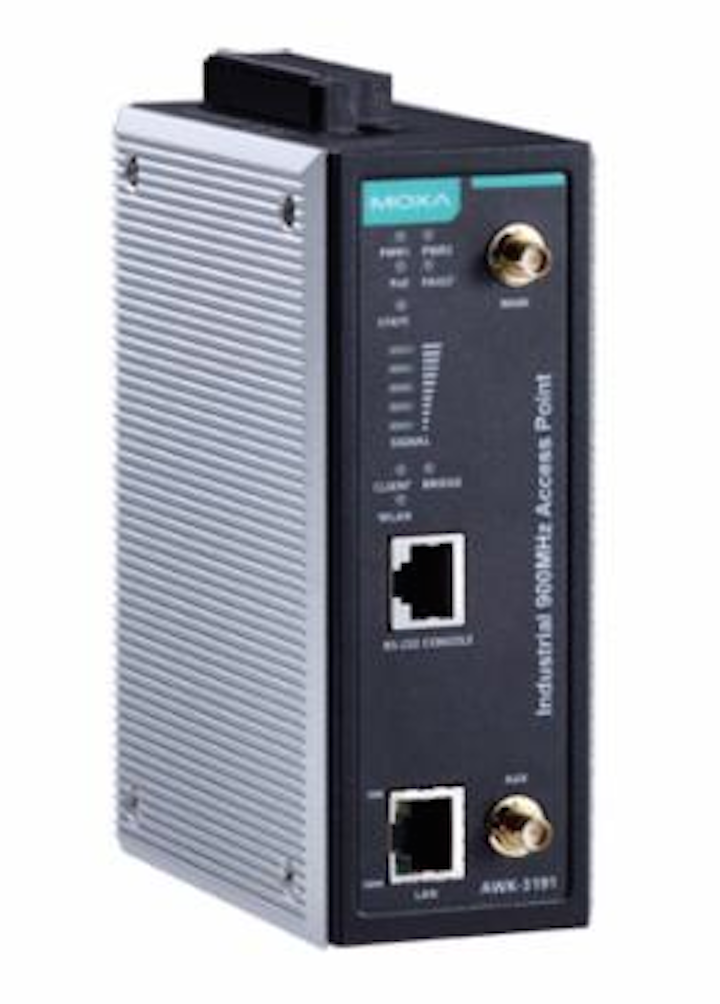 Power transmission: Moxa announced a new 900 MHz wireless access point/bridge/client that provides industrial users with a compelling option to achieve reliable wireless connectivity through walls or over long distances. By frequency-shifting 2.4 GHz Wi-Fi to 900 MHz, Moxa's AWK-3191 is able to support maximum data rates of up to 54 Mbps and distances up to 30 km line-of-sight.

Moxa is leading the industry with this type of 900 MHz wireless technology, according to Drivdahl. The existing 900 MHz solutions from other manufacturers have generally offered low throughput between 1 to 2 Mbps, or were not based on Wi-Fi standards. With Moxa's AWK-3191, users can achieve an impressive 6 Mbps data rate over a 30 km point-to-point connection and a theoretical maximum data rate of 54 Mbps. In addition, master/slave and AP/client operation modes are available to support point-to-point and point-to-multi-point communication. This combination of features makes the AWK-3191 a highly flexible and cost effective solution for wireless applications involving highly obstructed sites or long distances.

Rugged enough for any harsh industrial environment, the AWK-3191 is rated to operate at temperatures ranging from -25 to 60°C for standard models and -40 to 75°C for wide temperature models. Its industrial-grade design is compliant with various standards and approvals including for EMC (FCC part 15, Subpart B). In the event of external interference, the AWK-3191 allows engineers to adjust the 900 MHz central frequency and bandwidth (5/10 MHz and 20 MHz) to optimize wireless performance.
Highlights:
• 900 MHz transmission for superior wireless penetration and distance
• AP/client and master/slave modes for point-to-point and point-to-multi-point connections
• QoS (WMM) and VLAN for efficient network traffic
• Maximum security with WEP/WPA/WPA2/802.11X and powerful filters
• -40 to 75°C operating temperature range (T models)
• Power and antenna isolation design for higher operation stability
"Traditional Wi-Fi signals cannot penetrate thick surfaces like concrete walls, and lose strength quickly over long distances. What we've done is frequency-shift Wi-Fi to 900 MHz, which enables great penetration through objects and long distance transmission, while allowing us to retain the benefits of Wi-Fi throughput and security," said Ariana Drivdahl, Product Marketing Manager for Moxa Industrial Wireless. "The AWK-3191 900 MHz wireless AP/bridge/client is Moxa's answer to long distance wireless communication for industrial applications. It allows for client devices to be located in difficult to reach areas, and it saves on installation and wiring costs in remote locations. Also, it eliminates the need to re-wire a plant's infrastructure when relocating machines on the plant floor."
For more information about Moxa or other products, click here to go to Utility Products' Buyers' Guide.