Energy management: Metal-enclosed capacitor banks
Electric distribution: Eaton expands line of metal-enclosed capacitor banks, offers increased quality, efficiency and reliability for multiple applications.
May 22nd, 2014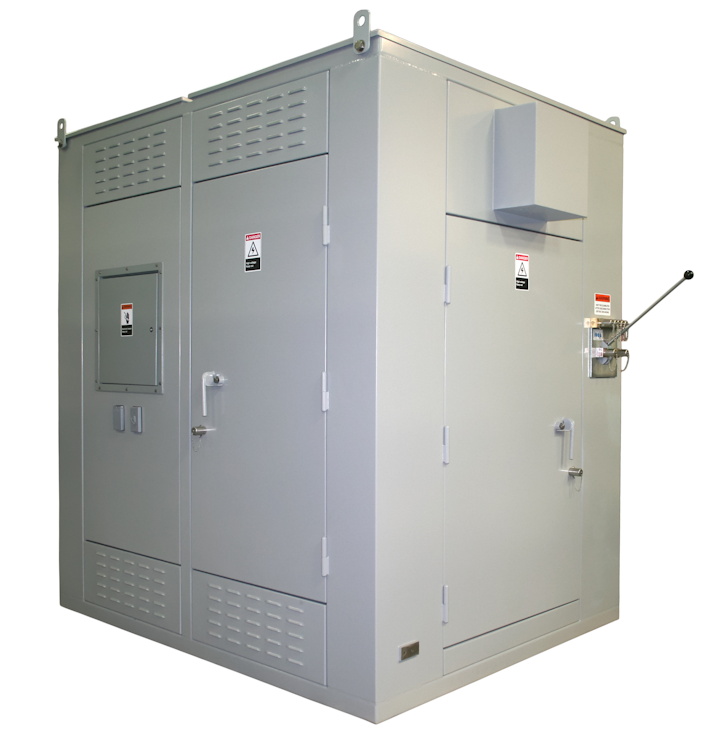 Power management company Eaton announced an expanded product and services offering of metal-enclosed capacitor banks from its Cooper Power Systems business. This offering increases its existing pad-mount capacitor bank platform to include all metal enclosed capacitor bank applications such as standard shunt banks, harmonic filter banks and multi-step banks. Capacitor banks are designed to improve overall power efficiency and quality of electrical distribution systems in utility and commercial and industrial applications such as substations and industrial parks, universities, mines and shopping malls.

"The demand for metal enclosed capacitor solutions is increasing as utilities and commercial and industrial customers strive for increased safety, a smaller footprint and lower maintenance costs," said Pat Bowers, global product manager, Eaton's Cooper Power Systems Division. "Beyond the capacitor banks, we are able to provide customers with an integrated approach, including a single point of responsibility, field-based application and engineering expertise."

Designed to help improve overall efficiency, the expanded product line has the potential to save a utility millions of kilowatt hours (kWH) annually. In addition, commercial and industrial customers can potentially save thousands of dollars on utility usage and demand charges. Capacitor products also help improve power quality by supporting voltage and mitigating harmonic issues when applied as harmonic filters.

The complete solution achieves increased power quality through reduced losses, power factor and voltage improvement, system capacity release and harmonic filtering. Meeting or exceeding all standards from the American National Standards Institute (ANSI®), Institute of Electrical and Electronics Engineers (IEEE®), National Electrical Code (NEC®) and International Electrotechnical Commission (IEC®), products are easy to install and maintain, while offering improved safety and reliability in a range of environments. Standard ratings are available up to 38 kilovolt (kV) in single or multi-step configurations.

For more information about Eaton or other products, click here to go to Utility Products' Buyers Guide.