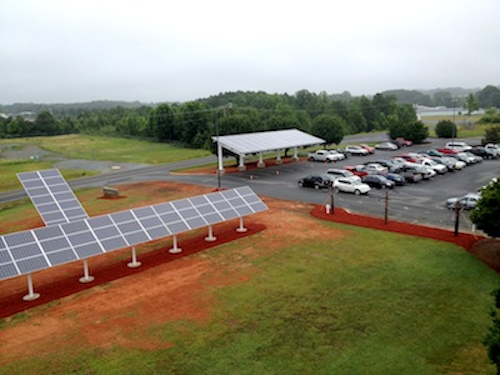 Preformed Line Products Company (PLP) recently expanded its global renewable energy power generation by adding a PV solar array at its manufacturing facility located in Albemarle, N.C. The new 50 kW grid-tied photovoltaic system is divided into multiple arrays positioned on the roof, parking area and front lawn of the facility. The mounting hardware systems feature the POWER-FAB CRS, Top-of-Pole and new MPM-G2 ground mount systems designed and manufactured by PLP's wholly owned subsidiary DPW Solar in Albuquerque, N.M. The roof mount structure is completely ballasted, requiring no roof penetrations, and qualified in wind tunnel tests. The MPM-G2 and TPM ground mount structures pivot for seasonally adjusting the module tilt angle to maximize energy production year round.

The PV solar power generation system consists of 224 Schott modules and a PV Powered Inverter. PLP expects the system to generate over 66 MW-hrs per year of clean energy that will supply a portion of the electricity consumed by the manufacturing facility. The system is closely monitored, and PLP has a kiosk in the front lobby so that the energy production from this array may be viewed real-time. As an added benefit, the new solar system not only generates reliable clean renewable power, but also provides a shade canopy for employee cars.

With the new system in Albemarle, PLP now has approximately 700 kW in PV solar capacity installed at multiple manufacturing facilities worldwide including a PV solar system at its headquarters located in Cleveland, Ohio.

For more information about PLP or other solar power generation, click here to go to Utility Products' Buyers Guide.