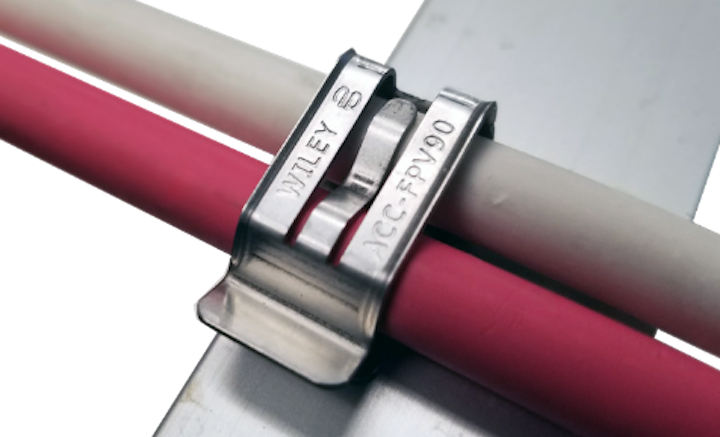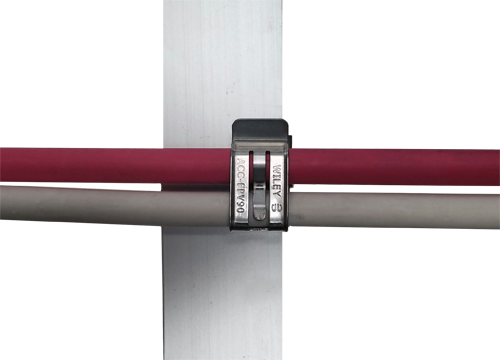 BURNDY®, a leading manufacturer and provider of wire management solutions to the Solar PV industry, announces the addition of the new ACC-FPV90 wire management clip to the WILEY line.
MANCHESTER, NH, FEB 28, 2019 -- The ACC-FPV90 wire management clip is made of corrosion resistant 304 stainless steel, which makes it a durable, long lasting and reliable solution for all environments. The ACC-FPV90 is easy to install and slides 90 degrees on to module frames of various thicknesses. The ACC-FPV90 accommodates 1 to 2 PV cables up to 8.0mm in diameter. The rolled edges are designed to help protect cable insulation from damage. ACC-FPV90 clips are the perfect solution for keeping the PV installation neat, clean and free from ground faults.
Innovative design that allows for quick and easy installations
High quality, long-lasting, labor saving wire management solution
Corrosion resistant 304 stainless steel provides outstanding durability and performance in all environments
Snake tongue tabs securely anchor clips to module frames or purlins
Compatible on modules/purlins with a flange thickness range of 1.0mm to 3.0mm
Wire Diameter Range: 5.0mm to 8.0mm per each wire
Installs in a 90 degree orientation
Considerate lead in for installation without tools
Accommodates all types of PV cable
Rolled edges protect cable insulation from damage
Lasts for the lifetime of the Solar PV system
Recommended for outdoor use
RoHS Compliant
UL1565 Listing pending
Environmentally Tested - UL2703 & ATSMB117
Custom designs are available upon request
About BURNDY®
Headquartered in Manchester, New Hampshire, BURNDY® has more than 90 years of dedicated customer support in both service and product. Our customers need to look no further than BURNDY® for all their connector, tool, and accessory needs. BURNDY® is the only manufacturer to have the BURNDY® Engineered System of coordinating dies, connectors and tools. The three elements have been specifically designed to work together and engineered to meet stringent, accepted quality standards allowing the user complete confidence in the integrity of the connection.