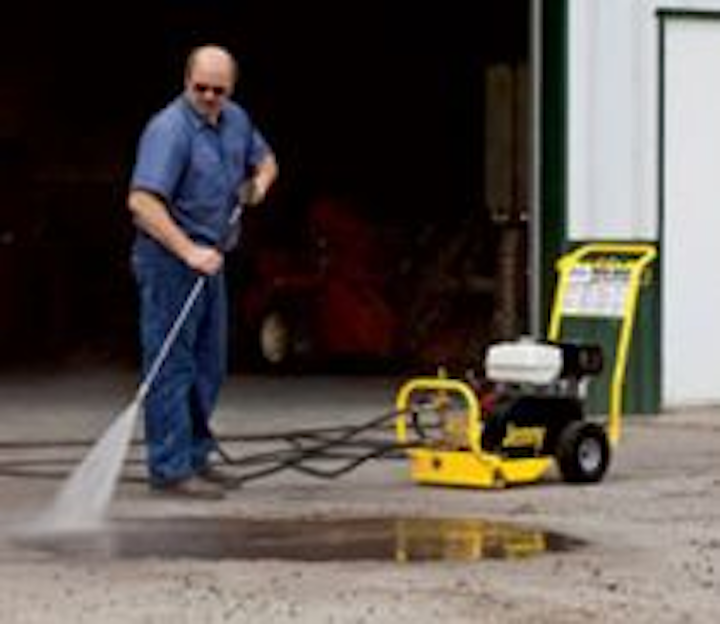 Jenny Products Inc. has introduced four new models of belt-driven cold pressure washers. Designed for heavy use, they provide a longer pump life than direct-drive units. The extended service life is due to the pulley system, which turns the pump significantly slower than if the pump was coupled with the engine crankshaft. In addition, the belt absorbs engine vibration and allows the pump to be located farther away from the engine heat. All models are designed for maximum durability and portability to meet the demands of commercial-duty applications.

The pressure washers are powered by 9- or 13-hp Honda GX Series engines, and all models feature a triplex ceramic plunger pump, which provides years of service while requiring little maintenance. The units offer a very good balance between power and volume. They are available with pressure ratings between 3,000 and 4,000 psi, and flow rates vary between 3 and 4 gpm. Furthermore, a customizable option allows customers to choose a unit with pressure and flow ratings based on their specific needs.

Many standard features are incorporated into the line to ensure long service life: thermal pump protection, an unloader valve and a high-pressure relief valve to prevent damage to the pump. To protect the engine, the unit automatically shuts down if low oil levels are detected. The chassis is made with powder-coated, seven-gauge steel for enhanced durability.

Jenny Products Inc., Steam Jenny Div.