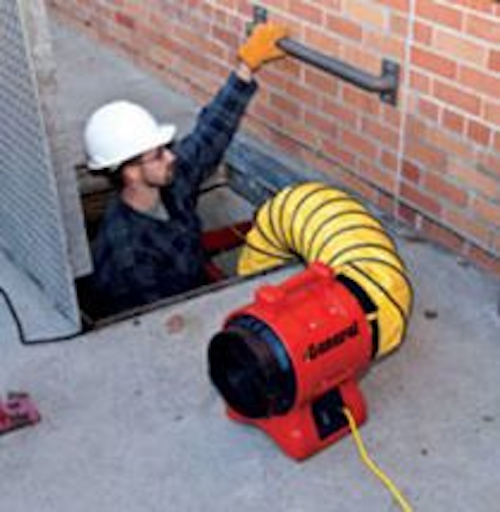 Adding to its extensive line of hazardous and non-hazardous location ventilation blowers, General Equipment Co. introduces its new axial-flow confined space ventilation blowers. Available in both 8" and 12" diameters, the blowers are powerful enough to push air across large, open areas—making them very useful for drying applications, improving indoor air quality levels and removing unwanted odors.

Three models are included in the line. The EP8ACP is powered by a 1/3-hp, 115-Vac electric motor and provides a free air delivery rate of 900 CFM. For jobsites where power is supplied by a service vehicle, the EP8DCP features a 1/6-hp, 12-Vdc permanent magnet motor; free air delivery rate is 860 CFM. When larger airflow volumes are necessary to help comply with tough confined space regulations, the EP12ACP model is very useful: the unit is powered by a 1-hp, 115-Vac single-speed electric motor and produces more than 2,200 CFM free air delivery.

General Equipment Co.