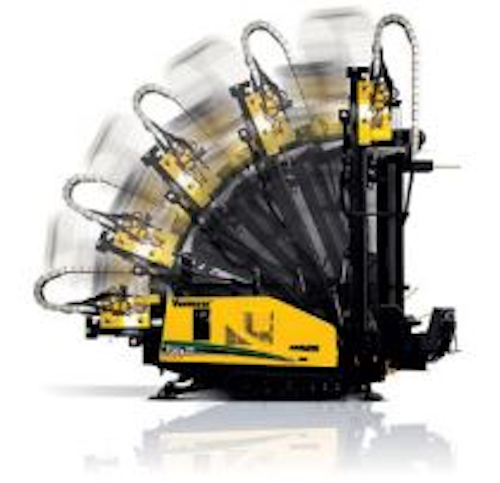 Vermeer Corp. has introduced two new products designed specifically to assist with geothermal field loop installations. The Navigator D20x22FX Series II will be the industry's first flex-angle drill capable of drilling at any specified angle ranging from 18 to 90 degrees. It's engineered with input and feedback from contractors who specialize in geothermal loop system installations.

Capable of completing vertical and steep-angle geothermal loop installations, the Navigator D20x22FX Series II is also a fully functioning horizontal directional drill that can install horizontal loops as well as conventional utilities. This feature offers exceptional adaptability in meeting varying project specifications.

The Navigator D20x22FX Series II flex-angle drill comes equipped with an automated rod loader that is modeled after a conventional HDD rod loader with modifications to operate at the fully vertical position. This feature eliminates the need to manually handle each rod, enhancing productivity and operator safety. The auto-drill feature allows the operator to set thrust/pullback speed, pressure or rotation modes and revert back to original setting with the simple push of a button.

To complement the Navigator D20x22FX Series II, Vermeer has also introduced the GM30 grout mixer. The GM30 model will provide convenient and efficient mixing of grout for residential or commercial geothermal loop installations. The unit will be available with either single or dual tank configurations, as well as a centrifugal or high-pressure piston pump to meet the specific needs of contractors.

Vermeer Corp.