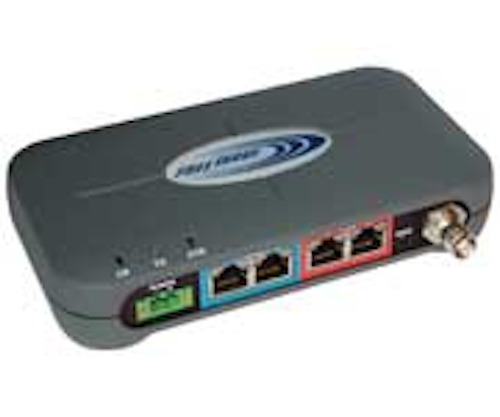 Boulder, Colo., February 17, 2010— FreeWave Technologies, a manufacturer of reliable, high-performance spread spectrum and licensed radios for critical data transmission, has announced the release of their new FGR2-PE. The FGR2-PE is a data radio for smart grid and renewable energy, offering industrial serial and Ethernet wireless connectivity using license-free spread spectrum for data communication over long distances. In addition, the FGR2-PE is well suited for similar SCADA applications in other vertical markets such as oil and gas or water/wastewater.

The FGR2-PE is compatible with other FreeWave FGR plus family radios and offers users a second, switched Ethernet port as well as two serial ports to meet the demands of customers' wireless automation requirements. The future-proof combination of two serial ports and two switched Ethernet ports offers customers the ability to transition from serial to Ethernet data communication without having to replace their wireless communication hardware down the road, or operate both serial and Ethernet communication independently and simultaneously on the same platform. This cost-effective flexibility of the FGR2-PE product also reduces the need for additional hardware.

"The FGR2-PE is an ideal platform for the wireless transmission of critical data and offers the same proven reliability and quality that our customers have come to know and expect in our radios," said Matthias van Doorn, product manager Ethernet and licensed radio systems at FreeWave. "In particular, our utility customers appreciate its industry-leading RF performance as well as the versatility and flexibility of the new FGR2-PE to support distribution automation, alternative energy applications like wind and solar power, and many other telemetry and SCADA applications within the Smart Grid."

Additional key benefits of the FGR2-PE include:
• Improved noise rejection and other radio performance enhancements to help maintain reliable wireless serial or Ethernet communication even over long distances or in congested RF environments.
• An industrial-grade, small and rugged enclosure that offers mounting and installation versatility, including a DIN rail mounting option, with all connectors conveniently located on one side of the enclosure.
• Integrated security options (e.g. AES encryption) and proprietary spread spectrum technology so customers can rely on the FGR2-PE to provide secure wireless data communication links to operate mission-critical network functions.
The FGR2-PE radios are available now. Additional information is available online at http://www.freewave.com/products/product-274.html or by contacting FreeWave at 866-923-9948.