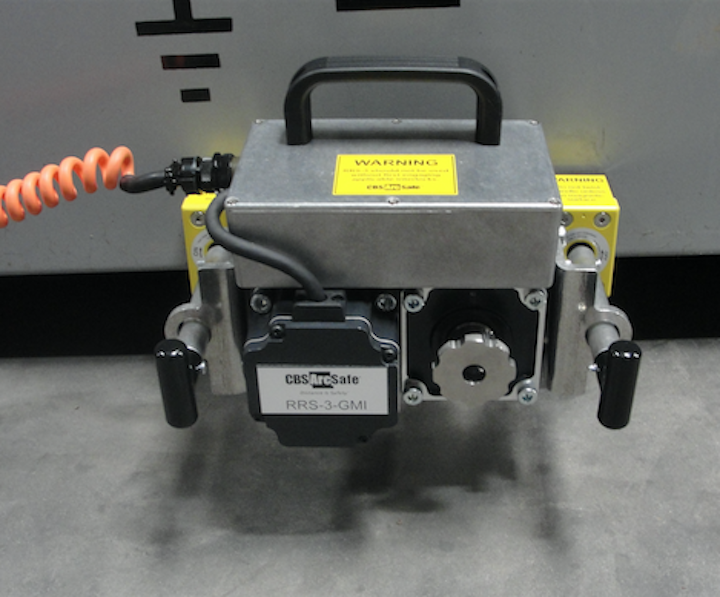 CBS ArcSafe, a manufacturer of remote racking and switching solutions for low- and medium-voltage switchgear, offers its single-application remote racking system (RRS) for Siemens Type GMI and Type 3AF vacuum circuit breakers. The lightweight, portable CBS ArcSafe RRS-3 GMI allows technicians to remotely install and remove the circuit breaker from a safe distance of up to 300 ft. while remaining stationed outside the arc-flash boundary.

Installation and operation do not require any modifications to the existing electrical equipment, due to CBS ArcSafe's magnetic latching system. The RRS-3 GMI is compatible with Type GMI and Type 3AF vacuum circuit breakers with ratings of 1200–3000 A, including 5-GMI, 7-GMI, 15-GMI, 5-3AF, 7-3AF, and 15-3AF. Typical applications for the GMI and 3AF breakers include commercial, industrial and service-entrance applications to protect and switch main, feeder and incoming lines. The RRS-3 GMI is a cost-effective solution for keeping operators safe when compared to other arc-flash mitigation alternatives.

Optional features include 25-ft. extension cables, 24 Vdc LED light, wireless video camera system with LCD monitor, and rugged protective case assembly. All RRS-3 units are portable, fast, and easy to set up; offer mechanical and/or electrical safety protection; adjust to fit unique electrical equipment configurations; reduce the requirements for personal protection equipment; and help customers with NFPA 70E arc-flash safety compliance. All CBS ArcSafe products are manufactured in the United States at our facility in Denton, Texas.
For more information about CBS ArcSafe or other products, click here to go to Utility Products' website.