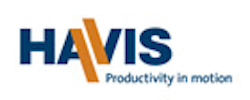 75 Jacksonville Road
Warminster, PA
Havis Inc. is a privately held, ISO 9001:2008-certified company that manufactures in-vehicle mobile office solutions for public safety, public works, government agencies and mobile professionals. For more than 80 years, the Havis mission has been to increase mobile worker productivity with industry-leading products that are built to the highest safety and quality standards and are designed with comfort in mind. Havis innovative products include computer docking stations and cradles, vehicle specific equipment mounting and consoles, touch screen display, integrated control system, power management, computer screen blanking, accessories, and more. Havis is dedicated to responsible intellectual property management, and fosters ongoing innovation. Havis' patent and trademark portfolio demonstrates commitment to consistently researching and developing unique products and solutions for mobile industries around the world. With headquarters in Warminster, Pa., a location in Plymouth, Mich., and Havis Europe Ltd. based in in the United Kingdom, Havis currently employs more than 300 people. For more information on Havis, please call
1-800-524-9900 or visit www.havis.com.

Request More Information
Fill out the form below to request more information about Havis, Inc.
---