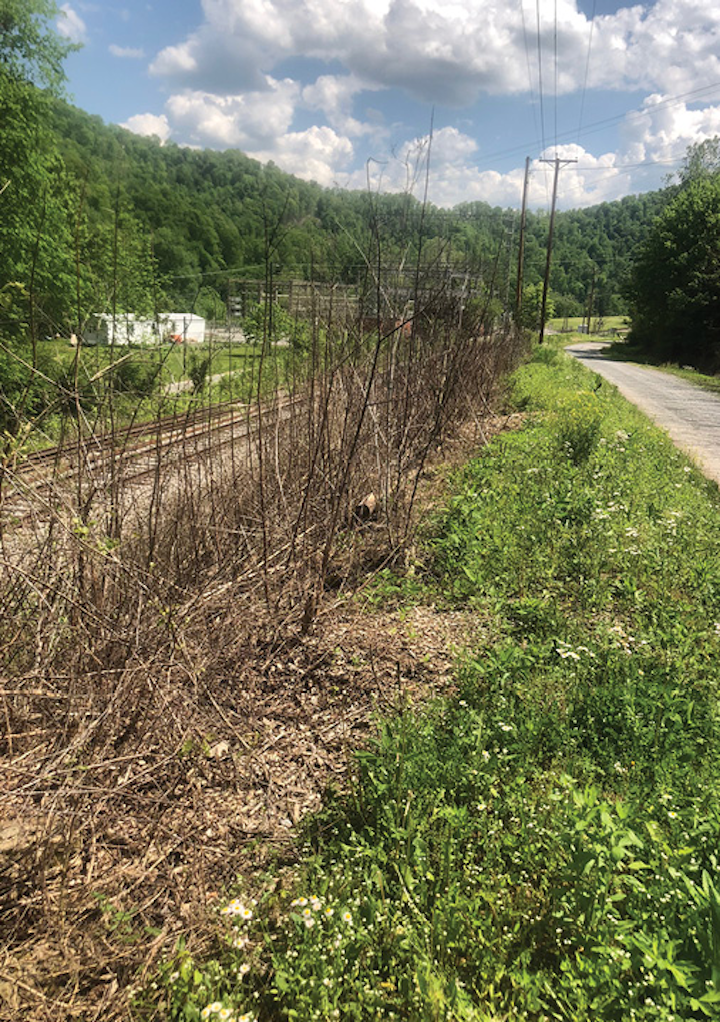 By Stacie Songer
It might seem ironic to find collaboration at the geographical center of what was the iconic Hatfield and McCoy feud. But Appalachian Power needs teamwork to deliver power to even the most remote areas of the mountainous border area between southeastern Kentucky and West Virginia. And it needs time.
The rugged terrain in the area requires a more deliberate pace for applicators to safely, effectively and responsibly manage rights-of-way. Any delay can be detrimental to completing vegetation management cycles.
It's why Dwayne Starr, senior utility forester with Appalachian Power, sought collaboration on trials of dormant-stem herbicide treatments to see if they might provide an option to extend his application season — and give him more time to manage his rights-of-way. The results showed these treatments provide a way to keep crews spraying longer, among other benefits.
Coming Together to Find a Solution
Appalachian Power is a regional electric utility that is part of American Electric Power. Starr manages eight counties in southern West Virginia that encompass 2,700 very challenging miles of distribution line. "I like to say that some of the terrain we manage is too steep for a billy goat," he said.
Starr's goal for line maintenance is 440 line miles per year, but herbicide applications typically can't begin until after Memorial Day, giving applicators a tight window each season to perform foliar treatments. It's what pushed him to look for alternatives.
"We wanted to look at dormant-stem treatments as a way to extend our spray season and give our crews the option to keep working," Starr explained.
Even with his more than 40 years of experience, Starr relies on inputs and insights from an experienced team of partners, including Daniel Thacker, project manager, and Samuel Thacker, general foreman, with Wright Tree Service; Brock Shockley, territory manager with Nutrien Solutions; and members of Corteva Agriscience™. Wright Tree Service handles much of the contract application work, and Nutrien Solutions and Corteva Agriscience collaborate to recommend and deliver herbicide solutions.
Fortunately, dormant stem wasn't a new concept to everyone on the team. "We've seen a big increase in dormant-stem work in recent years," Shockley said. "I've worked with Corteva Agriscience on some really successful treatments on similar rights-of-way, so we didn't have to start from scratch."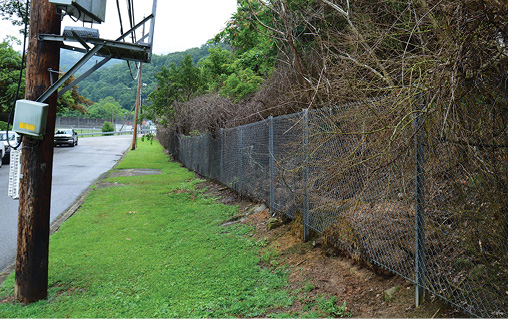 Successful trial results of dormant-stem treatments made along a highly visible Appalachian Power right-of-way.
In November 2017, the team selected and treated two test plots. The first plot was a fairly secluded stretch of Appalachian Power's distribution rights-of-way. The second were distribution rights-of-way in a highly visible, residential neighborhood.
Each location was used to test a specific herbicide mix. The mix used on the remote rights-of-way consisted of Garlon® 4 Ultra herbicide, Milestone® herbicide, imazapyr and bark oil. The mix used to treat the more visible location added Tordon® 22K herbicide but lowered the rate of imazapyr. The team applied both mixes using hydraulic sprayers.
"We had planned two smaller test plots, but once we got started, we made the decision to keep going," Daniel Thacker said. "We ended up spraying more than 200 acres, which gave us a larger sample to look at."
Dormant-steM Mix No. 1
remote locations (rates per acre)

Garlon® 4 Ultra herbicide

192 oz.

Milestone® herbicide

7 oz.

Imazapyr

12 oz.

Bark oil

256 oz.
Dormant-steM Mix No. 2
Visible locations (rates per acre)

Garlon® 4 Ultra herbicide

192 oz.

Milestone® herbicide

7 oz.

Tordon® 22k herbicide

32 oz.

Imazapyr

12 oz.

Bark oil

256 oz.
Results Make the Case for More
The team gathered in late June 2018 to view the test plots and field work put out the previous winter. Control was the first measurement taken because if additional time comes at the expense of control on targeted vegetation, there isn't much value gained.
"When we reviewed the more remote plot, it showed better than 80 percent control," Shockley said. "The more visible plot where the mix included Tordon and a lower rate of imazapyr showed better than 90 percent control."
Both control rates were in line with the group's expectations. In fact, Corteva Agriscience has found that utilities using dormant-stem treatments correctly have seen anywhere from 85 percent or better control on hardwoods such as maple and oak, as well as conifers such as pine.
"We liked the control we saw and think it will only improve as our applicators get accustomed to making these treatments," Daniel Thacker said. "And feedback from our crews is that dormant-stem treatments take about the same amount of time to make as foliar treatments."
It is highly recommended that applicators be specifically trained in this application technique, as control results are tightly aligned to proper applications. Dormant-stem applications are best suited for low to moderate stem density and geared for brush that's mostly head high or lower.
Based on the successful trials, Appalachian Power has now begun integrating these treatments into its overall vegetation management program moving forward.
"The successful results from our test plots and field work helped justify the decision to utilize these treatments more often," Starr said. "We're now using dormant-stem treatments to not only catch up on brush we weren't able to treat during the previous foliar season but also cut down on the amount of foliar spraying that we'll need to do this year," Starr said.
Starr said crews sprayed approximately 75 acres using dormant-stem treatments in 2018. "In most cases, we picked up right where we left off at the end of foliar season on areas we had planned to spray but couldn't finish before the change of season came," Starr said.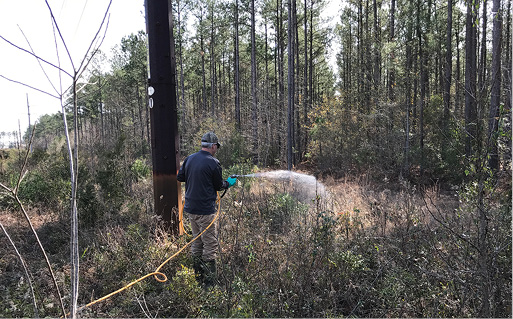 Dormant-stem treatments are useful for vegetation managers looking to catch up on brush treatments not able to be made during foliar season.
Why Dormant Stem Makes Sense
From late fall to early spring, dormant-stem treatments allow the application season for brush control to begin at fall leaf drop and continue until early bud break. And while gaining more time was the impetus to Appalachian Power trialing dormant-stem applications, the benefits of dormant-stem treatments have been proven to extend beyond that. The timing offers the opportunity to better align budget funding with rights-of-way maintenance because of the flexibility around timing treatments. It also keeps spray crews working instead of shutting down.
Samuel Thacker said that when crews are able to keep spraying throughout the year, they tend to stay sharper. "We've seen that when guys are able to move to spraying dormant stem after foliar season, they are sharper when foliar season comes back around," he said. "There's no long off season from spray work, so it's an easier transition from dormant to foliar."
Dormant-stem treatments also are valuable for treating sensitive areas, such as around crops, and in residential areas because brownout is much less noticeable than with foliar treatment. Since the application occurs during the dormant season when most woody plants have dropped their leaves, visibility is significantly reduced in comparison with many growing-season applications. Minimizing public visibility has been shown to help reduce landowner complaints. This was a big part of why the residential test plot was selected — and it played out as expected.
"We didn't receive any complaints associated with the trial plot we placed in the highly visible residential area," Starr noted.
Additionally, if dormant-stem applications are made using herbicides that are selective to grasses and other beneficial plants, this desirable vegetation will work to provide a biological barrier of sorts against further woody plant establishment.
One thing to be mindful of when making these treatments, according to Starr, is taking proper precautions with equipment when temperatures drop below freezing. "When it's really cold in the later part of December through early February, it can be difficult to keep hoses from freezing when we're working in the northernmost areas we manage," Starr said.
An extended treatment season, excellent brush control and less complaints are just a few of the benefits Appalachian Power has found with dormant-stem treatments as it works to maintain its rights-of-way and keep the power flowing to its customers. UP
The Author: Stacie Songer is a territory manager for the Pasture & Land Management business of Corteva Agriscience™. In her role, she works with utilities to develop vegetation management programs throughout Illinois, Indiana, Kentucky, Michigan and Ohio. Songer received her bachelor's degree in agriscience at Michigan State University. She can be reached at stacie.ann.songer@corteva.com.
™®Trademarks of Dow AgroSciences, DuPont or Pioneer, and their affiliated companies or their respective owners.