Improving Disaster Prevention and Recovery
Regular inspection and maintenance of utility assets is critical for ensuring infrastructure is compliant and in service; and drones are revolutionizing utility inspection.
Jun 1st, 2019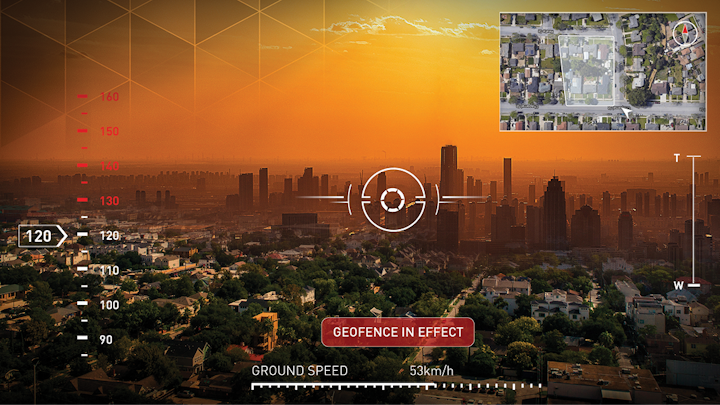 Photos courtesy of Cape.
By Chris Rittler
Traditionally, it can take weeks if not months for utility companies to inspect thousands of miles of transmission towers — costing the company a substantial amount of time and money. Fortunately, drones are enabling companies to quickly and efficiently conduct in-depth asset inspections in order to identify risks and deploy needed crew members to address potentially dangerous situations before incidents occur. Additionally, drones can act as first responders to assess a situation before emergency response crews arrive, giving them a live, accurate view of the situation and enabling them to best prepare needed equipment in the event that an incident does occur.
In November 2018, the Camp Fire broke out in Northern California. It would become the deadliest and most destructive wildfire in the state's history. It took more than two weeks for firefighters to fully contain the blaze, which destroyed over 153,000 acres of land and nearly 19,000 structures. The wildfire cost an estimated $19 billion for homeowners, insurers, and the state, but the biggest cost was the 85 lives lost. For utilities companies, wildfires offer a case study on the importance of proper inspection and how drones can play a critical role in both disaster prevention and incident response.
Disaster Prevention
In the case of the California wildfires, a multitude of factors contributed to disastrous conditions that would ensue. Investigations following the containment of the fire revealed that damaged power lines and high-voltage transmission towers contributed to the initial spark. Additionally, a second fallen power pole was found miles away. Impacted families alleging inadequate maintenance of power equipment were left to rebuild their lives from the ground up.
Ongoing tower and equipment inspections are traditionally manual, time-consuming, and resource-intensive tasks that are often dangerous for the workers conducting them. Despite these challenges, timely and accurate inspections are essential for preventing massive, devastating disasters.
With drones, utility companies like PG&E can conduct regular inspections more quickly and thoroughly than ever before. For example, utility companies often have multiple groups inspecting the same section of lines for different purposes and to collect different data points. With the ability to give the right experts real-time visibility, a single drone inspection can provide all of the needed visibility and data for multiple working groups at once, from vegetation management and maintenance inspectors to engineers and project managers. Flying drones and live-streaming the needed information back to the experts significantly reduces the risk to the personnel involved because only a single team of drone pilots is required to be in the field.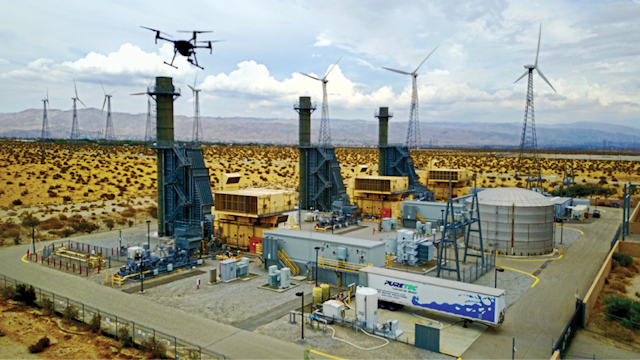 Flying drones and live-streaming the needed information back to the experts significantly reduces the risk to the personnel involved because only a single team of drone pilots is required to be in the field.
Incident and Disaster Response
Even with regular inspections, incidents happen. But with drones, utilities companies can be better prepared to more quickly identify and address potential issues before they become disasters or provide eyes in the sky for disaster response efforts.
Imagine being in the operations center when an alarm appears: there's an issue with a transmission tower and service for an entire area is down. Rather than wait days for a team of tower climbers, potentially costing the company millions due to service outage and leaving it blind to potentially disastrous issues, you send a message to a nearby technician who has a drone in his truck. The technician is about one mile from the tower when he launches the drone. An IT engineer from the operations center accesses the flight, takes control of the drone and remotely flies the it over to the tower in question for a close-up view using the drone's high-zoom camera and HD live stream.
After just five minutes of moving around the tower with the drone, controlling it with a mouse and keyboard, they spot the issue: Lightning from a recent storm has damaged the tower and power lines. Photos and video from the flight are instantly uploaded to the cloud asset management system, where they can then be tagged and easily shared with the appropriate teams.
Now, having identified the most likely cause of the outage — and knowing that the power lines are damaged and causing potential risk — the company can send a team out to address the damage before it snowballs into a much larger and more dangerous situation. What's more, when the responding team arrives on scene to address the damage, the drone can provide critical support for ensuring they approach the problem in the best way to keep them out of danger.
While nobody wants disasters like these to occur, they are sometimes unavoidable. Drones are helping to address the controllable factors, improving actions taken to limit potential causes of disasters, and providing a critical resource for minimizing impact through improved incident response. UP
The Author: Chris Rittler is the CEO of Cape, a leading cloud platform for drone telepresence and data management.