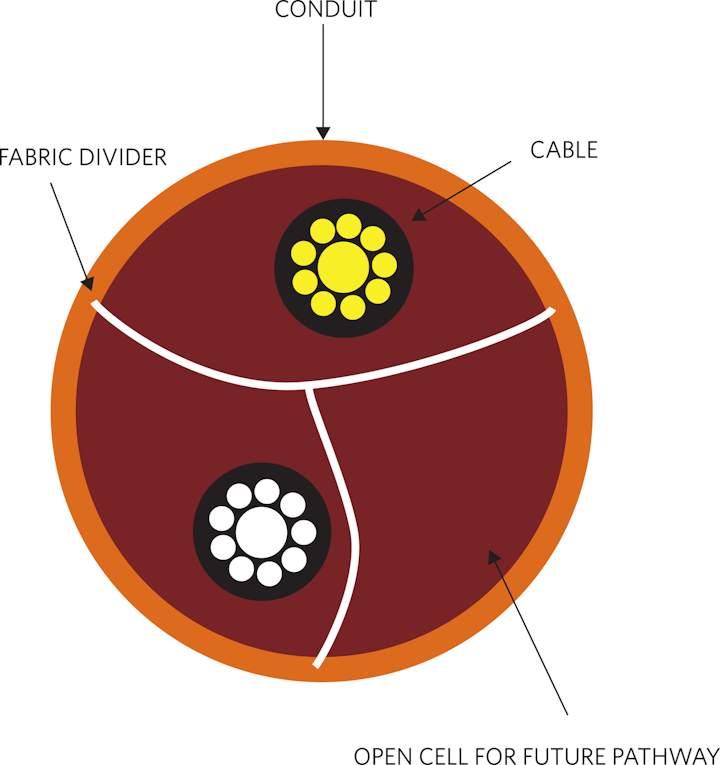 By Lee Bedingfield
Technology is advancing rapidly. Everywhere you look, you can find news of increasing developments in artificial intelligence (AI), the Internet of Things (IoT) and even the impending adoption of 5G. In our industry, these technological advancements have a significant impact on one of our most important utility workspaces: underground.
Fiber-optic cables are getting smaller while packing more bandwidth, but the demand for bandwidth is increasing at a pace that doesn't allow for more available space. As it currently stands, underground space is becoming more and more scarce.
The availability of underground real estate hasn't been a significant problem up to this point, primarily because many data centers are built in rural, more remote locations. However, due to latency issues, those with an eye on the horizon are predicting that new data centers will move closer to end users, with many already being built in suburban areas like Atlanta, Dallas and Chicago.
The move into more densely populated areas doesn't just minimize the amount of space available underground, it also adds a layer of complication concerning civil disruption. The pressure will be on engineers and installers to keep all utility installations and maintenance as quick and efficient as possible in order to maintain the typical ebb and flow of aboveground life.
There's only one way we can ensure that we are ready for these changes, and that's to prepare for the future now with process improvements that will allow for flexibility during future maintenance and upgrades.
Options for Future-Proofing New Construction
Because of our shrinking underground space, it's important for engineers to keep a forward-looking mindset when specifying so that their projects not only meet present needs but also incorporate strategies to meet future changes. For example, here are a couple of minor adjustments engineers can make that will allow a great deal of flexibility for future expansions.
Temporary seals
Many engineers are already specifying that ducts be sealed with a temporary, less-than-permanent solution such as reusable inflatable bags or mechanical plugs to allow them to be more easily accessed for future maintenance needs. Existing permanent seals such as foaming or other hardened compounds lead to increased time accessing the pathway at future dates because they are cumbersome and untidy to open. With the way our underground landscape is diminishing, incorporating these temporary seals should be considered in most situations so that cables can be easily accessed for maintenance or upgrades with as little civil disruption as possible.
Segmented conduits
Conduits take up valuable underground real estate, so looking for ways to maximize the space inside them is an absolute must. Installing one cable per conduit is not always an ideal use of space, especially when there's plenty of unused space below the recommended fill ratio in the conduit. A rigid, segmented high-density polyethylene (HDPE) conduit with a fabric divider will allow for multiple pathways within the same conduit. One or more of those pathways can, for example, be left open to allow for future expansion with a pulling medium still in the chamber. This pathway can accommodate future cable installations without the need to bore an additional conduit. This small consideration not only allows room for future expansions within tight spaces but also keeps civil disruption to a minimum.
If you're wondering whether a segmented conduit will work for an upcoming project, keep in mind that it can accommodate a variety of cable sizes up to 1.3" as well as a combined cable outside diameter (OD) of up to 1.55" in a 2-inch DR11 product because the fabric divider moves to accommodate cables of varying sizes.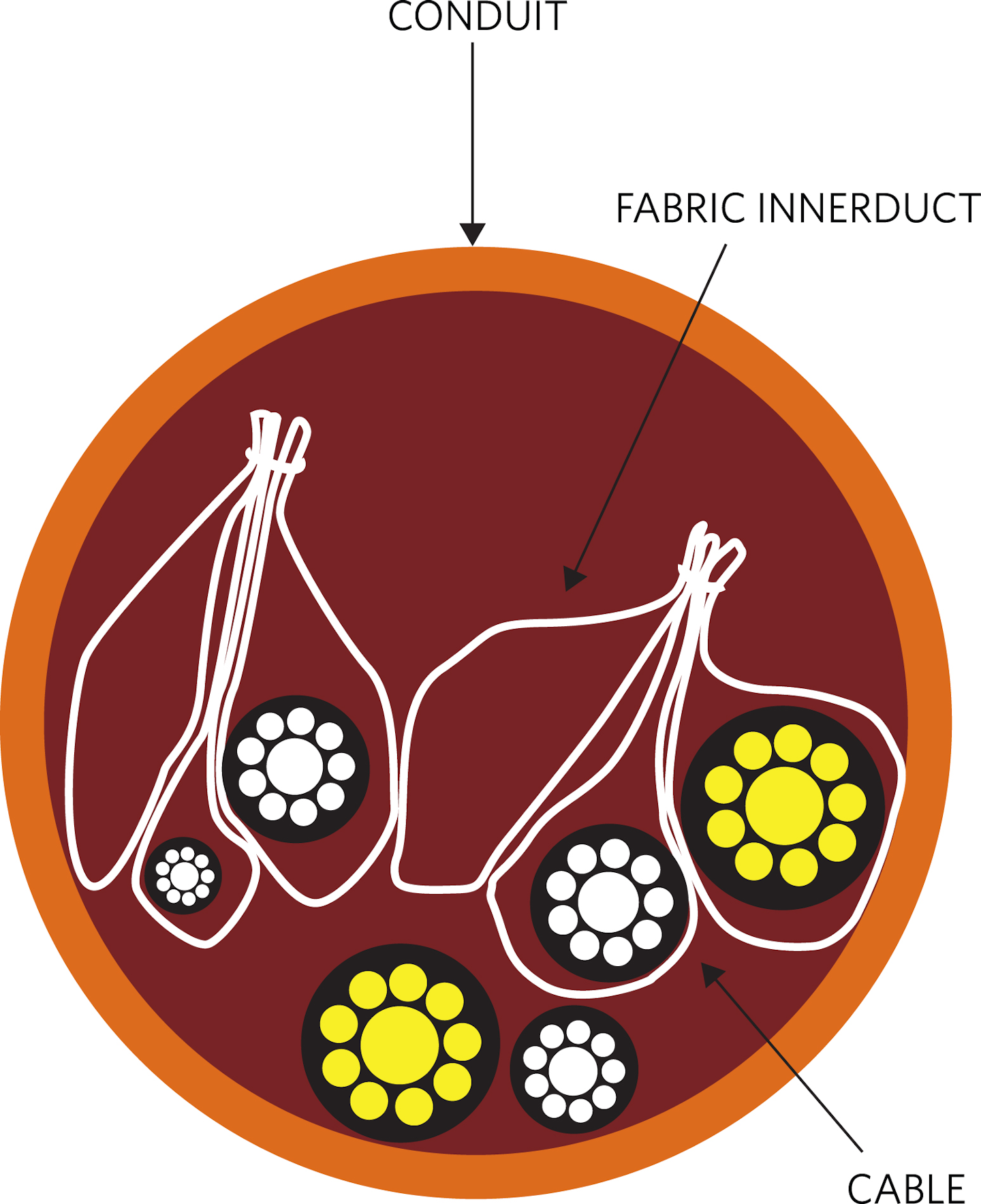 Segmented conduits are preferable to other options because they can be installed in the same manner as standard HDPE conduits and require no proprietary equipment or learning curve for the installer. Cables are placed into the dedicated pathways using traditional pulling methods.
Options for Utilizing
Existing Conduits
While finding ways to fit more utilities into a limited underground area may be challenging, it's certainly not impossible. Like new construction, the key is to maximize the space within the ducts in order to create room where there isn't any. While the solutions mentioned above should be incorporated into existing infrastructure where possible, utilizing a fabric innerduct can be another way to make full use of your current space.
Fabric innerduct
If your conduits already have one or two cables pulled inside, you may have room for more still with the use of a fabric innerduct in an overlay application. The innerduct serves as a divider between the cables to prevent cable-on-cable friction and reduce pulling tension in standard and high-density cable spaces. It's a good solution for data centers or other high-bandwidth areas that require multiple cables to be pulled within one conduit. Incorporating this innerduct into your existing ducts could allow for expansion in situations where it seems there's no available space.
The bandwidth we thought we would never use has quickly become insufficient. With underground space shrinking more quickly than many may realize, it's imperative that we keep future expansions in mind ­— as early as the planning phase — and incorporate future-proofing solutions where we can. As the saying goes, failing to prepare is preparing to fail. UP
The Author: Lee Bedingfield has a chemical engineering degree from Auburn University and has been with Milliken & Company for 26 years. He currently serves as global product manager for Milliken's Cable Management business, which leads the data communication network industry with insightful problem solving and future-proofed, cost-effective products like Vis™ Divide segmented conduit and Vis™ pulling tape. To learn more, visit cable.milliken.com.