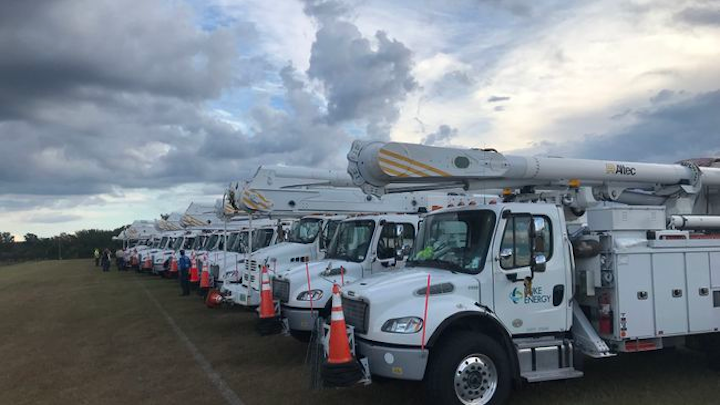 Duke Energy
The hurricane center warned that "the combination of a dangerous storm surge and the tide will cause normally dry areas near the coast to be flooded by rising waters moving inland from the shoreline." 
Larger swells and battering waves generated by Dorian will persist for several days, according to the Weather Channel. 
This will lead to "increasing beach erosion and coastal flooding, particularly around times of high tides, which are generally an hour or so before or after midday and midnight," the Weather Channel added. 
The National Weather Service in Charleston warned of "structural damage to buildings, with several washing away. Damage compounded by floating debris. Locations may be uninhabitable for an extended period."   
Duke Energy projects power outages are likely to occur Thursday and Friday: 
In North Carolina's Triangle area (Raleigh-Durham-Chapel Hill). 
In South Carolina's Pee Dee region (Darlington, Dillon, Florence, Lee, Marion, Marlboro and Williamsburg). 
Along the entire coasts of both North Carolina and South Carolina – extending to communities up to 100 miles inland. 
The hurricane is currently forecasted to exit the Carolinas Friday afternoon or evening. 
"Hurricane Dorian is a historic storm headed straight up the Carolina coastline," said Duke Energy meteorology director Nick Keener. "This slow-moving, powerful storm will bring hurricane- and tropical-storm-force winds, and rain, over a large area of our coastal, Pee Dee and Triangle regions." 
Duke Energy is moving an extra 4,000 repair workers from 23 states and Canada to the Carolinas in anticipation of the hurricane's arrival. 
The crews will complement the 5,000 Duke Energy lineworkers and tree personnel permanently based in the Carolinas – creating a total workforce of almost 9,000. 
Before power can be restored, crews first must assess the extent of damage – which can sometimes take 24 hours or more – to determine which crews, equipment and supplies are needed to expedite repairs. 
Crews will restore power, where possible, while completing damage assessment.