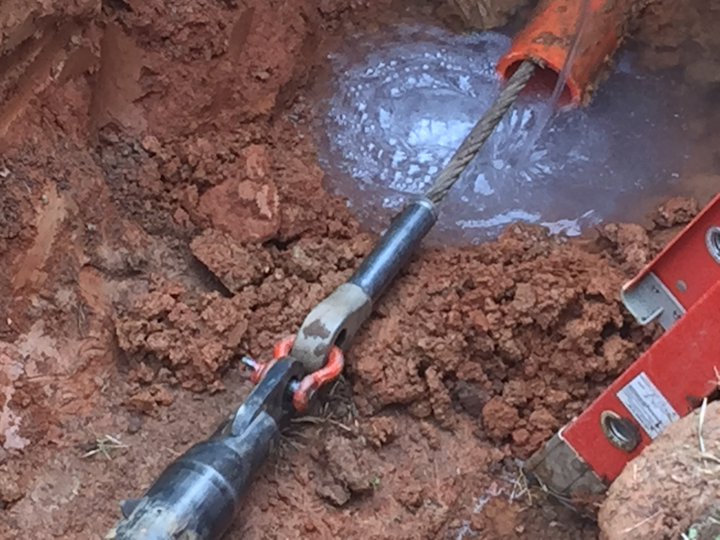 By Jim Schill
The gas industry has always been instrumental in the development and implementation of new technologies for the installation and replacement of gas services and mains. That commitment to finding new, more efficient ways of doing things is paying off for several gas utilities and utility contractors across the southern United States. 
Thousands of feet of plastic gas service and mains are being replaced through new pipe-splitting technology, according to product specialist Eddie Ward from trenchless equipment manufacturer TT Technologies (Aurora, Ill.).  
"Throughout the Atlanta area and other places in the region, there is an abundance of old CTS Aldyl-A mains and services that need to be replaced," he said. "Contractors are replacing several thousand feet of gas main and service splitting per year for gas utilities like Atlanta Gas Light (AGL) in Atlanta, Ga., that are upgrading their systems. Rather than dig up all that pipe, contractors are using specially designed pipe-splitting heads and winches to complete the work through a trenchless application."  
Atlanta Gas Light is one of the largest natural gas distributors in the Southeast. It provides delivery service to approximately 1.62 million residential, commercial and industrial customers in 237 communities throughout the state of Georgia. Typical replacements in its service area include upgrading existing 1/2-inch, 1 1/4-inch, 2-inch and 4-inch CTS Aldyl-A mains and services to the latest version polyethylene gas pipe.  
 "Crews are changing out meters at the houses, along with the risers, and replacing everything all the way back to the main," Ward said. "All valves get changed out as well. Depending on the contractor, mainline crews average between 6 and 7 people, with service crews averaging as many as eight people. Some contractors have multiple crews performing service splitting." 
Small diameter pipe-splitting equipment has been around for a number of years, but in the past 3 to 5 years there has been a large resurgence of this technology, focused specifically on gas replacement. This has coincided with a number of advancements in both splitting tooling and contractor procedures.  
Why Plastic Pipe Splitting
The development of pipe-splitting technology came out of direct requests from contractors and utilities looking for a more efficient way to replace small diameter mains and services.  
"We needed to create a trenchless method that was efficient and productive but scaled in a way to be effective for small diameter pipe," Ward said. "These projects are not 10-inch sewer mains that are being replaced through a more traditional trenchless method like pipe bursting. The splitting process here is modeled after static pipe bursting in many ways but scaled down to be effective for small plastic pipe." 
According to Ward, the plastic pipe splitting heads were developed by working directly with gas utilities to create optimum splitting head configurations. The designs are capable of splitting and replacing plastic gas service and main lines from 1/2-inch to 4 inches in diameter. The hardened, heat-treated steel cutting blades are available in various designs and sizes to best match the type of plastic host pipe, as well as soil conditions. The most common come in multiple blade configurations, a key component to successful pipe splitting.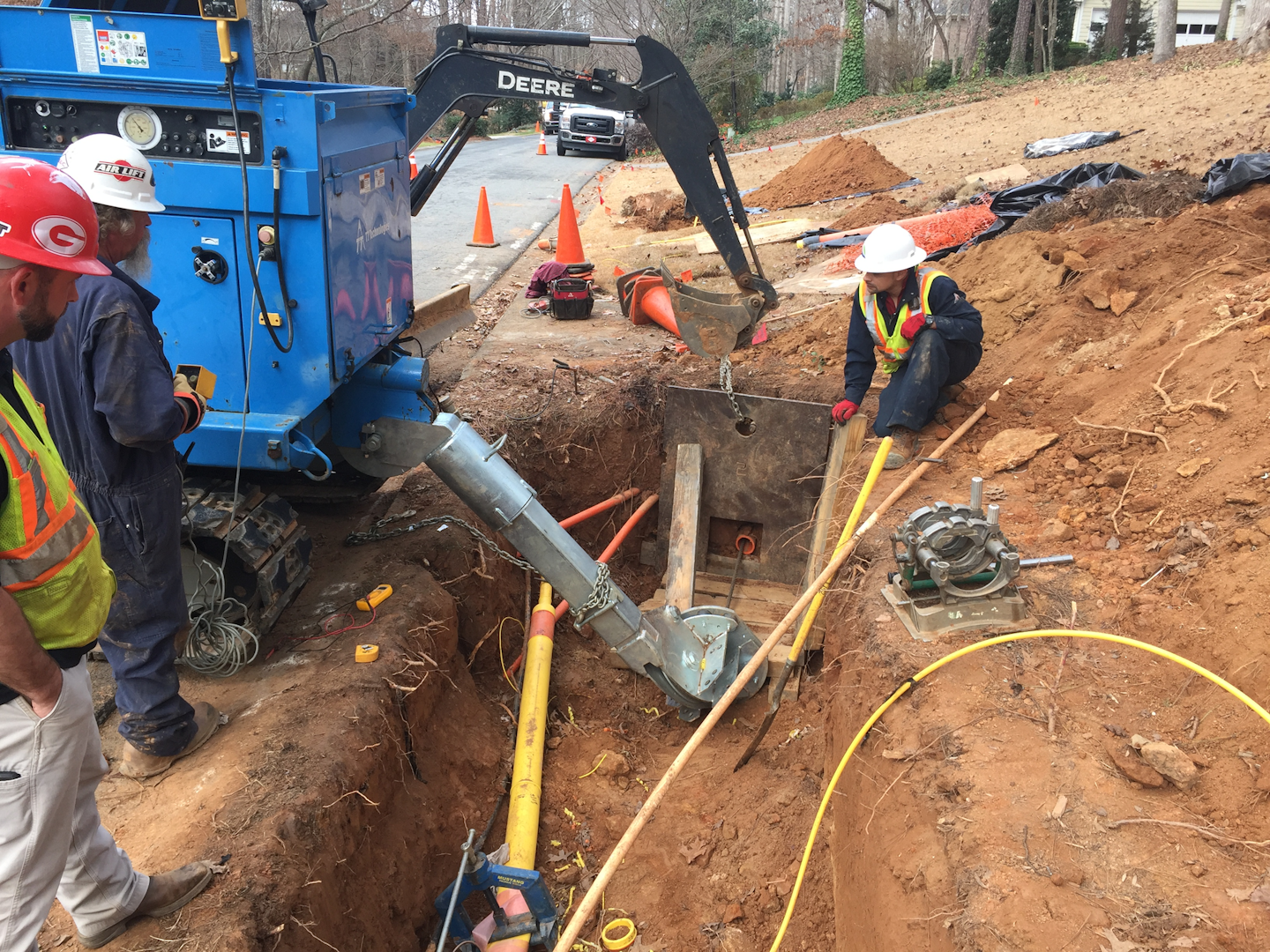 A 12-ton winch is used during the split and pull process on the mainline installations. RIGHT: For main lines and services, a weak link is used to ensure that the new pipe is installed without damage.
 "Many of the existing services were installed by plow or trencher years ago, rarely in a straight line," Ward said. "But the puller wants to pull in a straight line. Well, with a single blade cutting head, this is an issue because it only cuts on one side. What ends up happening is the existing pipe tracks back over the new pipe during installation and that creates a lot of drag. The extra blades help overcome that condition by thoroughly splitting the existing service and allows separation for the new pipe to be installed."  
During a pipe splitting project, small launch and exit pits are dug at either end of the service or main line being replaced. A winch cable is rodded from the exit pit, through the existing line, to the launch pit. The splitting head configuration is attached and then pulled through the existing line. A small expander forces the split pipe into the surrounding soil while the new pipe is pulled in place behind the expander.  
 "On the winch side, there are several options, depending on the conditions and what is being replaced," Ward said. "For example, for service line splitting, the splitting heads are paired with a winch or other cable-pulling device. These are usually smaller pulling units. For mainline splitting, it's a larger winch cable pulling system that's typically used, or a hydraulic pipe bursting unit. It operates in very much in the same way as it would in a pipe bursting project." 
Pipe Splitting Operations
According to Ward, typical project areas are neighborhoods.  
"Crews come in and split and replace all the services, long side and short side, along with 500-foot mains," he said. "Usually there are 8-12 services per block. On the short side, replacements average 110 to 120 feet per service, while long side installations average 150 to 160 feet in length."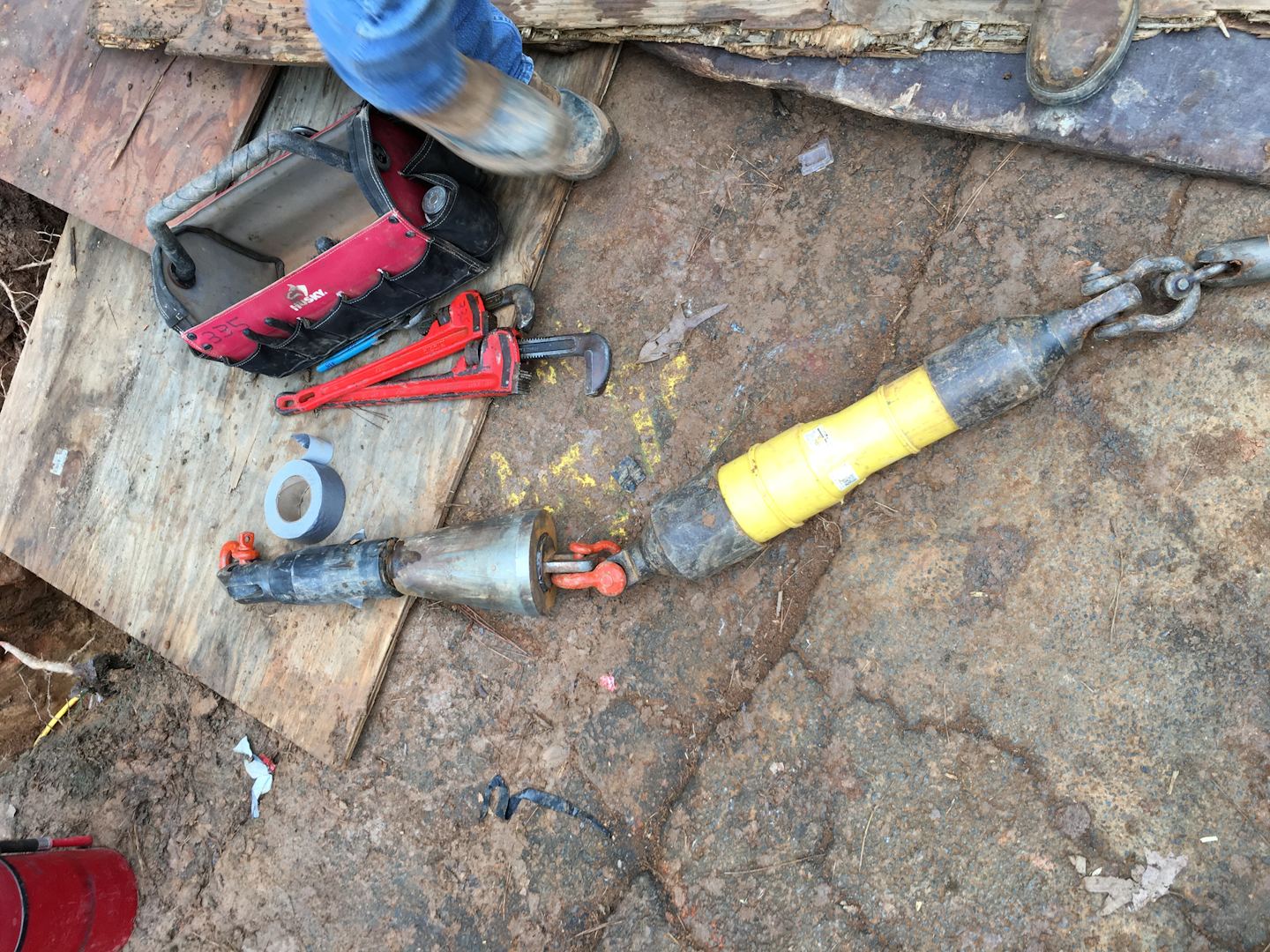 First, crews run a camera through the mainline and identify the locations of the service tees. With the camera's locator sonde, crews mark the tee location above­ground for excavation. Ultimately, crews excavate every connection and replace all the tees as they go. The camera also helps to identify and locate any stainless-steel repair joints that might have been used on the main. These internal stainless-steel sleeves are excavated and removed before splitting operations. The average depth for mainlines is 2 1/2 feet. 
Mule tape is installed as the camera is run through the existing main. Once clear of the line, the winch cable is pulled back with the tape. For the mainlines, a 12-ton winch is used during splitting operations. A 1 1/4-inch weak link section is used on all main installations and a modified version is used on service installs. Tracer wire is also pulled on each service and all mainline installations. 
Soil conditions can vary dramatically depending upon the locations of the project. Crews encounter anything from rock-filled soils, chert rock and hardpan clay to red clay and soft loam. In order to combat challenging soil conditions, a bentonite pump is often used to deliver polymer for lubrication in the launch pits and any other section of the run that's excavated. The polymer reduces friction and dissipates quickly into the ground during the splitting process.  
With services approximately 18 inches deep, a mini-winch system is used to pull the splitting head through. Occasionally, stainless-steel repair joints are encountered on services where they are excavated and removed. A 1 1/4-inch, four-blade splitter head is being used to accommodate bends and turns in the Aldyl-A service lines. This helps ensure that the service is sufficiently split.  
According to Ward, typical splitting projects include two city blocks per day, with approximately 16-24 services and 1,000 feet of mainline. UP 
The Author: Jim Schill is a technical writer based in Mankato, Minn.