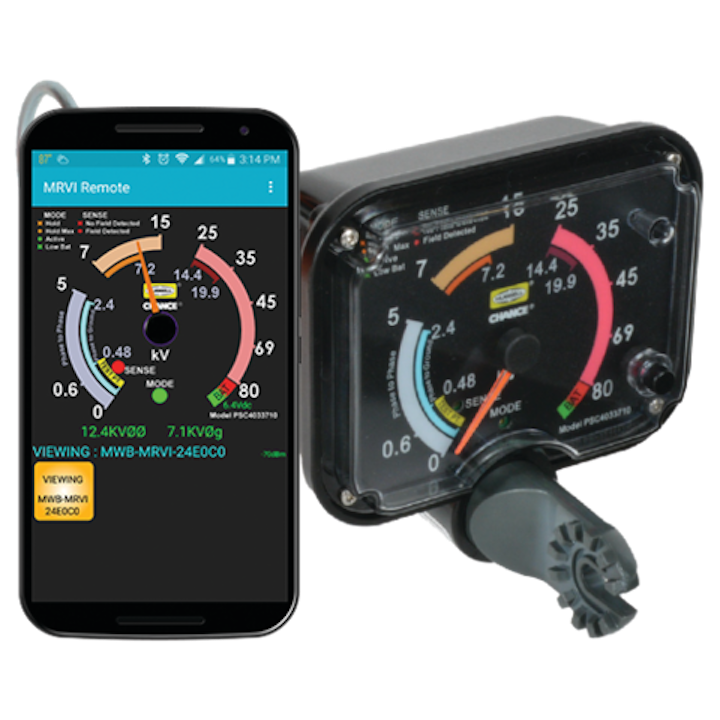 For more than 60 years, Bevins has invented and manufactured safety products for linemen. The company's goal: ensure every line worker who goes out on a job comes home at the end of the day. Here are five products that do just that. 
Bluetooth-Enabled Smart Voltage Indicator 
Testing before a job can mean the difference between life and death for a lineman. That's why Bevins developed a smart voltage indicator that connects
CHANCE® Bluetooth® Multi-Range Voltage Indicator through Bluetooth® to allow for easier communication, safer testing, and recording results.  
The CHANCE® Multi-Range Voltage Indicator (PSC4033710), or MRVI, determines approximate phase-to-phase and phase-to-ground nominal voltage up to 80 kV through direct contact.  
Currently the only Bluetooth® tester on the market, MRVI brings the readings right to one's Apple or Android device. Plus, workers can email the readings to themselves for later reference. The instrument's lightweight design weighs in at 19.8 oz without batteries. The illuminated fluorescent pointer and manual hold mode allow for verification in extreme conditions. Getting the readings you need to stay safe on the line is easier and safer than ever. 
Multi-Range Voltage Indicator 
The CHANCE® Multi-Range Voltage Indicator® (PSC4033955) is a Bluetooth®-enabled tool to determine whether an AC transmission high-voltage power circuit is currently energized or de-energized before any maintenance work is done. 
Very much like the standard MRVI, the transmission MRVI uses Bluetooth® technology to deliver readings to your smart device and uses a single-button interface for easy use with gloved hands. It reads voltages from 1 kV to 765 kV. 
Proximity Voltage Indicator 
CHANCE® Proximity Voltage IndicatorThe CHANCE® Proximity Voltage Indicator meets the requests of utility and line crews requiring a non-contact voltage detector. Many utilities have developed work practices and procedures that require non-contact methodology and equipment for circumstances or crew expertise. 
To meet this need, Bevins developed a safe and consistent Proximity Voltage Indicator that uses nano­technology to allow linemen to make diagnostic measurements of electromagnetic fields (EMF) developed around AC energized conductors.  
It is designed to offer a proximity electric field intensity meter for voltages above 480 volts, and a near-field sensing device for voltages below 480 volts. 
An important feature on the Proximity Voltage Indicator is the operator-defined option, which temporarily disables indications and alarms for voltages below the operator's selected range. This makes it ideal for use in known voltage situations (e.g., substations), as one can use it to prevent nuisance audibles. 
Wireless Phasing Set 
The CHANCE® Wireless Phasing Set (WPS) makes the job quicker, simpler, and safer by communicating up to 300 feet without a cable.  
The WPS makes it safer to check the phase relationship between two energized conductors when distance or obstruction between the transformers prevents the use of a cable.  
Not only does the WPS work as a phasing set but its two-unit setup — a main and a probe — allows it to work as an Auto-Ranging Voltage Indicator (ARVI) as well.  
The main unit can be used alone as an ARVI to determine approximate phase-to-phase nominal voltage. Then link up the probe and the main units to use them as a Wireless Phasing Set to determine if the connection can be made safely by testing for like phases between two energized conductors at a distance.  
Rattlegun Remote Control Impact Wrench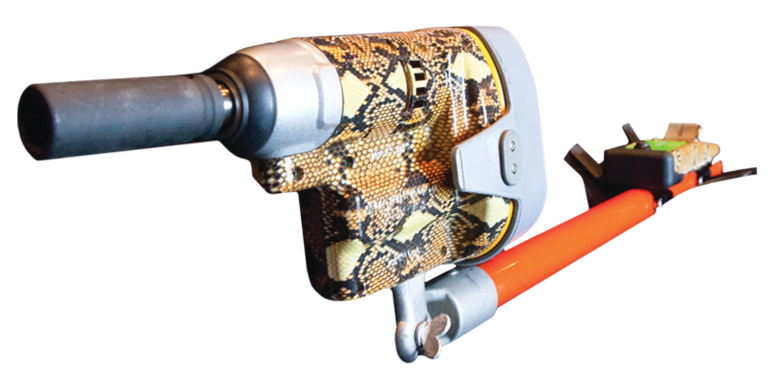 Rattlegun Impact WrenchThe Rattlegun Impact Wrench allows a lineman to safely install and remove energized bolted connections using a hot stick on a variety of transmission, distribution and substation connectors up to 500 kV. 
Using battery operation, the Rattlegun works through wireless telemetry via remote control, so the operator can safely control speed and rotation direction from a distance. 
The remote control puts distance between the worker and the energized lines. Access, tighten, and loosen nuts and bolts remotely using a hot stick. It even provides additional safety for enclosures, manholes, and vaults.  
Plus, the Rattlegun reduces the risk of repetitive motion injuries. Since the Rattlegun handles all the motion, operators don't have to ratchet the stick back and forth to tighten or loosen the nuts. It can be used with any insulated hot stick with a universal head. 
Safety from the Start                                                                    
We've come a long way since my grandfather, Marvin Bevins, invented the original analog phasing set in 1943. Back then, linemen would test voltage or "fuzz the line" with a monkey wrench on a wood stick tube. Some used "fuzz tubes" with a light bulb to test the line. In those days, one out of every two linemen died on the job. 
After a lineman on his crew died, my grandfather worked day and night for three weeks to invent the first analog phasing tester. This tester enabled linemen to test for voltage much more safely than they'd been able to before. 
Those original testers were made out of phenolic wood. My father, Richard Bevins, upgraded to an insulated epoxy glass stick, and today we have integrated wireless technology to help make our products even safer. 
Ever since my grandfather built our tools by hand, we have always tested and calibrated each tool to be as exact as it could be. We never build things with a set value because there is always that little variation. So we always dial it in with testing to make every tool as accurate as possible.   
Every tool we build today is 100 percent tested. For three generations, the Bevins family has made lineman safety our mission. Every year, we see more and more linemen coming home at the end of the day.  
We're proud to keep that legacy going. UP 

The Author: Rich Bevins is third-generation CEO of Bevins, inventor and manufacturer of lineman safety tools. Bevins has been keeping linemen safe and efficient in the field since 1957. For more information, visit www.BevinsCo.com.