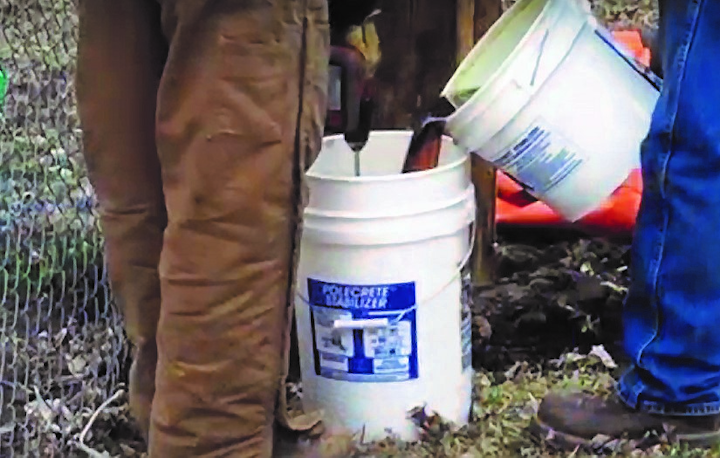 Just because you've always done something a certain way doesn't necessarily mean it's the best way to continue doing it. Setting utility poles by backfilling with tamped soil is a good example.
Since the very first utility pole was put in the ground, most have been set the same way: auger the hole, insert the pole, then gradually fill the hole up with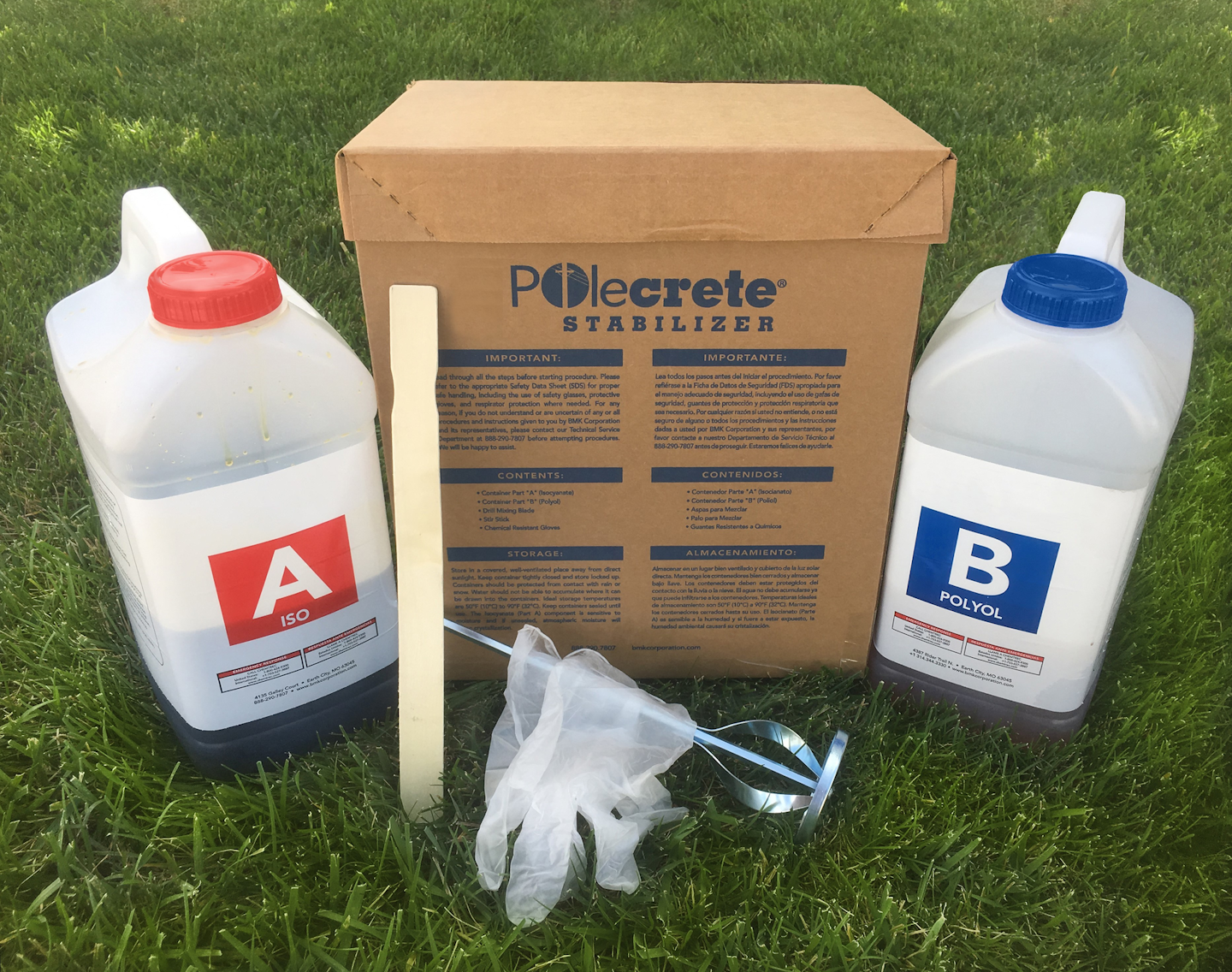 Most pole setting foam comes in convenient, easy-to-carry kits, with some manufacturers including a drill mixing blade and other accessories. Kits like the one shown here can be mixed right in the cardboard box. All photos courtesy of Foam Suppliesthe dirt that came out, tamping as you go (either manually or with a pneumatic tamper). In certain cases, crushed rock or even concrete is used in place of tamping. But for the most part, the dirt that comes out of the hole goes back in — requiring multiple crew members to perform the strenuous and time-consuming tamping process.
However, over the last few decades, more and more utility crews have discovered a faster, easier, and better way to set and straighten poles: two-part, expanding polyurethane foam. While still used less than tamping, foam continues to grow in popularity as more utility companies and linemen are exposed to its many benefits.
How it Works
Polyurethane foam is made up of two liquid chemicals — an isocyanate (known as Part A) and a polyol (known as Part B). The foam is typically sold in kits containing equal amounts of each chemical in separate bottles. The two components are simply mixed together on-site for approximately 30 seconds and then poured into the hole. Combining the two chemicals creates an exothermic chemical reaction, causing the mixture to expand as it changes from liquid to solid. The foam expands for several minutes, and completely sets in about 15 minutes.
Advantages of Polyurethane Foam Backfill
Two-part expanding polyurethane foam has been used to set utility poles since the 1980s, giving it decades of successful field use by major utilities and utility contractors across the country.
The main advantage of polyurethane foam backfill is that it's easy to use. Most manufacturers supply the two-part foam in lightweight, easy-to-carry kits. Some kits come with a mixing blade that attaches to a cordless drill to make it even easier to thoroughly blend the chemicals.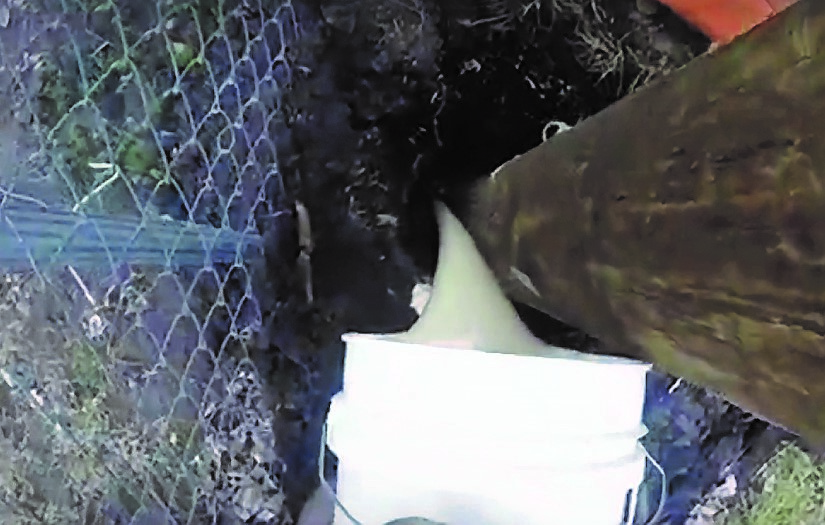 After the two chemicals are blended together, the mixture is simply poured into the hole.The mixing and pouring process is a simple, one-person job (unlike tamping) which can be completed in just a couple of minutes. The resulting foam then does all the work, expanding up to 15 times its original volume and completely setting the pole in about 15 minutes. At that point, the pole is ready to climb — allowing the crew to finish its work and get to the next job faster.
Polyurethane foam doesn't just set poles faster…it sets them better. Foam offers superior holding strength and uplift resistance compared to any other backfill method. Unlike any other solution, foam both adheres to the pole and expands outwardly to compact the soil around the hole — creating a more stable and permanent foundation that is less affected by high winds and less likely to allow the pole to lean over time.
In addition to the significant time and labor savings, as well as the strength advantages, polyurethane foam backfill offers even more:
• Prevents water/moisture from contacting the pole below ground level, eliminating decay of wooden poles and extending their life
• Works well in sand, rock, and poor soil conditions
• Can be used effectively in any temperature if chemicals are kept above 70˚ F until time of use.
• Classified as non-hazardous material by the EPA and DOT
• Available in several kit sizes to meet various volume fill needs (some foam manufactures provide volume calculators on their websites based on the width of the pole and the width and depth of the hole).
Quicker Storm-Related Power Restoration
Downed poles and power lines from tornados, hurricanes, and wildfires is a fact of life for utility companies and their customers in many parts of the U.S., creating a major challenge when it comes to restoring power. Because polyurethane foam works fast — even in poor soil conditions — it provides a proven effective and efficient solution for faster pole replacement in post-storm situations.
In extremely wet conditions, standing water should be pumped out the hole when possible before setting a pole with foam (as the foam chemicals do not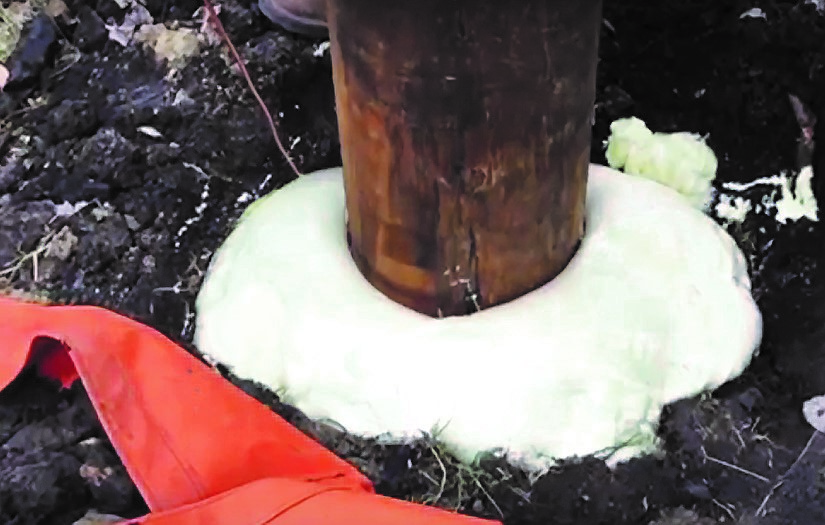 The liquid chemicals expand to fill the hole and then harden. Any excess foam above ground level can easily be removed with a shovel. The foam is fully set in just 15 minutes.react well with water). If pumping is not an option, a technique called "bagging a pole" can be used. This process uses a large plastic bag around the base of the pole that keeps the foam from contacting the water. The foam is poured into the bag, allowing the expanding foam to push the water out of the hole as it effectively sets the pole.
An Ideal Solution for Pole Straightening
Straightening leaning poles can often present a challenge for linemen because there is typically no dirt available to tamp. But with foam, the pole just needs to be pushed straight, and then a relatively small amount of foam can be poured into the void that is left. As with setting a new pole, foam used for straightening a pole is completely set in just 15 minutes. Also, straightening usually requires a smaller (and therefore less expensive) kit size than pole setting.
Not for Every Pole
Because polyurethane backfill creates such a solid foundation, poles set in foam can be difficult to remove. For this reason, utility poles that are likely to need replacing often (such as those at busy intersections where they are prone to damage from motor vehicle accidents) may not be ideal candidates for foam. Whereas poles that are expected to be replaced often are the exception to the rule, for most utility pole setting or straightening applications, the holding strength of polyurethane foam is seen as a major advantage.
Conclusion
Polyurethane foam offers many unique and superior characteristics compared to conventional backfill methods.
• It's faster than tamping, saving valu able time and getting utility crews on
 to the next job faster.
• It's easier on utility workers, helping to minimize fatigue and prevent injuries.
• It provides a stronger foundation that
 will hold up better to high winds and
 weather.
At the end of the day, if you're still tamping, it's time to consider polyurethane foam backfill. UP
The Author: George Snyder is a freelance writer with more than 25 years of experience covering a wide range of industrial topics, including extensive experience in the polyurethane industry. He is a graduate of the University of Missouri School of Journalism.