New Products Showcase
Dec 15th, 2014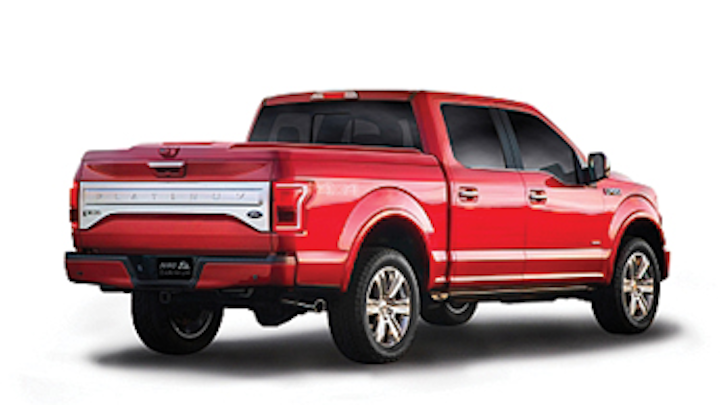 Fiberglass Tonneau Cover Aerodynamic LSII Series for 2015 Ford F-150
Work trucks: The aerodynamic, custom-fitted LSII Series fiberglass tonneau cover from truck cap and tonneau cover manufacturer A.R.E. Accessories is now available for the new 2015 Ford F-150.
A.R.E.'s LSII Series is designed to be a lightweight and durable worktop complement to the new F-150's fuel-efficient aluminum body, contributing additional gas mileage savings by creating a more streamlined airflow compared to an open truck bed.
With a sleek, clean appearance, an OEM-quality lock and latch system and an exclusive lift assist system for easy opening and closing, the LSII adds functional style to the F-150. Equipped with a painted palm-grip handle, the cover is easy to open and close and creates a secure, weatherproof storage area in the truck bed. A key lock is standard, and optional equipment includes a battery-operated dome light, sport wing and remote keyless entry system. The LSII fiberglass tonneau and its painted finish are backed by a limited lifetime warranty from A.R.E. for the life of the original pickup truck it is installed on.
A.R.E. Accessories
CIRCLE 100 ON READER SERVICE CARD
---
Industrial Security Solutions Increase Customization, Flexibility
Utility safety: Belden Inc., a provider of signal transmission solutions for mission-critical applications, has released its Tofino Security solutions for industrial control systems. The new Tofino Xenon and Tofino Configurator (TC 2.0) offer flexibility and customization, and enable network managers to easily upgrade their existing systems without downtime.
The evolution of Belden's security hardware and software solutions now include increased customization capabilities and improved ease of use. The enhancements of these next-generation products allow industries, such as power utilities, oil and gas, and manufacturing, to easily install upgrades on live systems with minimal configuration. Ultimately, the new features will maximize network uptime by enhancing overall data security and reducing operational risks.
The Tofino Xenon is designed to withstand the harshest conditions, while ensuring maximum data security for production networks. Other benefits of the Xenon include:
• Custom-built options, such as designated temperature ranges and software modules;
• Compliance with global standards, customizable for use in electrical substations, hazardous environments or transportation systems; and
• Easy integration into existing, live networks with no pre-configuration needs or risk of production disruptions.
Belden Inc.
CIRCLE 102 ON READER SERVICE CARD
---
Mid-sized Mulching Tractor New Rotor Technology
Vegetation management: Fecon advances the forestry mulching industry with the addition of the FTX290 mulching tractor. The FTX290 is a low ground pressure (3.4 psi) tractor with an oscillating steel track undercarriage, providing balanced traction for rough or soft conditions. Like other Fecon tractors, the FTX290 features a spacious cab, operator comfort and ergonomic control layout as well as maintenance-friendly service access.
Powered by a Cummins QSC8.3 290-hp diesel, the hydraulic flow to the mulching head peaks at 100 gpm. The FTX290 features the Fecon BH120 Forestry Mulcher with variable speed motors and three optional rotor systems including Fecon's Depth Controls Rotor (DCR) technology. Fecon DCR rotors feature the reversible Samurai Knife. The Samurai is incorporated into a depth control design that provides fast cutting in all materials and the most efficient use of horsepower. The cutting, slicing and splitting action of the Samurai Knife as it chips is far more productive than straight edge tools or saw teeth. This productivity is further enhanced by the Fecon DCR, depth control rings providing fast cutting durability unlike other knife based rotors.
Fecon
CIRCLE 106 ON READER SERVICE CARD
---
New NetSure 9500 120kW 400V DC Power System
Power management: Emerson Network Power has introduced the NetSure 9500 400V dc power system for telecom, data center and commercial building applications. The NetSure 9500 is the latest offering in Emerson's line of 400V dc power solutions.
Based on the same architecture used in the 30kW NetSure 4015 system, including Emerson's patented 15kW eSure rectifiers, the 120kW NetSure 9500 is Emerson's largest 400V dc offering. The system's modular design enables deployment in a variety of configurations and allows for scalable growth to avoid stranded capacity and wasted floor space while delivering proven NetSure efficiency and reliability.
The expansion of the 400V dc portfolio better allows the company to provide solutions for customers in the telecom, data center and commercial building industries. The NetSure 9500 provides an alternative to traditional -48V dc power systems in the telecom space and to AC UPS systems in data centers. It also is a natural fit for commercial buildings, where dc microgrids that integrate distributed energy sources are increasingly common.
The NetSure 9500 includes a power module containing sections for power conversion, controls and distribution, a distribution module for extended load distribution positions, and a battery cabinet containing one string of valve-regulated leadacid (VRLA) batteries. The system's fault-tolerant design with hot-swappable rectifiers and controls limits downtime.
For telecom providers, the move from -48V dc to 400V dc decreases current and correspondingly reduces the amount of copper needed for transport, reducing cabling material and installation costs by up to 80 percent.
Emerson Network Power
CIRCLE 104 ON READER SERVICE CARD
---
RESIST Knit Gloves Cut Resistant, Polyurethane Palm Coated
Safety gloves: Galeton, a supplier of high quality work gloves and personal protective products, has introduced #11933 Galeton RESIST Cut Resistant Gloves with polyurethane coated palm that offer cut and abrasion resistance. These durable gloves are lightweight and provide very good dexterity. The smooth seamless knit shell is comfortable for a full day of work. Independent, third party ASTM F1790 testing in the US shows these gloves meet ANSI Cut Resistance Level 4 rating.
The Galeton catalog and website offer a wide variety of work gloves ranging from premium quality to economy-line and a broad selection of exclusive brands and products. Their offering also includes rainwear, high visibility work wear, disposable apparel, safety glasses, work boots, hard hats, respiratory and hearing protection, as well as other personal protective equipment-all designed to help keep the worker safe, comfortable and productive on the job.
Galeton
CIRCLE 105 ON READER SERVICE CARD
---
DURABOOK R11 Rugged Tablet
Mobile computer: The GammaTech DURABOOK R11 rugged tablet features an 11.6-in. TFT LCD capacitive touch display and a 4th generation Intel Haswell Core i5 processor for workers in the utility market. It is cited to be the lightest 11.6-in. rugged tablet in its class at 2.73 lbs. (with battery), while remaining tough with Military Standard 810G, 461F Army Ground and Air Force, and IP65 certifications for drop, shock, dust and water resistance.
Its wide operating temperature range means it can stand up to the daily wear and tear encountered in office or field settings. The R11 functions for up to seven hours and can be customized with a wide array of options, including Microsoft Windows 7 Professional or Windows 8.1 software.
Security features include computrace support BIOS, administrator password, TPM 1.2, Kensington lock and boot password protection. Additional features include a built-in G-sensor, gyroscope sensors and a light-ambient light sensor; Intel high-definition audio; M2-SATA SSD 64GB/128GB storage; a Micro SD card slot that supports SDHC and SDXC; a front-side, full HD camera as well as an integrated rear-facing 5MP camera; and Intel Centrino Wireless AC 7260 NGW 802.11 a/b/g/n/AC and Bluetooth 4.0 Class 1.
GammaTech
CIRCLE 107 ON READER SERVICE CARD
---
Kleen View Eyewear Anti-fog, Anti-static Formula for Extended Life
Safety products: In most work environments, safety glasses have a way of getting dusty, dirty and smudged. Frequently, employees just use a t-shirt or face tissue to clean their protective eyewear. There's a problem with that method of cleaning. The worker is actually wiping off the anti-scratch and anti-fog coatings that were originally applied to the surface of the lens during the manufacturing process.
Gateway Safety has a solution to that problem with its line of Kleen View Lens Cleaning products. Kleen View lens cleaning products feature a fast-drying, silicone-free formula that includes an anti-fog, anti-static ingredient that helps extend the life of safety glasses. Workers like the functionality of the anti-fog coating and the dust and dirt resistance gained from the anti-static coating, while employers prefer the cost savings associated with longer-lasting safety products.
Kleen View Lens Cleaning products are safe to use on any Gateway Safety eye- or face-protection product. Kleen View is available as a spray solution packaged with soft, non-abrasive tissues or as single-use towelettes for quick lens cleaning.
Gateway Safety Inc.
CIRCLE 108 ON READER SERVICE CARD
---
New In-line Indent Crimper
Greenlee continues to drive efficiency with its new EK6IDL six-ton dieless lightweight crimping tool, designed with a dual stage telescopic cylinder to identify the correct pressure needed to crimp a broad range of wire classes.
The EK6IDL has two pistons, an interior small piston that transmits a force of 30kN. This enables the tool to fix cable lugs and connectors to the correct position prior to crimping operations and crimp smaller cross sections up to 1/0 AWG. The exterior piston transmits a force of 60kN and crimps all larger cross sections.
The EK6IDL tool is managed by Greenlee's Intelli-Crimp technology, which measures pressure and amperage 32 times a second. This provides variable 30kN/60kN cylinder safeguards that ensure optimal crimp performance is always being achieved, regardless of the cross section. The tool can be used in an extremely large crimp range, for copper material 8AWG-500MCM and aluminum material 1/0AWG-350MCM.
The EK6IDL is Gator Eye compatible, which allows users to get the most of their tools with the ability to track work history, generate reports, performance logs, and indicates when the tools needs to be recalibrated.
Greenlee
CIRCLE 109 ON READER SERVICE CARD
---
Cable Verifiers: VDV II Verifies, troubleshoots Voice/Data/Video Cables
IDEAL Industries Inc., a manufacturer and supplier of quality tools, connectors and test products for electricians and data communications contractors, has launched its new VDV II Series of affordable, easy to use cable verifiers. Available in three versions to serve a variety of applications, VDV II verifiers check the integrity and detect all wiring faults in low-voltage copper cables commonly deployed in residential, commercial or industrial voice, data or video installations, including telephone wiring, LAN (CAT 5 to CAT 7, UTP and STP) and coaxial cabling.
Ergonomically designed to fit comfortably in the palm of the hand, VDV II Series verifiers identify wiring errors instantly, capturing comprehensive details on faults such as opens, shorts, reverses, miswires and split pairs that can slow a network or take it down completely. The integrated RJ11/RJ12 (voice), RJ45 (data) and F-Type coaxial (video) connectors help the user achieve faster testing of most types of low-voltage cables by eliminating the need for separate testers or adapters. Intelligent technology lets the unit know if it has been plugged into an outlet where potentially damaging voltages are present.
IDEAL Industries Inc.
CIRCLE 125 ON READER SERVICE CARD
---
Miller Aircore Wind Energy Harness Fall Protection Safety, Comfort
Honeywell has announced the new Miller AirCore Wind Energy Harness-specifically designed to provide the ultimate in fall protection safety, comfort and productivity for wind turbine construction and maintenance workers.
The advanced design of the new AirCore Wind Energy Harness combines lightweight comfort with superior fall protection for workers who build and service wind turbines-reducing fatigue for all-day endurance and increased safety and compliance. Features include:
• Light weight-up to 24 percent lighter than similar competitive harnesses for increased productivity and reduced fatigue;
• Comfort-up to 16 percent less surface area than other padding used on the market to keep workers cooler and working longer;
• Durable removable lumbar wear pad-lightweight, non-marring material designed to protect the harness and the wall of the turbine from damage;
• Removable belt with tool loops-designed to stay in position when disconnected, even when tools are attached;
• Improved cam buckle-lightweight, low profile and easy to adjust; and
• Oversized ID tag-provides quick and easy harness size identification.
Honeywell
CIRCLE 126 ON READER SERVICE CARD
---
Roller Conductor Lifter Line Crew Flexibility
Safety equipment: LineWise offers two Roller Conductor Lifters, offering power line and electric utility crews more flexibility when moving and supporting energized lines. The roller conductor lifters allow for safer work while optimizing the utilization of equipment and personnel on the job.
Constructed of high strength steel, yet still lightweight, each roller conductor lifter is designed for use in conjunction with an insulated link supported by the same crane or derrick being used to hold other conductors. This helps increase efficiency by freeing up bucket trucks or other equipment for different functions. The rolling support allows more freedom of movement for an energized conductor, preventing conductor damage often caused when holding lines with abrasive hooks.
Both single and dual roller conductor lifters are available. The single lifter weighs 15 lbs. and has a lift capacity of 2,000 lbs. The dual lifter weighs 40 lbs. and has a working load of 4,000 lbs., while spacing the two conductors either 16 or 18 in. apart. Each lifter supports a maximum cable diameter of 1.5 in., and rated capacity information is clearly marked on each unit.
Field-tested and approved by transmission and distribution maintenance professionals, the roller conductor lifters are quick and simple to set up. A pivoting gate over each roller retains the conductor within the lifter, and an attachment point for a hot stick allows linemen to guide the lifter.
LineWise Div., Diversified Products
CIRCLE 127 ON READER SERVICE CARD
---
Mobile Workforce Management Solution for Utilities
Safety products: Clevest Solutions Inc., a provider of mobile workforce automation software including smart grid operations, has released the latest version of its Mobile Workforce Management (MWFM) solution. Building on the technical advances, flexible features and friendly user experience of Clevest MWFM 5.0, the new release offers utility operations personnel in the office and the field enhanced location and situational awareness for faster, more intelligent decision-making, greater safety and easier regulatory compliance.
When Clevest first announced its product last fall, it catalyzed positive feedback within its customer base. The company has capitalized on this customer-driven input with Clevest MWFM 5.1, which has been designed to help utilities improve the management of their field operations in an environment where, increasingly, the stakes are high and performance is highly visible and intently scrutinized.
With new capabilities that provide advanced levels of location and situational awareness in both of Clevest's WorkSpace (office) and WorkBook (mobile) applications, utilities are cited to have the broadest context possible for understanding where field resources are and what conditions they are facing. Users in the office and the field will be able to visualize, synthesize and analyze more comprehensive information from multiple enterprise systems for decision-making that is more timely and intelligent and better grounded in safety protocols and regulatory compliance.
Clevest Solutions Inc.
CIRCLE 128 ON READER SERVICE CARD
---
Remote Switch Actuator For T7M Molded Case Circuit Breakers
CBS ArcSafe, a manufacturer of remote racking and switching solutions for low- and medium-voltage switchgear, introduces its remote switch actuator for the ABB/Sace Tmax T7M low-voltage molded case circuit breakers with current ratings of 1000A and 1200A. The new CBS ArcSafe RSA-174E actuators are designed for Tmax T7M breakers equipped with optional stored-energy mechanisms (SEMs) and allow technicians to safely close and/or trip breakers outside of the arc-flash hazard boundary without any modification to the breaker. In many installations, the Tmax T7M circuit breakers are recessed into a cabinet, and the new remote switch actuators are designed to mount directly on to the breaker inside these cabinets.
When accompanied by a CBS ArcSafe remote switch operator (RSO) control unit, the RSA-174E reduces the need for arc-flash suits and eliminates all hazardous manual contact with gear during operation by providing open and close operation from up to 300 ft. away. The actuator is lightweight, portable, and simple to install and set up, providing technicians with a quick solution for hard-to-access breaker locations.
CBS ArcSafe
CIRCLE 129 ON READER SERVICE CARD
---
Track Series YS3 and New TA9000
For utility vehicles and more, Mattracks, a provider of rubber track conversion systems, has released its series of tracks, the TA9000 series. The products expand Mattracks' current Track-tor-Assist line-up of conversion systems for the commercial markets and is used for extremely large machinery and equipment with axle loads from 10 to 20 tons. Track widths available in the TA9000 series are 15 in., 20 in., 24 in. and 30 in.
The YS3 track has been designed to expel snow and ice with minimal buildup of ice. The heavier framework has been designed for increased load carrying capacity. The offset road wheels reduce vibration and noise, increase efficiency, fuel economy and increased track tread life.
Mattracks designs, engineers and manufactures the rubber track conversion for 4x4 Trucks, SUVs, tractors, ATVs, UTVs, large machinery and equipment.
Mattracks Inc.
CIRCLE 130 ON READER SERVICE CARD
---
AirStream Cable Blowing Machine Fast, Efficient, Micro Fiber Cable Installation
General Machine Products Co. Inc. (GMP) has introduced the AirStream Cable Blowing Machine to its line of fiber optic cable placing equipment. Specifically designed to safely install micro fiber cable into pre-installed 0.196 in. to 0.708 in. OD micro duct, the AirStream will place 0.098 in. to 0.433 in. OD cable at speeds up to 260 ft. per minute. This, along with its low maintenance and high reliability, makes the AirStream a good value.
The AirStream incorporates a tabletop design with easy-to-use ergonomic controls for one-person operation. The unit uses a double belt drive concept, backed by the latest in servo control technology, to provide a secure cable grip with precise torque and speed control. The pushing force, up to 44 lbs. maximum, can be adjusted to suit the cable stiffness.
The AirStream uses compressed air to install micro fiber cable into micro duct in both indoor and outdoor environments. Its electrically powered, double belt drive system controls the cable as it is propelled through the micro duct. An electronic monitoring system provides read-outs of speed and distance, and includes an emergency stop capability.
General Machine Products Co.
CIRCLE 131 ON READER SERVICE CARD
---
Two-stage Service Vehicle Compressors
Utility equipment: Jenny Products Inc. offers a line of two-stage service vehicle compressors. The line includes five models, each designed, tested and proven to meet the demands of various users and applications.
The compressors are powered by 5-hp to 18-hp Honda GX series engines. Three models come with 30-gallon air tanks, and the other two have 80-gallon tanks. They are available with recoil or electric start and are offered with three different pump styles to meet a variety of volume requirements. The lowest-capacity unit provides 10.2 cfm at 125 psi or 9.1 cfm at 150 psi, while the largest unit provides 39.5 cfm at 125 psi or 34.7 cfm at 150 psi.
All compressors in the line are built with a heavy-duty, two-stage cast iron compressor pump for superior performance and longevity. The compressors are belt driven with a large flywheel for easy start-ups and extra cooling, and pump temperatures are further reduced by a directional air shroud.
Designed to withstand the demands of any industry, all models come with several standard features to reduce maintenance and maximize uptime. The belt is completely enclosed within a heavy-duty belt guard, and all fittings are protectively mounted. The units also include a finned intercooler, centrifugal unloader, large canister intake filter with replaceable filter elements, pneumatic throttle idle control, a stainless-steel discharge hose, oil-sight glass, powder-coated ASME certified receivers, a tank gauge and a pressure release safety valve.
Jenny Products Inc.
CIRCLE 133 ON READER SERVICE CARD
---
TAG Voltage Detectors
HD Electric Company's (HDE's) single range TAG-200, multi-range TAG-200MR and single range TAG-330 are voltage detectors designed for detecting distribution and transmission voltages. These direct contact type detectors emit both audible and visual indications when placed in contact with an energized conductor. TAG Voltage Detectors are designed for overhead and underground applications with optional underground bushing probes.
We have simplified our product offering for TAG Voltage Detectors by creating standard ranges.
For more than 80 years, HD Electric Co., a Textron Co., has provided products serving the diverse needs of the electrical power industry and its related industries worldwide. HDE's continuous improvement and innovation in the areas of controlling, testing, measuring and recording of electric power has resulted in the development of products designed to help deliver electric power to customers safely and efficiently.
HD Electric Co.
CIRCLE 132 ON READER SERVICE CARD
---
Auto Voltage/Continuity Testers Simplified Troubleshooting
Electrical testing: Milwaukee Tool continues to expand its test and measurement offering with the addition of two new electrical testers. Combining the simplicity of a traditional voltage/continuity tester with the digital read-out capabilities of a higher functionality meter, the new units allow users to properly troubleshoot common electrical issues with ease, even as electrical systems become more diverse.
For accurate troubleshooting, the new units measure voltage, continuity and resistance with high precision. While traditional testers only indicate broad voltage ranges that mask electrical issues such as voltage drops, the Milwaukee units deliver measurements down to the decimal and display them on an easy-to-read LCD screen. With built-in intelligence, the new Milwaukee units automatically determine whether to test for voltage or continuity and also identify ac or dc voltage to provide users with more valuable information in a single test.
Complete with a built-in LED work light for low-lit areas and test lead holders to conveniently store the probes for when the job is done, both Milwaukee units are compatible with common threaded carrying and mounting accessories such as belt clips and magnets.
Milwaukee Tool
CIRCLE 134 ON READER SERVICE CARD
---
Ethernet Switch Meets IEC Requirements for Electrical Substation Automation
Moxa has introduced its PowerTrans PT-7528 series, cited to be the first Ethernet switches with MMS data modeling to fulfill the requirements of the IEC 61850-90-4 standard outlining network engineering guidelines for Communication Networks and Systems in Substations.
Support for IEC 61850-90-4 means that Moxa PT-7528 Ethernet switches can be controlled, monitored and managed through a power SCADA system, which is critical for reliable electrical substation operation and for building more intelligence and more complete automation into power substations. In addition, it eliminates the need for additional network management software.
The PowerTrans PT-7528 switches are engineered specifically for power substation automation in extremely harsh environments, especially from the threat of high EMI interference and network traffic congestion that can compromise system availability. Because they fulfill IEC 61850 requirements, the switches give system engineers confidence in their ability to minimize and detect substation errors, as well as to optimize error repairability, minimizing interruptions to the smallest possible window.
By incorporating Moxa Noise Guard technology, the PT-7528 series is not only compliant with IEC 61850, its EMC immunity exceeds IEEE 1613 Class 2 standards to ensure zero packet loss while transmitting at wire speed. For additional reliability, it also features critical packet prioritization (GOOSE, SMVs and PTP) with IEC 61850 QoS.
Moxa
CIRCLE 135 ON READER SERVICE CARD
---
DANEO 400: Hybrid Signal Analyzer Power Utility Automation Systems
OMICRON´s new DANEO 400 is a portable measurement system that measures, records and analyzes all analog and binary substation signals and network traffic simultaneously. It provides information for assessing the coordination of signals and keeps track of what is going on in a substation. By supporting IEC 61850 GOOSE and Sampled Values, it fulfills relevant tasks in different applications, such as factory or site acceptance tests, distributed testing of inter-substation communication, troubleshooting and commissioning.
With multiple DANEO 400 units, a measurement system for distributed recording can be set up. All acquisition units are accurately time synchronized using the Precision Time Protocol (PTP) according to IEEE 1588-2008 standards. DANEO 400 units are configured and controlled by the DANEO Control PC software. For controlling a single device, a selected feature set is also available through the built-in DANEO 400 Web interface.
The fact that the outcome of measurements can be verified and documented is particularly relevant for commissioning, factory acceptance tests and site acceptance tests. In addition, users can simply measure and assess the transfer of status information between different substations. DANEO 400 can be triggered by the combined conditions of various signals. This is, for example, especially beneficial for troubleshooting.
OMICRON
CIRCLE 136 ON READER SERVICE CARD
---
Clear Ground Protection Mats Let Light Nourish Grass, Causing Less Burn
AlturnaMATS ground protection mats now offers the clear mat. The key benefit of the clear mat over the other mats we offer is that the sunlight can easily pass through the clear mats and nourish the grass, causing less burn. These mats will be especially useful in areas where it is important to keep the grass as pristine as possible. The clear mats feature the same 120-ton load rating and limited lifetime warranty as the other mats in our ground protection line.
Unlike clear plastic, black plastic blocks out light, smothering grass roots and preventing new growth.
Shown are the effects after five days: (left to right: clear mat, white mat, black mat). Black mats show heavy browning of grass and burnt leaves. White mats show moderate browning and slightly burnt leaves. Clear mats show no damage.
AlturnaMATS
CIRCLE 138 ON READER SERVICE CARD
---
Defender LED 6000 High-output LED Work Light
ProBuilt Professional Lighting LLC announces the Defender LED 6000 high-output LED work light. The LED 6000 is an extreme flood light with a 120 degree lighting angle. The ABS outer casing ensures the light is durable for any work environment and has successfully passed a 6-ft. drop test.
The universal mounting bracket allows the end user
to mount the head onto a floor stand, magnetic base or tripod. An internal cooling fan will automatically start to maintain optimal internal temperatures and ensure the unit is cool burning.
The Defender LED 6000 produces 6000 lumens of clean white light and is equivalent to the light output of a 500 watt halogen but is 85 percent more efficient. This light is for utility, construction, industrial, maintenance work and more.
ProBuilt Professional Lighting LLC
CIRCLE 137 ON READER SERVICE CARD
---
Interchangeable Head Augers Increase Productivity, Versatility
To increase drilling performance and decrease operational costs, Terex Texoma Interchangeable Head (ICH) augers are now available for the Terex General and Commander series digger derricks. ICH augers increase productivity and versatility by enabling utility contractors to accommodate a variety of drilling configurations and applications with a single auger body.
ICH augers eliminate the need for customers to have multiple augers in their equipment fleet. By simply switching out the head on the auger, customers can work in various ground conditions throughout their operations area, as well as change hole diameters, with minimal effort. With only one pin to switch out, ICH augers can be taken on and off auger bodies in two minutes or less. Measuring approximately 12 in. in length, several interchangeable heads can easily be stored in the truck bed. This allows customers to always have the right auger for the job, when and where it's needed most.
Three types of Terex ICH augers are available: TX (TXD and TXC) Series for dirt or cobble applications, BTA Series (standard and spiral cut) for hard rock applications, and a core barrel option for extreme applications. ICH augers are designed with a 2 5/8-in. diameter hex shaft to provide a robust connection between the auger body and auger head, giving them the ability to withstand the full torque of the auger drive regardless of the auger drive output. The design of these augers also incorporates a new high-strength drawn-over-mandrel (DOM) stem.
Terex Utilities
CIRCLE 139 ON READER SERVICE CARD
---
IPR-50 Inline Power Regulator
Energy management: Gridco Systems' emPower IPR-50 Inline Power Regulator combines modular power electronics, advanced control algorithms, distributed networking, and analytics to enable more effective Volt-VAR control (VVC), conservation voltage reduction (CVR), and utility-side demand response (DR) programs-and more reliable integration of distributed generation (DG), and greater voltage compliance and power quality.
The various system elements include:
• In-line power regulators: A line of multi-function, utility-scale power electronic hardware systems that combine voltage control, current control, sensing and control logic to simultaneously regulate voltage, correct power factor, provide dynamic reactive power, cancel harmonics and monitor power quality.
• Distributed grid controllers: Intelligent computing platforms that provide coordination and control, data logging, local analytics, data networking and communications through Secure DNP 3.0 and Secure Web Services.
• Grid management and analytics platform: A suite of software that provides remote monitoring and control; data collection and analytics; feeder optimization; and seamless integration with SCADA, DMS and VVO applications.
Gridco Systems
CIRCLE 141 ON READER SERVICE CARD
---
Commercial Lubricant
Automotive lubricants: Synthetic lubricant manufacturer Royal Purple has introduced its commercial lubricant product line, Duralec. The line of high performance lubricants has been specifically developed for markets that include heavy-duty fleet, construction, over-the-road trucking and more to optimize equipment performance.
Duralec commercial products include heavy-duty motor oils, transmission fluids, gear oil, multi-purpose grease, coolant additive, tractor fluids, hydraulic fluids and diesel additives. Each is formulated with Duralec's premium additive packages to deliver protection and peak performance in high-tech engines regardless of driving and operating conditions.
Among the new products is Royal Purple Duralec Super, 5W-30 - 5W-40 - 10W-30 - 15W-40. Royal Purple's Duralec Super motor oils are high performance synthetic engine oils. They are made for EPA 2007 and 2010 emissions equipped diesel engines requiring the use of emissions compliant oil. Duralec Super is formulated to maximize component life, extend drain intervals and improve fuel performance. Its premium synthetic formulation has very good high temperature break down resistance and low temperature pumpability to minimize cold induced startup wear.
Royal Purple
CIRCLE 140 ON READER SERVICE CARD
---
TerraWave Mobile Antennas Enable Seamless 3G/LTE in Remote Locations
Fleet management and more: Ventev Wireless Infrastructure, a division of TESSCO Technologies Inc. has introduced three new TerraWave LTE-band Mobile Antennas that ensure superior cellular connectivity even in the most remote locations. These mobile antennas support 3G/LTE, SCADA, wireless backhaul and broadband communications that are critical for applications such as asset tracking/RFID and remote monitoring (M2M), fleet management and public safety.
The 3G/LTE Terminal Omni Antenna is designed for use in environments where robust cellular connectivity is needed for data/voice/video, SCADA/telemetry and process control applications.
The 3G/LTE Outdoor Omni Antenna is for remote monitoring of smart grid and utility meters, as well as in the oil and gas sectors. It is a robust antenna that can withstand the elements and consistently provide high 3G/LTE omnidirectional coverage and connectivity.
Ventev Wireless Infrastructure Div., TESSCO Technologies Inc.
CIRCLE 142 ON READER SERVICE CARD