New Products Showcase
Utility supplies: BURNDY, a manufacturer and provider of connector solutions to the industrial, energy, construction, telecommunication, petrochemical, data center, and transportation industries, announces the release of a cable tray clamp BTCGC250 UL Listed for Grounding and Bonding.
Oct 1st, 2017
Utility supplies: BURNDY, a manufacturer and provider of connector solutions to the industrial, energy, construction, telecommunication, petrochemical, data center, and transportation industries, announces the release of a cable tray clamp BTCGC250 UL Listed for Grounding and Bonding.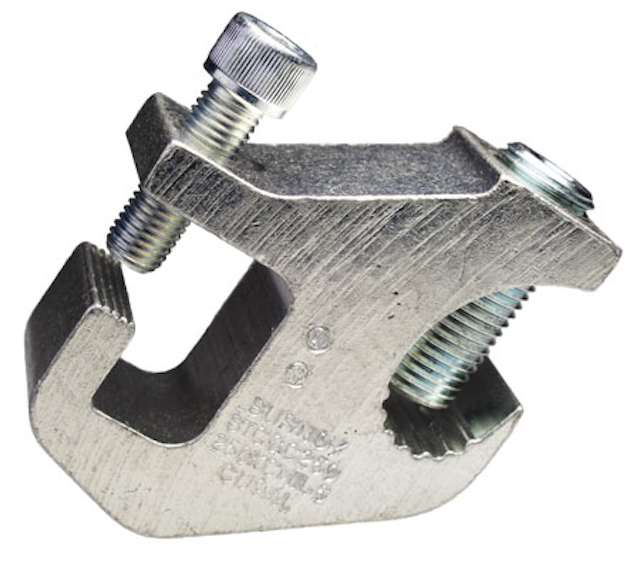 The BTCGC250 cable tray clamp easily bonds the ground conductor to the cable tray without drilling or punching holes, providing grounding continuity for the whole system. Accommodating conductor from #6 AWG through 250 kcmil, these aluminum tin plated clamps are easy to install and provide durable long-lasting corrosion resistance along with high pull out strength and vibration resistance. The BTCGC250 clamp accommodates the most popular styles of cable tray that use an outside or inside flange.
BURNDY
---
NSR-1514 Rechargeable Area Light Offers 1,000 Lumen Portability
Work lights: Bayco Products Inc., a provider of professional grade lighting products, offers its 1,000 Lumen Nightstick NSR-1514 LED Rechargeable Area/Scene Light with Magnetic Base, and 1,000 Lumen Nightstick NSR-1514C Rechargeable LED Area Light Kit that includes a 6-ft. tripod placed inside a durable carrying case.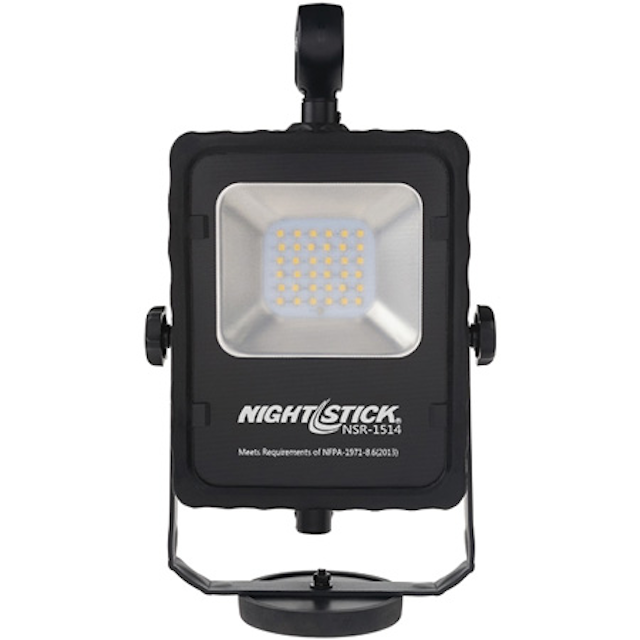 With 1,000 lumens of light on high, 500 lumens on low using a single sealed push button switch, the Nightstick NSR-1514 weighs 3.3 lbs. Leveraging lithium-ion rechargeable battery technology to provide up to 8 hours of continuous usable light on 1 single charge, the NSR-1514 also features a rare-earth 10-lb. pull force magnet in the supporting base. With hands-free use and lightweight rechargeable portability in mind, this area light will swivel independently, providing the ability to position light exactly where needed and at angles not available in traditional fixed position scene lighting until now.
The lightweight 6061-T6 aluminum frame with multi-fin heat sink keeps this area scene light cool to the touch while the adjustable comfort-grip handle provides versatility to carry, hang, adjust and reposition light as needed in the field.
Bayco Products Inc.
---
STINGER HDD Lubricating Compounds Horizontal Drilling
Line construction: BESTOLIFE Corp. offers premium drilling lubrication compounds for the Horizontal Directional Drilling (HDD) Market with its STINGER line. The line of STINGER brand compounds, including STINGER HDD, STINGER HDD-AG (Arctic Grade) and STINGER ENVIRO (Non-Metallic), are highly versatile products that protect drill collars and tool joints under a wide variety of conditions and provide directional drilling contractors with performance they can rely on in the harshest conditions.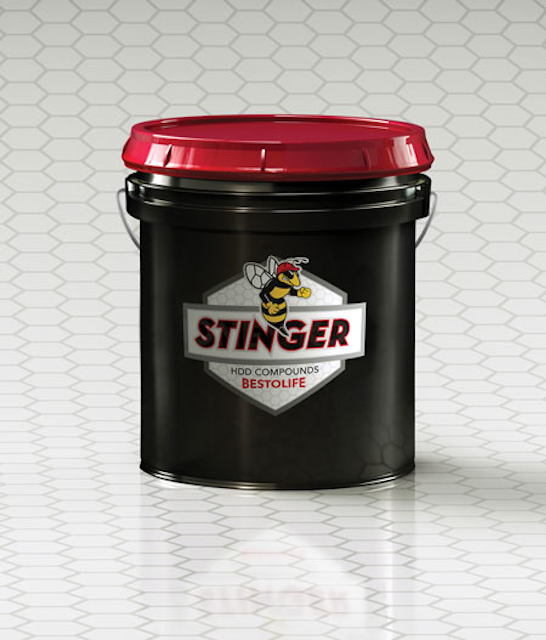 STINGER HDD and STINGER HDD-AG bring the BESTOLIFE copper 'look and feel' combined with the high performance that HDD Contractors expect of copper-based drilling compounds. These compounds are formulated for use on all HDD applications and provide galling and seizing protection for a wide range of environmental conditions.
STINGER ENVIRO is a specially formulated, 'non-metallic' lubricating compound for use on all HDD drilling applications, and especially effective in environmentally sensitive areas.
Unlike many environmentally friendly products currently on the HDD Market, the graphite-based STINGER ENVIRO has superior adhesion to threads, which translates to better brushability, less dripping and waste during application, and outstanding water wash-out resistance—it's reported.
BESTOLIFE Corp.
---
Daredevil High-speed Auger Bits for use in Cordless Power Tools
Utility tools: Increased runtime in cordless power tools is the desire of every tool user, so a drill bit that improves the battery-runtime is preferred. Bosch Daredevil High-Speed Auger Bits are cited to be the power tool industry's first to be engineered to work with cordless drills in high-speed mode. And with decreased-pitch tips, these bits provide up to 2X more holes per battery charge.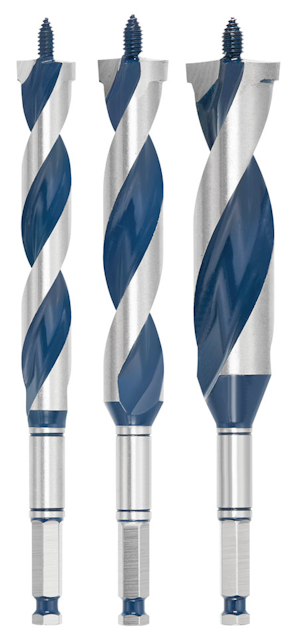 Bosch Daredevil High-Speed Auger Bits have reinforced tips for superior performance against nail hits, which means up to 2X longer life than standard auger bits. Bit tips are designed to optimize feed rate so they can drill through wood and wood with nails in high-speed mode. A fortified spine on the bit provides added strength during aggressive drilling and material removal.
Effective bit length for Bosch Daredevil High-Speed Auger Bits is 6 1/2 in., which allows users to employ them between studs and in tight spaces. Bit diameters range from 1/2 in. to 1 3/8 in.
Bosch
---
Four-drum Puller for Wide Range of Distribution Stringing Applications
Construction equipment: Brenco's four-drum puller is for a wide range of distribution stringing applications. The four-drum pullers are equipped with 8,000 ft. of 1/2-in. rope each. The puller is powered by a 36-hp water cooled diesel, providing 2000 lb. of pulling power.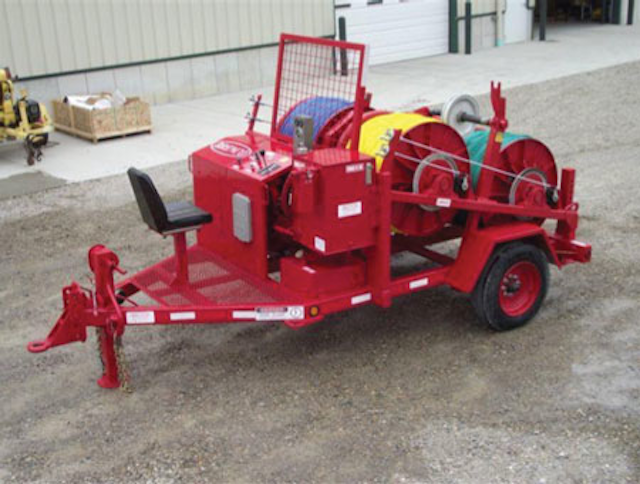 In addition, all the controls are conveniently located in the operator's station. The four-drum pullers are equipped with automatic level wind, a parking position, front and rear jacks, and removable lunette hitch. The four-drum pullers are available for rent or sale.
Brenco
---
Power Distribution Networks Enhance Communications
ABB's ARG600 industrial-grade LTE cellular gateway, offering broadband speeds and secure VPN connections, can provide monitoring and control of field devices in remote locations. The communication network technology brings LTE technology to the power distribution network.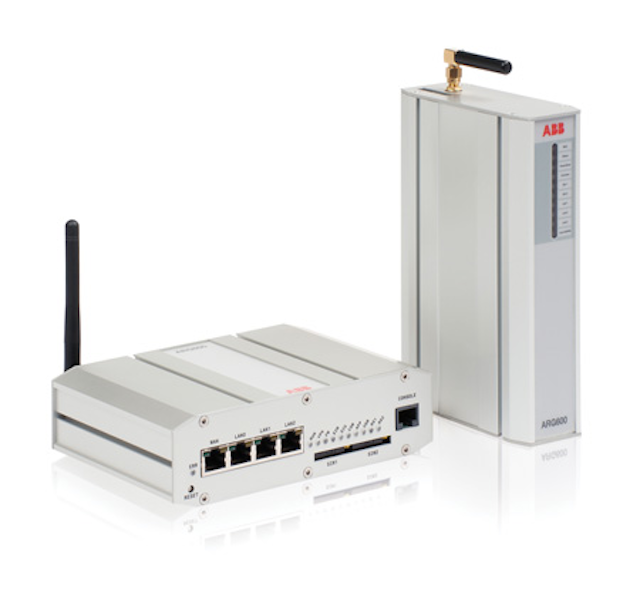 The ARG600 enables wireless connectivity using cellular networks to allow customers the ability to access and manage any remote distribution network from a central location. It offers instant TCP/IP-based communication between devices with no additional infrastructure needed beyond the existing cellular network and improves safety to personnel by remotely retrieving information from the network, allowing condition monitoring and remote management. It also provides cybersecurity with its built-in firewall, private addressing and secure VPN connection.
As the backbone for communication, the Arctic line uses wireless cellular networks, making it possible to integrate any grid automation products into secure and cost-effective wireless communication systems with global coverage, it's reported. The Arctic products allow accessing and managing of any remote asset from a central location.
ABB
---
Remote Switch Actuator General Electric Type HPC Switch
Energy management: CBS ArcSafe, a manufacturer of remote racking and switching solutions for low- and medium-voltage switchgear, offers its remote switch actuator (RSA) for the General Electric Type High Pressure Contact (HPC) switch. The lightweight, portable CBS ArcSafe RSA-73B allows technicians to remotely close or trip the GE HPC switch from a safe distance of up to 300 ft. while remaining stationed outside the arc-flash boundary.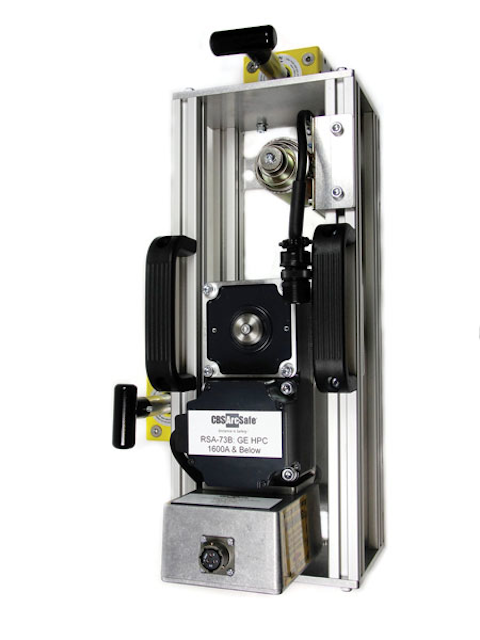 Installation and operation do not require modifications to the existing electrical equipment because of CBS ArcSafe's magnetic latching system. The RSA-73B is compatible with Type HPC switches with ratings of 800-1600 A, with manual or electric trip with top feed (inverted style). Typical applications include high available fault current systems such as main service disconnects, feeder disconnects, or branch circuit disconnects. When compared to other arc-flash mitigation alternatives, the RSA-73B is a cost-effective solution for keeping operators safe.
CBS ArcSafe
---
Articulating Crane Models Feature Higher Lift Capacity
Construction equipment: Iowa Mold Tooling Co. Inc. (IMT), an Oshkosh Corporation company, introduces four new articulating crane models and revisions to its current articulating crane lineup. The four new models are cited to build on the articulating crane portfolio IMT created to deliver superior performance.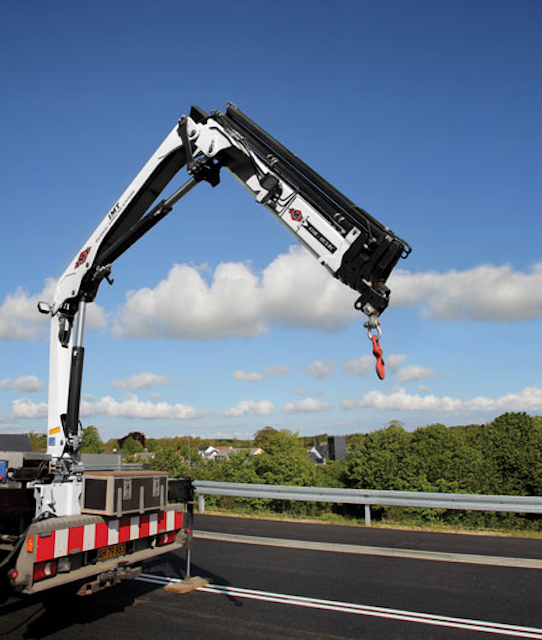 New models include the 610, 710, 810 and 910. The four new models will replace the 5/33, 6/39 and 7/48 articulating models in the IMT portfolio. The new articulating cranes offer versatile increased lifting capacities in the 40,000 ft-lb to 70,000 ft-lb range. The new models share the same tried-and-true features offered on all IMT articulating cranes, such as over-bending, which ensures the working area between the main boom and the jib is no less than 195 degrees.
Also available on the new cranes is the Electronic Vehicle Stability (EVS) system. Implemented to prioritize operator safety, EVS monitors the crane stability and warns the operator when the tilt of the truck's chassis approaches a pre-set angle. The EVS system integrates with Rated Capacity Limiter (RCL), a key safety component that monitors the crane's load moment, operation and function.
Iowa Mold Tooling Co. Inc. (IMT)
---
Portable Battery Hydraulic Pump Safety When Cutting Underground Cables
Safety equipment: Cembre Inc., a manufacturer of crimping and cutting tools, presented its newest product innovations at ICUEE 2017. The company launched its radio controlled, portable battery hydraulic pump for increasing safety when cutting underground cables, along with its newly designed cutting and crimping heads.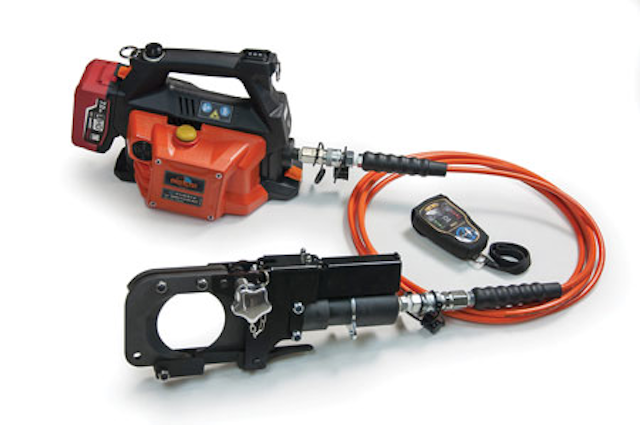 Cembre puts the safety and needs of the operators first, along with offering high technological standards and efficiency outcomes. This new system was developed by Cembre specifically to address the safety concerns of field personnel cutting cables that have the potential of still being live.
Cembre's focus continues to be on providing solutions for crimping and cutting, while never forgetting about the practical needs and safety measures necessary to best operate. The new B68RC battery pump and matching heads allow operators to properly control the cutting of cables while standing well outside a manhole and away from the danger zone due to the remote control feature and sensors—completely avoiding any possible contact with live cables and its consequent risk to their safety on the job.
Cembre Inc.
---
Safety Fall Protection Devices Self-retracting
FallTech, a provider of personal safety fall protection products, offers its line of DuraTech Self-Retracting Devices (SRD) with a side cable payout. This SRD provides a smoother extension and retraction of the cable that assists in reducing nuisance lock-up—allowing workers to move more efficiently on the jobsite and allowing for increased productivity.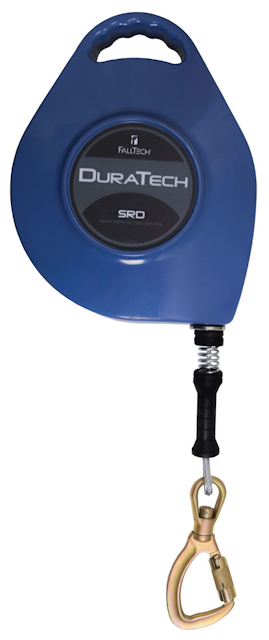 The housing is constructed of lightweight, durable, corrosion resistant aluminum and integrates an interlocking feature into the housing that allows the SRDs to stack on top of one another to maximize transport and minimize storage space requirements. A carrying handle is molded into the housing so the SRD is able to be moved safely and easily around the job site.
The DuraTech SRD offers an internal braking system that provides fast acting braking in the event of a fall for maximum stopping power. A 3/16-in. galvanized wire cable is the lifeline that includes a load-indicating locking swivel carabiner for a safe and secure connection to the workers harness.
To handle a multitude of jobs and industries, FallTech DuraTech SRD is offered in lengths of 15 ft., 20 ft., 25 ft., 30 ft., 40 ft., 50 ft. and 60 ft., and comply with all applicable ANSI and OSHA standards.
FallTech
---
Bending and Threading Station All-in-One Workstation for Electrical Market
Utility equipment: Greenlee Textron Inc., a Textron Inc. company, launches the Workhorse, a versatile all-in-one bending and threading workstation, which allows the operator to eliminate wasted time spent moving between work areas. With quick and easy mobility, the Workhorse Bending and Threading Station can be transported with a bender and threader mounted from one location to another, eliminating need for set up.
The Workhorse Bending and Threading Station is customizable and offers features to increase jobsite functionality, mobility and ease of use. The new mobile workstation is designed with forklift pockets on three sides and includes 8-in. casters to increase maneuverability across the jobsite. The exclusive built-in conduit pipe support used in conjunction with the bend tray checker allows for quick and easy checking of 90-degree bends and conduit measurements. Locked storage space can hold bending shoes, bender and threader accessories as well as other tools or materials required to complete the job.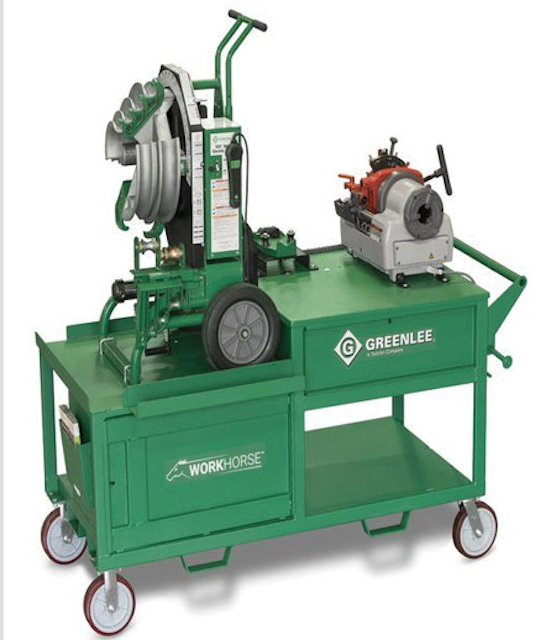 Additional features and benefits include:
Mount for chain-type pipe vise that allows for easy installation,
Oil catch for a cleaner workstation with the use of RIDGID 300 Complete,
Open storage space for easy access for daily use tools,
Cord wrap for organized stowing of extension and/or threader power cords,
Document holder for stowing important product manuals, and
Through-holes for electrical cord pathways and safe consolidation.
Greenlee Textron Inc., a Textron Inc. Company
---
Halo 360-Degree Task Light Improves Visibility on Jobsites
Safety lighting: ILLUMAGEAR, whose mission is to illuminate people working in high-risk environments, making them safer and more prepared, offers its Halo Personal Safety and Task Light.
The durable, lightweight Halo is a 360-degree ring of light that attaches to any standard hard hat. Tough enough to survive in rough environments, the Halo is visible over 1/4 mile away and fully illuminates the task area, helping save time and reduce rework.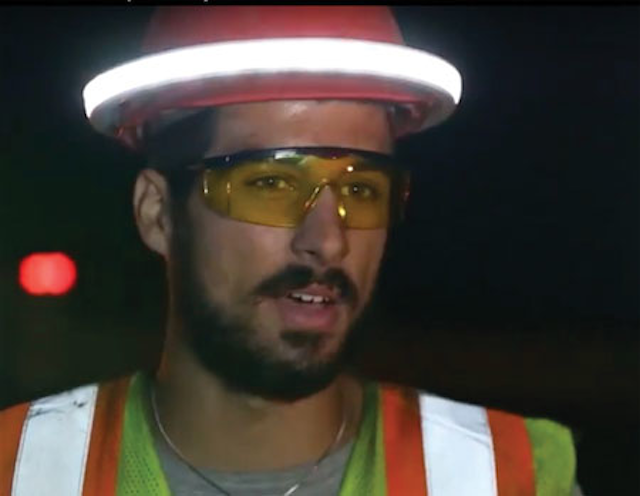 Suited for the electrical and utilities industries, product features include:
Lightweight and cord-free;
Visible over 1/4 mile away in all directions at all times;
Powerful flood task light for improved work efficiency;
Fully illuminates the task area out to the visual periphery;
Eliminates shadows no matter where you move;
Four light modes: Halo, HI-Alert, Task, Dim;
Built tough to survive in rough work environments;
Average battery runtime of 15 hours;
Dielectric strength of 30,000V minimum;
Connects securely to any hard hat;
IP Rating of 67 to protect against dust, dirt and water;
Easy single button functionality; and
One-year warranty.
ILLUMAGEAR
---
Power Factor Measuring Instrument High-precision Tan
Power management: Haefely Hipotronics' 2823-REF High Precision power factor measuring instrument is for measurement of very low dielectric losses of high-voltage apparatus. The company has continuously been developing and improving this product line since the first manual measuring bridge Tettex type-2801 was introduced in 1963. Tettex brand, a part of Haefely Hipotronics, is recognized for the accuracy and reliability of our measuring instruments.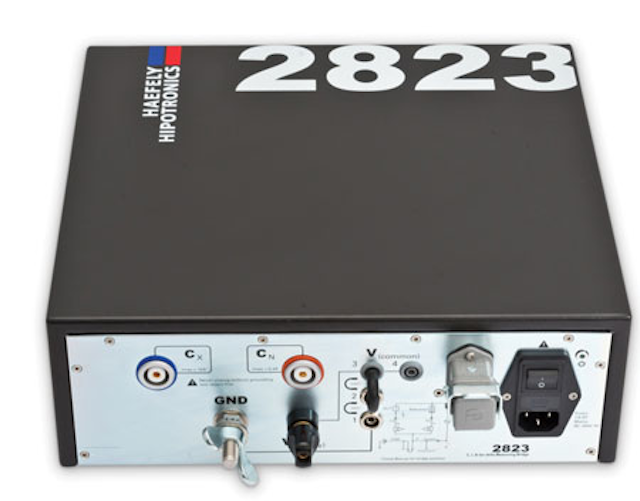 The use of an optically decoupled connection allows complete galvanic isolation between control room and test field, and guarantees the highest safety level of test personnel.
Features:
Compact, reliable and EMC hardened design, IP50;
Optically decoupled from computer;
Up to 15A input current with auto-range, and extremely low input impedance;
Industrial measuring and fiber optic connectors; and
Mains powered.
Haefely Hipotronics
---
Safety Products Comfort Grip Connector Improves Connecting and Disconnecting
Working at height requires movement. Workers need to connect and reconnect their snap hooks dozens—or even several dozens of times—a day. The new 3M DBI-SALA Comfort Grip Connector from 3M Fall Protection improves connecting and disconnecting while providing flexibility to anchor efficiently and comfortably in multiple orientations.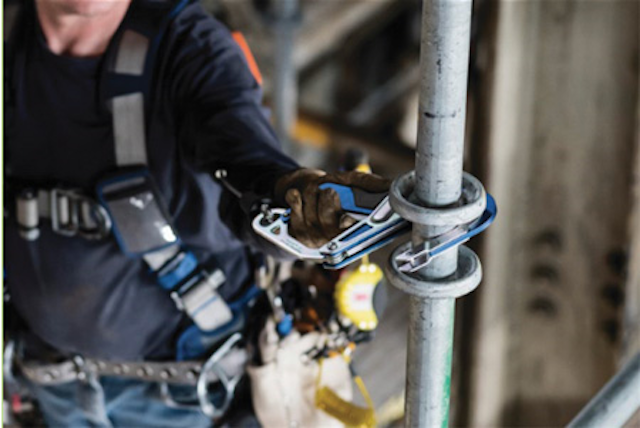 Designed and certified to arrest a fall when loaded in multiple orientations, the Comfort Grip Connector helps provide a 5,000-lb. tensile strength as well as up to 3,600 lbs. in transverse and gate strengths. When connected to a vertical or transverse application, such as a pipe, the hand-guard pin shears in the event of a fall to allow the connector to align with the direction of the fall and remain securely anchored.
The 3M DBI-Sala Comfort Grip Connector is available on some of 3M Fall Protection's most popular products, including:
3M DBI-SALA EZ-STOP Lanyard,
3M DBI-SALA Shockwave2 Lanyard,
3M DBI-SALA Nano-Lok Personal SRL, and
3M DBI-SALA Nano-Lok Edge Personal SRL.
3M Fall Protection
---
ProFlex Trades Gloves Feature Hi-vis Color Options
Work gloves: Ergodyne has added hi-vis color options to its ProFlex Trades Gloves Series. The 710 Hi-Vis Heavy-Duty Utility Gloves and the 812 Hi-Vis Utility Gloves provide the protection of the Trades Series while also improving a worker's visibility and conspicuity.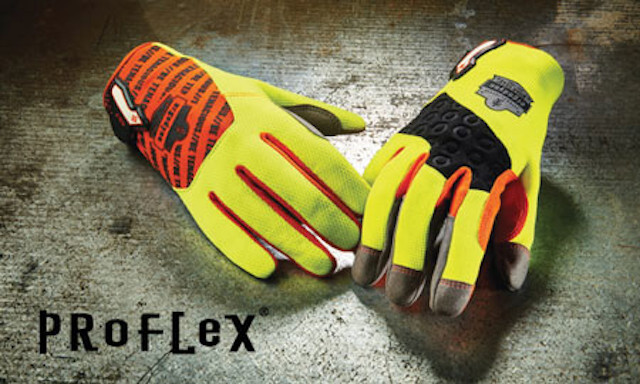 Besides boosting worker conspicuity, adding hi-vis to a hand protection program helps hand visibility and promotes a culture of hand safety awareness.
The 710 Hi-Vis Heavy-Duty Utility Gloves feature a neoprene knuckle pad, hi-vis hex stretch poly knit body with reflective accents, and hi-vis orange Tena-Grip in the palm, fingertips and thumb saddle for better abrasion-resistance and grip.
The 812 Hi-Vis Utility Gloves feature a durable synthetic leather palm, breathable hi-vis poly mesh, and a reinforced thumb saddle wear area.
Ergodyne
---
Electrician's Pocket Knife and Driver Everyday Carry Tool
Electrician tools: Klein Tools' Electrician's Pocket Knife features three everyday tools in one regular-sized handle. This easy-to-use and durable pocket knife strips wires; comes with a No. 2 Phillips screwdriver; and has a long-lasting, sharp blade.

Electrician's Pocket Knife with No. 2 Phillips:
Full size fine edge, drop point 440A stainless steel blade,
Versatile No. 2 Phillips folds into the handle,
Three wire-stripping notches on back of blade,
Liner-locking blade and driver to secure the tools when open,
Pocket clip for easy storage and convenient access, and
Rugged aluminum handle.
Klein Tools
---
Conductor Lift Block Compact, Easy-to-Use,
Utility Solutions' Conductor Lift Snatch Block is machined from aluminum, not cast, and offers a high quality, USA made alternative for utilities and contractors.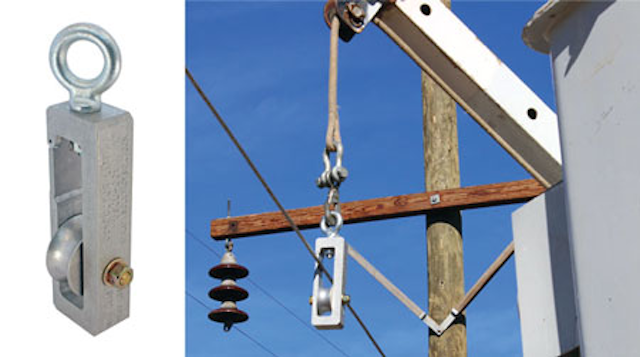 Lifting blocks, sometimes called snatch blocks, allow hotline crews to capture and control overhead conductors and maneuver them into place during construction, maintenance and repairs. Most blocks are heavy imported cast units that are difficult to operate.
Despite weighing only 3 lbs., the pulley lists a 1,500-lb. maximum working load rating. In addition, the components have all been designed with longevity in mind. The lifting eye is 1.25-in. zinc-plated steel and the machined aluminum sheave, or roller, uses an oil-embedded bronze bearing.
The other Conductor Lift feature is the spring-loaded one-way gate. It allows a conductor to easily snap in without latches, locks or pins like most other blocks. The gate keeps the conductor captured until operated by a lineman and makes using the pulley easier and safer than conventional blocks.
Utility Solutions Inc.
---
Puller-tensioner Introduced PT1250 Hydraulic
Construction equipment: Condux Tesmec's PT1250 hydraulic puller-tensioner provides features such as a negative self-acting hydraulic brake, an integrated hydraulic dynamometer, a hydraulic cooling system, advanced user controls and more.
This model offers 11,240 lbf of pulling or tensioning capacity and is designed for stringing one rope or one conductor. The bull-wheel grooves on the PT1250 are made from high resistance interchangeable nylon sectors. The PT1250 features a new digital interface with automatic power management and full safety controls.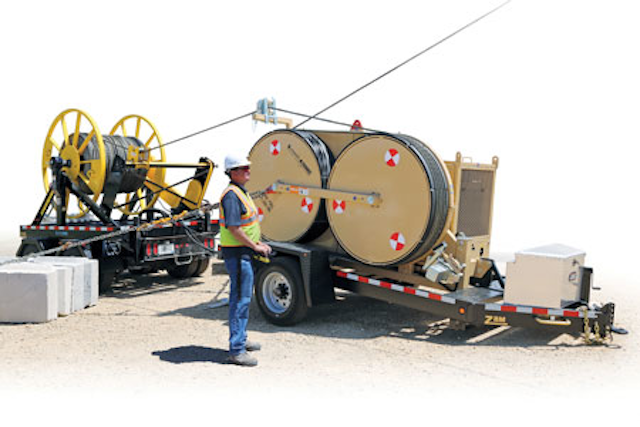 Condux Tesmec offers a full line of hydraulic pullers, tensioners, puller-tensioners and stringing blocks—cited to represent the safest and most reliable equipment in the power transmission and distribution industry. Condux Tesmec also offers one of the largest and most diverse selections of conductor blocks available.
A full line of productivity-enhancing conductor stringing tools and accessories is also available, including anti-twist rope, reel winders, reel stands and more.
Condux Tesmec
---
Illuminator Class 2 Breathable Knit Short Sleeve T-shirt is Cool, Visible
Safety clothing: Galeton, a provider of quality work gloves and personal protective equipment, has expanded its line of Illuminator High Visibility work wear to include the #12951 Illuminator Class 2 Breathable Knit Short Sleeve Black Bottom T-Shirt.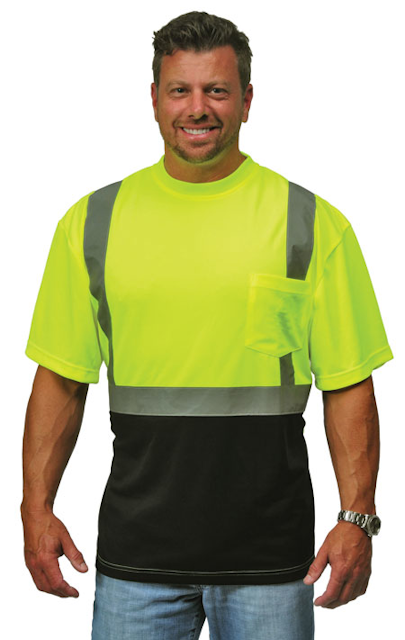 The ANSI Class 2 Type R T-shirt with 2-in. silver reflective tape is constructed from Birdseye breathable and moisture wicking polyester mesh fabric to help keep you cool. It is lightweight, bright lime colored and is comfortable for a full day of wearing. Black bottom helps hide dirt and grime.
Galeton