New Products
View the newest products related to the Utility Industry.
Jun 1st, 2017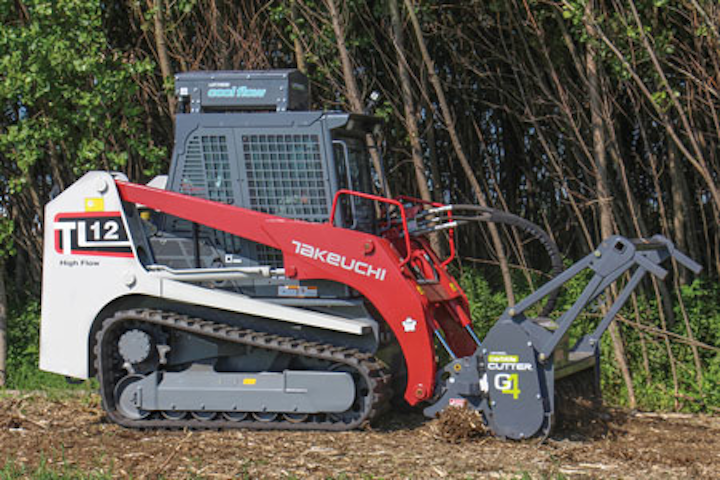 Safety Products: Utility Inspection System Offers Optional 40X Zoom
The Zistos Utility Inspection System is designed to perform safe visual inspections from street level of underground vaults, pipes and manholes for maintenance conditions, cracks and corrosion without a confined space entry.
The system uses a 10X optical zoom camera with LED illumination, which connects to an articulating and telescoping pole. For a more powerful camera, the system can be configured with an optional 40X optical zoom.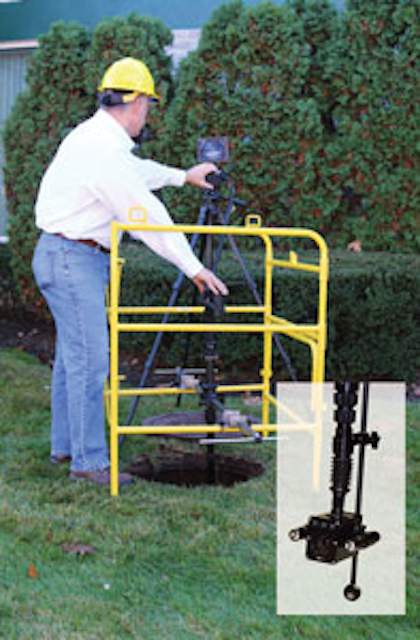 Images are viewed on a 5.6-in. LCD display with a built-in DVR. It can record live video or still images, enabling maintenance and repair operations to be documented.
This rugged, cost-effective portable system increases the safety and efficiency of many industrial inspection operations. (Photo shows system with optional pole support bracket.)
Zistos Corp.
---
Three-piece Coupling Universal Super Fitting
Utility supplies: Atkore International, a manufacturer of electrical products, offers its Konkore Fittings line with the Universal Super Fitting 3 Piece Coupling - cited to be ideal for joining two lengths of conduit. Universal Super Fitting 3 Piece Coupling connects quicker than standard couplings and three-piece couplings, allowing users to speed installation and reduce total project costs. With no need to inventory three-piece couplings, users also reduce material costs and improve inventory turn.
Universal Super Fitting 3 Piece Coupling is cited to be a breakthrough for coupling conduit that cannot be turned or tight space. It features a flexible design that provides easy transitions for coupling threaded galvanized rigid conduit/intermediate metal conduit (GRC/IMC) to threaded and unthreaded GRC/IMC, thin wall electrical metallic tubing (EMT), and UL concrete-tight conduit.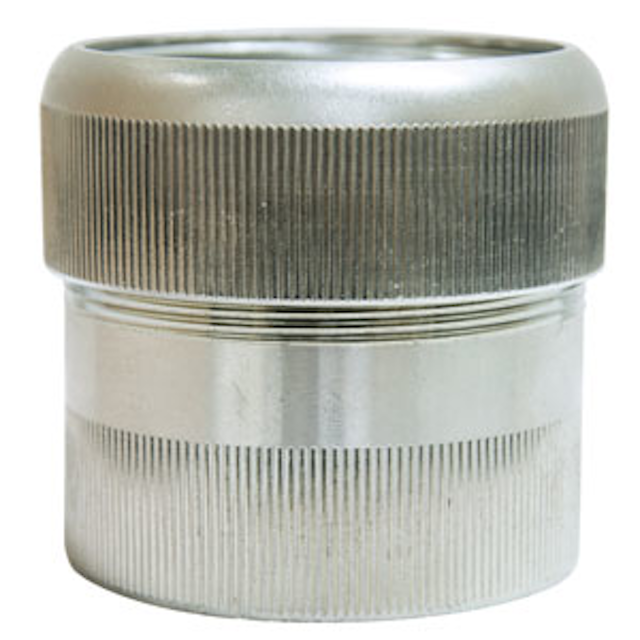 The coupling features a quick-connect design - just insert the conduit and tighten the compression nut. The easy to install Universal Super Fitting 3 Piece Coupling eliminates field threading - it connects to threaded or unthreaded product, saving labor and space on the job site. The coupling fits all UL-approved metal pipe types and is made of steel with a zinc-plated finish.
Available in a range of sizes from 2 1/2 in. to 4 in., Universal Super Fitting 3 Piece Coupling meets applicable third party standards, including UL 514B and C22.2 No. 18.3-12.
Atkore International
---
Utility Vehicles: EverLast Composite Service Bodies Combine Light Weight, Long Life
Lightweight, high-strength BrandFX EverLast composite service bodies are available for 40-in., 56-in., 60-in. and 84-in. cable-to-zxle (CA) trucks. Able to support a wide range of cranes and aerials, these service bodies are employed in many industries including utilities, telecommunications, plumbing, HVAC, mechanical, electrical, pest control and more.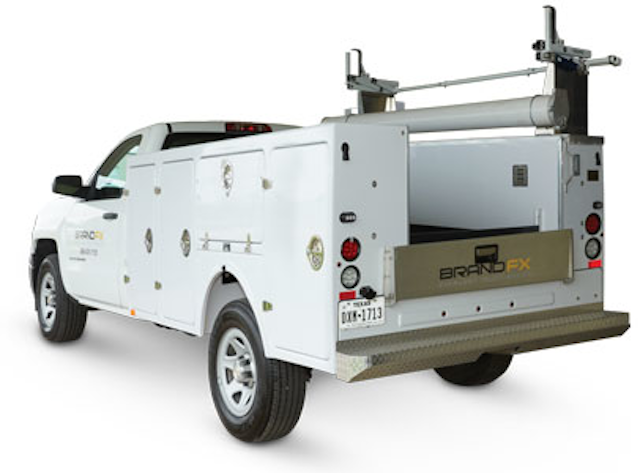 BrandFX EverLast composite service bodies offer a number of advantages compared to conventional metal bodies, including a combination of high strength and light weight. An EverLast service body can weigh as little as 50 percent of a similar steel body, which can equate to thousands of dollars in fuel costs savings annually.
In addition, the lighter weight of EverLast bodies reduces wear on tires, brakes and suspension components. This reduced weight can also allow for additional load capacity for a truck equipped with an EverLast service body. In some cases, the lighter weight of these bodies will even allow an operator to downsize vehicles.
BrandFX
---
New RSA-186 Remote Switch Actuator for Westinghouse Type ADM Disconnect Switch
CBS ArcSafe, a manufacturer of remote racking and switching solutions for low- and medium-voltage switchgear, introduces its remote switch actuator (RSA) for the Westinghouse Type ADM disconnect switch. The lightweight, portable CBS ArcSafe RSA-186 allows technicians to remotely close or trip the Westinghouse load-break switch from a safe distance of up to 300 ft., well outside the arc-flash boundary.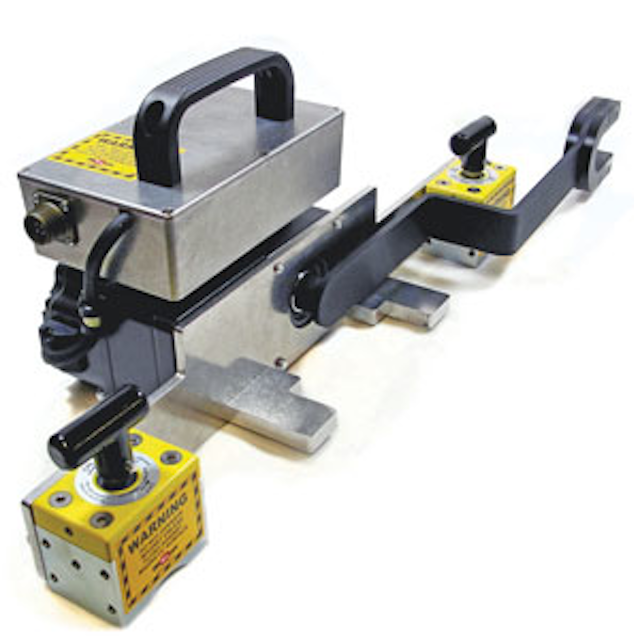 Installation and operation do not require any modifications to the existing electrical equipment because of CBS ArcSafe's magnetic latching system. The RSA-186 is compatible with Type ADM disconnect switches. Typical applications include use as a disconnect switch in AC-power systems up to 5,500V, with or without fuses. When compared to other arc-flash mitigation alternatives, the RSA-186 is a cost-effective solution for keeping operators safe.
CBS ArcSafe
---
Video Surveillance: Solar-powered, Wireless, Motion-activated Camera Systems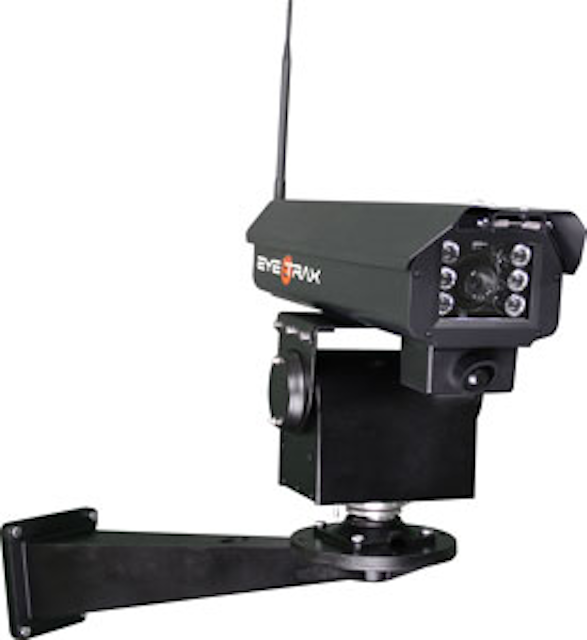 Eye Trax, a manufacturer of wireless camera systems, has added two camera systems to its product line-up - the Mega and the Predator series. The Eye Trax Mega series cameras are designed for security applications that require high-resolution images, up to 12MB (4,000 x 3,000 pixels), of recorded events. The Eye Trax Predator series fills a void in the market for reasonably priced camera systems, offering both video and still image capabilities to capture events. Eye Trax Mega and Predator camera systems use available wireless and cellular networks to transmit information, eliminating the need for the infrastructure of a computer, phone line, internet connection, router and power - which is required for the "traditional wireless cameras." Additional features such as solar power generation make Eye Trax camera systems an off-grid and reliable solution for customers looking for remote security and site surveillance.
Eye Trax
---
Safety Clothing: New Flame Resistant Jeans Combine Both Protection and Comfort
Workrite Uniform Co. developed a new Dickies FR denim jean line using Mount Vernon FR's flame resistant (FR) fabric. The mid-weight denim collection features a 13-oz. FR fabric from Mount Vernon FR called Mustang Flex, combining both protection and comfort. Mustang Flex is part of Mount Vernon FR's extensive FR denim fabric collection, Phoenix FR.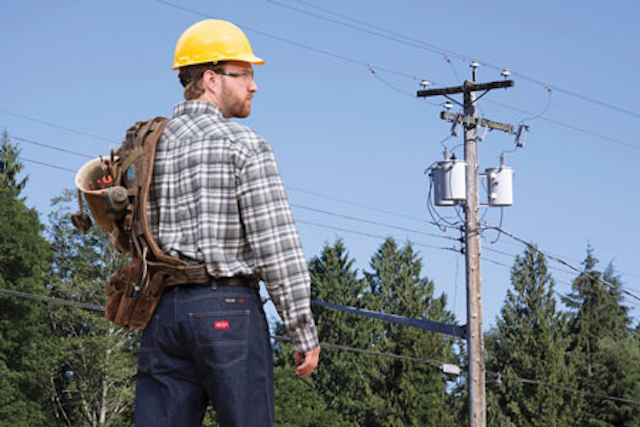 Mustang Flex denim adds mobility without reduction in FR protection, so workers experience increased comfort and range of motion when wearing the Dickies FR jeans. Mount Vernon FR's Mustang Flex is engineered for increased comfort and movement, incorporating an elastomeric fiber that allows the fabric to elongate sideways and diagonally. This eliminates any sagging or bagging in the jeans, and makes reaching and bending easier for workers.
The Dickies FR jeans are available in two washes, with a relaxed, contemporary fit. The jeans meet the performance requirements of ASTM F1506, comply with NFPA 70E, and are UL certified to NFPA 2112.
Workrite Uniform Co.
---
Work Gloves: Redesigned ProFlex Dorsal Impact-reducing Series Gloves
Ergodyne offers its redesigned ProFlex Dorsal Impact-Reducing (DIR) Series Gloves. Included are four models that feature protection schemes as well as technology enhancements to improve grip, increase cut protection, and provide additional warmth in cold weather applications. The updated ProFlex® models include:
924 Hybrid Dorsal Impact-Reducing Gloves
925F(x) Standard Dorsal Impact-Reducing Gloves
925CR Performance Dorsal Impact-Reducing Gloves + Cut Resistance
925WP Performance Dorsal Impact-Reducing Gloves + Thermal WP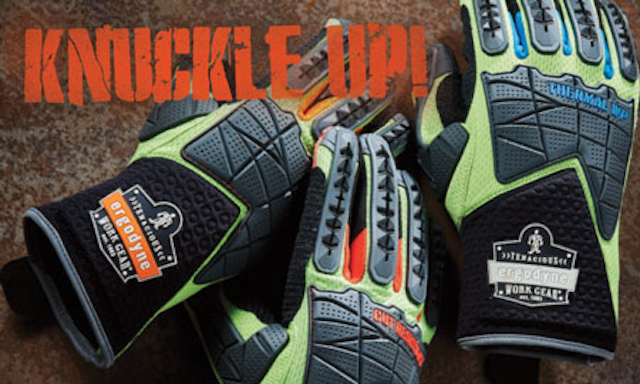 In addition to these four DIR Series models, the ProFlex 760 Impact-Reducing Utility Gloves have also been added to Ergodyne's Trades Series. Each DIR Series model features molded rubber armor and a technical segmented foam protection scheme to minimize the effects of pinches, impacts, and crushing or bruising blows without losing dexterity. Reflectivity, a hi-vis color scheme for signaling and hand safety awareness, and a reinforced thumb and index finger wear area come standard on most models.
Ergodyne
---
Line Maintenance: SH280 Stump Hog for FTX128 Track Carrier
Fecon's SH280 Stump Hog stump grinder is available for its versatile FTX128 track carrier. The SH280 Stump Hog brings high performance and robust construction to the job when powered by the 60-GPM/4,600-PSI high flow of the FTX128. The SH280 delivers a wheel speed of 1,000 rpm through a large displacement direct drive 227cc hydraulic motor. The large 28.75 in. diameter wheel is swept from side to side with the ergonomic control of the FTX128 joystick. The dedicated auxiliary low flow of the tractor powers the sweep function so no performance is taken from the high flow power to the wheel.
This combination enables operators to be more productive, moving quickly from stump to stump in the quiet and comfortable enclosed FTX128 cab. Working from the enclosed cab also means working comfortably in the ambient heat or cold, or when rain might otherwise stop work entirely.
Fecon Inc.
---
Line Maintenance: Mini-Jarraff Rear Lot, Residential Tree Trimmer
Jarraff Industries' Mini-Jarraff Rear Lot Trimmer is specifically designed for residential and municipal tree trimming. A minimal footprint and compact profile allow the Mini-Jarraff to operate in areas where only climbing crews could go before. The patent pending self-leveling carrier allows it to travel on all types of terrain and eliminates the need for traditional outriggers.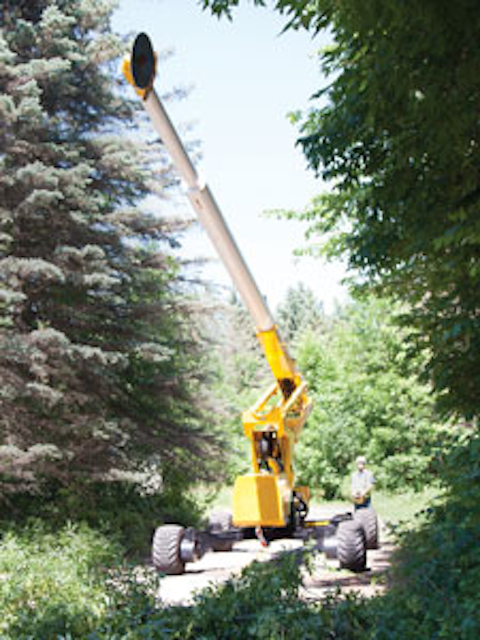 The Mini-Jarraff can retract to 36-in. traveling width - small enough for standard gates and backyard fencing - bringing a new level of safety and productivity to rear lot and residential trimming operations. The remote controlled Mini-Jarraff offers a dynamic range of operation including a 360-degree rotation, rotating saw head for precision cutting and a 54-ft. vertical reach.
Jarraff Industries
---
Utility Equipment: HydroGuide HG1200 Winch is Efficient, Easy to Use
HammerHead Trenchless Equipment, a Charles Machine Works company, has introduced the powerful HammerHead HydroGuide HG1200 winch, designed to be more efficient and easy to use in pipe-bursting, slip-lining or slitting applications. This iteration of the HydroGuide line of winches features a patented, self-deploying hydraulic downrigger, improved performance and additional safety features.
While other winches on the market require manual assembly of heavy, bulky components, the HG1200 makes setup easy with its hydraulic downrigger. With the touch of a button, users are able to automatically deploy the boom down hole and can fine-tune the depth up to 18 ft. without having to jack up the machine. With the hydraulic boom, setup and teardown take minutes, which saves time on a job site.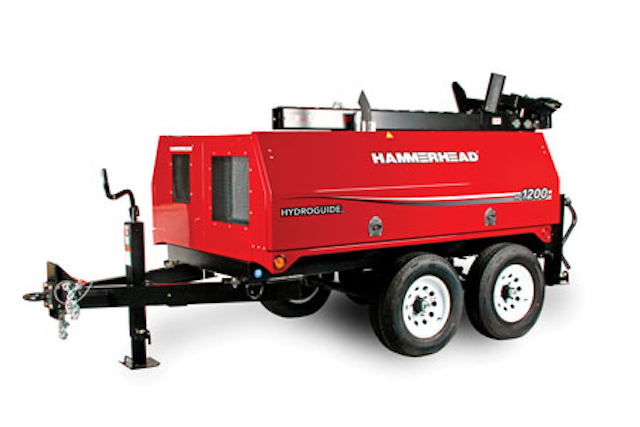 A key feature of the HG1200 winch is its precision controls. Not only can users adjust the boom to any depth, but they also have total control of the line speed and pressure. Pull force can be set anywhere between 0.5 to 12 tons, and the line speed can be set anywhere between 0 to 111 ft. per minute.
The HG1200 winch is powered by the Kubota D1105, a vertical, water-cooled, four-cycle diesel engine that complies with Tier 4 emission regulations. This lightweight, dependable engine increases the unit's performance and fuel efficiency. The radial piston motor provides a smoother, more consistent pull.
HammerHead Trenchless Equipment
---
Fiber Optic Certifier Improves Efficiency and User Experience
IDEAL Networks' Optical Certifier I (OC I) Tier-1 certifier is for multi-mode and single mode fiber cabling. The OC I is cited to deliver the fastest automated loss, length and polarity certification of fiber links against international industry standards, maximizing efficiency and reducing the cost of ownership.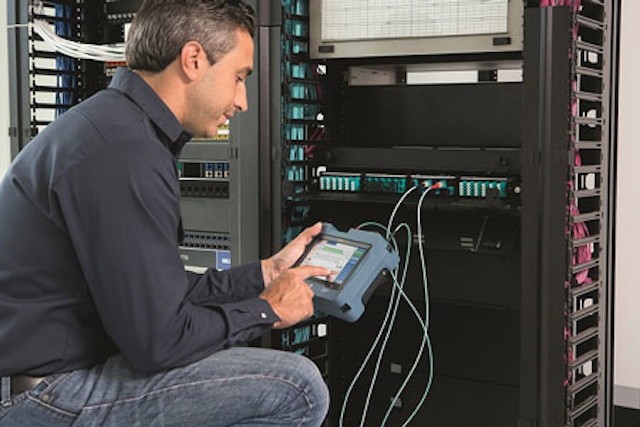 Designed to help installation contractors, network engineers and IT maintenance technicians achieve faster, first-time-right system acceptance, the OC I fiber certifier delivers high speed and optical performance and has an advanced suite of user-assistance features including a step-by-step reference wizard, intelligent fault diagnosis and patented margin meters.
Featuring a user friendly, tablet-inspired design with a 7-in. high-resolution touchscreen and an intuitive app-like interface, the OC I offers integrated Wi-Fi and Bluetooth connectivity as well as up to 12 hours of battery life. In addition, its on-board reporting capabilities enable technicians to document their work live from the field, converting multiple measurements into a single, professional report in a format recognized by industry standards.
IDEAL Networks
---
UCT-8 Underground Cable Fault Tester Lightweight One-piece Tool
Test equipment: HD Electric Co., a Textron Inc. company, now offers its new Underground Cable Fault Tester, the UCT-8, a lightweight one-piece tool that is used to test underground de-energized primary shielded voltage cables for faults.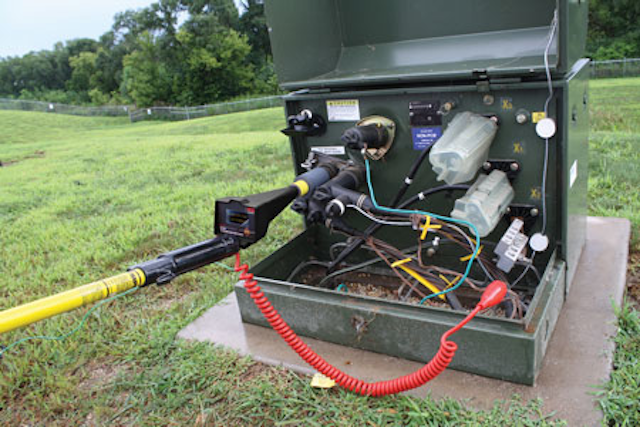 The most significant advantage is that the tool will digitally analyze the data gathered during a test to declare a cable 'good' or 'bad' with zero interpretation required on the part of the end-user. To give context, previous generations of this tool required the user to observe an analog needle gauge and form a judgement based on its movements - so a bad cable may show up as a needle 'jumping around' during the test, or landing on a value that was slightly higher than expected. The UCT-8 takes the guesswork out of underground cable fault testing.
Test results for underground DC leakage are clearly displayed as an analog bar graph along with an indication of a good or faulted cable. A self-contained 8-kV high voltage source powers the tester using a 9V lithium battery, making the UCT-8 a compact single hotstick operation tool for testing cable. There is also integrated safety circuitry that detects cables that have not been properly de-energized, alerts the user of the problem, and shuts down the test to prevent system damage. An automatic shutoff feature helps the battery last longer.
HD Electric Co., a Textron Inc. Company
---
Work Gloves: Foam Nitrile 3/4 Coated Knit Gloves for Better Oily Grip, Extra Protection
Galeton, a supplier of work gloves and personal protective equipment, offers the #12870 Otterback Foam Nitrile 3/4 Coated Knit Gloves with its line of Otterback Nitrile Coated Gloves.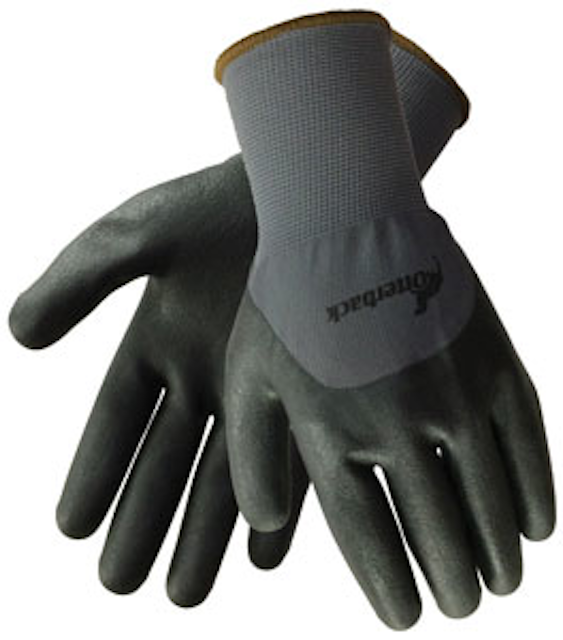 Otterback Foam Nitrile 3/4 Coated Knit Gloves are lightweight and offer good grip due to the foam nitrile coating. The coating is over the palm, fingers and back of knuckles for added protection. The 13-gauge polyester knit shell enables the back of the hand to have breathability that helps keep hands cool and dry. An ideal fit and dexterity help reduce hand fatigue and increase comfort.
Galeton
---
Hydraulic Oil Cooler Redesigned Cool Flow, Improves Cooling Capacity
Line construction: The redesigned Cool Flow auxiliary hydraulic cooler from Loftness meets the needs of tool carriers and other machines operating in the most demanding conditions. Along with a conveniently decreased profile, the Cool Flow's increased cooling capacity keeps machines and attachments running safely until the job is done.
Under intense attachment loads or high ambient temperatures, hydraulics can overheat, which might mean putting a machine out of commission for lengthy - and costly - periods of time until the oil cools to a safe level. The Cool Flow reduces the risk of overheating in almost any machine, including tool carriers such as skid steers, backhoes and track loaders.
Twin 11-in.-diameter fans, an aluminum brazed core, and a peak flow of 45 GPM push cooling to 120,000 BTUs per hour. Fan speed is controlled by a 12-volt system and an automatic thermostatically controlled on/off switch. This assures hydraulics remain at safe operating levels, regardless of the load demand of the attachment or high operating temperatures.
Unlike most auxiliary coolers that are mounted near the attachment, the Cool Flow can be installed to a cab roof where it is less susceptible to vibration, backpressure and debris. Because of its versatility, however, it can also be attached in a variety of configurations depending on the machine and attachment requirements.
Loftness
---
Utility Tools: Measuring Wheels are Durable, Accurate
Milwaukee Tool has expanded their Layout and Measurement offering with the 12-in. and 6-in. Measuring Wheels. The durable and accurate units are designed for extreme durability, increased ergonomics, and productivity.
Constructed of reinforced aluminum frames and reinforced folding joints, the measuring wheels are able to withstand the toughest jobsite conditions. Durable locking pivot points help quickly fold the units for transportation and storage. To prevent build-up of dirt and grime that could potentially jam the wheel, the 12-in. Measuring Wheel has also been designed with a Debris-Cleaning Wheel Flap that easily clears away contamination while rolling. In addition, the 12-in. measuring wheel also includes a reinforced kick stand.
Both feature ergonomic pistol grip handles, designed to provide similar ergonomics to that of a power tool handle, fitting the hand of the user better than other wheels on the market. These handles feature a top brake function that can be used to 'lock' the wheel and the reading, increasing accuracy. The 12-in. Measuring Wheel is also designed with a top handle clearing function for easier use, allowing the user to reset for each measurement without bending over.
For added utility, the 12-in. features a carrying handle, while the 6-in. can be easily folded down to a compact 18-in., which allows for easier transport and versatility.
Milwaukee Tool
---
Osprey Deterrents: Complicated Doesn't Make it Better
Safety Products: Often when people are looking for answers on how to solve a problem, they look at how much work goes into the solution and overlook that a simple application works better. You can install the "OFF"-Sprey Raptor Deterrent in under 15 minutes on a utility pole (other applications vary in time). With the "OFF"-Sprey Raptor Deterrent's simple design, it will out-perform more complicated (and expensive) devices.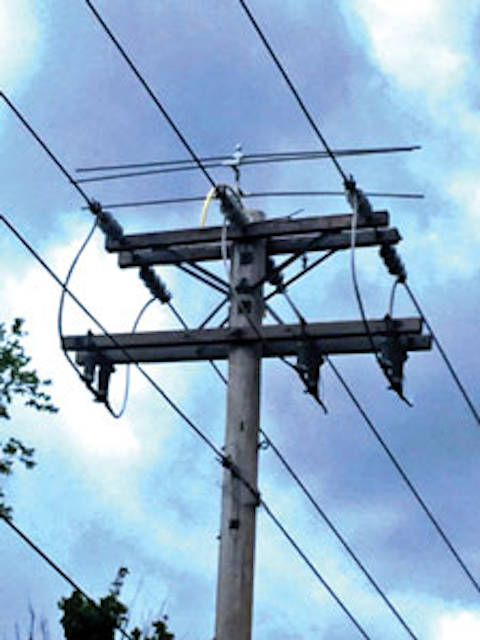 The "OFF"-Sprey device works on the simple premise that Ospreys are relatively claustrophobic and are protective of their flight feathers, and will not fly into tight spaces. They hover over the structure and drop limbs, sticks and other debris to make their nests on top of the structures and then land to arrange them into their nest. With the "OFF"-Sprey, they can't get close enough to make a precise drop, and the debris is deflected by the deterrent. The device is placed in such a way that the birds can't land and arrange any debris that might have landed on the structure. As the Osprey continues to drop debris and can't build their nests, they get increasingly frustrated and eventually give up on that particular site and move on to another site, whether it be a manmade nesting platform or a natural nesting site.
Power Supply Company LLC
---
Hydraulic Tools Battery-powered
Utility tools: Sherman + Reilly, a Textron Inc. company and manufacturer of power line stringing and installation equipment, offers its Next Generation battery-powered hydraulic tools. The design of these Next Generation tools includes real-time communication technology, improved ergonomics focused on optimizing the tool's center of gravity, and more power with an enhanced Makita battery platform.
Tools in the Next Generation line include 6-ton, 12-ton and 15-ton crimping tools, cable and bolt cutters, and a 10K PSI pump with removable heads that have the capabilities to do both.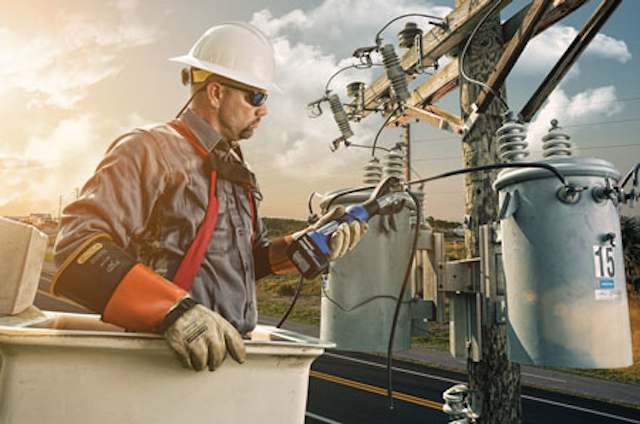 Each product in this tool line features Bluetooth communication technology that allows electricians to wirelessly manage their tools. This feature provides access to tool history, monitors service timelines, and customizes tool operations to suit the worker's preferences. Each Next Generation crimping tool is equipped with Intelli-CRIMP technology, a pressure sensor that monitors the crimping process - ensuring the correct amount of pressure is applied to each crimp. Some tools are equipped with Auto Retraction Stop (ARS), which retracts the ram just enough to prepare the tool for the next cycle, saving time and energy. In addition, there are tools with Retraction Stop Repeat (RSR), which allows the operator to partially retract the ram and repeat that retraction for subsequent crimps. Tools equipped with this feature emit audible and visual alerts when a crimp is below specifications.
Sherman + Reilly
---
Construction Equipment: Stand Alone Core Barrel Eliminates Need for Auger Drill Attachment
Terex Utilities offers an auger tool for digger derricks - the Terex Stand Alone Core Barrel. It fits directly onto a standard Kelly bar and can be stowed like a standard auger on the boom, eliminating the need for any attachments or having to remove for transportation. When a flighted auger will no longer do the job, the Terex Stand Alone Core Barrel can increase productivity when drilling hard rock, such as limestone material.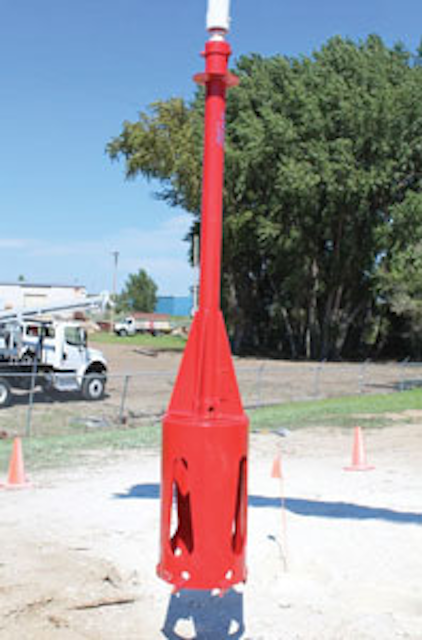 For applications requiring drilling to begin at ground level, a removable pilot bit can be used to stabilize the Stand Alone Core Barrel to start a hole. Once initial penetration is achieved, the pilot bit can be removed. The optional pilot bit is important for achieving a straight starter track.
In addition, the Stand Alone Core Barrel is designed for easy plug removal, increasing drilling productivity. A tooth pattern allows the rock plug to easily fall out of the barrel when the operator ratchets the rotation of the tool. Other core barrels require workers to physically hammer the core out of the barrel.
Terex Utilities
---
Utility Vehicles: Four-wheel Skidder is Powerful, Productive
The Tigercat 632E skidder is cited by the company to be the most powerful, productive four-wheel skidder ever built. Several enhancements have been integrated into the model, setting new productivity standards for timber extraction.
The 632E is powered by the simple and reliable Tigercat FPT N67 engine, which provides full emissions compliance for Tier 2 and Tier 4f along with high fuel economy. The Tier 4f engine delivers 212 kW (285 hp) at 2,200 rpm. The Tier 2 option delivers 215 kW (288 hp) at 2,100 rpm.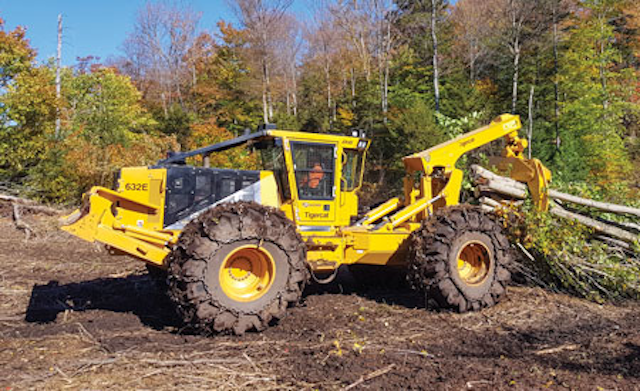 The 632E can be equipped with the largest grapple offered on any four-wheel skidder on the market. The larger 23 ft² option has a tip-to-tip opening of 152 in. Complementing the higher horsepower and larger grapple, the hydraulic system and driveline have been extensively upgraded. Several components and structures have been upsized for improved durability.
The 632E uses a larger main hydraulic pump and valves for faster operation and better multifunctioning. The hydraulic cylinders are larger, allowing the machine to run pressures that are 10 percent lower while increasing performance by 10 percent on average. Cylinder rod sizes have been increased by 25 percent.
Load sensing control and a simplified steering circuit lead to more responsive and adjustable steering control. And an enhanced EHS transmission produces 11 percent more torque - with the same top speed as the previous generation of EHS.
Tigercat
---
Uvex HydroShield Anti-fog Lens Coating Available on 51 Safety Eyewear Products
Safety eyewear: Honeywell has expanded the number of Uvex safety eyewear products featuring Uvex HydroShield anti-fog lens coating - from 10 to 51 - to deliver maximum protection in more styles for more work environments.
The coating is cited to deliver up to 60 times longer-lasting fog-free protection and up to two times greater scratch resistance than the next best Uvex anti-fog coated products. Uvex HydroShield is now available on Uvex Hypershock as well as other Uvex styles - Genesis, Genesis XC, Protégé, Stealth and Livewire - spanning general-purpose, sealed and military-grade eyewear products, so workers can choose from options that deliver sport-inspired style, all-day comfort, and impact protection.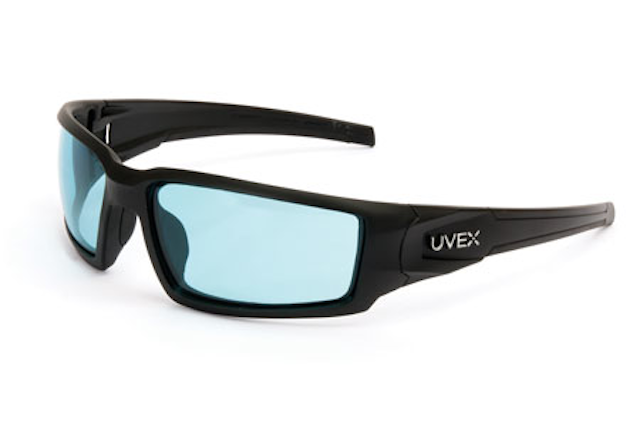 The coating is also available on 13 Uvex lens tints, enabling workers to perform tasks fog-free longer in nearly any indoor or outdoor work environment. Fogging is the number one vision-related barrier to wearing safety eyewear, while safety glasses with anti-fogging properties have been reported to significantly improve performance.
Uvex HydroShield employs a dual-action approach to maintain consistent fog-free performance. While hydrophilic properties absorb moisture into the lens, hydrophobic properties shed water off the lens. And because it is permanently bonded to the lens, Uvex HydroShield won't wear off and requires no application, no maintenance, and only soap and water to clean.
Honeywell
More Utility Products Current Issue Articles
More Utility Products Archives Issue Articles