Is Your Lighting Helping or Hindering Your Work?
When up in the air working on lattice towers or wood utility poles, linemen face a unique set of challenges. One of the last things these professionals should have to worry about is whether or not they have the proper lighting on site to complete their work.
Jun 1st, 2017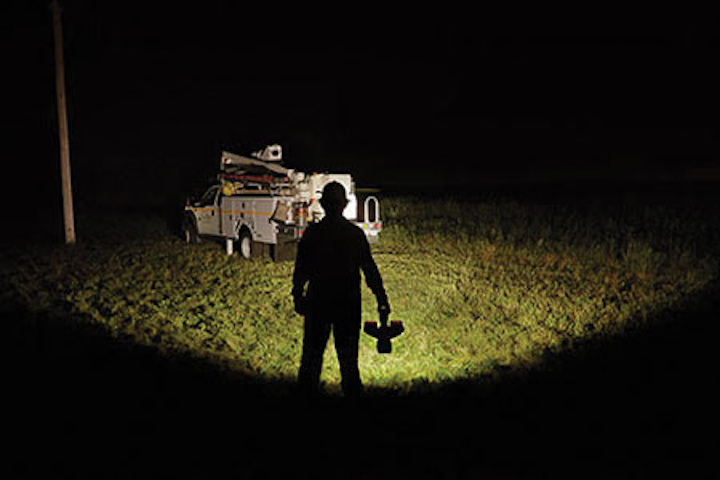 When up in the air working on lattice towers or wood utility poles, linemen face a unique set of challenges. One of the last things these professionals should have to worry about is whether or not they have the proper lighting on site to complete their work. Unfortunately, though, that particular problem is encountered daily.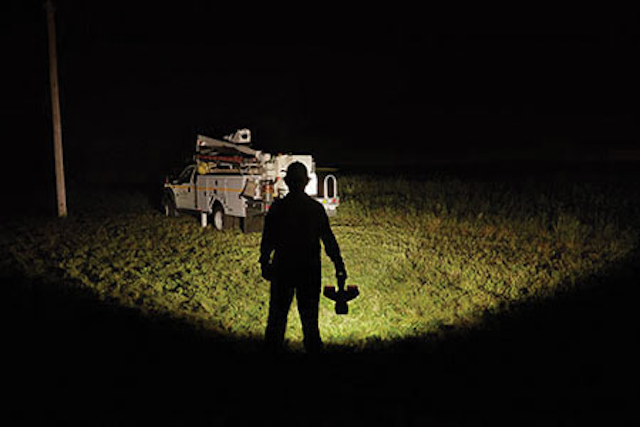 Picture this common situation: One lineman is high up in a bucket using a headlamp to light the material and tools he's working with, while another worker is below directing light upward with a larger area light or spot light. This light needs to be continually repositioned and meanwhile casts shadows spotting from the ground because of the bucket being in the way of the light.
There's far too much work to be done to let productivity and, more importantly, safety be hindered by poor lighting. Unfortunately, manufacturers did not have an understanding of the challenges lineman encounter on a daily basis. Therefore, for decades, utility professionals have relied on the same outdated and stubborn lighting solutions.
This is all changing. Focused research and development around utility work is leading to breakthroughs in temporary lighting. The result is new solutions that put light where linemen need it, when they need it.
Versatility
No situation is the same. From vast open valleys to deep wooded areas, line maintenance is a multifaceted and multi-scene job. With such a wide range of work environments, the lighting used must be just as versatile. Lighting solutions for this type of utility work need to offer the ability to not only light up the surrounding area, but also target in on smaller areas. They also need to shed light on the scene from the most opportune place - the bucket - and not the ground below.
Through a spring-loaded bucket clamp, for example, Milwaukee Tool's M18 LED Utility Bucket Light is easily adjusted to fit bucket lips. This light does the work of two lights in one through a dual-rotating head design that allows the user to rotate the light heads 180 degrees vertically or horizontally to place the light beam directly where it's needed, providing shadow-free lighting. An additional spot flood mode assists in viewing issues from more than 500 yards away, while providing a wider view of the surrounding area to reduce tripping hazards.
Versatile in more than just function, this light also has the ability to work with more than 125 other power tool solutions on the M18 system, including a range of crimpers and cutters designed for simplifying the line maintenance process.
Light Output
Finding the proper lighting for these types of situations is also more than just finding a solution that can direct light any place its needed without interference; it's also making sure that light is able to illuminate the areas that are pitch black. This is a huge upgrade from current solutions, which predominantly have the user relying on a small headlamp to illuminate their entire work area. The M18 LED Utility Bucket Light provides a good reference for this. Through TRUEVIEW technology, this light uses advanced LED technology and optics to deliver a consistent beam and high output. The light provides 2,500 lumens of light - giving linemen peace of mind that, once they have the light set up, they'll have more than enough light for their needs.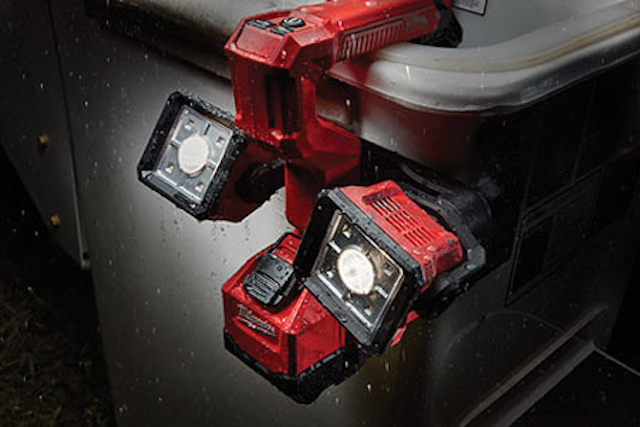 Overall Functionality
Headlamps, spot lights, area lights. All of these are depended on by linemen, but not all of them have been specifically designed for their work. The unique set of challenges linemen face means their lighting needs to directly address their needs and the hazards they often encounter, much like their clothing and power tools. Far too often linemen have had to adapt their work to their lighting, which is not ideal in storm situations around high voltage. But why adapt to the lighting, and not the other way around?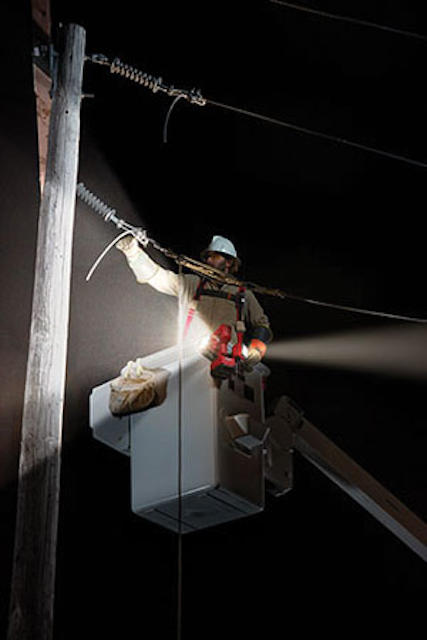 Not only was the M18 LED Utility Bucket Light engineered specifically for use on buckets, it's also designed to withstand the harsh conditions it could come into contact with. This includes a high-impact polycarbonate lens, IP56 for use in extreme weather, and testing for use in high voltage. By developing a light that is fully optimized for utility buckets and these environments, Milwaukee Tool has improved linemen's visibility up in the bucket with consistent light that has the versatility to adapt to the work they do.
Taken together, these three factors provide the rationale for safety committees and utility companies to choose the right lighting solutions for their teams. After all, safety and productivity are always top priorities for utilities; the M18 Utility Bucket Light is a solution that aids in both.
---
About Milwaukee Tool: Since the company began in 1924, Milwaukee Tool has provided professional, heavy-duty tools and accessories. Milwaukee continues to provide innovative, trade-specific solutions. Whether it is through time-saving accessories or hand tool products, Milwaukee is dedicated to delivering a steady stream of advanced solutions for the trades that offer increased productivity and high durability.
More Utility Products Current Issue Articles
More Utility Products Archives Issue Articles