New Products
View the newest products related to the Utility Industry.
May 1st, 2017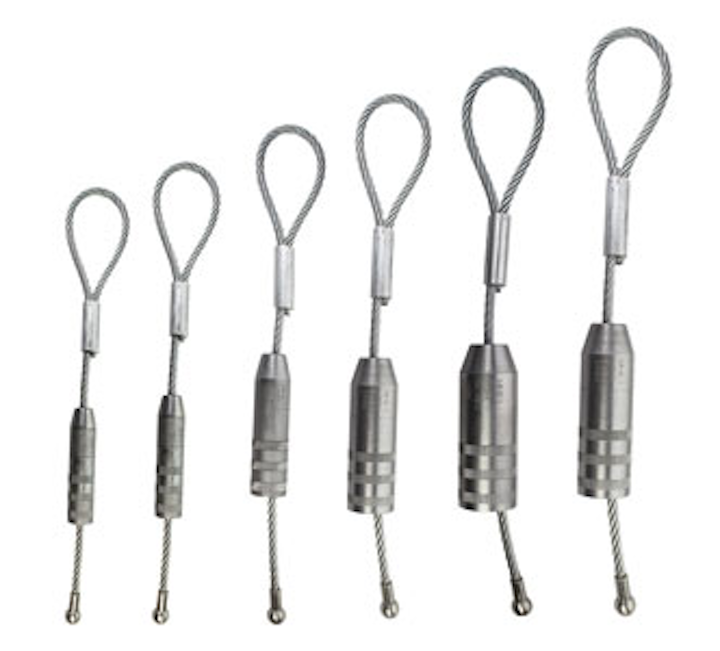 Compression Cable Pulling Heads Utility Tools
BURNDY, a manufacturer and provider of compression connector solutions to the industrial, energy, construction, telecommunications, petrochemical, data center and transportation industries, announces the addition of a compression cable pulling head product offering to its HYDENT LINE of compression connectors.
The portfolio of compression cable pulling heads enhances an already strong portfolio of compression connector products. The compression pulling head line makes BURNDY a one-stop-shop for all cable pulling, terminating, splicing, taping and installation tooling needs.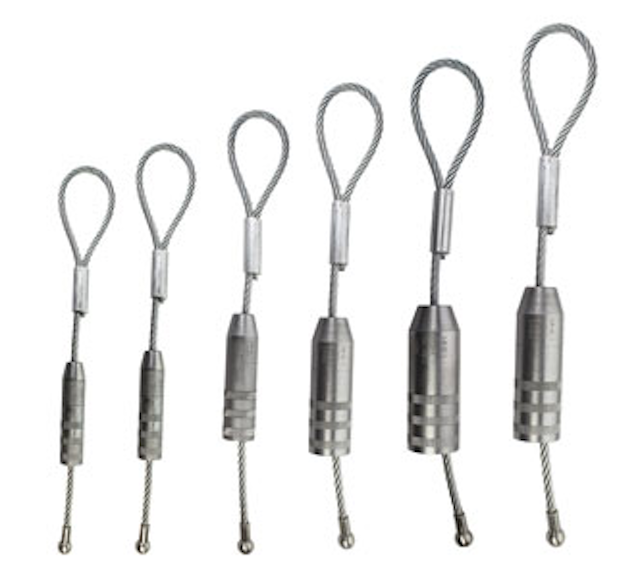 Features:
Only six compression pulling heads for wire ranging from #1 AWG - 1000 kcmil for both aluminum (Class B [Concentric, Compact, Compressed]) and copper (Class B [Concentric, Compact, Compressed], and Class C) wire. Each compression pulling head is available in five different lanyard lengths to stagger the compression pulling heads to prevent overlay when pulling multiple wire at the same time.
Only one tool required to crimp the entire line. To help minimize installation time and minimize the amount of installation tooling requirements, the compression pulling heads have been tested for use with the 644 series of dieless installation tooling. BURNDY supplies a full line of compression terminals and splices that can also be installed using the 644 installation tooling (see our catalog for connector and tooling combinations).
BURNDY
---
Wheeled Tractors Deliver High Hydraulic Horsepower to Mulching Heads
Construction equipment: Offering a heavy-duty design for maneuvering across rough terrain, Barko's B-Series Industrial Wheeled Tractors provide high fuel efficiency while increasing productivity. The machines deliver consistent performance for land clearing, right of way maintenance, site prep and other large commercial and municipal applications.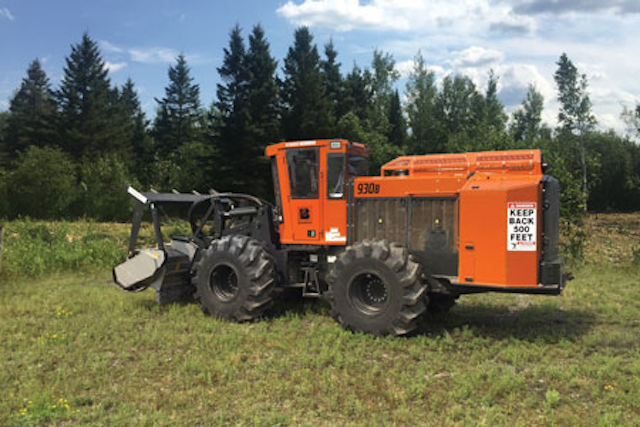 The 937B model is powered by a 380-hp Cummins QSL9 Tier 4 Final diesel engine with SCR aftertreatment, while the 930B features a 320-hp engine. Both include a high-capacity anti-clog radiator with auto reversing fan, along with a 127-gallon fuel tank that allows for longer operating intervals. Unlike loop systems that waste fuel, Barko's load sensing hydraulic system automatically adjusts attachment performance according to the load, resulting in greater productivity and higher fuel efficiency.
A high-flow hydraulic pump produces 113 GPM at 5,500 PSI for the 937B - 91 GPM at 5,000 PSI for the 930B - to deliver far more horsepower to the attachment than most comparable machines.
Barko Hydraulics LLC
---
Non-contact Voltage Indicator Test Equipment Offers Smarter Options
The CHANCE Proximity Voltage Indicator gives linemen a smarter non-contact testing tool, with features like user-defined minimum detection range and a lightweight frame of 17.6 ounces. The CHANCE Proximity Voltage Indicator user-defined minimum range feature reduces nuisance audibles. Limiting dangerous variants in known voltage situations also makes non-contact testing safer for linemen trying to test a specific line or level of current.
CHANCE Proximity Voltage Indicator features include:
User-defined minimum detection range,
Auto-ranging capacitive test point,
Easy-access battery replacement, and
Measure phase-to-phase voltage classes up to 500 kVac.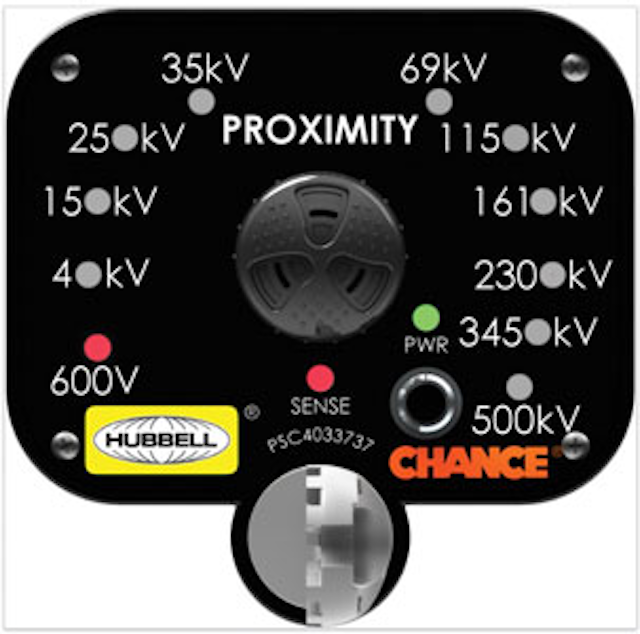 The CHANCE Proximity Voltage Indicator responds to a sensed field in three ways. First, a sensing LED changes from blinking to constant when it detects an electric field. Second, illuminated LEDs represent the class of voltage present. Third, an audible alarm indicates dangerous levels of voltage.
Linemen who need help with their tool in the field can scan the QR code on the product with their smartphone to access the video manual, repair form and service line. The CHANCE Proximity Voltage Indicator is available for purchase through Hubbell distributors.
Bevins & CHANCE Tools
---
Remote Racking System RRS-3 SecoVac Single-application
The CBS ArcSafe RRS-3 SecoVac (IEEE) single-application remote racking system (RRS-3) is designed to operate the General Electric SecoVac VB2+ vacuum circuit breaker without having to modify any existing electrical equipment because of CBS ArcSafe's magnetic latching system. The lightweight, portable RRS-3 SecoVac (IEEE) allows technicians to remotely install and remove a breaker while standing up to 300 ft. away.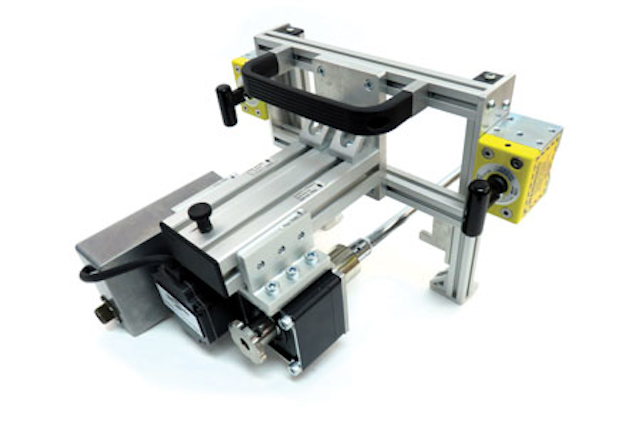 The RRS-3 SecoVac (IEEE) is compatible with IEEE SecoVac breakers/switchgear only with ratings of 1,200-3,000 A, 5-15 kV closed-door applications. Typical usage for the SecoVac breaker is for control and protection of medium-voltage transmission and distribution systems. Designed, manufactured and assembled in the U.S., all RRS-3 units are portable, fast and easy to set up; offer mechanical and/or electrical safety protection; are adjustable to unique electrical equipment configurations; reduce the requirements for personal protection equipment; and help customers with NFPA 70E arc flash safety compliance. Optional features include 25-ft. extension cables, 24 Vdc LED light, wireless video camera system with LCD monitor, and rugged protective case assembly.
CBS ArcSafe
Rugged Thermal Camera for Outdoor Perimeter Surveillance and Robotics Apps
Monitoring system: Sierra-Olympic Technologies, supplier of infrared (IR) and thermal imaging components, cameras and systems solutions for advanced IR imaging applications, offers the Viento 67-640 thermal camera for perimeter surveillance, robotics and other rugged outdoor imaging applications.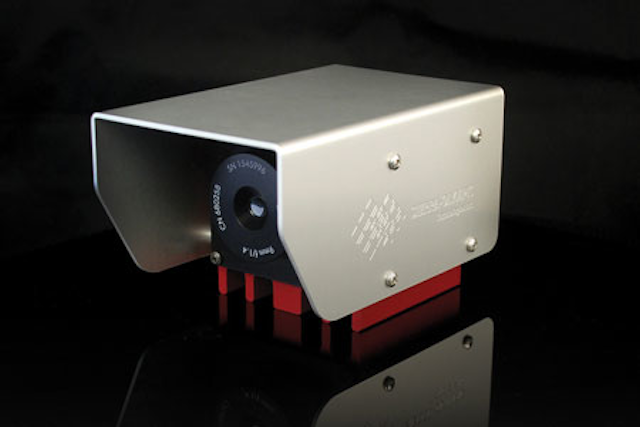 The thermal imager features a fixed focal length and fixed mount. With a 640 x 480, 17-micron thermal imaging core, the Viento camera provides standard NTSC/PAL composite analog video output with simultaneous 8-bit / 14-bit Camera Link digital output. The uncompressed digital output is for imaging applications that require full-fidelity data transmission. The Viento 67-640 is designed with an IP67-rated environmental housing, making it useful for operation in hot and/or cold, dusty, moist conditions. The affordable thermal camera is for use with analytics products that provide object detection and object classification, slew-to-cue, motion detection/analysis, and other enhanced image processing in extreme environments.
The Viento 67-640 has an automatic image normalization with an integrated mechanical shutter to deliver perfect image performance every time. The proprietary Image Contrast Enhancement (ICE) offers heightened contrast and scene detail in low thermal contrast settings. Multiple athermalized lens options are available from wide 90 degrees horizontal field of view (HFOV) to narrow 6 degrees HFOV. Other features include custom lens calibration options, color palettes (for digital only), and digital zoom and scroll.
Sierra-Olympic Technologies
---
Power Cord Series Reels Heavy Duty, Industrial-grade Power Sources
Utility tools: Coxreels, a provider of hose, cord and cable reels, offers the addition of two models (PC19 and PC24) to its UL-approved product line. UL's standards and certifications are universally recognized as important indicators of product safety and reliability.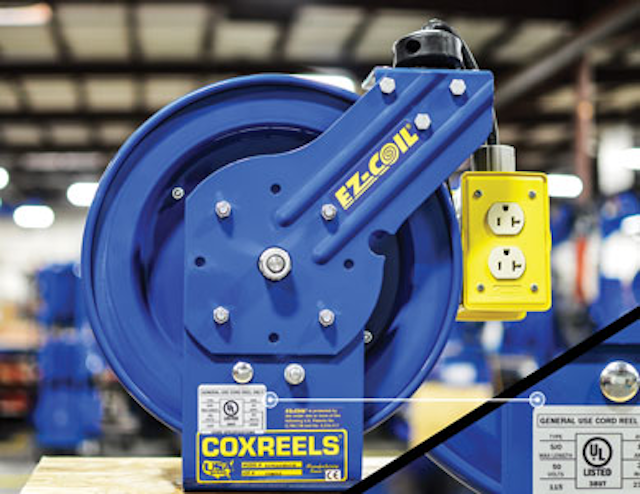 The additions to Coxreels' UL-approved product line demonstrate Coxreels' dedication to ensuring each one of its products has been built to standards only depicting the utmost levels of safety, performance and customer satisfaction.
Coxreels' PC (Power Cord) Series reels are heavy duty, industrial-grade power sources. They replace tangled extension cords and self-retract to increase safety, productivity and efficiency. The PC Series are designed for long-lasting, hassle-free performance under the most demanding conditions. The PC19 and PC24 models now accompany the PC13 and PC17 models among the Coxreels' products that currently maintain the UL stamp of approval.
Coxreels
---
Work Gloves Panther Select Leather Palm Gloves for Tough Jobs
Galeton, a supplier of work gloves and personal protective equipment, has expanded its line of Panther Select Leather Palm Gloves to include two styles for tougher jobs that need even tougher gloves - the #12334 Panther RT Leather Palm Gloves with reinforced thumb and #12507 Panther Leather Palm Gloves sewn with cut and heat resistant thread.
Safety and style come together in the Panther Leather Palm Gloves that are constructed from select leather for strength and suppleness. The #12334 Panthers have an extra piece of black premium leather in the high-wear area between the thumb and first finger to give gloves extra life.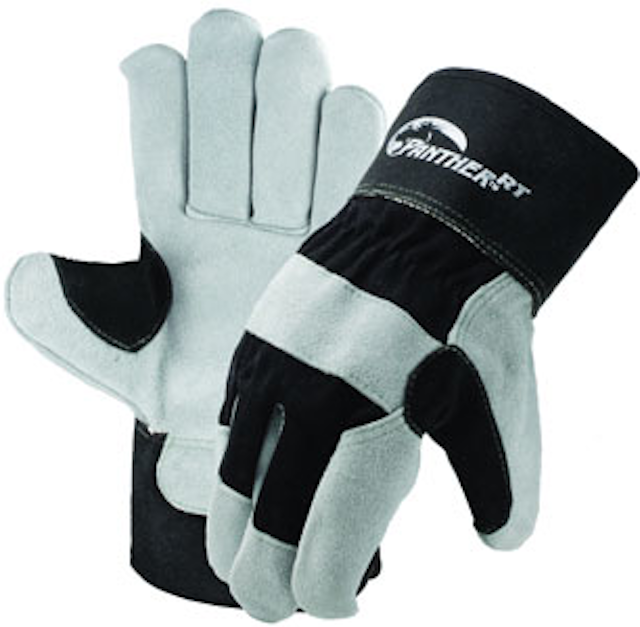 The #12507 Panthers are identical to the classic Panther Leather Palm gloves design, except they are sewn with a cut and heat resistant thread made from DuPont Kevlar fibers for added durability and life of glove.
Both styles feature soft padding for greater comfort and to reduce chafing, sturdy and breathable black canvas backs, and durable rubberized safety cuffs for easy on and off.
Galeton
---
Voltage Meter DoubleVision Dual Display Wireless Phasing Voltmeter
HD Electric Co., a Textron Inc. company, offers the DoubleVision Dual Display Phasing Voltmeter. The DDPM-40 is a compact, high accuracy wireless voltmeter and phasing set with capacitive test point mode and peak hold capability. The DDPM-40 will show the leading or lagging phase as well as the phase angle during wireless phasing operations.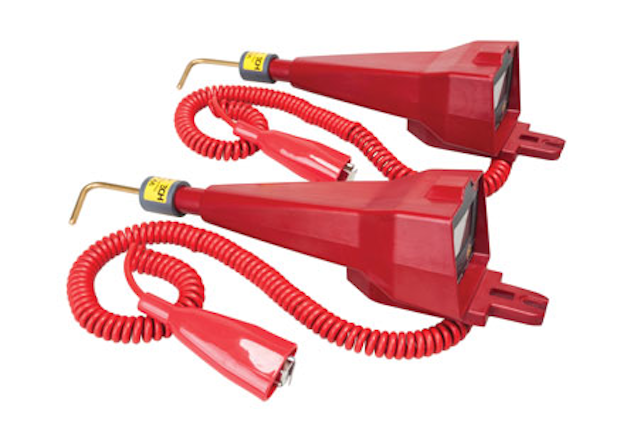 The DDPM-40 measures voltage from 5V to 43kV and can be used in both overhead and underground applications. The DDPM-40 is accurate and repeatable to within 1 percent. The voltage is displayed on the two large bright LED displays that are synchronized wirelessly to make voltage measurements and phase identification easy, especially when working over a distance across switches. The DDPM-40 has a single button interface that controls all modes, including line to line measurements, line to ground measurements, capacitive test point, and real time and peak hold reporting.
The wireless phasing voltmeter is lightweight and its weather-resistant construction is especially useful in tight work environments with minimum approach distances or with storm duty during disaster relief. There are several probes and accessories that can be added to enhance work effort.
HD Electric Co.
---
Uvex Acadia Safety Eyewear Offers Enhanced-performance Protection
Honeywell's Uvex Acadia safety eyewear offers a bold sport-inspired style and high-performance. A range of lens tints and Uvex anti-fog lens coating deliver the function they need to work safely. Uvex Acadia is a versatile solution that can be used both indoors and outside, across many industries.
The eyewear's thin temples are sculpted and padded to ensure a secure and comfortable fit, even when worn with hard hats. The hinges are designed to enable a close-to-the-face fit, without unnecessary pressure. Engineered to fit a wide range of workers, the 3/4, 9-base frame is contoured for sporty style while ensuring ample coverage.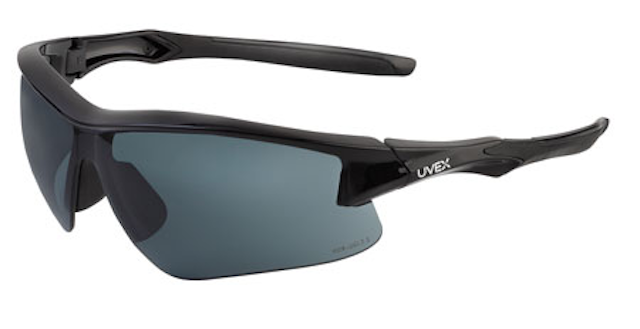 Uvex Acadia lenses are available with Hardcoat lens coating for protection from scuffing and scratching, or Uvextreme Plus anti-fog lens coating for fog-free vision that is intended to last up to 10-times longer and provide twice the scratch resistance than the next-best Uvex coating.
Available in black or brown frames, Uvex Acadia is offered in eight lens tints - clear, grey, amber, SCT reflect 50, red mirror, blue mirror, espresso and orange mirror - to meet the needs of workers across a wide variety of lighting applications. It meets the ANSI Z87.1-2015 standard and delivers 99.9 percent UV protection.
Honeywell
---
Safety Products Tuff-Rod Extra Flex Glow Luminescent Fiberglass Fishing Pole
IDEAL Electrical has expanded its Tuff-Rod push/pull poles line with the Tuff-Rod Extra Flex Glow luminescent fiberglass fishing pole. This pale green "glow in the dark" pole is for contractors working in attics, basements and other dim lit areas where it simplifies the task of running wires and cables above suspended ceilings, through interior walls, in cable trays, or other hard to access voids and cavities.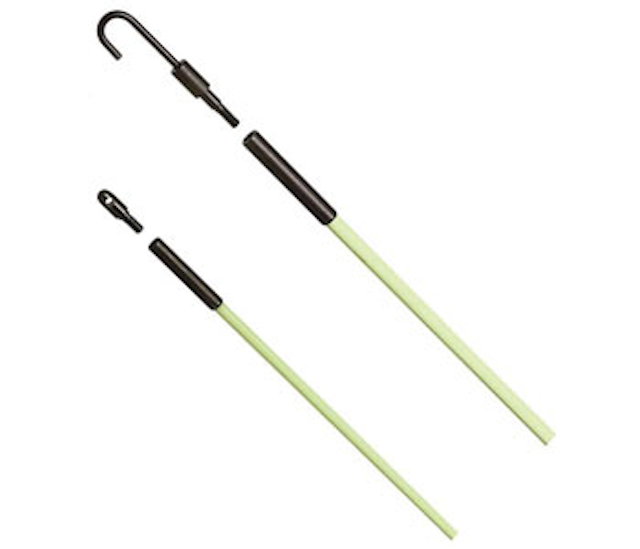 Versatile and easy to use, IDEAL Tuff-Rod Extra Flex Glow poles make fast work of running virtually any type of cable or wire, including speaker and telephone wire, twisted pair data cables, fiber, thermostat, coax and general electrical cables to greatly reduce time on the job. The rods feature a 3/18-in. circumference, which is more flexible than the company's standard 1/4-in. Tuff-Rod versions.
Non-conductive fiberglass rods can be threaded together to achieve a maximum length of 30 ft., allowing the installer to create custom rods for longer or shorter cable runs. In addition, three attachment-ends extend the versatility. The J-Hook attachment aids in re-positioning wires and re-directing cables, while the Bullet tip is for pushing the rods through wall cavities, under floorboards and similar tight spaces.
IDEAL Electrical
---
Cable Slitter Slits and Rings PVC, PE, Rubber and Other Cable Jacket Materials
Utility tools: Jonard Tools recently introduced the RCS-25 Ratcheting Cable Slitter, which makes cable slitting easier. The RCS-25 seamlessly slits and rings PVC, PE, rubber and other cable jacket materials. It works on small cables as well as cables larger than 25mm.

This compact tool was designed with an adjustable cutting depth from 0mm to 5mm for each unique cable application and has a reversible double-ended replacement blade, RCS-25RB (sold separately). For slitting length reference, it features a scale of 10mm, 20mm and 30mm along the side. The RCS-25 can be used for mid-span or end cable slit and ring applications.
In addition, Jonard Tools manufactures the CST-1900 Round Cable Slitter, TS-850 Tabbing Shears, and RC-600 Ratcheting Cable Cutter for cable stripping and slitting.
Jonard Tools
---
Work Light LED Drop Light Outperforms Traditional Incandescent Lights
Larson Electronics has released an explosion proof LED drop light that provide cooler operation and higher performance than standard incandescent drop lights. The EHL-LED-7W-GCR100 LED drop light is approved for Class 1, Division 1 and 2 locations; produces brighter and whiter light output than a 100-watt incandescent lamp; and runs cool to the touch. This work light is cited to provide performance and durability incandescent drop lights can't match, and eliminates the danger of accidental burns and broken bulbs.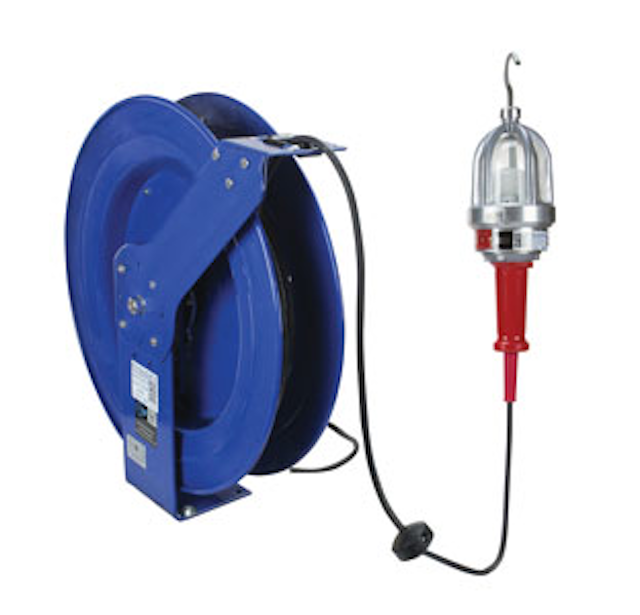 This handheld LED drop light features robust aluminum and steel construction, a molded rubber bumper guard, a 10-watt LED bulb, and a general use cord reel equipped with 100 ft. of cord. The LED bulb produces 1050 lumens and has a 50,000-hour life rating, exceeding the hour life of a typical incandescent bulb. The rugged lamp housing features an aluminum lamp cage for added durability, and an integral aluminum hook provides easy hanging for hands free operation.
The LED work light produces far more lumens per watt than a 100-watt incandescent drop light and produces a bright white light with better contrasting and color quality.
Larson Electronics
---
Utility Vehicles: Track Conversions Rubber Track Conversions Expanded for Automotive/Truck Applications
Mattracks, the original and #1 manufacturer of rubber track conversions, has expanded its track offerings for automotive/truck applications with the release of its 400M1A1 model. This expands the Mattracks automotive lineup by doubling the load capacity of the 200 Series, which was the largest truck system prior to the 400 Series release. The 400 Series is for use on commercial vehicles weighing up to 40,000 lbs. that require off-road mobility. Designed for heavy loads and smooth rides, the 400M1A1 track conversion system features a 20-in. wide front track and 30-in. wide rear track. The 400 Series is a hub mounted design to facilitate a fast conversion from tires to tracks with little to no vehicle modification. This model also features Mattracks exclusive, patented rubber torsion anti-torque system, steering assist option, rocker suspension, and rear external idler for optimum sprocket wrap and fender clearance.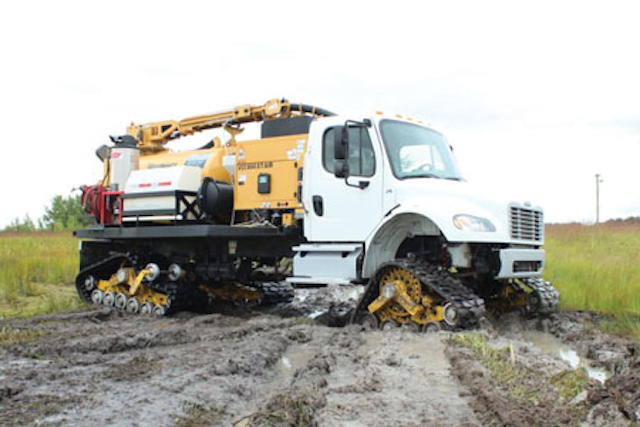 Mattracks 400 Series track conversion system adds versatility to commercial and industrial specialty vehicles such as drilling rigs, aerial devices, vacuum trucks and other service/maintenance vehicles.
Mattracks
---
Adjustable Cable Stripping, Slitting Tool for All Insulation Types Used in Cables
Utility tools: Platinum Tools, a provider of solutions for the preparation, installation, hand termination and testing of wire and cable, offers the Tor Cable Jacket Stripper and Slitter.
Tor is an adjustable heavy-duty cable stripping and slitting tool for all insulation types used in cables, and it's good for armored cable. Many of Tor's features include tool-less interchangeable cable clamps, giving it a cable capacity up to 1.5 in. The Tor has been tested to more than 100,000 cycles.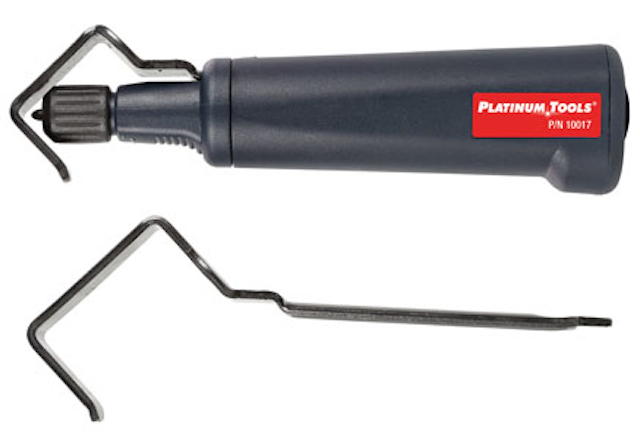 Easy to use, Tor has positive locking positions for circular, lengthways and spiral (apple peel) strips. Its blade automatically returns to its starting position at the end of a strip, reducing the possibility of broken blades. And, easy-to-rotate for fine blade height adjustment, the blade height adjustor is nearly friction free.
Additional features and specifications include:
Ergonomic - well-balanced design to ease raising the cable clamp,
Eyelet built in base of tool for attaching a lanyard,
Size (L x W x H) - 6.57 in x 1.46 in. x 1.2 in., and
Weight: 0.26 lb.
Platinum Tools
---
LED Search Light Four-mode
Safety products: Milwaukee Tool offers high output lighting solutions with the M18 LED Search Light. Designed to provide maximum performance and versatility in the toughest jobsite environments, the light features a beam distance of more than 700 yards and 1,250 lumens of light, allowing users to spot farther and flood brighter.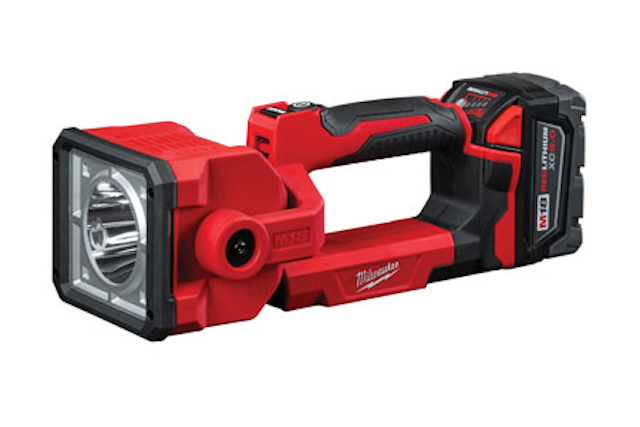 The M18 LED Search Light is cited to be the ideal solution for users who need to illuminate or spot an area at long distance or overhead, but also often need flood lighting for task work. With four modes to address a variety of lighting situations, just one of these Search Lights can do the job of two lights at once. A Spot Mode helps identify problems from afar; a Spot Flood Mode assists in viewing issues from 700 yards but also provides a wider view of the surrounding area, reducing tripping hazards; a Flood Mode provides a broad beam for area and task lighting; and a Strobe Mode is for communication and safety needs. A 198-degree head rotation gives users the flexibility to tilt the direction of the lens to where they need light most.
The Search Light features TRUEVIEW Technology, which uses the most advanced LED technology and optical designs to deliver a consistent beam, optimized color temperature, and true representation of colors and detail - leading to a more productive work area.
Milwaukee Tool
---
Laser Height Pole Measures Overhead Structures at Highway Speeds From Your Vehicle
Safety products: RSA Network's Laser Height Pole measures overhead structures/wires as small as 1/4 in. at highway speed with accuracy. After years of research and development, it is now possible to measure the height of overhead structures and objects as small as 1/4 in. in diameter at a speed of 65 miles per hour with accuracy of +/- 1 in. This new vehicle mounted laser scans at a rate of 30,000 cycles per second, providing this accuracy.
The Windows-based software collects the measurements from the laser, collects the GPS coordinates, and stores this information in a database format. The Class 1 laser used is FAA approved and also safe around the human eye.
RSA Network Inc. personnel have been involved with the movement of oversize loads for more than 30 years, and performing route surveys has always been a laborious, and in most cases, a hazardous job. Obtaining the physical measurements of overhead structures is time consuming, and safety to personnel while obtaining these measurements is of paramount concern.
RSA Network Inc.
More Utility Products Current Issue Articles
More Utility Products Archives Issue Articles