Haven't Considered Cordless Line Maintenance Solutions? Consider This...
We've come a long way. Today's cordless tools deliver massive amounts of power and performance in a more compact package and can even outperform their corded predecessors. The run-times are getting longer, and the charge times are getting shorter.
May 1st, 2017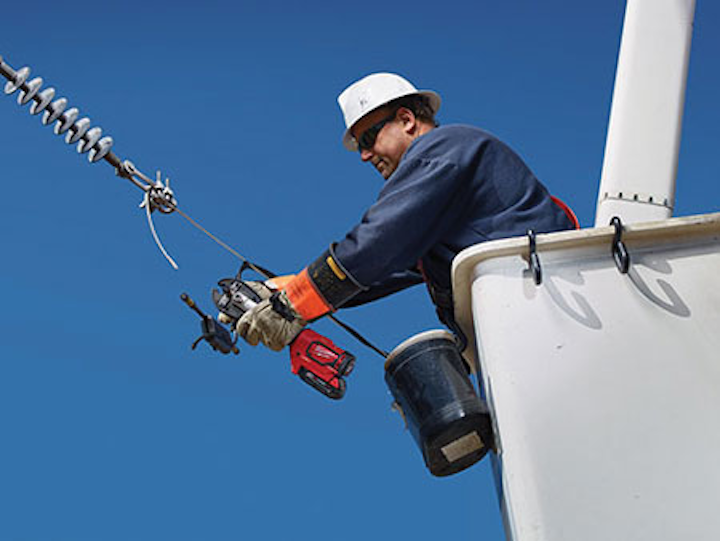 We've come a long way. Today's cordless tools deliver massive amounts of power and performance in a more compact package and can even outperform their corded predecessors. The run-times are getting longer, and the charge times are getting shorter.
Since the introduction of lithium-ion in power tools, tradesmen everywhere have quickly been realizing the benefits and adopting these tools onto their jobsites. From electrical installations to plumbing - the work site of even 10 years ago has greatly evolved. The jobsite of today has been built on the shoulders of cordless power tools.
Whether working with high voltage lines multiple feet in the air or in the trenches below, linemen have enough on their mind when performing line maintenance to wrestle with cords or bulky, hard-to-maneuver tools. There's too much work to be done to let productivity be hindered by fluctuations in power and the possible hazards associated with cords.
Yet the utility field is not overwhelmingly cordless. Hand tools, gas-powered tools and truck hydraulics continue to reign supreme in many applications.
From the power plant, through transmission and distribution, some cordless tool manufacturers are forging solutions that improve reliability, ergonomics, safety and overall productivity for linemen by offering cordless solutions that will replace the traditional corded, truck hydraulic and heavy solutions used today.
Convinced it's time to cut the cord in line maintenance work? Following are a few things to consider.
Reliability
The power utility industry has been introduced to an array of electrohydraulic and battery-operated hydraulic cable cutters and crimpers in recent years, but many offerings are temperamental in extreme weather and slow to cycle. When out in the elements hundreds of feet in the air, as linemen are, these aren't small issues.
During power outages or when in remote locations, it's important to have tools that perform. When developing the M18 FORCE LOGIC 6T Utility Crimpers, Milwaukee Tool focused their design efforts entirely around those challenges. The tool's batteries and hydraulic system are optimized for consistent performance in -18°C/0°F to 55°C/122°F to address the harsh environments linemen encounter on a daily basis. For added protection, all of the electronics are sealed to keep dirt, dust and moisture away from the internal components.
These crimpers also feature an adaptive pressure control system, Predictive Force Monitoring (PFM). PFM provides peace of mind for linemen by measuring and modifying all levels of performance within the system, pushing the hydraulics hard and fast through the beginning of the cycle, and landing them softly at the right pressure during the completion of the crimp.
Ergonomics and Safety
A day in the life of a typical lineman involves numerous types of work - from high-force low repetition work, to work that places the body in awkward and uncomfortable positions during low-force highly repetitive tasks for extended periods of time.
Utility companies have gone to great lengths to try and minimize the number of musculoskeletal disorder and ergonomic injuries linemen receive, from sprains and strains to long-term injuries requiring surgery. But a clear view of all ergonomic risk factors should take into account more than just what the tool operator can do to minimize their injuries - it should also focus on the tool itself.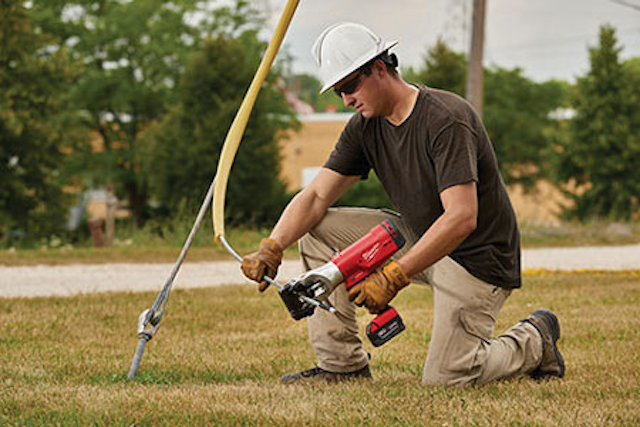 When cutting high voltage wire, hand ratchets put strain on the body and cordless transmission cutters are large and heavy, challenging to cut on target, and have a latch-style cutting head that is awkward to close around the wire during mid-span cuts. This ultimately makes set-up a three-handed operation. These ergonomic risks can be mitigated when the manufacturer takes them into consideration during the design process. The M18 FORCE LOGIC 1590 ACSR Cutter features a self-latching design that enables users to open the jaw with just one hand. And, during those mid-span cuts, the wire automatically closes the jaw so the user doesn't need to juggle with pins or awkward reaching. It's also fully balanced so the user has the best control of the tool, and, at under 12 pounds, helps reduce muscle fatigue and injury.
By redesigning the handle, manufacturers provide linemen with a more ergonomic solution. The M18 FORCE LOGIC 12T Utility Crimper combines a balanced handle with a 350 degree rotating head to provide the user with a neutral wrist position regardless of the way the user needs to crimp - resulting in less strain on the wrist and upper body, helping decrease risk of injury.
Technology
Lithium-ion technology isn't solely responsible for the enhanced features users are seeing in their tools. A tool's motor and electronics infrastructure are also key factors that can offer increased run-time and performance. As seen with cordless lines such as Milwaukee Tool's M18 FUEL, Lithium-ion battery packs have complimented innovations in brushless motors and intelligence systems to deliver longer life, amplified power and increased run-time.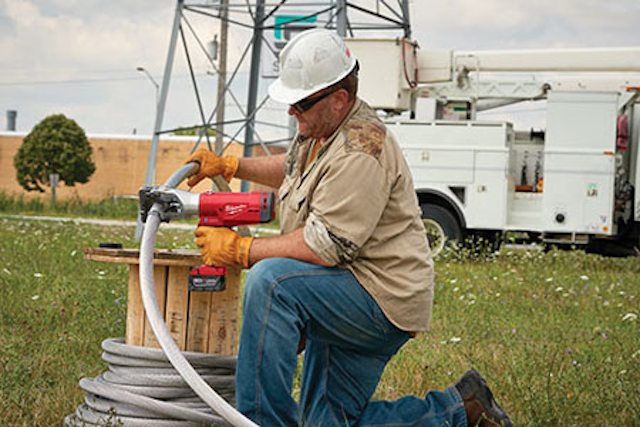 The innovations surrounding cordless power tools have also led to opportunities that allow manufacturers to enhance other aspects of the tools and impact the safety of an overall process. Milwaukee Tool recently introduced an underground cable cutter that pairs with a wireless remote, which allows linemen to distance themselves further from the cut due to the potential for arc flash. Previously, linemen have had to rely on methods such as hydraulic pumps and hot sticks that still maintain some type of physical connection between the user and the cut zone. Through a wireless remote, linemen can communicate through a Bluetooth 1:1 connection to the M18 FORCE LOGIC 3-inch underground cable cutter and initiate a cut. An indicator on the wireless remote alerts the user immediately after the tool has completed a cut. This creates a safer cutting process for linemen.
System Advantages
The mobile world of the lineman will constantly challenge the cordless tools industry in new and exciting ways. But one thing that will always remain in focus is how all of these new innovations will impact overall productivity on the jobsite. System compatibility is, and will always remain, a huge piece of this. When considering a jump into cordless, linemen should consider the system the tool is attached to and whether the range of applications can be completed in a day on that system. Does that system provide an ample array of base tools? How often is that system expanding to include other tools needed? Does the manufacturer continue to invest in that system? Is that system forward and backwards compatible? And is the system reflective of solutions that address current frustrations in utility applications?
These questions, along with an evaluation of the reliability, ergonomics, safety and technology benefits of models currently available on the market, are key to an easier jump into cordless adoption for linemen and the companies they work for.
The jobsite 10 years ago is vastly different than it is today. And 10 years ahead, the same will be said about today's jobsite. Cordless is crucial to how that jobsite will evolve. By shifting to cordless now, and choosing solutions that deliver on the key features previously mentioned, companies will already be ahead of the curve and more productive than ever.
---
About Milwaukee Tool: Since the company began in 1924, Milwaukee Tool has led the industry in both durability and performance by providing professional, heavy-duty tools and accessories. Milwaukee focuses on providing innovative, trade-specific solutions. Whether it is through their leadership in LITHIUM-ION technology, as seen in the M12, M18 and M28 Systems, time-saving accessories or innovative hand tool products, Milwaukee is dedicated to delivering a steady stream of advanced solutions for the trades that offer increased productivity and durability.
More Utility Products Current Issue Articles
More Utility Products Archives Issue Articles