Repair vs. Replace: Flipping Your Asset Maintenance Program from Reactive to Proactive
As assets continue to age, all asset managers struggle with this balance: when to repair vs. when to replace a piece of equipment. Strict rules of thumb don't always apply in every situation.
Sep 1st, 2017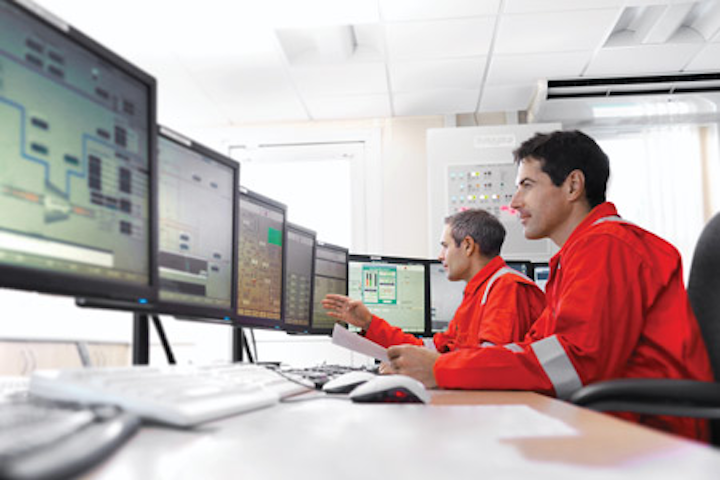 By Bradley Williams
As assets continue to age, all asset managers struggle with this balance: when to repair vs. when to replace a piece of equipment. Strict rules of thumb don't always apply in every situation. Instead, the question becomes: What steps can utility professionals take to make timely decisions about asset health, asset failure and new construction designs? How can we improve asset performance with our limited capital and maintenance budgets?
Taking a data-driven, value-based approach to asset management can provide the key. Armed with the right data to defend investment decisions and gain project approval faster, utility asset managers can take asset management far beyond "repair or replace," and change their asset maintenance programs from reactive, or "run to failure," to proactive, or planning-driven.
Taking a Phased Approach to Asset Performance Management
Utilities are at different levels of maturity in asset performance management—for some, asset performance management plays no role in their asset management efforts; some look at asset health, but don't tie it to an asset maintenance strategy; and some have prioritized asset health and predictive analytics to aid in right work/right time asset management.
A reactive approach means that when the asset breaks down, the technician responds and fixes it. It requires unplanned maintenance scheduling—often a callout and an overtime response is necessary. This is often how utilities deal with asset failures. But what if the technician could deal with the issue before the asset breaks, and during regular business hours, where he or she has data and intelligence regarding logistical support and the right tools necessary for the job before heading out?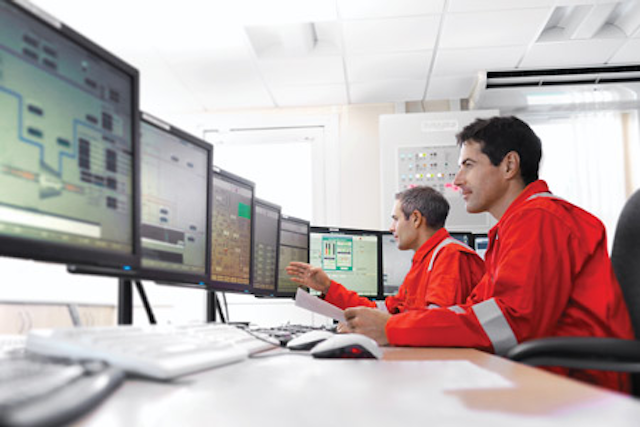 This latter type of approach is a preventive approach and involves using data about planned usage and actual usage to estimate the life of the asset and to drive the maintenance schedule, rather than waiting for the asset to break. Further, this preventative approach provides the utility with the necessary insight to drive and schedule forecasted maintenance, using a time-based or a usage-based maintenance schedule, in a fashion similar to the way we maintain our cars.
Building from the information learned in a more predictive approach, a utility can begin to tackle condition-based asset performance management using continuous, real-time condition monitoring. With this approach, the technician can identify failure risk and impact, and then prioritize and provide proactive action based on the criticality of any given asset. Essentially, the technician can prioritize the maintenance that makes the most sense to mitigate failures and be able to provide just-in-time maintenance to optimize cost and performance of existing assets to their fullest capabilities.
Taking a Three-step Approach to Repair vs. Replace
At some point in each asset's lifecycle, the repair vs. replace decision always looms. Here is a clear, three-step approach to that decision.
Step 1: Real-time information about the asset's health at your fingertips.
Making the necessary data accessible, to drive clear decisions that can be automated, is vitally important. This involves automated information management business processes. It's key to have access to the real-time data as well as the historical data about an asset—such as condition data, past failure data, failure frequency, nameplate data, age, impact of failure, current sensor data, and historical operations data—and use that information to drive asset performance. Step 1, in a nutshell, is: get the data, validated the data, structure the data, and automate these data processes to leverage it to drive key decisions.
Step 2: Asset health information defines asset condition.
All the data collected, structured and leveraged in Step 1 is important to determine the asset health condition. Using critical asset data such as that previously listed, as well as observations about inspections, containment, appearance, etc., an asset performance management application can configure this, along with industry standards and other data to help define the criticality of the asset and its current condition, and use that to help drive optimal maintenance practice or replacement decisions.
Step 3: Take the right business action at the right time.
The goal is to cost-effectively predict and prevent failures before they occur. The final step in this approach is automating the business process with continuous improvement. There has been much discussion in recent years about digital transformation and the digital utility—the third stage of embracing digital technologies. That's what is discussed in this third step: using many sources of data, including real-time data, to provide real time predictive asset condition assessment that will automatically trigger a response (or a work order) and drive better performance—and then tying this back into the core business process. This is the heart of digital transformation for asset management.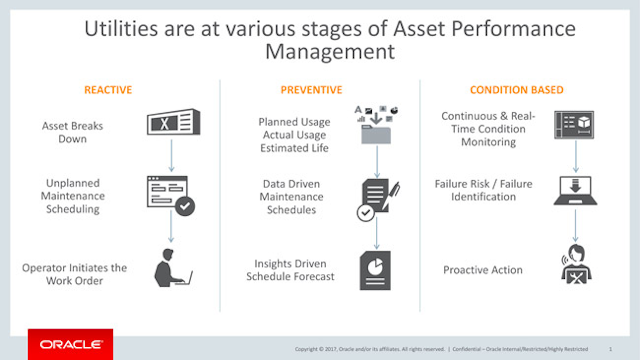 A Call to Action
As noted earlier, utilities are at different stages in their asset management strategies. For those currently taking a reactive approach or in the beginning stages of a predictive approach, here are a few things to consider in the next six months while beginning to build a strategy for moving forward.
Evaluate the asset data information management strategy—figure out how much time to spend getting data from various sources and how long it takes. What information would help drive the most value, and how much time does it currently take to gather that data from many sources? How long does it take to get there, or is it all reactive? Is data gathered when something happens? What can be done to automate the processes to bring the data in and use it for key decisions?
Review asset health and predictive maintenance plans—is more time being spent on unproductive tasks and unwanted labor? Is there a predictive maintenance strategy? Are there programs that can be adopted to help drive performance?
Look at asset design and maintenance procedures—can time and money be saved by creating better plans that include new asset construction, new equipment types, more sensors and devices, and can they be built into a predictive maintenance strategy in a common solution? This is important because there are many niche applications, but if they can't be tied back into the core business process, it becomes more difficult to drive performance and create the business transformation being looked for.
It's a fact that assets are getting older, and while it's imperative from a reliability perspective that they continue to perform well, it's a balancing act from a capital investment perspective. Using as much applicable data as possible to create actionable information about assets means you can start to prioritize capital investments and maintenance plans around conditions, observations and risk, and allows you to make better trade-off decisions. No longer do you need to replace the asset because it's "time," but because you can predict the remaining useful life and criticality of the asset as it was deployed in the field. Actionable intelligence, brought back into the core business process, makes the repair-or-replace decision much clearer to optimize asset performance and costs.
---
About the author: Bradley Williams is vice president of industry strategy, Oracle Utilities. Williams is responsible for Oracle's smart grid strategy as well as utility solutions for outage management, advanced distribution management, mobile workforce management, work and asset management, and OT analytics. Williams has spent the past 30 years driving innovation in the utility industry in roles including T&D power system engineering, technology development, asset management and industry analyst.
Asset Maintenance...
Asset Maintenance...
More Utility Products Current Issue Articles
More Utility Products Archives Issue Articles