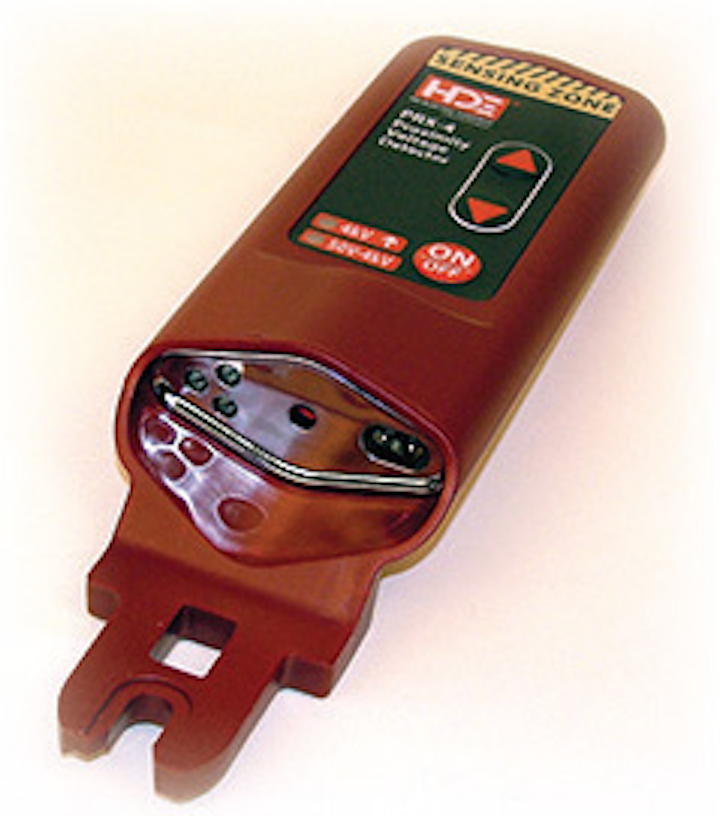 PRX-4 Proximity Voltage Detector
HD Electric Co. introduces the PRX-4 Proximity Voltage Detector. It provides utility professionals, arborists and first responders with a safety tool that will alert them to potentially dangerous high voltage in their work areas. With two voltage range settings of 50V-4 kV and above, the PRX-4 is an easy way to find out if voltage is present without having to make direct contact.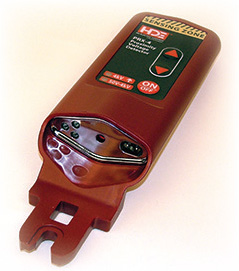 Features:
Sealed to resist water penetration in typical outdoor environments;
Voltage ranges from 50 Vac to 4 kVac and above;
Detects voltages around 3 in. at the 50V setting, 10 in. at 4 kV and above;
Rechargeable battery, quick recharge—15 minutes for a typical full day use;
Weighs less than 1 lb.; and
Loud beeper and LED lights indicate voltage.
PRX-4 joins the rest of the Proximity Voltage Detector line of non-contact detectors.

HD Electric Co.


---
Network Tester is Cost-Effective Alternative to LAN Cable Certifiers

Cable test equipment: IDEAL Networks' data cable transmission tester verifies that copper cabling has been installed correctly and is capable of supporting Gigabit Ethernet applications to the international standard IEEE802.3ab.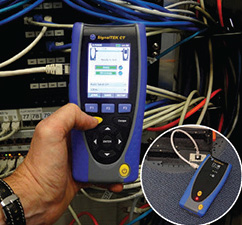 The IDEAL SignalTEK CT provides a cost-effective alternative to LAN cable certification. It carries out two primary tests through its Autotest function: a wiremap test and a data transmission test. The wiremap test identifies and locates crossed pairs, opens, shorts and split pairs using its TDR.

IDEAL Networks


---
Remote Measurement of Overhead Lines
Line maintenance: A new version of LineSmarts, the Android application for the remote measurement of overhead lines, offers new features. In addition to the existing ability to measure conductor tension and span distance, the new version now enables users to: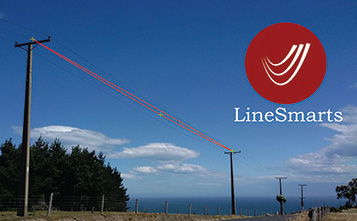 Measure vertical structure dimensions (structure height, cross-arm spacing);
Measure horizontal structure dimensions (pole diameter, cross-arm width, phase separation);
Measure pole lean; and
Save or email a results report for any measurement.
LineSmarts requires no climbing, no physical contact, no complicated surveying and no exposure to live line hazards. Like any good smartphone or tablet application, LineSmarts is designed to be simple to operate and is suitable for general use, including use by linemen, engineers, line designers, condition assessors and project managers.

LineSmarts


---
Insulation Resistance Tester Rated at 15 kV
Test equipment: Megger offers a versatile insulation resistance tester (IRT) rated at 15 kV. The MIT1525 measures motors and generators above 34,500V and equipment rated above 35 kV. For applications that use cables, transformers, motors/generators, circuit breakers and bushings, the 15 kV MIT1525 is compact, lightweight and has rapid charge capabilities. It tests the insulation resistance of high-voltage power cables and buses, large motor/generator windings as well as substation transformers.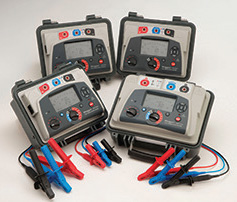 Engineered to ensure the highest precision possible, the MIT1525 offers 5 percent accuracy with a maximum resistance up to 3 TΩ. It maintains a CAT IV 1,000 V safety rating, allowing for dependable use in the widest range of applications.

Megger


---
More Utility Products Current Issue Articles
More Utility Products Archives Issue Articles