New
KAP/KAPO Mechanical Pin Adaptors
Utility supplies: BURNDY, a manufacturer and provider of compression connector solutions to the industrial, energy, construction, telecommunications, petrochemical, data center and transportation industries, introduces a line of mechanical pin adaptors. BURNDY is the first to market this product, which provides customers with an alternative means of terminating conductor into mechanical connectors typically found in switch gear, breakers and other electrical equipment. The KAP / KAPO type connectors are a supplement to the AYP / AYPO aluminum compression adaptors.
Consisting of three range taking sizes that accommodate a wire range from #6 to 750 kcmil, each size is offered in a center pin and off-centered pin design. Off-centered pins can be rotated to prevent interference when installing conductors side-by-side in limited space applications. Insulated covers are provided with each connector to prevent contact between it and uninsulated live parts of opposite polarity or grounded metal. The KAP / KAPO type mechanical pin adapters are UL Listed for use with Flex (fine stranded) conductor.
BURNDY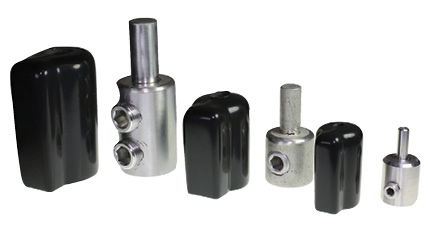 Remote Switch Actuator

RSA-91B M for General Electric Power Break ICCB
Energy management: CBS ArcSafe, a manufacturer of remote racking and switching solutions for low- and medium-voltage switchgear, offers its remote switch actuator (RSA) for the General Electric Power Break insulated case circuit breaker (ICCB). The lightweight, portable CBS ArcSafe RSA-91B M allows technicians to remotely close or trip the General Electric ICCB from a safe distance of up to 300 ft., well outside the arc-flash boundary.
Because of CBS ArcSafe's magnetic latching system, installation and operation do not require any modifications to the existing electrical equipment. The RSA-91B M is compatible with manually operated Power Break ICCBs with ratings of 800–2000 A. Typical applications include switching from high available fault current systems such as main service disconnects, feeder disconnects or branch circuit disconnects. When compared to other arc-flash mitigation alternatives, the RSA-91B M is a cost-effective solution for keeping operators safe.
Optional features include radio remote with a range of up to 300 ft., 24 Vdc LED light, wireless video camera system with LCD monitor, and rugged protective case assembly. All RSA units are portable, fast and easy to set up; offer mechanical and/or electrical safety protection; are adjustable to fit unique electrical equipment configurations; reduce the requirements for personal protection equipment; and help customers with NFPA 70E arc-flash safety compliance.
CBS ArcSafe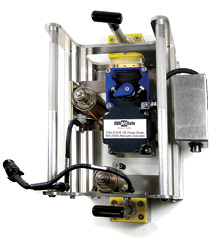 New Line
Environmental Testers/Data Loggers
Test equipment: AEMC's six new environmental testers (Models 1110, 1227, 1246, 1821, 1822 and 1823) cover a wide variety of applications. They are compact, lightweight and simple-to-use with direct access to all functions. All measurement results are accessible on the instrument's front panel simply by pressing one button. Battery life is up to 1,000 hours in portable mode and 3 years in record mode.
The Model 1110 Lightmeter measures lighting from incandescent, florescent and LED sources and has a MAP mode that allows you to map the lighting in an area or room and save it. It has a removable light sensor to assist in the proper location for monitoring.
The Model 1227 Thermo- Anemometer measures air speed and flow with user selectable English and metric units. It also has the MAP mode function that maps the air speeds measured. The Model 1246 Thermo-Hygrometer measures humidity, temperature and dew point. The Models 1821 and 1822 Thermocouple Thermometer and the Model 1823 Resistance Thermometer are versatile and high-performance temperature measurement instruments.
Spot readings or timed recording sessions can be stored in each instrument. User selectable configuration, data analysis and report generation can be accomplished with DataView software included free.
Features:
• Compact, lightweight and simple-to-use
• Data logging function
• User programmable
• Single button function access
• Min, Max and Average measurements available
• Multiple mounting methods included
• USB and Bluetooth communication
• Blue electroluminescent backlit display
• Battery or USB powered
• Includes FREE DataView software for data storage,
real-time display, analysis and report generation
AEMC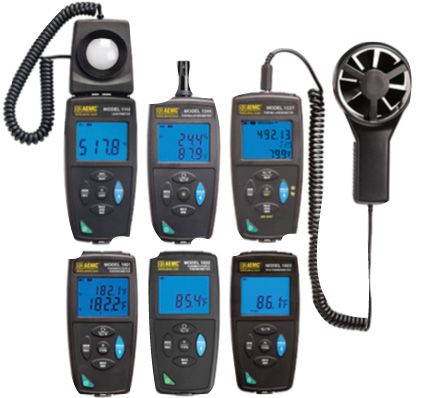 Mobile Computer

12-in. Rugged Tablet with Intel PCIe Solid State Drives
Xplore Technologies Corp. and Intel Corp. offer a fast, rugged tablet—the Windows-powered XSLATE R12. It offers significant boost in speed, power and storage capacity as Xplore becomes the first rugged tablet manufacturer to integrate Intel PCIe Solid State Drives (SSD) into its portfolio. The performance-accelerating Intel PCIe SSDs ship as a standard feature on all XSLATE R12 Intel Core Series i7 models, including a 1TB configuration option. The drives deliver over 2X improvement in disk performance, and when combined with the i7 vPro processor, a 48 percent improvement in overall system performance, according to Passmark testing conducted in July 2017.
Xplore's long-standing technology collaboration with Intel delivers improved productivity and performance to applications that require significant data storage and/or data processing, especially those used by manufacturers, utilities, first responders and field service organizations.
Some of the mobile workers who will benefit from the Intel PCIe SSD-equipped XSLATE R12 include those who:
• Opt not to store data in the cloud, either due to security concerns or application design, and instead need to store locally on the rugged tablet;
• Frequently rely on data- and graphics-intensive applications, such as those used to generate 3D CAD drawings or GIS location intelligence; or
• Have historically been forced to delete files to make room for the large amount of inspection, investigation or quality control photos and videos captured in a day's work.
Xplore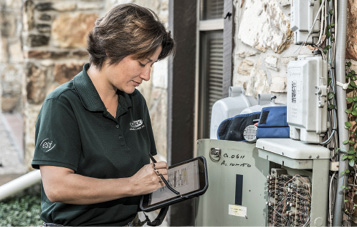 Construction Equipment

Stringing and Underground Equipment for Wide Range of Applications
Condux Tesmec Inc. offers puller tensioners and underground pullers. The ARS610 provides more than 10 tons (100 kN) of pulling force and is especially useful for a wide range of underground pulling applications that include power transmission and distribution cable installation, telecom and fiber.
The PT1250 and PT2450 puller tensioners provide features such as a negative self-acting hydraulic brake, an integrated hydraulic dynamometer, a hydraulic cooling system, advanced user controls and more.
Condux Tesmec offers a full line of hydraulic pullers, tensioners, puller-tensioners and stringing blocks, cited to represent the safest and most reliable equipment in the power transmission and distribution industry. Condux Tesmec also offers one of the largest and most diverse selections of conductor blocks on the market.
A full line of productivity-enhancing conductor stringing tools and accessories is also available including anti-twist rope, reel winders, reel stands and more.
Condux Tesmec Inc.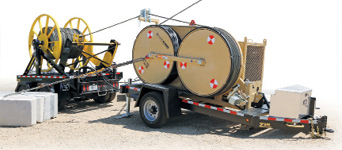 Portable Spill Station

for Substations and More
Safety products: Andax's portable Spill Station can be hung on a wall in any location where spills happen—including substations, warehouses, repair shops and more. Work from where it hangs or carry it to the spill.
Available with Oil-Selective or Chemical/Hazmat sorbent, the Spill Station can be customized with items you need most—including safety goggles, rubber gloves, additional sorbent pads, Tuff Wipes, Epoxy Putty, mini booms, disposal bags and even a non-sparking, square point shovel. Contents will clean or contain up to a 12-gallon spill.
Andax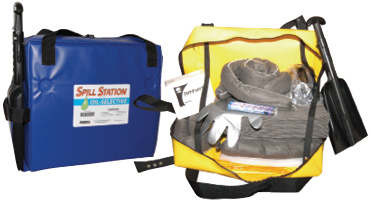 Safety Equipment

Outrigger Pad and Cribbing Products
DICA offers Cavity Pad Plus outrigger pads and ProStack interlocking cribbing. The Cavity Pad Plus model joins the company's SafetyTech Outrigger Pad product line. SafetyTech Outrigger Pads provide a strong, rigid, and easy to use foundation for a wide variety of outrigger enabled equipment, including mobile cranes, digger derricks, hi-lift aerials and concrete pumps.
Cavity Pad Plus features a 1-in. high footbrake with an interior beveled edge. The inverted bevel design traps the outrigger foot, which prevents it from sliding off the outrigger pad. This is cited to be a significant improvement in the design of the company's original Cavity Pad. The inverted beveled design creates a higher level of safety. In addition, the design contributed to reductions in manufacturing costs, enabling the company to pass savings onto its customers.
Constructed of a proprietary engineered thermoplastic material, SafetyTech pads have crush ratings up to 750 psi and rated capacities up to 325,000 lbs.
DICA also offers SafetyTech Hi-Viz Outrigger Pads, available in yellow or orange. Made from DICA's proprietary engineered thermoplastic material, yellow and orange D1818 (18 in. x 18 in. x 1 in.) and D2424 (24 in. x 24 in. x 1 in.) pads are designed for stabilizer enabled equipment frequently used in electric utility applications.
DICA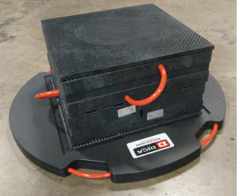 Line Maintenance

Excavator Rotating Tree Shear
Fecon's Fecon Rotating Shear, the FRS10, is an excavator tree shear that provides 360-degree rotation—providing a wide range of motion. The rotation allows operators to save time and be more efficient with less repositioning of the excavator. The FRS provides much needed safety due to the shear being able to load chippers.
The FRS10 is for 12-18 ton excavators—cutting up to 14-in. material. You can equip your FRS with an accumulation arm to allow you to bunch smaller material. The Fecon Tough shear is constructed with Hardox in My Body. In addition, FRS models are available ranging from 5-35 tons.
Fecon also provides track carriers and other equipment for vegetation management, geothermal, seismic, and wood to energy biomass industries.
Fecon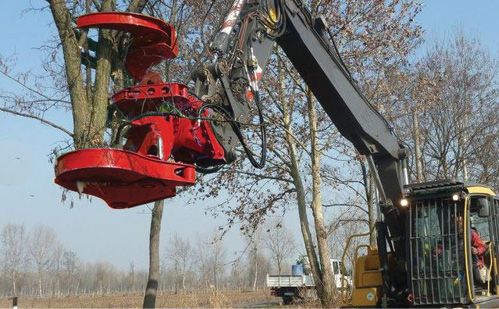 Safety Gloves

Hi-Grip Xtreme Protectors
Hi- Line Utility Supply offers the Hi-Grip Xtreme Glove Protectors. Xtreme conditions call for an Xtreme protector: The Hi- Grip Xtreme features a full, silicone-grip palm for control and enhanced productivity. Improved thumb fit increases dexterity and the ergonomic round, curved fingers offer a good fit and flexibility.
The black wear guard provides additional protection on the top of the hands, and all leather cuffs provide extra protection. The Glove Protectors are stitched together with maximum strength Kevlar stitching for long-lasting quality. Available in 10-in., 12-in., and 14-in. lengths, in sizes 8 through 12.5.
Hi-Line Utility Supply Co.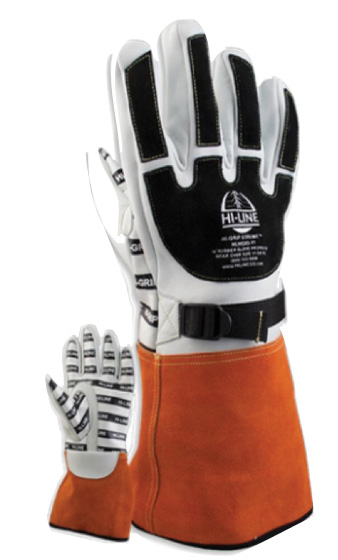 Utility Tools

C3 Auto Whip Clad Cable Cutting Machine
Greenlee Textron Inc., a Textron Inc. company, offers the C3 Auto Whip clad cable cutting machine. This automated solution for notching and cutting AC (BX), MC Cable and FMC increases worker safety and productivity.
It is cited to be the first machine capable of notching and cutting AC (BX), MC Cable and FMC with a solution that is fully automated after easily programming the touchscreen interface. In addition, the C3 Auto Whip is cited to be significantly safer than any current cable-cutting machine because the cutting saws on the C3 Auto Whip are fully enclosed by the machine's housing, which protects workers from injury.
The C3 Auto Whip clad cable cutting machine features a touch screen interface, which allows the operator to input the correct cable configuration so the machine is aware of the cable size, type and desired whip length. Also featured is a USB input that allows custom whip configurations to be uploaded into the machine. The operator then pushes a button to start the C3 Auto Whip machine, allowing the freedom to walk away and complete additional tasks. The C3 Auto Whip machine automatically cuts the cable and exports those whips from the opposite end of the machine.
Greenlee Textron Inc., a Textron Inc. Company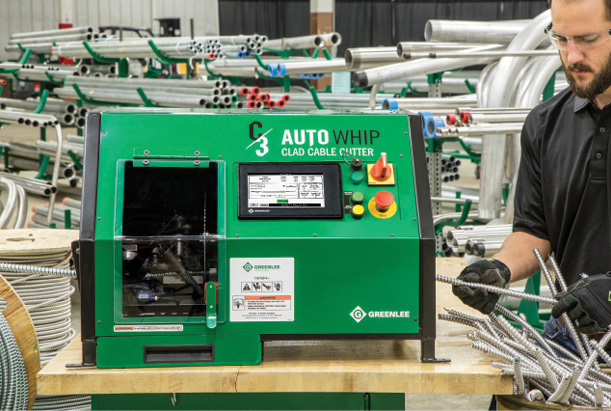 Utility Tools

HVAC 8-in-1 Hex Head Slide Driver
Klein Tools' HVAC 8-in-1 Hex Head Slide Driver Screwdriver/Nut Driver features a patented magnetic tip that easily slides back and forth from 1⁄4 in. to 5/16 in. hex sizes. The multi-bit driver also includes six other bits and nut drivers for convenience while on the job.
HVAC 8-in-1 Hex Head Slide Driver Screwdriver/Nut Driver (Cat. No. 32596)
• Patented tip slides back and forth from 1⁄4 in. and 5/16 in. hex sizes
• Thumb nut twists to lock in tip setting
• Six-point hex drivers exceed ASME torque requirements
• Rare-Earth magnetic tips in slide driver hold hex head screws in place while fastening
• Dome stamped for easy identification
• Cushion-Grip handle for added torque and comfort
• Solid shank feels like a traditional screwdriver/nut driver
• Features a specialty bit for the installation and removal of common TR-4 Schrader valves
• Includes additional hollow shaft nut drivers plus Phillips and slotted double-ended bits
• Includes a #2 Phillips, 1/8 in. and 1⁄4 in. slotted screwdriver tips plus 1⁄4 in. and 3/8 in. hollow shaft nut drivers (non-magnetic)
Klein Tools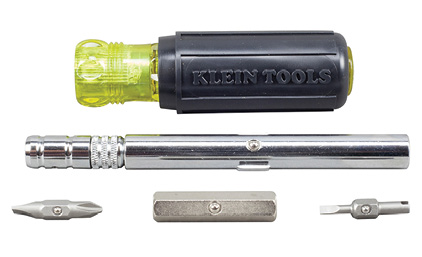 Utility Supplies

LABELWORKS PX LW-PX400 Portable, Wireless Industrial Label Maker
Epson LABELWORKS PX's LW-PX400 is a portable industrial label and wire-marking printer for creating professional labels and markers wirelessly or through USB. The LW-PX400 comes with LABELWORKS PX's lifetime warranty.
Cited to be the smallest, lightest and most flexible printer on the market, the LW-PX400 can work wirelessly in the field through Bluetooth, using iLabel and Datacom apps for iOS and Android mobile devices or the Label Editor Professional software for PC. Label Editor Lite software is available for Mac computers.
The Datacom app is designed to streamline labeling jobs common in the telecom and datacom industries. Pre-loaded TIA-606-B patch-panel templates from selected hardware manufacturers make it easy to fit data into different-sized panels. The iLabel app includes industrial graphics, photo import, pre-formatted templates, speech-to-text recognition, date-time stamp and works with Google Drive and Dropbox cloud storage.
Epson LABELWORKS PX
K-Sun Corp.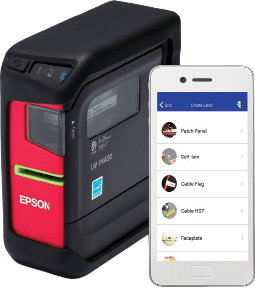 Utility Tools

Geotechnical Drill Offers Depth Control with Automatic Hammer
The Lone Star LST1G+HDA Geotechnical Drill from Little Beaver provides engineers and soil technicians with a precise and easy-to-operate drilling solution for standard penetration tests and soil sampling in nearly any soil. Lone Star designed the drill to address the growing demand for automatic hammers that deliver improved depth control compared to manual hammers. The LST1G+HDA comes standard with a 140-lb. automatic safety hammer. The heavy-duty rig is mounted on an easily maneuverable, single-axle trailer that can be towed behind a small or standard sized truck.
Automatic hammers help ensure accurate depth control compared to manual hammers. This has even led some states and jurisdictions to require automatic hammers for conducting standard penetration tests, it's reported. The LST1G+HDA eliminates user error and makes it easy for drill operators of any experience level to take samples quickly and accurately.
The LST1G+HDA is capable of drilling 6-in. boreholes down to 100 ft. The versatile drill can also be used with Little Beaver's split spoon samplers and AWJ drilling rod for obtaining core samples or conducting geotechnical testing and environmental soil sampling. Little Beaver offers many auger options to adapt to varying applications. Solid stem augers are available in 3- in. to 8-in. diameters, and hollow stem augers are available in 6-in. and 8-in. diameters.
Little Beaver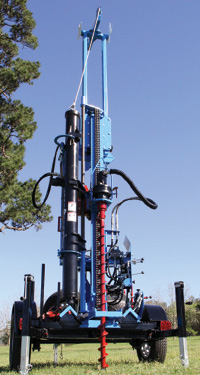 Utility Supplies

Line of Accessories Engineered Specifically for Power Utility
Milwaukee Tool's Shockwave Lineman's Accessories include impact auger bits, 3-in-1 distribution and transmission utility sockets, and a 7/16 in. hex to 1/2 in. square impact socket adapter. Engineered specifically for the challenges of the construction and maintenance of utility lines, the accessories offer speed, durability and efficiency.
Working in all weather conditions both on the ground and in the air, linemen face a unique set of challenges different from many other professionals. Recent innovation in accessories for drilling and fastening into wood or steel utility poles has been limited at best, it's reported. Milwaukee Tool's solutions provide a more reliable and fast way to work, and offer durability benefits with Milwaukee's Shockwave technology–the ability to absorb peak torque and prevent breaking.
Milwaukee Tool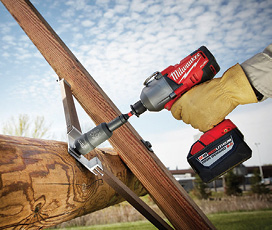 Test Equipment

Net Chaser Ethernet Speed Certifier and Network Tester
Platinum Tools, a provider of solutions for the preparation, installation, hand termination and testing of wire and cable, offers the Net Chaser Ethernet Speed Certifier and Network Tester (p/n TNC950AR).
Made in the USA, the Net Chaser Ethernet Speed Certifier and Network Tester offers a complete solution to test and speed certify the data-carrying capabilities of Ethernet network cables up to 1 Gb/s by testing for noise in the network, detecting faults in the cable wiring, and ensuring that cables are able to support the speed capabilities of active equipment.
The Net Chaser is cited to give the clearest vision of network layout and interfaces between active components such as servers, switches, routers, etc. All the information is collected, stored and ready for reporting Ethernet speed certification (speed certification to IEEE standards 802.3ab; cable testing to TIA568A/B).
To certify Ethernet speed performance of cable runs, the Net Chaser conducts Bit Error Rate (BER) tests by sending data packets down specified cable runs at defined data rates to check for errors at the maximum throughput of the link.
Platinum Tools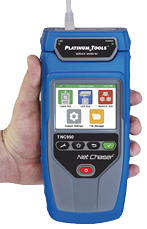 Safety Gloves

Glove Line Expanded with Abrasion Resistant Nylon Glove
Work gloves: Tilman's ANSI rated glove line has been expanded with the 1766 glove, a lightweight abrasion resistant 15-guage nylon glove with a nitrile micro-foam palm for high abrasion resistance and dexterity. The glove provides ANSI Level 4 Abrasion Resistance while offering the dexterity needed to handle the smallest of components for all-day use.
The 1766 offers a lightweight 15-guage seamless knit nylon shell with a non-coated, open back for added comfort, protection and breathability. The durable, hard-wearing nitrile micro-foam coating absorbs oils for outstanding gripping power and very good abrasion resistance.
Features of the 1766 glove include:
• Nitrile micro-foam palm and fingers that is softer than standard nitrile, delivering a superior grip on wet, dry or oily surfaces.
• High dexterity and a sense of tactile touch for a comfortable wearing experience throughout the day.
• ANSI Level 4 abrasion resistance with EN 388 Level 1 cut resistance for added worker confidence.
The Tillman 1766 is available in five sizes, S-2XL, with colored cuffs for easy size identification.
Tilman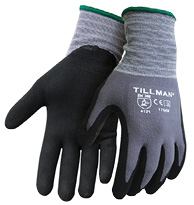 Fleet Maintenance

Predictive Maintenance Analytics Help Fleets Reduce Repair Costs, Increase Vehicle Uptime
Utility vehicles: TMW Systems offers a powerful predictive maintenance application, TMT Predict.Fault Code, which enables fleet professionals to anticipate and address potential vehicle breakdowns and other unscheduled service needs before they occur. The application is offered under the company's TMT Predict Series of maintenance analytics solutions.
The TMT Predict.Fault Code application works in conjunction with the PeopleNet Mobile Gateway (PMG) and Vusion data science to capture and analyze vehicle fault codes and other signal values representing more than 80 leading vehicle performance variables. When fault codes and other vehicle data indicate an increased probability of failure, a dashboard alert appears within the user's TMT Fleet Maintenance software. The alert identifies the fleet's assigned equipment number, vehicle identification number, probability of failure, Diagnostic Trouble Code (DTC) and description, leading performance variables triggering the probability, and other key equipment and signal values.
This predictive maintenance capability is available for vehicles equipped with PMG through factory or aftermarket installation. The feature is currently offered for a number of leading commercial vehicle nameplates.
TMW Systems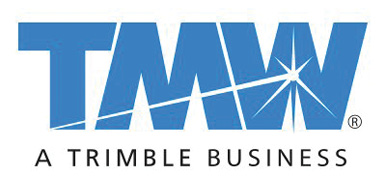 Electrical Tools:
Multi-Gauge Electrician's Tool for Safe Management of 6-14 Gauge Electrical Wires
Nonconductive Tool Co. (NTC) offers the Voltclaw Multi-Gauge electrician's tool. Designed to bring added productivity to the jobsite, the tool provides electricians with a safer, faster way to manage 6-16 gauge wires inside junction boxes, switch boxes and service panels.
The Voltclaw Multi-Gauge is non-conductive to 1,000V, making it a far safer alternative to metal screwdrivers or wire strippers for the grabbing, pulling, pushing and bending of electrical wires. It delivers peace-of-mind, even when navigating around wires in the most crowded electrical boxes. With no metal parts, the new tool will not cut or scrap the insulation off electrical wires, which can create a potential electrocution or fire hazard. And because of its lightweight, compact design, it is convenient to carry—encouraging electricians to use it whenever a wire needs to be moved, rather than endanger themselves with a metal tool or their hands.
The tool delivers versatility with a sliding wire gripper, optimized for a secure grip on almost any wire used in commercial and residential installations. The user simply inserts a wire into the front hook and slides the thumb slide forward to grip it. Now the wire can be pushed, pulled or bent precisely into place. It also features two pull hooks, one on the front and one on the back, to handle both small or larger wires, along with a V-groove for pushing wires back into junction boxes. Deep finger grips ensure a safe grasp with greasy or gloved hands.
Nonconductive Tool Co. (NTC)
LED Work Lights

Variety of Applications
Superior Signals Inc. (SSI) has added two LED work lights to their extensive inventory: the SYLED1500 and SYLED2500. These lights can be used in a variety of applications to fit your needs such as construction machinery, material handling trucks, building projection lights, emergency lighting, heavy equipment and more.
The 1500 and 2500 series are both equipped with 12-24 volts, die cast aluminum housing, polycarbonate lenses, stainless steel mounting hardware and spot or flood beam patterns. These lights will work more than 30,000 hours and give you peace of mind with reverse polarity protection and four certifications including CE, RoHS, IP67 and E-Mark. Where they differ is their light source. The 1500 series features 10 LEDs and 1,500 lumens vs. the 2500 series, which have 15 LEDs and 2,500 lumens for optimum visibility. There is a 5-year warranty.
SSI serves OEM and aftermarket customers domestically and internationally by providing quality vehicle safety lighting and traffic control products for demanding on and off-road markets.
Superior Signals Inc. (SSI)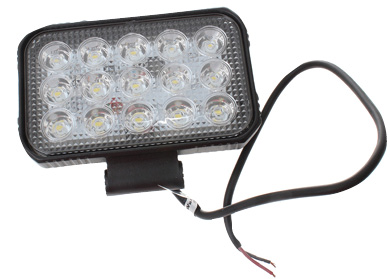 Liqui Maxx Spray System

Available with Multiple Tank Sizes
Safety products: The SnowEx Liqui Maxx spray system provides durability, performance and user friendliness—and an electric start for the gas-powered deluxe model. Available with multiple tank sizes to fit a wide array of vehicles, the Liqui Maxx system provides versatility for commercial anti-icing and deicing applications.
The customizable modular design of the Liqui Maxx allows snow and ice professionals to select their desired tank and pump platforms to fit their specific needs. The Liqui Maxx is available in tank sizes of 300, 500, 750 and 1,250 gallons. The elliptical polyethylene tank design provides a low center of gravity and includes a sump for complete draining. A filtered bottom-fill port can handle all brine solutions.
Powered by a 5.5-horsepower engine, a new dry-seal centrifugal pump has a low-water shutoff switch that prevents the pump from running dry, ensuring long-lasting seal performance. The cold-weather tested valve bank includes durable internal seals and covered valve indicators. Added for operator convenience and to help conserve fuel, an electric start for the HFD-200EX deluxe model allows users to start and stop the engine and operate the choke right from the cab.
SnowEx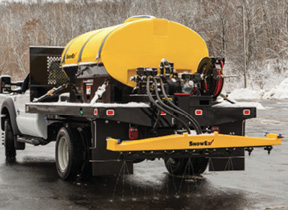 Fleet Maintenance

Road Ready Trailer Monitoring and Communication System
Truck-Lite Co. LLC, a provider of heavy-duty lighting, mirror, wire harness, telematics and visibility systems, offers the Road Ready trailer monitoring and communication system—a complete trailer telematics network.
The Road Ready system is cited to create the industry's first true "smart" trailer with its solar-powered Master Control Unit (MCU). With its military-grade solar panel and 10-year, quick-charging battery, the MCU continually monitors and transmits crucial data from customizable Road Ready sensors to an intuitive user interface—all without requiring power from a tractor.
What sets Road Ready apart from any other system is its ability to monitor all trailer components while being untethered, it's reported. Installation is quick, with no holes to drill or wires to run, and fleets can determine whether a trailer is ready for dispatch without needing to hook it to a power unit—saving time and money.
The Road Ready system offers a variety of wireless, peel-and-stick sensors that communicate with the MCU, relaying data regarding tire pressure; LED light-out detection; anti-lock brake systems; unauthorized door openings; cargo fill/movement detection; cargo temperature; trailer arrival and departure notifications; and GPS with different MCU reporting capabilities (geofencing, motion sensing, panic or scheduled reporting and Hypertracking).
Truck-Lite Co. LLC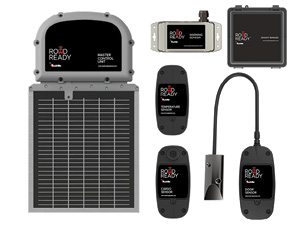 LION-.7 Torque Gun

Lithium Ion Battery-powered Torque Gun Offers Precision, Portability, Safety
Utility tools: HYTORC's LION Gun series—the LION-.7—is a lithium ion battery-powered torque gun, which is lightweight and portable, with no attachments to hoses, cords or compressors. The industrial strength, non-impacting gear box is cited to deliver adjustable torque faster, safer and more reliably than manual clicker wrenches, impact wrenches and other tightening tools. The technology is free of the loud noise and high vibrations that can lead to long-term health issues for users.
HYTORC's LION-.7 has a 3/4-in. drive to deliver greater torque for larger applications. The LION-.7 provides a minimum torque of 150 ft/lbs and a maximum of 700 ft/lbs. The original LION-.25 has a 1/2-in. drive, with a minimum torque of 25 ft/lbs and maximum of 250 ft/lbs.
The LION-.7 provides the same safety and simplicity as the LION-.25, while producing greater torque for larger applications. Both of the LION Gun models are cited to offer customers improved productivity and safety over traditional bolting systems.
The LION Gun is an affordable precision torque multiplier with built-in data recording. The user simply needs to set the desired torque output on the LION's display and pull the trigger to get fast, precise, repeatable torque without excessive noise or vibration.
HYTORC
Test Equipment
Optical Spectrum Analyzer
Covers all Testing Applications
EXFO Inc., a network test, monitoring and analytics company, offers the FTBx-5255 Optical Spectrum Analyzer (OSA) for field applications to meet the live network testing needs of telecom service providers, internet content providers and network equipment manufacturers all under pressure to deliver services to a high-speed, data-hungry market.
With EXFO's OSA, service providers and data centers can stay live for in-service network testing of OSNR from 10G to 400G; O-band pluggables and L-band transceivers; and CWDM spectral analysis, among other applications.
EXFO Inc.
AEMC Instruments 3
Brenco 13
BURNDY LLC 35
BURNDY LLC. C4
Charles Industries Ltd. 1
Fluke Corp. 5
Golight Inc. 11
Havis Inc. 17
DistribuTECH 2019 C3
Petzl America 34
Petzl America 23
Tallman Equipment Co. C2
Vivax-Metrotech Corp. 4