Rugged Tablets

for Focus on Fleet Management Devices
Xplore Technologies' new XBOOK 2-in-1 rugged mobile computer is your new mobile office. This powerful 2-in-1 mobile computer can be anything you need: an office desktop, a vehicle-mounted notebook, or an easily transportable tablet with a spill-resistant detachable keyboard that can be stored in a work bag until ready for use.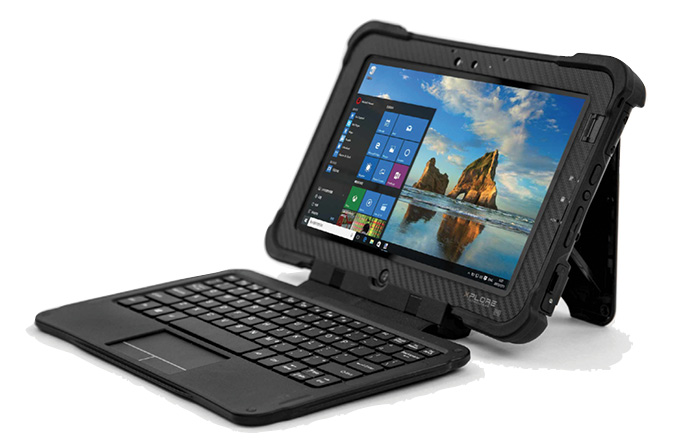 With a number of I/O ports, advanced pen and glove touch capabilities, and reliable wireless connectivity, the Xplore XBOOK detachable 2-in-1 computer performs for workers who can't afford to be offline or "out of office" when they leave the office. The XBOOX B10 and D10 also powers through vibration and immediately shakes off those inevitable drops onto concrete or into puddles.
Xplore Technologies
New ONE-FLIP Lineman Knife Range
Utility tools: MADI's new range compliments the Spring Assisted Lineman Knives that have been successful. What is different is that one button allows you to flip your knife open or drop it closed while keeping your gloves on while only using one hand. The blade gravity design requires you to flip it open with the button pushed, and, once you push the button from an open position, it drops closed.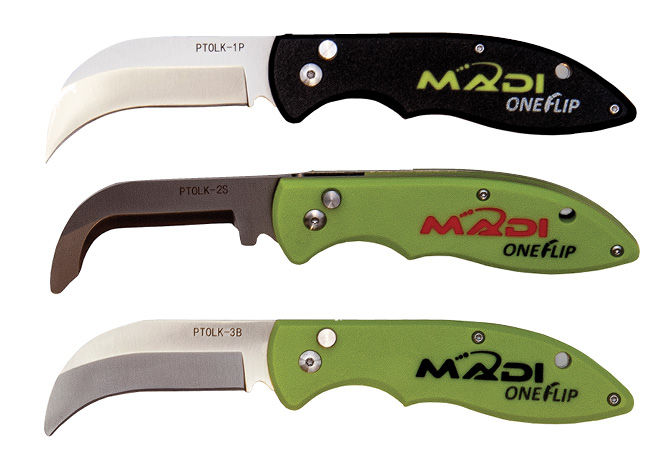 The knife will only open or close when the push button is activated. There are three blade options including the new and improved Safety Blade design, which will minimize if not eliminate unwanted cuts while maximizing proper skinning and cutting applications.
Features and benefits of the MADI ONE-FLIP range:
• Highest grade stainless steel for maximum durability and sharpness;
• Pointed tip, blunted tip or safety blade options;
• Blade locks open and closed;
• Push to open and close—enables quick one-handed opening and closing with work gloves on; and
• Reversible belt clip.
MADI
UNITAP Heavy Duty Series

Multi-tap and In-line Splice Reducers
Utility supplies: BURNDY, a manufacturer and provider of mechanical connector solutions to the construction, industrial, solar, OEM, energy, data center and transportation industries, announces the addition of a Heavy Duty Series of multi-tap and in-line splice reducers to the UNITAP line of insulated connectors.

This expansion includes eight tap configurations and an in-line splice reducer available in both clear and UV-rated black insulation. Each conductor port contains two set screws to increase the strength and performance of the connector, and will provide a reliable and robust connection in the most demanding applications. These additions are listed to the UL Wire Connector Standard UL486A-486B and are dual rated for use with both aluminum and copper conductor from #2 - 750 kcmil.
BURNDY
Updated Grundopit Pit-launched

Mini Directional Drill
Construction equipment: TT Technologies' redesigned Grundopit pit-launched mini directional drill is well suited for difficult fiber-to-the-home and utility service line installations in tight working conditions. The unit is compact: 54 in. long, 43 in. wide and 57 in. tall. The Grundopit delivers 13,489 lbs. of thrust and pull back and 553 ft. lbs. of torque with bore length up to 150 ft. The Grundopit is an ideal entry-level system for utilities, cable industries or as a supplement to larger units.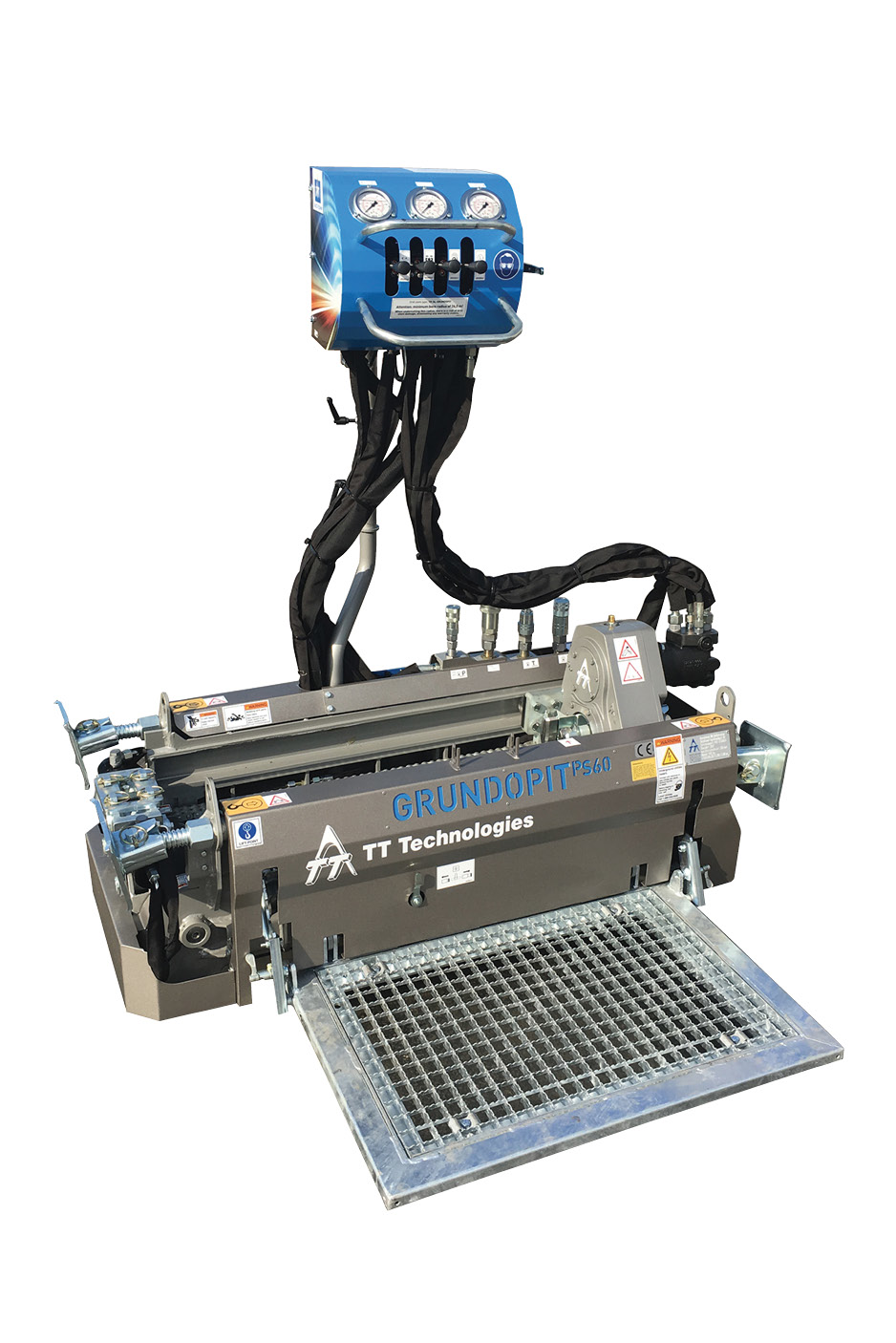 The new unit features a patented instant plug-in lock that holds the drill stem in place. The instant plug-in lock system allows new drill stems to be added easily by engaging the new drill stem at the rotational motor. This means that drill stems are only screwed into the lead stem and not the rotational motor, cutting the time it takes to add a stem in half.
Components include a two-part bore rig, patented drill stem plug-in, 30 drill stems, bore head with angled steering surface, backreamer and swivel coupling, hose package and power pack.
TT Technologies
Single-application
Remote Racking System

for Siemens Type GMI and Type 3AF
CBS ArcSafe, a manufacturer of remote racking and switching solutions for low- and medium-voltage switchgear, offers its single-application remote racking system (RRS) for Siemens Type GMI and Type 3AF vacuum circuit breakers. The lightweight, portable CBS ArcSafe RRS-3 GMI allows technicians to remotely install and remove the circuit breaker from a safe distance of up to 300 ft. while remaining stationed outside the arc-flash boundary.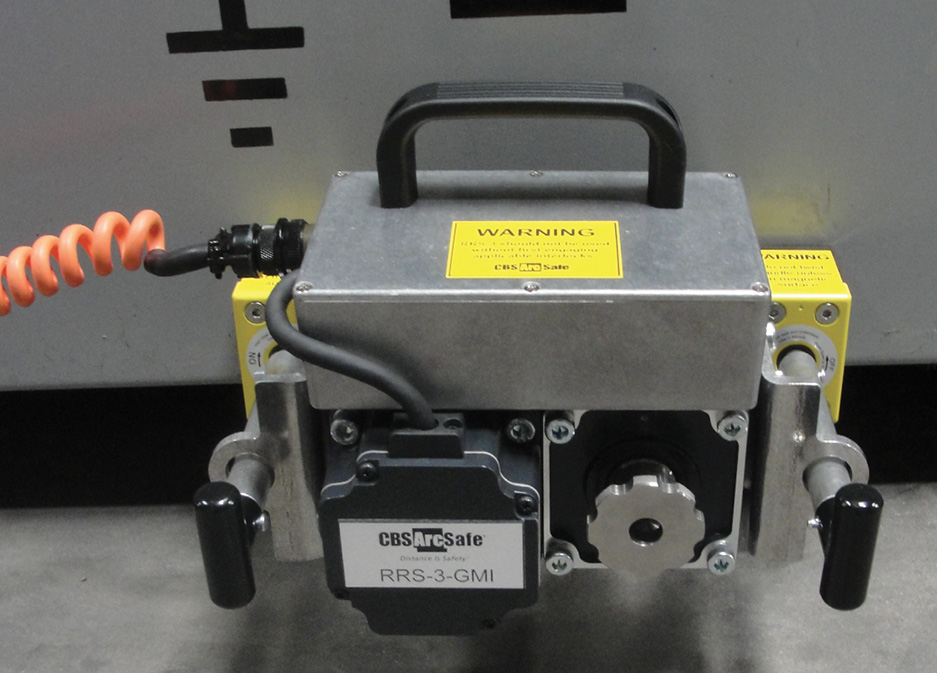 Installation and operation do not require any modifications to the existing electrical equipment due to CBS ArcSafe's magnetic latching system. The RRS-3 GMI is compatible with Type GMI and Type 3AF vacuum circuit breakers with ratings of 1200–3000 A, including 5-GMI, 7-GMI, 15-GMI, 5-3AF, 7-3AF, and 15-3AF. Typical applications for the GMI and 3AF breakers include commercial, industrial and service-entrance applications to protect and switch main, feeder and incoming lines. The RRS-3 GMI is a cost-effective solution for keeping operators safe when compared to other arc-flash mitigation alternatives.
CBS ArcSafe
ARS610 Hydraulic Puller

Underground Pulling Applications
Construction equipment: The ARS610 hydraulic puller from Condux Tesmec is for a wide range of underground pulling applications including power transmission and distribution cable installation, telecom and fiber. With more than 10 tons of pulling force, the ARS610 offers features such as a negative self-acting hydraulic brake, an integrated hydraulic dynamometer, a hydraulic cooling system, advanced user controls and more.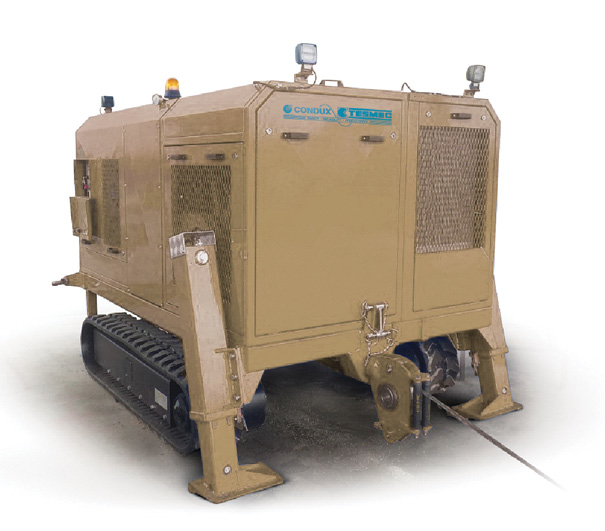 A standard electronic pull and speed monitor and recorder kit provides users real time data on pulling operations. Bull-wheel grooves on the ARS610 are made from heat-treated steel. While the trailer mounted unit is standard, an integrated self-propelled track system option is available for easy job site positioning.
The Condux Tesmec line of hydraulic pullers, tensioners, puller-tensioners and stringing blocks are cited to represent the safest and most reliable equipment in the power transmission and distribution industry.
Condux Tesmec
Load Alert System Monitors and Analyzes

Truck's Jib and Basket Capacity
Utility vehicles: Terex Utilities will showcase its commitment to continuous improvement and innovation at the Electric Utility Fleet Managers Conference, June 4-7, Williamsburg, Va.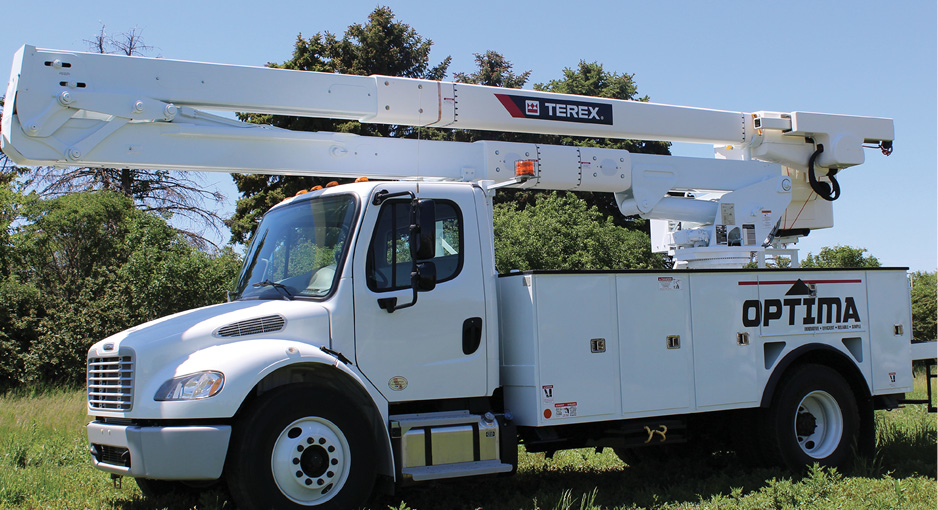 Cited to be one of the firsts in the industry is the Terex Load Alert system, to be displayed on a Terex Hi-Ranger SCM 55 aerial device. Load Alert monitors and analyzes the truck's jib and basket capacity and provides visible and audible alarms when an overload has been detected to aid users to support their safe work practices.
Another solution from Terex is the HyPower IM system, which will be shown on a Hi-Ranger LT40 telescopic aerial device. This idle mitigation and cab comfort system reduces fuel usage and exhaust emissions at a lower price point than other hybrid systems.
Terex Utilities' latest enhancement, the Optima TC55 aerial device, features lower travel height, better ground access, and improved boom speeds. The Optima TC55 is a 55-ft. non-overcenter aerial with up to 42.8 ft. of side reach. That's three feet longer than the legacy model, which helps with truck positioning at the jobsite. Increased boom speeds and responsiveness also help increase productivity on the job.
Terex Utilities
Harness

Designed for Maximum Comfort and Durability
Safety equipment: FallTech's Advanced ComforTech Gel harness addresses comfort with an endoskeleton frame with a proprietary polymer gel in the shoulder and waist pads for added support and cushioning at key impact areas. This advanced polymer gel provides energy absorption in critical pinch points such as the shoulders to reduce fatigue, aiding in the prevention of work related injuries.
Built to work hard, a tough ballistic polyester exterior of the harness offers long lasting durability and will stand up to the punishment of the job site. The Advanced ComforTech Gel offers removable and adjustable leg pads with a durable air mesh with ventilated foam for all day comfort.
Some of the Advanced ComforTech Gel harness features include:
• Comfort: The endoskeleton frame offers a polymer gel into the shoulder and waist pads offer added support and cushioning at key impact areas.
• Easy to adjust: FallTech's proprietary CamLock torso adjusters on the aluminum models allow quick, simple one-handed adjustment that lock in place throughout the day.
• Secure connections: Visi-Lock Quick Connect buckles on the chest and legs feature a visual indicator that displays green when properly fastened.
• Enhanced life of the harness: Advanced ComforTech Gel harnesses feature webbing with a tighter construction for added strength and durability while maintaining pliability for ease of movement.
• Easy Self-retracting Device connection: A self-retracting device quick attachment point allows fast, hassle-free attachment of most Singe and Twin personal SRD connectors with integrated tension clips to minimize back D-ring and shoulder pad downward slippage to keep you working, not adjusting.
FallTech
HVT-DI Series Digital AC Hipot Testers

—30kV, 60kV, 120kV
Test equipment: Haefely Hipotronics' HVT-DI Series AC Hipot Testers provide a modern digital solution to AC field-testing of bucket trucks, aerial platforms, vacuum interrupters, breakers, switchgear and other electrical apparatus. Each model includes a portable digital controls section and bonnet, and is complete with an input line cord, interconnecting cable and ground leads.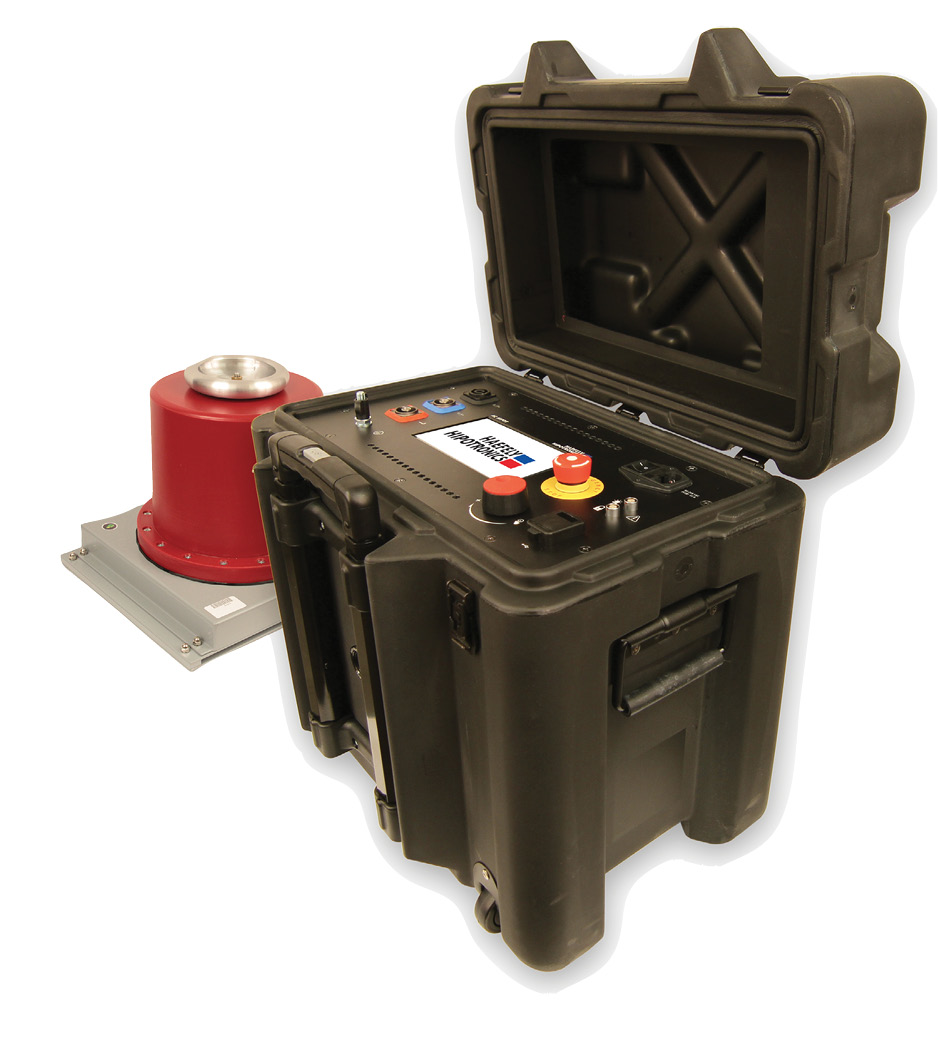 The 120kV model is specifically designed for ANSI/SIA A92.2 1990 specification procedures for testing insulating booms on work platforms and bucket trucks, while the 30kV and 60kV models are designed to perform quick and accurate AC dielectric tests. The HVT Digital series assures accurate voltage and current measurements using an external high voltage divider and double current meter in the return leg of the high voltage transformer. A guard circuit prevents stray or surface leakage from being measured by the current meter. To ensure safe operation, the unit is equipped with a fast acting fuse, an external interlock and E-Stop.
Haefely Hipotronics
FIreFly Fuse Tool

Voltage Detector
HD Electric Co., a Textron Inc. company and provider of products serving the needs of the electrical power industry, offers its FireFly Fuse Voltage Detector. The FireFly combines a fuse tool, voltage detector and flashlight into a convenient, all-in-one product focused on the end-user safety.
The FireFly fuse tool voltage detector was developed to provide a faster and safer alternative for linemen when working on distribution lines. By combining a detector, fuse puller and light in one easy-to-use product, a lineman can increase work efficiency and reduce the number of tools needed to get the job done.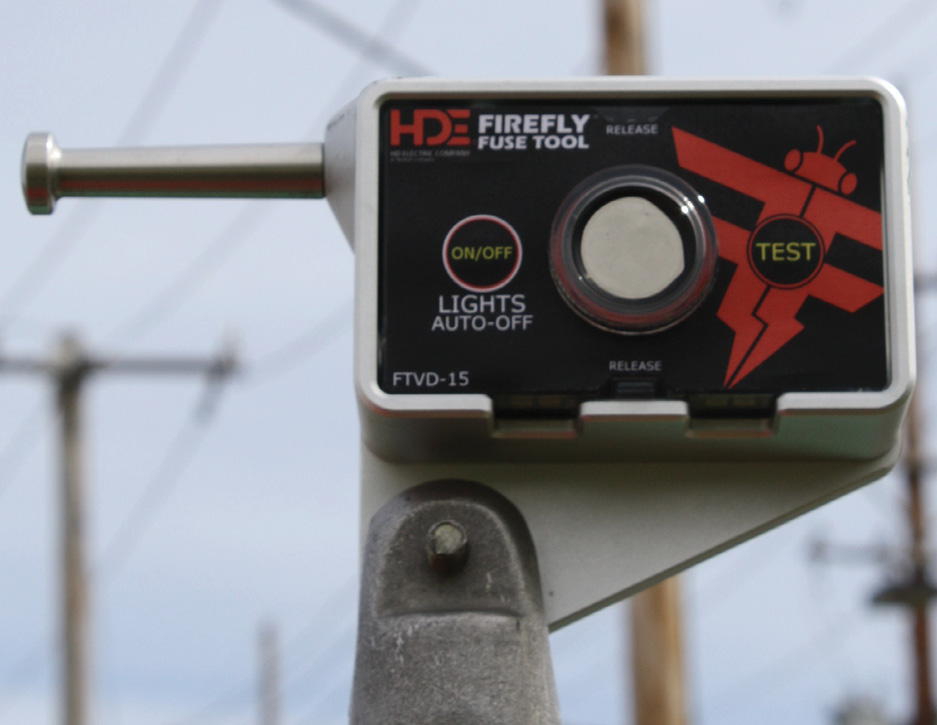 The FireFly features a single range voltage detector that alerts linemen of an energized system with an audible and visual alarm. The fuse tool allows users to easily open and close a switch, and the integrated flashlight eliminates any need for secondary lighting.
The compact design of the FireFly allows for multiple uses without over-extension. The design also features release latches to access the battery compartment, a fuse puller, and a universal spline hot stick connection.
The FireFly runs on a 3V lithium battery that supports up to 40 hours of continuous voltage detection and up to 8 hours of continuous flashlight support. The lightweight Firefly is a compact, easy to use device, with an overall weight of 1 lb.
HD Electric Co.
FMX Excavator Bull Hog

Mulching Attachment for Midi-size Excavators
Line maintenance: Fecon introduces the FMX Excavator Bull Hog mulching attachment for midi-size excavators from 5-10 ton. With a 36-in. cutting width and variable motor that can be adjusted for 12-40 gpm, the FMX is a good addition to Fecon's excavator lineup. The 36-in. model weighs 850 lbs and can be mounted on backhoes and side arm booms also.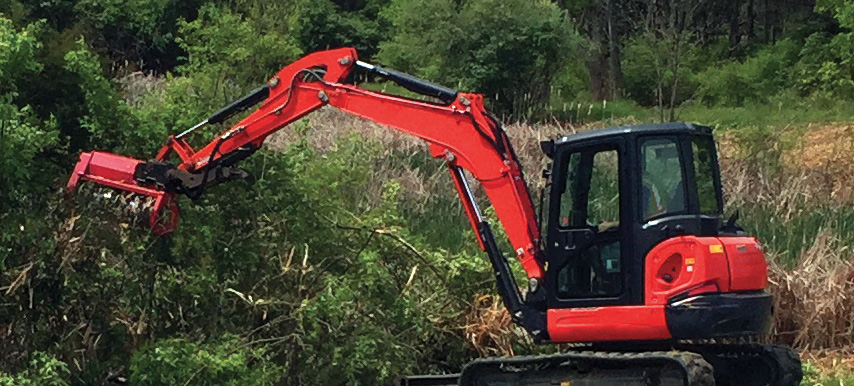 This excavator head offers a split ring rotor design with our reversible cubit teeth, giving you the ability to quickly mulch 4-in. material and intermittently mulch up to 6-in. material. With options such as a front trap door and crutch mount, you can configure the FMX to suit your needs.
Fecon also provides track carriers and other equipment for vegetation management, geothermal, seismic, and wood to energy biomass industries.
Fecon
11-ft. Dominator III Mechanics Truck,

25-ft. Telescopic Crane
Utility truck: Iowa Mold Tooling Co. Inc. (IMT), an Oshkosh Corporation company, offers the Dominator III 11-ft. mechanics truck and 25-ft. 12,000-lb. telescopic crane. The company took the same approach with the 11-ft. version of the Dominator III as it did with the 14-ft.—providing a reliable, durable service truck with high-performance capabilities. The goal is to meet customer's needs while offering a lighter, maneuverable body paired with increased lifting capacity from the 25-ft. 12,000-lb. crane.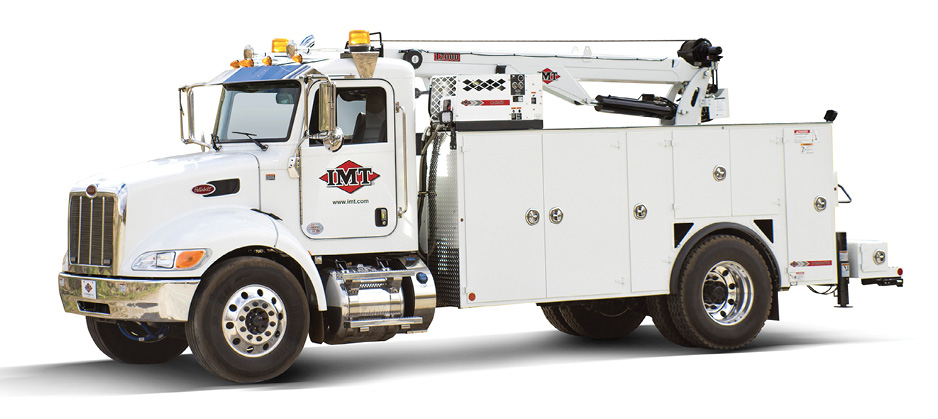 The Dominator III 11-ft. is capable of working in tighter quarters than its 14-ft. counterpart, maintaining stability and providing extra lift performance in critical work zones. The 11-ft. body was driven by a market demand for a maneuverable truck that provides all the convenience and support of a service truck with the ability to meet tight application needs.
The 11-ft. body paired with the 12,000-lb. crane offers operators enhanced flexibility on the worksite without sacrificing lifting capacity, it's reported. In addition, IMT reduced the weight of the upgraded 25-ft. 12,000-lb telescopic crane by 440 lbs., while increasing the crane rating to 81,000-ft-lb. The IMT 12,000-lb. crane can easily clear a 12,000-lb. load, excelling in zones where operators work. Its increased capabilities complement the improved, lighter Dominator III 11-ft. body, while offering operators high performance.
Iowa Mold Tooling Co. Inc. (IMT)
UtilityScan GPR System

Quickly Identifies and Marks Utility Location, Depth
Safety equipment: GSSI has announced UtilityScan GPR system, adding an affordable model to the industry standard system for efficiently identifying and marking the location and depth of subsurface utilities. The UtilityScan is cited to feature technology never before available. The compact size makes it portable and easy to maneuver in tight survey areas. In addition, this model is designed specifically to meet the needs of electrical contractors, utility installers, and municipal and state gas and water utilities.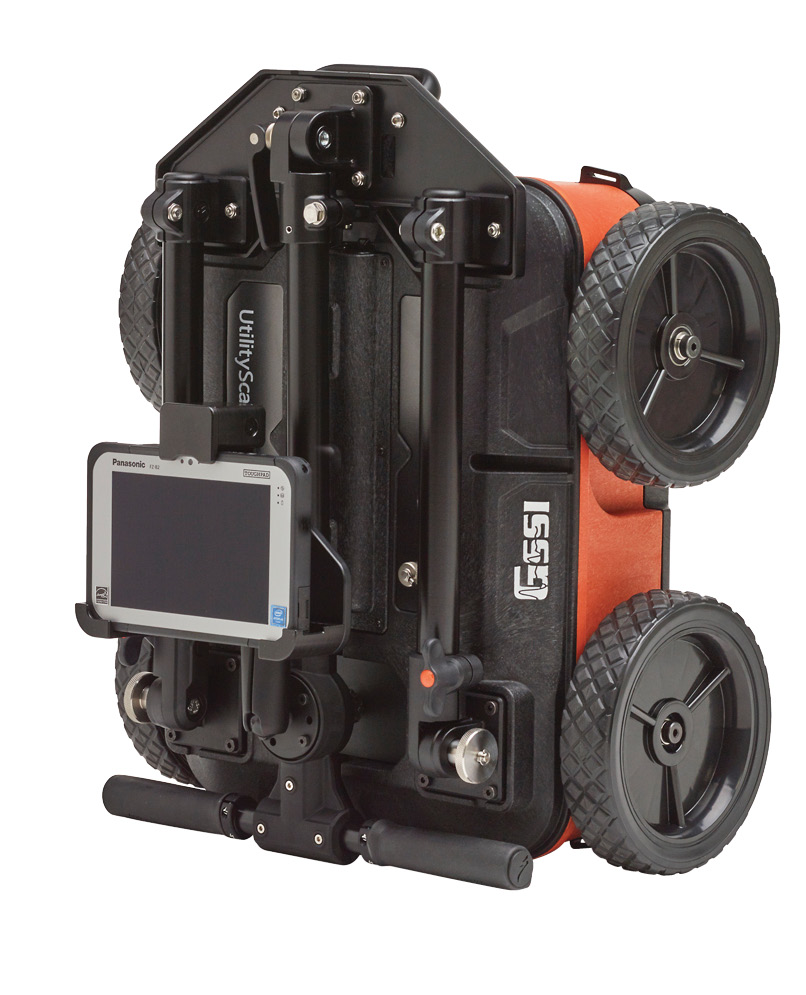 UtilityScan features a wireless antenna that can handle required data rates and is ruggedly built to withstand challenging field conditions. The electrical design uses GSSI's patented HyperStacking technology, which has proven to increase depth penetration in challenging soils, while also providing high near surface data resolution. The unit also has a backup Ethernet connection if Wi-Fi is not desired or allowed on a particular jobsite or facility.
Geophysical Survey Systems Inc. (GSSI)
Crawler Excavators

DX300LC-5
Construction equipment: The Doosan DX300LC-5 crawler excavator is popular among utility companies because of its performance in the mid-size excavator class, featuring a 266-net-horsepower diesel engine and maximum dig depth of nearly 24 ft. A standard feature called Smart Power Control (SPC) helps reduce fuel consumption by as much as 7 percent, minimizing operation costs for owners.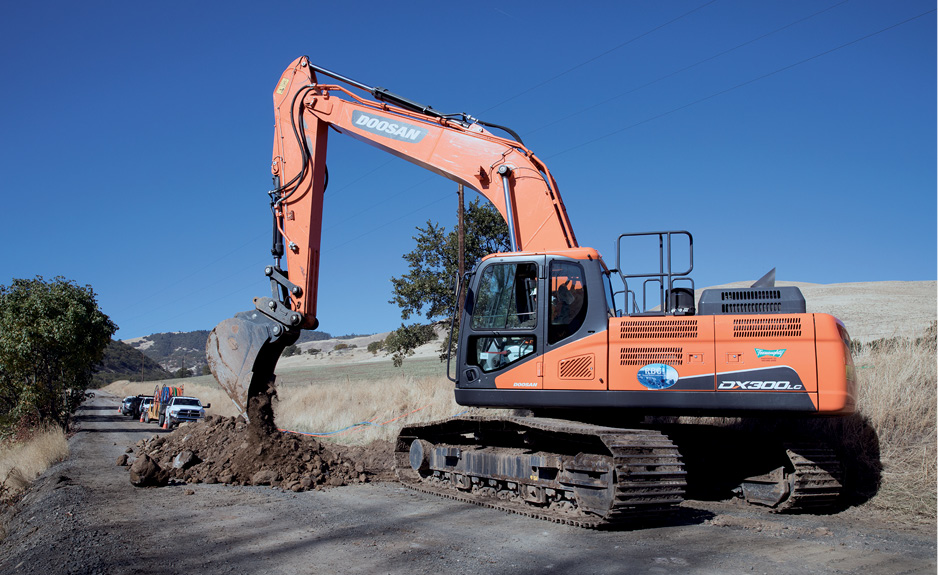 DX300LC-5 excavators provide high visibility for the operator with rearview and side-view cameras, which can be beneficial when working on crowded jobsites or utility projects with limited space around the excavator and workers.
Doosan