Utilities Can Improve Productivity and Safety Through Adoption of Dedicated Tools at Height Products
Integrated tether and safety systems reduce equipment damage as well.
Feb 1st, 2012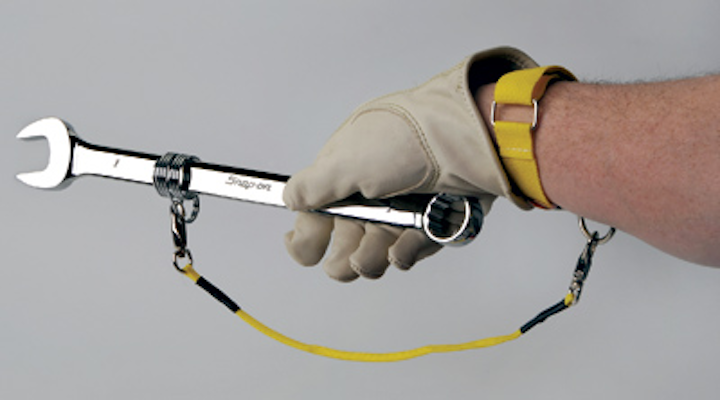 Integrated tether and safety systems reduce equipment damage as well.
Dropping a tool while working at height can have devastating consequences. Imagine working in a boom lift performing maintenance on a utility pole 40 feet in the air and a wrench slipping out of a utility worker's hand, or working on a transmission tower only to have a socket slip out of a tool pouch and fall 75 feet to the ground.
Anyone walking below has a fast-approaching problem. A wrench falling out of a boom lift or a socket slipping out of the tool pouch could damage equipment as it ricochets to the ground. But, more importantly than damaged equipment, a falling tool could severely injure or kill someone.
It's scenarios such as these that led Snap-on Industrial to develop its tools at height program. Many applications have tasks that involve maintenance performed at height, and technicians need to use tools that are secured or tethered to prevent a hazard.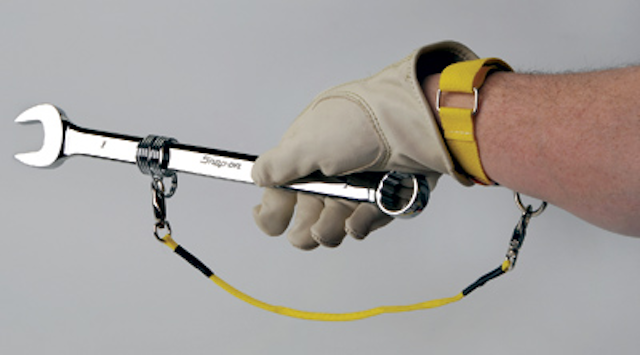 Number One Goal-Work Site Safety
The primary goal of any tools at height program is worksite safety. A wrench or socket falling off a boom, transmission tower or scaffold that hits someone is going to cause injury. A larger, free-falling tool, such as a hammer, could kill. The risk of injury because of a falling tool is high. An injured employee is going to cost a utility or municipality money in terms of lost productivity, workmen's compensation claims and medical bills, and, depending on the circumstances, the possibility of a lawsuit. Morale also is affected any time someone is injured on the job.
Equipment and machinery can be damaged from a falling tool. Remember that a falling tool isn't necessarily going to drop straight down. All it takes is one ricochet to alter its course and endanger other equipment in the area. A socket falling from a transmission tower, for example, could ricochet off objects on the way down and damage other sensitive infrastructure and equipment. Companies can't afford that loss because of a falling tool.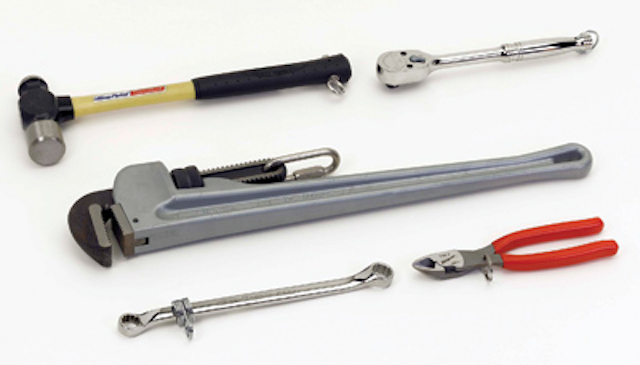 When used correctly, tools at height delivers effective tool control and security for manufacturing, installation and maintenance applications. These products provide controlled storage of tools in the workshop, secure transportation of tools to the work site and reliable retention of tools when in use.
There are several high-height and low-height applications where tools at height can be beneficial. High-level applications include power lines, cranes, wind turbines, buildings, bridges, drilling derricks and aircraft hangers. Eliminating the threat of tools falling into engines, machinery and mine shafts are a few examples of low-level uses.
Tools Designed Solely for Height
Tools at height products have made a substantial contribution to improving site safety and efficiency by preventing hand tools from becoming dropped tools. A well-designed system not only includes a strategy to secure tools from falling when working at height, but provides accountability to prevent tool loss.
Drop-prevention mechanisms are fully integrated within Snap-on Industrial's tools at height products. Coils and other fastening devices are built into the products when they are manufactured, not added as an accessory later. Standard tools at height kits come with as many as 600 hand and cordless power tools-all specially designed for work at height.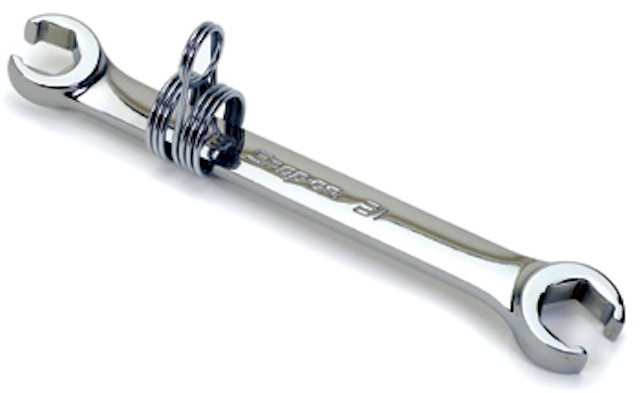 Lanyards, which can be attached to the operator's wrist, belt, harness or other suitable tether site location, are the basis of the drop-prevention design. Although each tool is secure, lanyards give technicians unrestricted tool use and don't impede mobility or compromise personal safety equipment. Each tool within the program is manufactured to allow a lanyard attachment, while ensuring that original functionality and quality is maintained. Several types of lanyards are available to best work with specific tools.
Technicians are encouraged to follow these guidelines when working with tools at height:
• Tools should be secured at all times during transit and in the work area;
• The technician must be secured, via body harness, to a suitable anchorage point in the work area;
• Tools up to five pounds can be attached by lanyard to the operator;
• Tools weighing more than 10 pounds should be attached by lanyard to a suitable fixed point;
• Ensure tool bag/pouch is attached using a chest strap or belt loops;
• One lanyard hook should be attached and locked to an approved attachment point on technician's safety harness, belt or wrist strap;
• The other lanyard hook should be attached and locked to selected tool; and
• Before climbing or moving location, tools should be secured inside bag/pouch.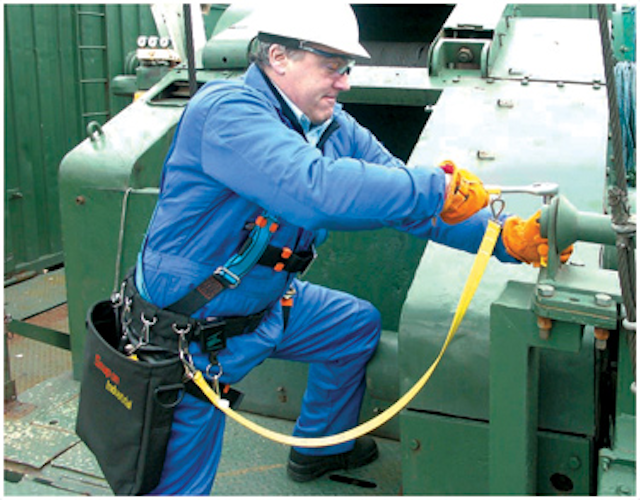 Enhanced Accountability
A tools at height kit also aids in tool accountability. All tools come in a container with foam cutouts. When tools are returned at the end of a project, any open space alerts the technician of a potentially missing tool. As an example of unaccounted tools, a socket left in the shaft of a nuclear reactor ended up causing so much damage that the reactor was shut down almost six months for repairs. To aid in tool identification, tools can come etched with company name, logo, serial number or any other ID marker. The identification number also is etched into the specific storage space for the tool.
Another aspect of a tools at height program is tool accountability. While the need for tool accountability has existed in the aviation industry for years as a way to reduce foreign object damage (FOD) to aircraft, a push is now underway in other industries to look at similar initiatives. FOD prevention is dedicated to managing tool usage, accountability and the systems necessary to ensure tools are secure at all times.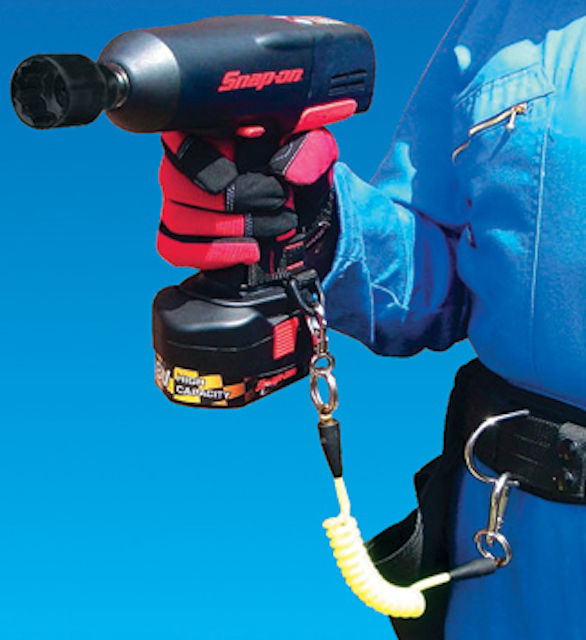 A dropped tool poses a significant risk to equipment and personnel on the ground. The main goal of a tools at height program is work-site safety; utilities and municipalities cannot afford accidents because of dropped tools. Fortunately, new tooling advances and protocol guidelines have been made that greatly reduce the threat of falling tools, which is a win-win scenario for everyone involved.
---
About the author: Patrick McDevitt is the manager of Business Development for Snap-on Industrial. He can be reached at patrick.d.mcdevitt@snapon.com.
More Utility Products Current Issue Articles
More Utility Products Archives Issue Articles