Top-rated Weather Services get Wind Turbines up and Running Faster
Wind farms rely on the weather around the clock, for better or for worse. Windy days help turbines pump clean power across the grid, while quiet days require other forms of electricity to keep reliable power flowing.
Apr 1st, 2013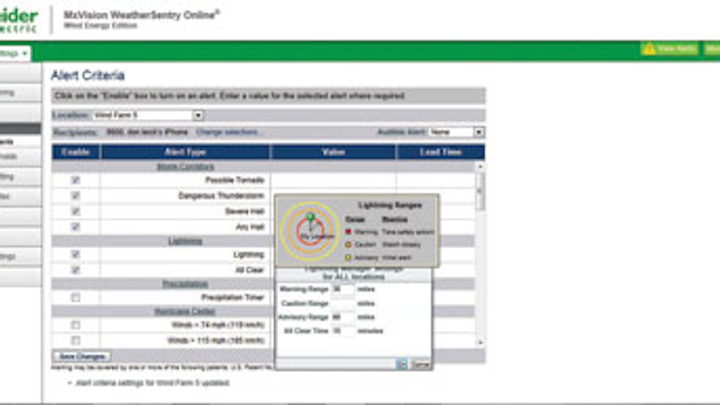 By Don Leick
Wind farms rely on the weather around the clock, for better or for worse. Windy days help turbines pump clean power across the grid, while quiet days require other forms of electricity to keep reliable power flowing.
But, how weather impacts wind farm construction is considered less often. Towering turbines and wide-open locations mean crews must be certain about weather conditions before bringing in equipment or scaling structures. To ensure the safety of crews, efficient project budgets and reasonable customer expectations, a weather forecasting service is an essential, indispensable tool during construction and subsequent maintenance.
Relying on generic, publicly available weather forecasting is risky to crews and is not cost-effective for operations. Instead, location-specific, customizable weather forecasting and alerts that display conditions in real-time will give construction crews the information they need to complete work and communicate project expectations or delays to the customer. Users of Schneider Electric's MxVision WeatherSentry Online, for example, find its real-time lightning displays and detections are critical for determining when to continue construction and when to leave the area. When using another tool that doesn't display lightning until long after it has happened, crews have less certainty about whether to continue working, which can cost time and money.
Forecast Services that Maximize Efficiencies
To illustrate this, consider the scenario of a construction crew scheduled to work on a farm that is miles away from the nearest cover or shelter. The foreman can set parameters on his or her mobile device that will sound an alert when specific weather conditions, such as lightning or high winds, move into a pre-determined radius of the area. Ideally, the device is global position system- (GPS-) enabled, locates the crew and adjusts the alerts and forecast accordingly, and doesn't require an individual to manually enter new location information as they move throughout a farm. When an alert is sounded, the foreman can review conditions and the forecast, and will have time to remove the crews from the area if there is a safety threat. When the severe weather passes, the foreman will receive an all-clear alert on the mobile device and work can resume.
To know you're getting the most accurate forecasts, look for highly detailed, daily two-week forecasts and hourly forecasts for the first 72 hours, updated hourly. This helps you better understand risks and adjust the construction or maintenance scheduling accordingly. This level of detail is essential when determining whether to move in multi-million dollar construction equipment and crews, or whether conditions will put work and safety at too much risk. Cranes cannot be operated at high wind speeds, so wind forecasts are particularly important for scheduling. It also improves customer service because you can more confidently communicate to the customer whether the crews can be out in the weather, how long the delay is expected to last, and how quickly the team can return to work.
In addition, services that include the European forecasting model are typically more accurate in mid-range forecasts-three days to seven days out-and precipitation forecasts because of the model's performance over other global forecast models in detecting low-pressure systems that can produce thunderstorms and lightning. Schneider Electric, which has been independently rated the most accurate weather forecasting service for the past six years, will incorporate the European model into its weather forecasting system in the second quarter of 2013. With the U.S., Canadian and European models at work, customers have more certainty about the path and intensity of severe weather, and are able to make the most informed decisions for the efficiency of their operations and safety of their crews.
If there is uncertainty about how to interpret weather predictions, services such as Schneider Electric's MxVision WeatherSentry Online give customers constant access to a meteorologist who can further explain the forecasting logic, the level of confidence in the predictions, and how weather conditions may affect operations and safety.
Accuracy gets Results
Suzlon Wind Energy Corp. operates more than 60 wind farms across the U.S., encompassing more than 1,250 turbines. The company relies on Schneider Electric's MxVision WeatherSentry Online Wind Energy Edition and Lightning Manager to help manage the maintenance of its farms. It has found that Schneider Electric's independently rated forecasts help keep operations cost effective and crews safe.
"For example, if we see high winds are expected in an area where we were planning on doing crane work, we will delay bringing in the crane for a day or two until the winds are expected to subside," said Rick Duesing, monitoring center manager for Suzlon Wind Energy. "It doesn't make sense to pay for a crane on site if it's not doing anything."
In addition, Suzlon Wind Energy can ask weather questions online, day or night, and receives answers within minutes from an experienced Schneider Electric meteorologist.
Weather affects wind farm operations throughout their life-span, starting with construction. A top-rated forecasting tool is an essential service for the unique needs and weather considerations a crew must face as they build and operate the massive turbine structures. Although the weather will always have an impact on the work of wind farm construction teams, detailed and accurate weather forecasts can lessen the uncertainty and maximize the crew's safety and efficiency.
---
About the author: Don Leick is a senior product manager at Schneider Electric and is responsible for all aspects of WeatherSentry and other weather products. Leick has more than 25 years experience in software and technology companies, the last 15 in product management.