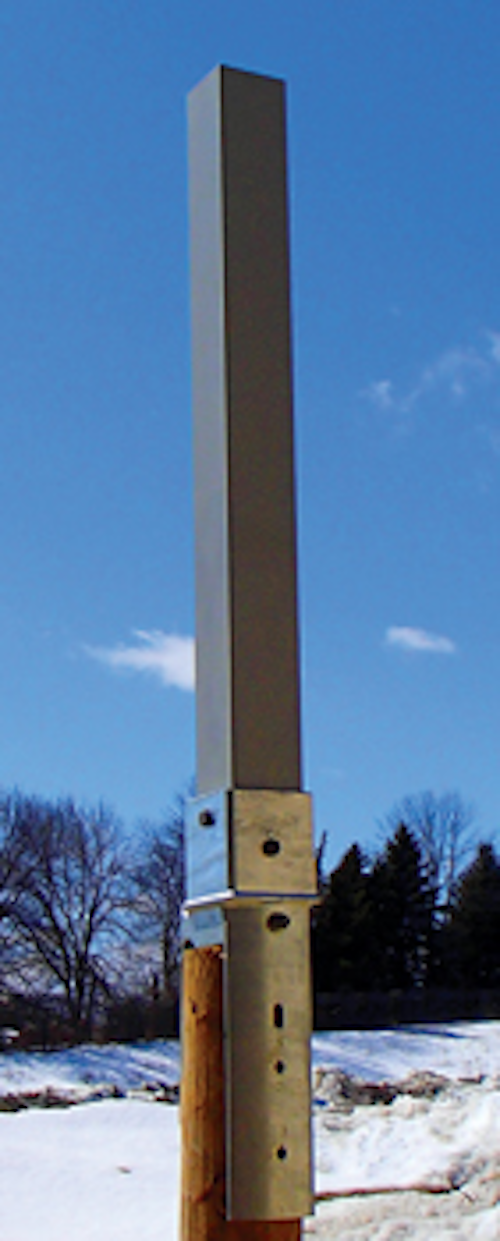 PUPI Fiberglass Pole Top Extensions Add New Life to Existing Poles
GEOTEK, the producer of PUPI fiberglass Utility Products, introduces a new fiberglass pole top extension, adding to the company's line of PUPI fiberglass electrical distribution and transmission products.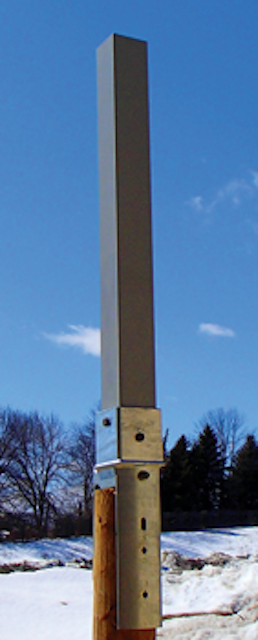 PUPI pole extensions are attached to the top of utility poles to add 36 to 72 in. of additional height. They are constructed of lightweight, yet extremely strong 5-in. by 5-in. fiberglass beams bolted to a galvanized steel mounting bracket. The mounting bracket can be attached to the top of nearly any pole with a diameter range of 6 to 10 in. Available in gray or brown, PUPI pole extensions are completely sealed with a rigid closed cell foam that permits field drilling and excludes moisture.
PUPI fiberglass pole extensions are easy to handle and install. They are constructed of engineered materials, so their strength is consistent-and it stays that way over time. Fiberglass resists insects and woodpeckers, and will never rot. Unlike steel, fiberglass is an excellent insulator-it never rusts or needs re-coating. PUPI pole top extensions are maintenance free, with a service life designed to match or exceed any pole material.
GEOTEK
CIRCLE 111 ON READER SERVICE CARD
---
Freightliner-Predictable Trucks for Unpredictable Jobs
When calls come in, trucks better go out. That's why the Freightliner M2 106 comes equipped with a reliable and efficient Cummins ISB engine or optional ISL engine. The M2 106 is designed for easy maintenance, keeping downtime to a minimum. Easily accessible transmission and other components, as well as see-through fluid reservoirs, make inspection and service hassle free. The Cummins ISB engine is the lightest in its class, further increasing efficiency.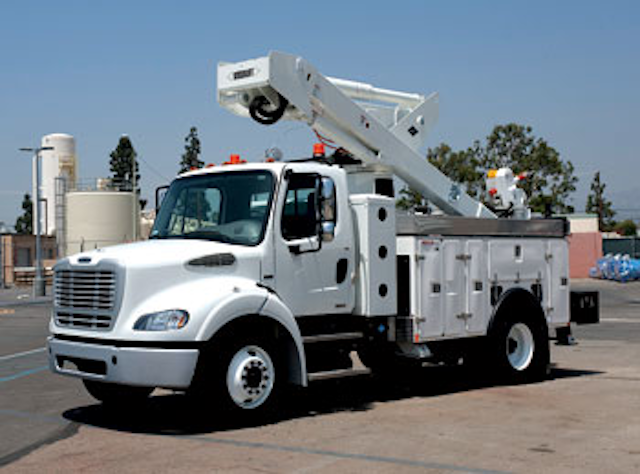 The M2 106 also offers the safety features you demand: best-in-class driver visibility, up to a 55-degree wheel cut and low step-in height for easy entry and exit. The chassis is designed for customized upfit of complex body configurations. And, the SmartPlex Electrical System provides flexibility for specialized utility needs.
Freightliner Vocational
CIRCLE 113 ON READER SERVICE CARD
---
V-Watch Personal Voltage Detectors
HD Electric Company's V-Watch Personal Voltage Detectors are worn on the outside of clothing at mid-torso and provide an extra level of safety by detecting and alerting you to the presence of electrical fields or energized electrical equipment. In emergencies, crews can move in safely to quickly restore power to customers.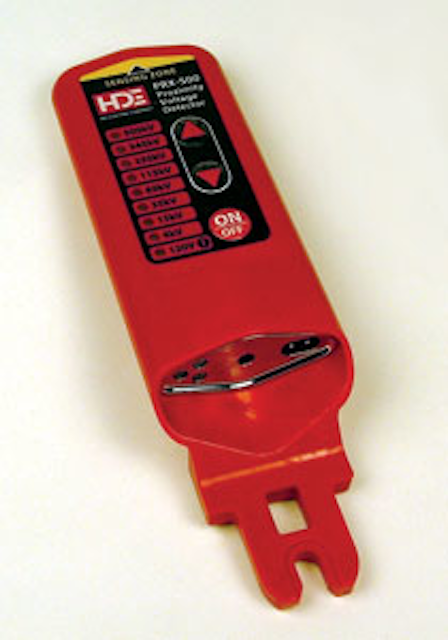 HD Electric Co.
CIRCLE 114 ON READER SERVICE CARD
---
Gulfstream Fiber Optic Cable Blowers, Underground Cable Puller
Condux's line of Gulfstream Fiber Optic Cable Blowers can accommodate almost any fiber optic cable installation need. From long haul, middle mile projects to last mile and micro fiber enterprise installations, Condux has developed the Gulfstream line of fiber optic cable blowers to meet a wide range of installation needs. Condux blowers are designed to handle all types of fiber and all types of installations.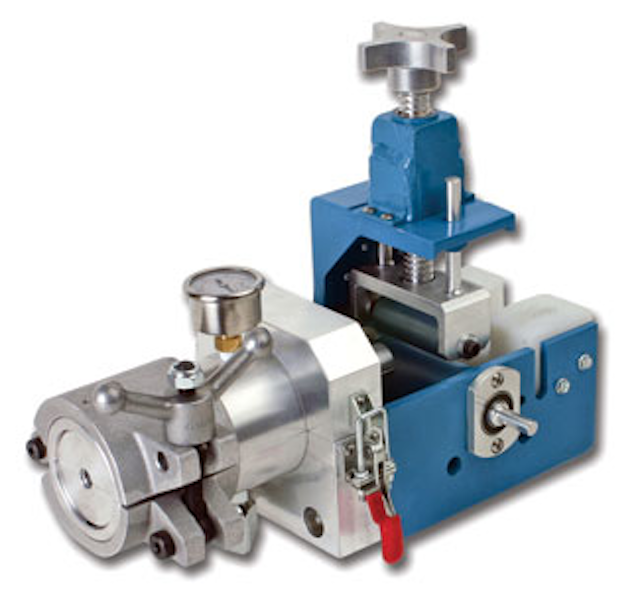 The Gulfstream 400 is suited for long-haul and middle-mile projects, while the Gulfstream 200 micro fiber optic cable blower is for FTTH and Enterprise micro fiber installations.
In addition, the APS75 Hydraulic Underground Cable Puller provides up to 7,500 lbs. of continuous pulling power for a comprehensive range of pulling applications. Designed for installing underground cable, the APS75 is completely self-contained and easily transports from jobsite to jobsite.
Condux
CIRCLE 112 ON READER SERVICE CARD
---
Mid-range Articulating Cranes
Iowa Mold Tooling Co. Inc. (IMT) will introduce new and improved mid-range articulating cranes at the International Construction and Utility Equipment Exposition (ICUEE), Oct. 1- 3, 2013, in Louisville, Ky. The 9 tm, 10 tm, 11 tm and 12 tm models have been enhanced with new options, features and ratings to meet unique application needs. With good lift and reach capabilities and reduced weight, the cranes offer customers increased productivity and payload capacity.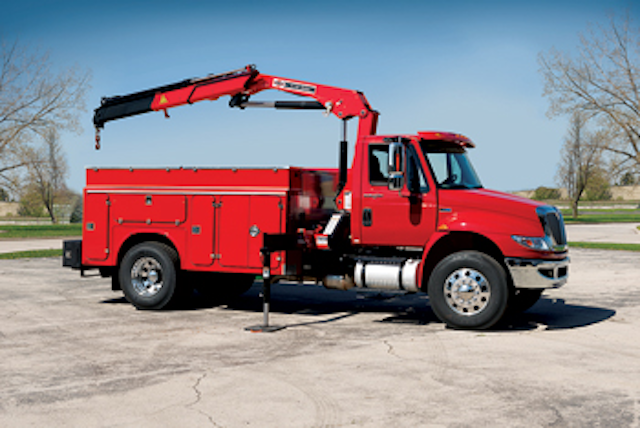 The 9/65, 10/72, 11/78 and 12/86 cranes have ratings ranging from 65,100 ft-lbs (9 tm) to 86,075 ft-lbs (11.9 tm) and maximum lift capacities from 8,380 lbs to 10,230 lbs. New features include single link (SL) or dual link (DL) options, 15-degree overbending and weight reduced by 10 to 15 percent from previous models. Each crane can be fitted with up to five hydraulic extensions to provide application-specific reach. Additional features include the rated capacity limiter (RCL) 5300 safety system and a radio remote control.
Iowa Mold Tooling Co. Inc. (IMT)
CIRCLE 115 ON READER SERVICE CARD
---
Cable Grip and Dynamometer
HIT Manufacturer's quality tools are focused on the electric, construction and plumbing industries, and include products such as bolt cutters, rebar cutters, cable cutters, wire rope cutters, thread rod cutters, hand swaggers and more.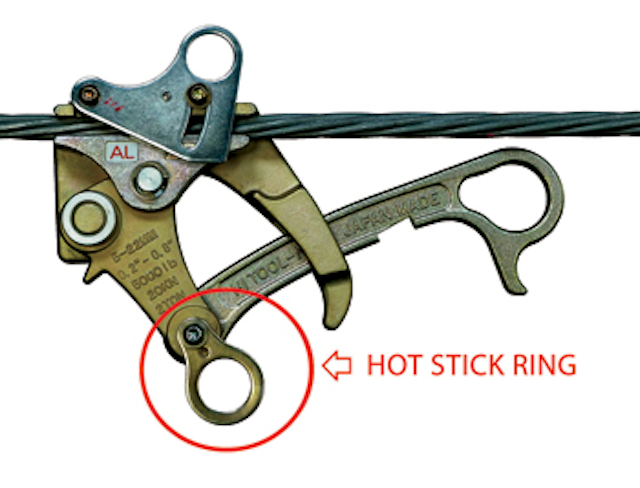 The company's signature cable grip and dynamometer are for the utility industry. Power companies use the products because of the following features:
• Trigger style grip: Allows you to easily open and close the jaws with one hand, while the other hand is free to pull the cable or work on other tasks. Because the jaw opening of HIT grips is larger than other brands, it can pull wider size of cable by one grip and eliminate carrying many sizes of grip.
• Twisted-handle cable grip: The regular cable grip will make the cable bump the handle of the cable grip. With HIT twisted-handle grip, it can prevent the cable from bumping into the back end of the handle and avoid damaging the cable.
• Ring on the cable grip: Extremely user-friendly for working on live lines by simply hooking the ring and pulling with an insulated hot stick.
• Dynamometer: Provides accurate readings of pulling force and features extra large eye-hooks for hooking a puller without the need to attach a fitting hook.
HIT Manufacturer
CIRCLE 116 ON READER SERVICE CARD
---
Electrician's Tools Provide Durability, High Performance
To enhance its line of wire and cable products and solutions, Southwire has introduced Southwire Electrician's Tools. This line of hand tools, testers and meters is manufactured with top-quality materials to ensure high performance and durability throughout the lifecycle of the tool. The tools include added features to help enhance user productivity and are backed by strong warranties.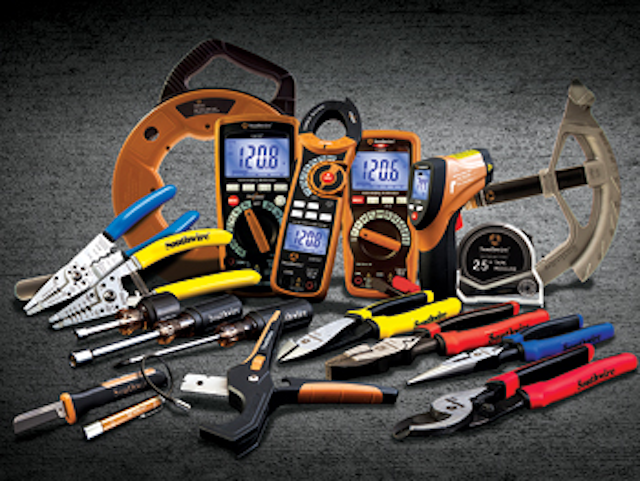 The series of tool products is an extension of Southwire's Maxis Contractor Equipment line, which Southwire acquired in 2009.
Southwire Electrician's Tools will be available in retail outlets and electrical wholesale and tools supply houses nationwide, allowing wide availability for professional contractors. The collection consists of a full line of professional grade hand tools that includes pliers, strippers and screwdrivers, as well as a wide array of electrical meters and testers.
Southwire
CIRCLE 117 ON READER SERVICE CARD
---
Cable ProwlerCable Tester
T3 Innovation, a provider of advanced handheld test equipment for the cable/telecommunications, datacom/networking, electrical design and maintenance, and residential/CEDIA custom install markets, announces the new Cable Prowler cable tester and report management system demonstration video and blog.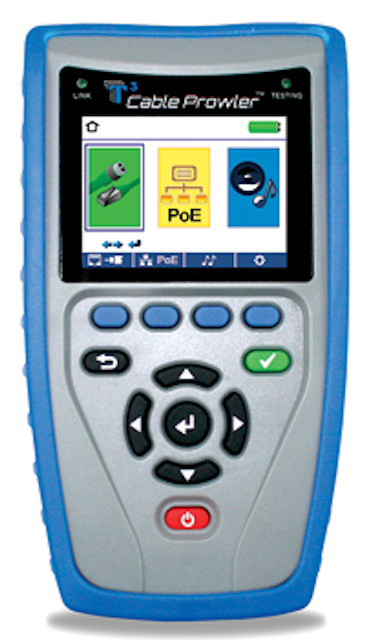 Now shipping, the Cable Prowler combines the functions of a high-end cable tester and length measurement tester, with the capability to identify link status, link capability, and PoE detection. The Cable Prowler provides full cable testing, displaying wire map, numbered ID remotes, and any faults, including shorts, opens, miswires, split pairs and reverses. All of this in full color and internal memory to save results.
The full-featured Cable Prowler measures cable length (using TDR technology) and generates tone levels for signal tracing and cable identification on all pairs, a selected pair or a selected pin. All of this is displayed in a full-color graphical display for easy viewing in any environment. Cable Prowler also has the ability to name each cable and save all test results. Cable results can be exported to a computer through micro USB cable for record keeping and printing.
T3 Innovation
CIRCLE 118 ON READER SERVICE CARD
---
SureTrace Circuit Tracers
IDEAL Industries Inc., a manufacturer and supplier of quality tools, connectors and testing products for the electrical and data communications markets, has introduced its SureTrace circuit tracer that lets electricians quickly locate wires or cables behind walls, pinpoint opens/shorts, and identify fuses and breakers on both energized and de-energized circuits from 0-600V ac/dc.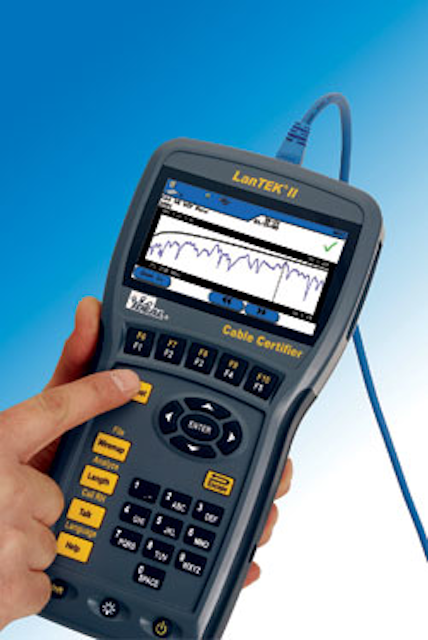 Designed to keep productivity high and operational costs low, SureTrace circuit tracers have four defined ranges to allow the electrician to select the proper sensitivity for a specific job. No circuit tracer has ever been so user friendly, it's reported. Rather than annoying blinking lights and difficult-to-dicipher beeps, SureTrace's display provides a numeric value between 0 and 99 and a variable pitch/tone audible indication as fast-response tracing feedback, while its peak detector instantaneously registers signal strength. Another time-saving feature is that handset signal communication is tuned tighter to reduce false signaling on noisy circuits, a common problem with competitors' circuit tracing devices.
IDEAL Industries Inc.
CIRCLE 119 ON READER SERVICE CARD
---
Auger Bits for Treated Wood, Composite/Fiberglass Hollow or Solid Core Poles
BURNDY, a manufacturer and provider of connector solutions to the industrial, energy, construction, telecommunication, petrochemical, data center and transportation industries, introduces several new auger bit designs for the Utility and Construction industries. These new drilling bits complement the existing product portfolio by providing customers more drilling options.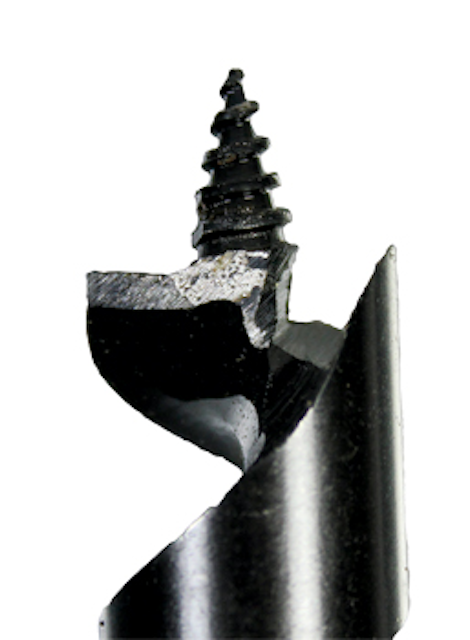 The new Razor auger bit (shown) is made from hardened steel and designed to cut fast, clean and straight into a variety of treated utility poles. The cutting head incorporates a single spur and cutting edge design that scores and shapes the hole. The lead screw design pulls the bit through the wood effortlessly while the flute design evacuates debris quickly, leaving a perfectly concentric hole.
The new Hollow Core and Solid Core auger bit designs are made exclusively for fiberglass and composite poles. These carbide-tipped auger bits feature cutting edges and flute designs intended to withstand the rugged surfaces of composite materials along with the ability to easily evacuate debris while keeping the bit centered during drilling.
BURNDY
CIRCLE 120 ON READER SERVICE CARD
---
SK210LC Excavator Provides High Performance at any Jobsite
KOBELCO Construction Machinery USA, a manufacturer of crawler excavators, announces its new, improved SK210LC model following the relaunch of KOBELCO as an independent brand in North America earlier this year. This mid-size machine was engineered and built to deliver a combination of power, performance and durability on jobsites across the US and Canada.
The 48,500-lb. SK210 is equipped with a fuel efficient, 157-hp HINO engine and provides substantial power while meeting Tier IV fuel emission requirements. To optimize power and fuel consumption, the SK210 features three engine operating modes, H for heavy loads, S for standard loads and ECO to reduce fuel consumption when moving lighter loads. Operators can easily switch between modes by pressing a button in the cab throughout the course of their workday.
With a digging force of 28,880 lbs., a dig depth of 22 ft. and a 1.05 cubic yard bucket, the SK210 provides very good performance. In addition, it features a swing speed of 12.5 rpm for optimal cycle times, ensuring movement of the maximum amount of material each work day.
The SK210 offers an independent travel feature, allowing the operator to move, lift and swing simultaneously without stopping or experiencing a loss of power. Not only does this make the machine versatile, but it also enhances productivity, usability and safety on the job.
KOBELCO Construction Machinery USA
CIRCLE 121 ON READER SERVICE CARD
---
IONV Series: Super-LED Three-in-One Combination Light
Whelen Engineering announces the V-Series Super-LED three-in-one combination light. The V-Series allows you to add the ION Super-LED compact lighting performance in a housing that stands alone, or you can choose the SideKick fender housing for the Police Interceptor and Chevy Caprice Police Models.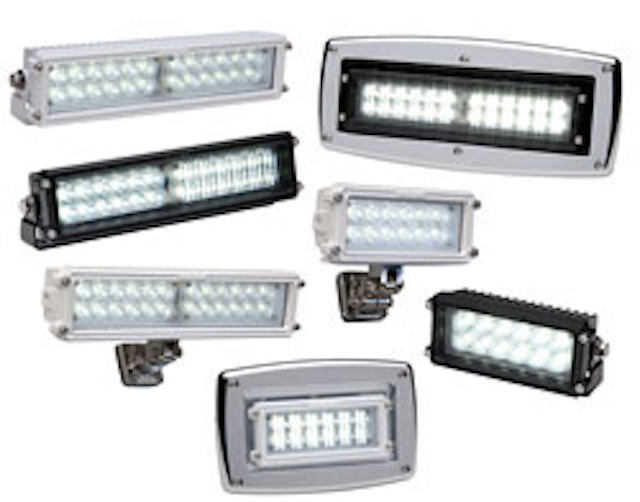 Features include combination lighting for warning, flood/alley and ground warning (puddle light). And, 180-degree wide-angle models include compact standalone with surface mount, built-in flange, Universal or SideKick fender mounted for Ford Police Interceptor or Chevy Caprice.
The Universal mount options include bail/swivel bracket, rubber grommet and pedestal mount in black or white. Surface mount models include flange, available in black, white or chrome. All feature hard coated lenses with high definition optics technology and 25 ScanLock flash patterns including 14 synchronizable patterns.
V-Series meets and exceeds Class I SAEJ595, SAE 845, NFPA 1901 and KKK1822 requirements and is covered by Whelen's five-year HDP Heavy-Duty Professional warranty.
Whelen Engineering Co. Inc.
CIRCLE 122 ON READER SERVICE CARD
---
Nikon Forestry PRO Rangefinder/Hypsometer Forestry Tool
The precision Nikon Forestry PRO rangefinder/hypsometer provides accurate range, height and angle measurements because of a three-point height measurement function that allows accurate measurements, even in dense areas of thick brush. Provided with a clear line of sight to a point on the stem, the unit calculates horizontal distance, then captures two other points to create an angle and accurately calculates height.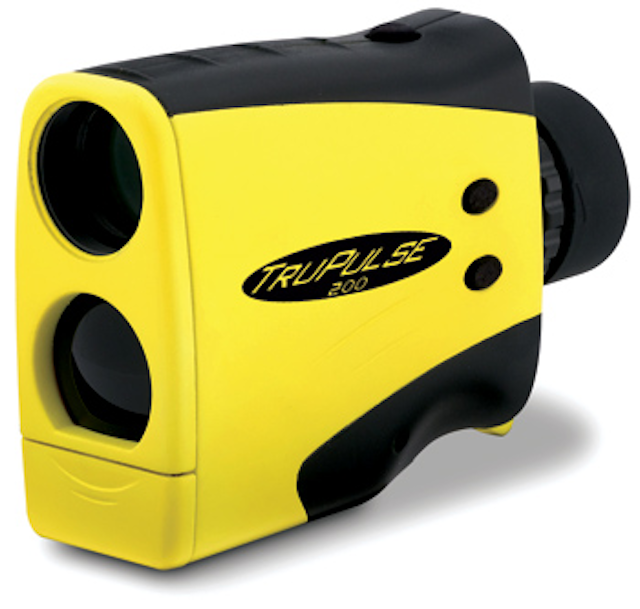 It features 6x magnification and provides several measurement readout options including actual distance, angle compensated distance (horizontal distance), angle (degrees) and height.
Forestry Suppliers Inc.
CIRCLE 123 ON READER SERVICE CARD
---
Attachments Allow Clean and Easy Horizontal Boring
Little Beaver is making it easier to create clean, horizontal bores with its Horizontal Boring Kits. The two types of horizontal boring attachments turn Little Beaver Mechanical Earth Drills into precise, timesaving horizontal boring machines that can be used for a variety of applications including conduit and pipe installments, and more.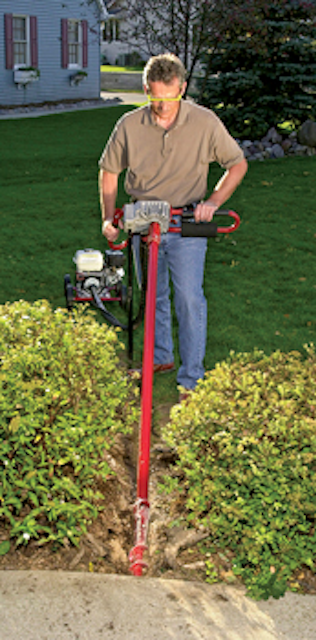 Little Beaver's Horizontal Boring Kits are easier than physically forcing a pipe through soil by hand, and more cost effective than purchasing or renting hydraulic and pneumatic moles, especially for those who already have a Little Beaver Mechanical Earth Drill.
Coupled with a Little Beaver Mechanical Earth Drill, the Dry Auger Kit can efficiently create small bores up to five feet long. The kit includes a 5-foot auger with a 3-inch diameter bit, a horizontal drill key, and 5-foot extension with a universal wiggle joint. With the extension connected to the auger by the wiggle joint, users are able to stand while boring. The earth drill provides the torque necessary to drill smoothly through the soil from one side of the sidewalk to the other.
Little Beaver
CIRCLE 124 ON READER SERVICE CARD
---
Roller Conductor Lifters Give Line Crews More Flexibility
Diversified Products offers two roller conductor lifters, offering power line and electric utility crews more flexibility when moving and supporting energized lines. The roller conductor lifters allow for safer work while optimizing the utilization of equipment and personnel on the job.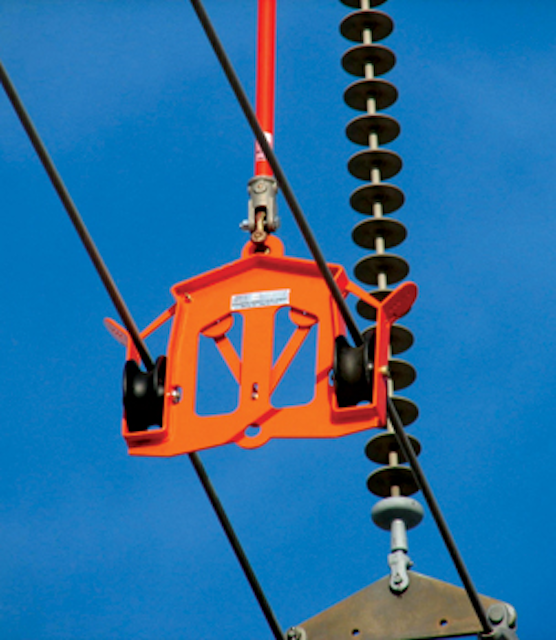 Constructed of high-strength steel, yet still lightweight, each roller conductor lifter is designed for use in conjunction with an insulated link supported by the same crane or derrick being used to hold other conductors. This helps increase efficiency by freeing up bucket trucks or other equipment for different functions. The rolling support allows more freedom of movement for an energized conductor, preventing conductor damage often caused when holding lines with abrasive hooks.
Both single and dual roller conductor lifters are available. The single lifter weighs 15 lbs. and has a lift capacity of 2,000 lbs. The dual lifter weighs 40 lbs. and has a working load of 4,000 lbs., while spacing the two conductors either 16 or 18 in. apart. Each lifter supports a maximum cable diameter of 1.5 in., and rated capacity information is clearly marked on each unit.
Diversified Products
CIRCLE 126 ON READER SERVICE CARD
---
New FR Freedom Field Coat
Tyndale's new Freedom Field Coat (K659T) brings a classic, patriotic style known for its form and function to the FR marketplace. This vintage field coat features a concealed draw-cord at the waist for a customized fit and a concealed brass zipper and snapping fasteners for rugged durability. The coat also features multiple tool and utility pockets.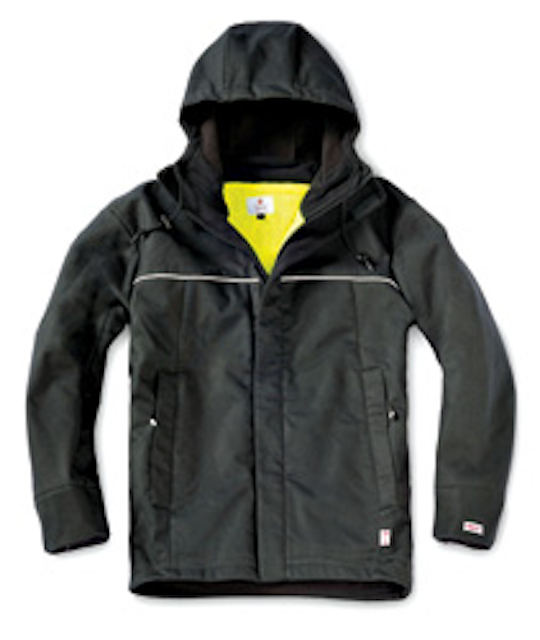 Designed to provide workers the freedom they need to work comfortably and return home safely, the Freedom Field Coat is made of a 9-oz. FR 88 percent cotton/12 percent nylon canvas and provides lightweight, HRC 2 and flash fire protection. The Freedom Field Coat is available in navy and green.
Tyndale
CIRCLE 125 ON READER SERVICE CARD
---
Kwik-Trim Features Compact Size, 53-Foot Reach
Loftness introduces the Kwik-Trim to its VMLogix line of equipment. The Kwik-Trim is a compact, yet mobile tree trimmer with a 53-foot reach, which is far enough to handle the majority of trimming needs. Unlike larger competitive units, it easily maneuvers in tight areas and can be transported with just a pickup and trailer.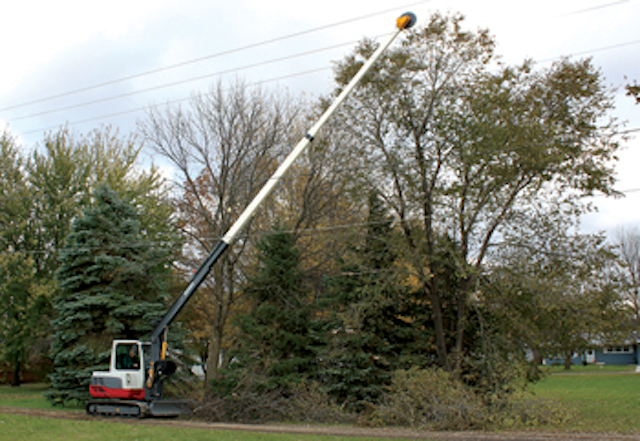 Using the chassis of a TB250 Takeuchi mini excavator, the Kwik-Trim is equipped with a fiberglass-reinforced plastic (FRP) boom and uses a long-stroke hydraulic cylinder to telescope to 53 feet. The single-reel design provides a clean, straight pull on the hydraulic hoses throughout the boom's full range of motion. In addition, the machine contains a large-capacity oil cooler, variable displacement piston pumps and custom valves to ensure reliability and smooth operation of the hydraulic system.
The Kwik-Trim features a zero turn radius and 360-degree continuous boom swing, 90-degree boom arc and 35-degree boom tilt. At the end of the boom is a 24-inch, carbide-tipped saw blade, which operates at 3,000 rpm. The functions are controlled by pilot-operated joysticks for easy, precise movement. The controls also allow the operator to fully retract the boom into transportation mode from inside the comfortable, climate-controlled cab.
Loftness
CIRCLE 127 ON READER SERVICE CARD
---
Multi-function GroundHound Site Safety Warning System
The new GroundHound Site Safety Warning System instrument from Advantage Electronic Product Development provides live, real-time monitoring and alarming of voltages associated with step and touch hazards on high-voltage work sites. The system monitors and alerts workers of the presence and severity level of their site's ground/step potential rise, allowing them to safely make informed decisions regarding procedures and the level of protection required at the job site.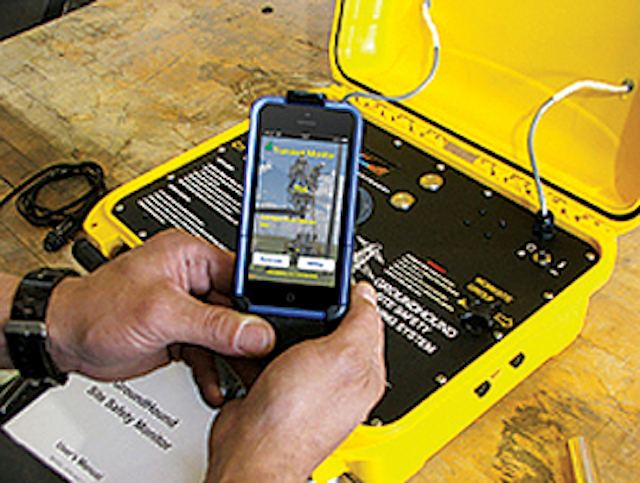 While testing the GroundHound in the field alongside other warning equipment, workers discovered that many of the "false positives" appearing on other monitoring equipment were actually transients or rogue currents flowing from something happening at a location close by. Depending on the characteristics of the soil, resistance varies widely with each worksite.
When a worker comes into contact with energized soil caused by the voltage difference between the ground and an energized object step potential (also known as ground potential or earth potential rise), extreme danger to people and equipment may be present. The line worker no longer needs to step on dangerous ground and touch dangerous equipment to read the alarms. A self-contained sensor unit in an iPhone or Android communicates information through wireless protocol to a foreman standing a safe distance away.
Advantage Electronic Product Development
CIRCLE 128 ON READER SERVICE CARD
---
UtiliGuard Utility Locating System
Ditch Witch introduces UtiliGuard, a new utility locating system that is cited to offer numerous industry-first features that combine to offer high locating accuracy. Among UtiliGuard's features is ambient interference measurement (AIM), which scans the surrounding area for noise and recommends the best frequency among the 70 it provides, resulting in faster, more accurate locates.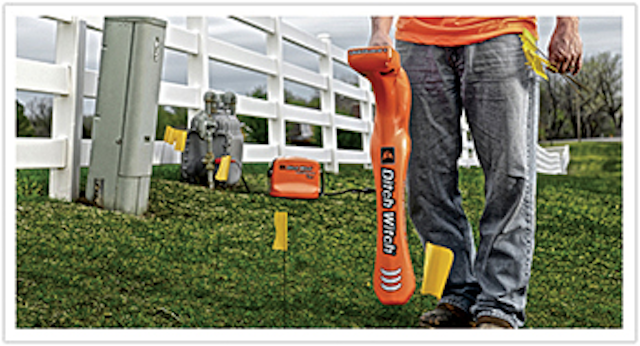 Ditch Witch
CIRCLE 130 ON READER SERVICE CARD
---
Generators are Quiet, Cool
Doosan Portable Power has expanded its mobile generator portfolio, delivering the quietest and coolest generators available, it's reported, with the introduction of the Tier 4i-compliant G70WCU, G85WCU and G125WCU.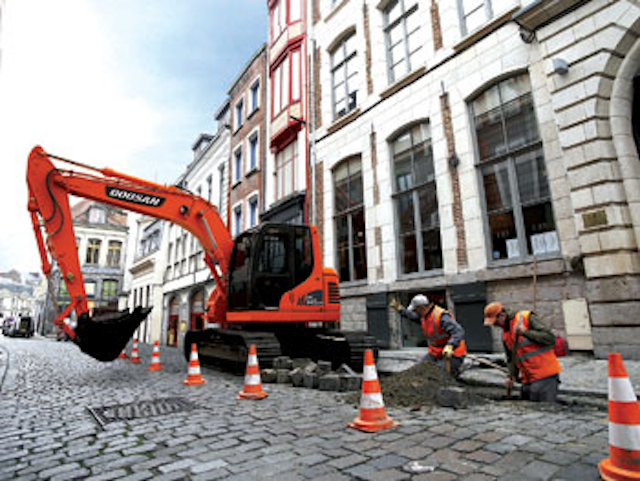 The Doosan models feature a cooling system with a variable speed cooling fan, keeping the generators cool and maximizing productivity and fuel efficiency in even the most extreme temperatures. The enclosure includes deep air intake pockets that protect the generator from external elements and eliminate water ingression. Airflow management on the models route engine heat without compromising sound attenuation, contributing to low operating sound levels of 64 to 67 dBA, dependent on the mode.
Redesigned from its predecessor Tier 3 model, the G70WCU delivers a 5 percent output increase at 77 kVA/62 kW, an 86 percent increase in runtime at 38 hours, and a 4 dBA reduction, operating at 64 dBA. The G85 and G125 mark new power nodes for the Doosan Portable Power lineup, delivering 97 kVA/77 kW and 128 kVA/102 kW, respectively, allowing customers to maximize fuel and power efficiency by selecting the power node that best meets their application needs.
Doosan Portable Power
CIRCLE 129 ON READER SERVICE CARD
---
Expanded Line of Horizontal Directional Drilling Tooling, Trencher Parts
Underground Tools Inc. (UTI) offers an expanded line of high quality directional drilling pipe and horizontal directional drilling (HDD) tooling, and high quality trencher parts-which will be on display at ICUEE 2013. UTI's line of HDD down-hole tooling features improved designs and includes drive chucks, starter rods, reamers, sonde housings, pilot bits, carriage chain and more.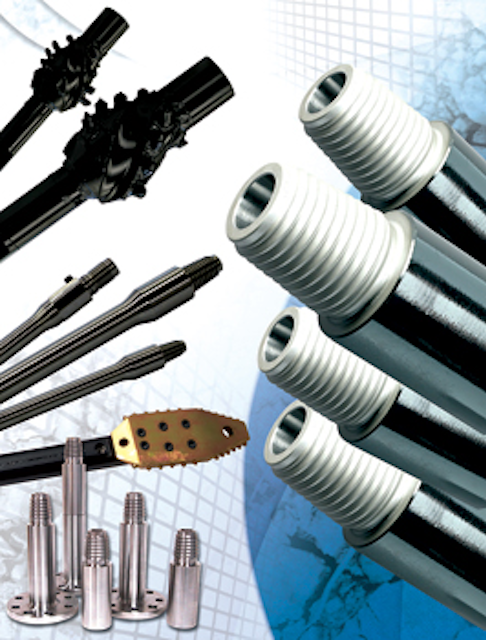 UTI offers drill pipe for nearly every make and model of drill rig. UTI's drill pipe is readily available and made from top quality materials, with careful consideration given to precise threaded connections.
UTI's trencher parts line includes chains, cutting systems and sprockets. All are made with high quality steel and carbide, and heat-treated to ensure strength. Trencher parts are lab tested and field-proven for durability. They meet or exceed manufacturer's specifications and are available for all makes and models of trenchers. All UTI products are back by a knowledgeable technical support team.
Underground Tools Inc. (UTI)
CIRCLE 131 ON READER SERVICE CARD
---
Field Portable Cleaning Kits Now Include Inspection and Loss Testing
For field use, AFL enhances its NOYES FCP2 Field Portable Cleaning Kits by adding inspection and loss testing capabilities including an inspection scope, power meter and light sources. The cleaning kits bundle several cleaning products into one duffle bag style carrying case to create a complete kit for field cleaning of connector end-faces.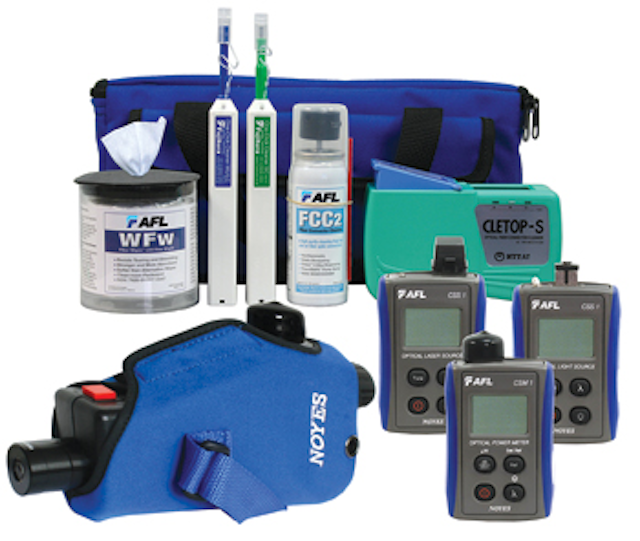 Technicians need a kit with a variety of cleaning tools that can be easily carried in the field. Customers can now order the basic cleaning kit, cleaning kit refills, basic kit with MPO/MTP option, or inspection and loss test kit options.
Contaminants such as dirt, dust and other particles from the environment can impede signals, cause costly network failures and increase downtime. AFL's cleaning products effectively remove these contaminants and particles for consistent cleaning results every time, saving users time and money. The kits now give users the ability to inspect and verify their work by adding the OFS 300-200 Inspection Scope, CSM1-2 Contractor Series Power Meter, CSS1-MM Contractor Series Multimode Light Source and CSS1-SM Single-mode Light Source options.
AFL
CIRCLE 133 ON READER SERVICE CARD
---
Vantage LED lightbar
ECCO's new Vantage LED lightbar has been designed from the ground up to offer value in terms of cost, performance, durability, flexibility of configuration, and easy installation and use. Suitable for a wide variety of applications where width of vehicle warning is required, Vantage is available in a multitude of configurations to suit any need.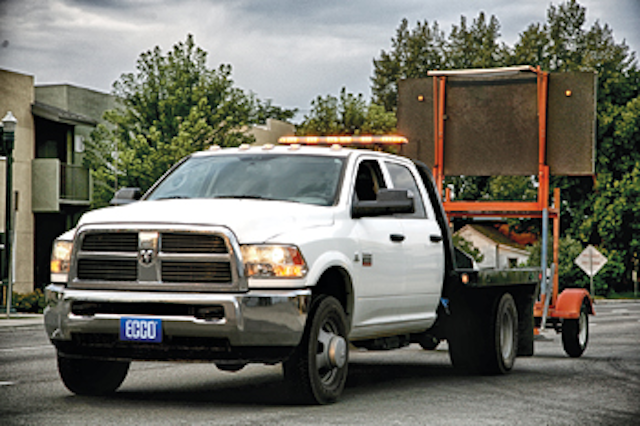 Included among the options are three lengths, an in-cab controller and 24 flash patterns-plus LED stop-tail-turn lights, worklamps, alley lights and take-down lights. Simple, powerful, versatile and robust, Vantage provides value that is easy to see.
ECCO
CIRCLE 132 ON READER SERVICE CARD
---
Keyboard Mounting Solution Accommodates Many Tablet Configurations
RAM offers a simple and effective way to mount a keyboard with your iPad or tablet. Tablets are good for their ease of use and portability. One of the downfalls is the inability to efficiently enter data using the tablet touch screen.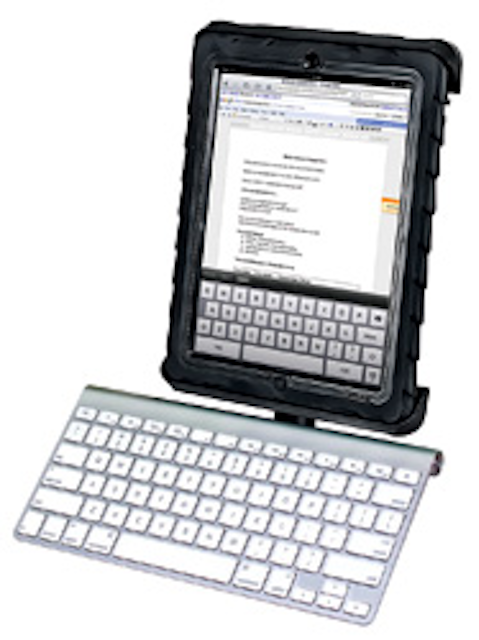 Now you can cost effectively mount a Bluetooth keyboard in conjunction with your RAM Tablet mounting solution using this design. This simple design clamps an 8-in. tube between any RAM tablet cradle and the mounting ball base-allowing for adjustment to accommodate many tablet configurations, including use in both landscape and portrait mode. The 8-in. tube has a 1-in. ball on the end, which connects to a standard RAM double socket arm and a 2-in. by 6.25-in. RAM plate with 1-in. ball.
The keyboard mount includes Velcro, which can be used to attach any portable keyboard for quick and easy access. If you do not already own a keyboard, RAM offers a low cost Bluetooth keyboard as an option with the keyboard mounting system.
RAM
CIRCLE 134 ON READER SERVICE CARD
---
Large Capacity Storage Reels
Coxreels, a US manufacturer of industrial-grade hose, cord and cable reels, announces its storage reels selection. These large capacity, all steel reels hold any wrappable material for easy storage, convenient transport and safe operation. Possessing all the features demanded by the industry, these models are a helpful solution for storage needs.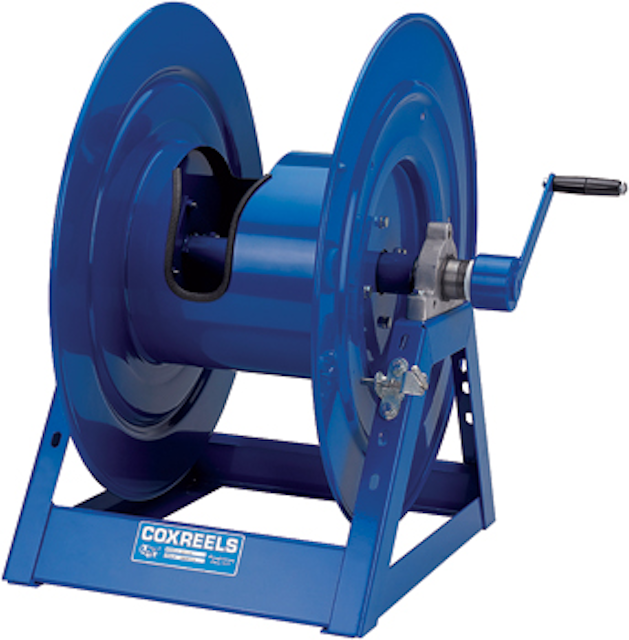 These storage reel models have been selected from Coxreels' standard 1125, 1175 and 1185 Series and are built on the strength of these series. The reels come without swivels and risers for storage purpose and feature CNC robotically heavy duty spun and ribbed discs with rolled edges for added strength and safety, and a sturdy all welded steel A frame base to handle the most demanding storage tasks on either stationary or mobile units. These units are engineered to store and maintain long lengths of various materials including, but not limited to: cable, hose, collapsible hose, power cord, rope, wire, barbed wire, tape and chain. Models are available in numerous lengths and outlet sizes, ready to manage any material that can be wrapped.
Coxreels
CIRCLE 135 ON READER SERVICE CARD