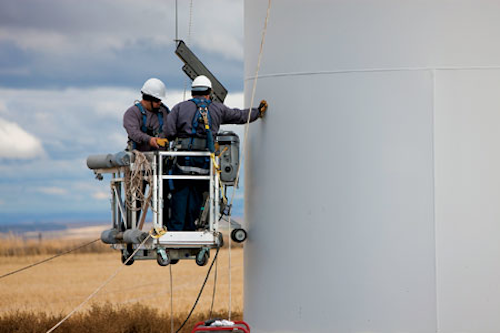 The U.S. wind industry has added more than 35 percent of all new generating capacity over the past four years, second only to natural gas, and more than nuclear and coal combined. Today, U.S. wind power capacity represents more than 20 percent of the world's installed wind power. The rapid construction cycle from 2008 through 2011, combined with the harsh wind plant operating environments, create significant lifetime maintenance opportunities for work on these typically 300-feet tall structures.
Repair events stem from natural causes such as weather damage, pollution, lightning strikes and component deterioration such as composite material delamination or puncture. The pace of blade design innovation also creates maintenance events to add components to existing wind turbines. Innovative add-ons to prevent blade icing, protect against lightning strikes, improve the aerodynamic properties of the blade or manage the stall forces drive refurbishment events.
Wind turbine blades are generally inspected at least annually to verify the blade condition and its efficiency. Blade inspection and maintenance professionals have had few solution choices to provide safe, reliable access to the blade surface. Most have relied on rope access—basically non-powered rope descent equipment enabling the technician to descend the blade from the hub down, ground-based lift trucks or mobilizing cranes with a man-rated crane basket.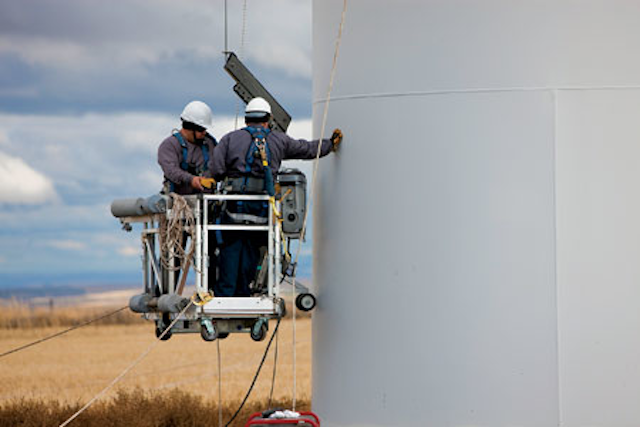 Rope access is costly, physically challenging work that fewer maintenance professionals can perform on a day-in, day-out basis. Limited tool and material loads, the solo nature of this work and not having the check and balance of a second technician for repair quality accountability are among this method's shortcoming.
Cranes offer huge payloads but are expensive to mobilize and operate. They can have long lead times at certain times of the year or in some parts of the country. Code considerations require workers in crane baskets who cannot control the basket positioning to communicate with the crane operator, among other requirements. Earlier this year, the International Crane Federation released a policy statement that cranes are not intended for lifting people. The International Powered Access Federation added its endorsement to this statement.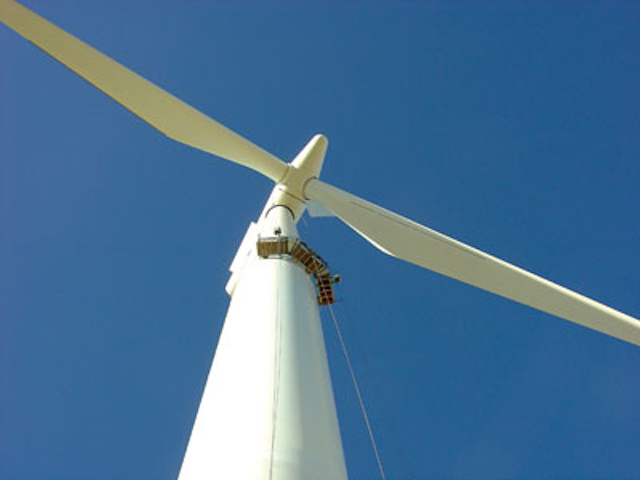 Lift trucks that position a single worker in a work basket mounted to a telescoping arm is another access method. These high-reach lift trucks are expensive to mobilize and operate. Except for the most extreme boom lengths, boom trucks are typically limited in their ability to access the entire blade.
Accessing the work is a challenge for wind turbine owners, operations and maintenance (O&M) and specialty contractors. Recently, the Occupational Health and Safety Administration (OSHA) identified wind turbine construction and maintenance for its National Emphasis Programs (NEP) to ensure safe working conditions in plants.
Spider, a provider of powered suspended access with a 65-year history of providing safe, reliable access for work at heights, has launched solutions for wind turbine maintenance—both tower and blade access. With powered suspended platforms, designed specifically for wind turbine access, Spider offers modular, simple and proven approaches that reduce cost and improve the productivity of wind turbine maintenance crews.

Combined with it's sister company, Power Climber Wind, which manufactures turbine service lifts and climb assist systems, Spider recognized the multitude of challenges related to O&M work on wind turbines.
Seeing the operations firsthand drove product design decisions to achieve better productivity, increased platform stability and smarter ergonomics. The core innovation Spider brings is the use of modular equipment to reduce the cost of transporting and mobilizing equipment.
Spider's modular equipment consists of a smaller platform, corner sections and accessories to easily reconfigure for universal scope of turbine access. The modular platforms can be configured as a 5-foot or 6.7-foot blade inspection platform, joined together with additional powered traction hoists and platform sections to make a radius platform for tower access work—as with the Tower Access Platform (TAP)—and ultimately into a rectangular platform to provide 360-degree access to the blade, as with the 360° Blade Access Platform (BAP), for larger scale blade repairs.
Using modular equipment, specifically platforms that break down into smaller components, offers significant savings. Moving equipment from one jobsite to another frequently involves crossing state lines. Using smaller vehicles means drivers are less likely to be subject to Department of Transportation (DOT) reporting requirements and won't need more expensive trailers.
Working at height from a stable, full 360-degree access platform drives productivity. Wind plants are built in windy locations. To keep this work at height from being a "moving" experience, Spider added stabilization systems to secure the platform to the blade surface and get a close fit to turbine tower surfaces. Reducing sway and keeping the workers solidly on the surface they are repairing greatly increases productivity.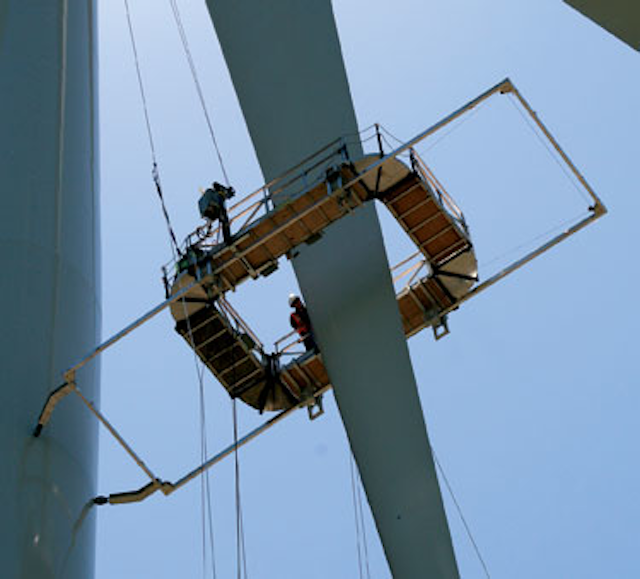 To make workers more productive and comfortable, the Spider design offers tool storage at waist height for less bending and squatting. Keeping platform decks clear of materials and tools also reduces trip hazards for a safer working space.
Stable, versatile, ergonomic and simple to operate, the Spider blade access platforms are operated by the blade technicians. Spider performs operator training to cover the key operating and safety features—but highly specialized training is not required.
Contractors recognize the innovative design Spider brought to the market. Jim Lankford, owner and president of Lankford Painting Co., said, "We love how modular the 360° BAP is. Our composite techs were very impressed with the speed in which it assembled on the ground. In just two hours we were able to assemble and rig, and, within eight minutes, we left the ground and were able to capture the blade. In my experience, no other access method—whether a crane, rope access or man lift—could have done the job quicker, more cost effectively and as safely."
More Utility Products Current Issue Articles
More Utility Products Archives Issue Articles