Back in Business
Restoration of utility services after storms is something we do well.
Nov 1st, 2011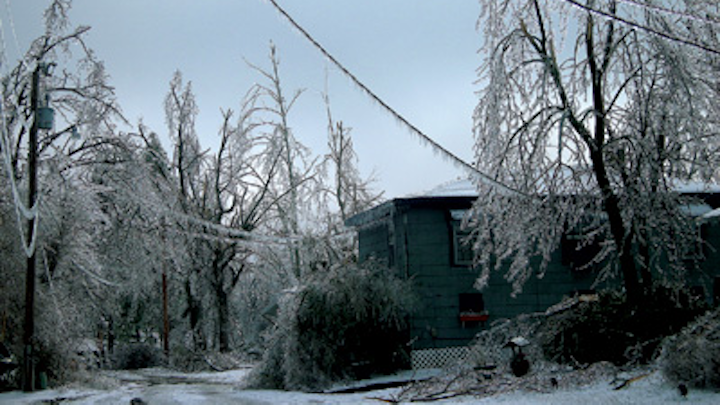 Restoration of utility services after storms is something we do well.
By Paul Hull
Whether you are in telecommunications or electric power, the way you restore your service after storms—or hurricanes, floods or any other catastrophe that nature occasionally brings—is something the vast majority of your customers applaud. No matter how much customers might complain about price increases or perceived faults in service, they always appreciate how quickly and efficiently utilities recover. A neighbor recently said how surprised he was that it took only an hour for his service to be restored after an outage. He was delighted, and his fingers again started pecking away at his computer's keyboard. That outage was not caused by a major storm, but, from the customer's perspective, it was still an outage.
Fast service restoration doesn't happen by chance. Utilities with the best storm restoration results will tell you they have it planned. They know what they are going to do if a storm occurs—they know who is in charge, they know where to ask for outside help and they know what the storm's side effects could be. Some of that knowledge comes from accurate weather forecasts, some comes from good communication within the community, and some relies on the experience and expertise of utility employees. There have been reports of non-utility people interfering with utility work when a storm gets widespread publicity; such interference seems to be politically motivated and should be discouraged and eliminated as quickly as possible. Utility workers know how to repair and restore utilities, just as firefighters know how to deal with fires and law enforcement officers know how to enforce the law. Interference based on imagined rank superiority in a community does not help in storm restoration. Fortunately, such hampering of the utilities' best efforts is the exception rather than the rule.
Some of the success for utilities and their communities comes from planning that addresses problems other than the obvious. If a storm brings down power lines, the obvious restoration is putting them up again. The less obvious problems are those that include provision for alternative administration office space, replacement of technologies affected and keeping employees at work. There are many items needed when power is lost—generators would be a good example. Knowing where to get generators should be part of a storm emergency plan; that might include having generators available on site as backup power—rather than knowing which local distributors might have some if and when you want them. For utilities and customers, local distributors can play a vital role in storm restoration.
Avoiding Future Problems
While there have been instances when the wrong people tried to become involved in storm responses, it would be wrong to think the problems belong only to the utilities involved. After Hurricane Irene went through much of New Jersey, Jersey Central Power & Light (JCP&L) and members of the New Jersey League of Municipalities held an emergency response summit to discuss steps to enhance communication, elect officials from the communities touched and decide on emergency responders if another similar, large-scale weather event should affect the state. The hurricane resulted in more than two-thirds of JCP&L's 1.1 million customers losing power and restoration efforts were severely hampered by the widespread nature of the damage, inaccessible roads, flooded substations and more than 20,000 wire-down hazards.
"JCP&L values the relationships we have established with all of our communities, and we recognize that the mayors require better information from us during these types of emergencies," said JCP&L's President Donald Lynch. "Our meeting provided valuable input that will help shape improvements in our communications efforts when power interruptions occur in the future."
Officials from 19 municipalities in northern New Jersey and 13 municipalities in central New Jersey participated in the summit meetings.
Emergency power is important to consider for storm aftermaths. On the Outer Banks of North Carolina, Cape Hatteras Electric Cooperative quickly energized lines to more than 85 percent of its members after Irene's intrusion. The emergency power was supported by a diesel plant in Buxton and temporary diesel generators. The transmission lines had been severely damaged on Highway 12 on Hatteras Island. An important point that utilities should emphasize to their customers is that power lines should always be regarded as energized and extremely dangerous, even if they appear to be harmlessly lying on the ground. In North Carolina, electric cooperatives serve more than 2.5 million people in 93 of the state's 100 counties, so don't imagine that everyone's electric power comes from a mega company with a high public profile.
Hurricane Irene caused a power outage to nearly 5 million people and made headlines for days, but we should be aware that before that hurricane and its trailing storms, more than 20 million people in the U.S. had already lost power in 2011. Our storm restoration capabilities should be helpful for any kind of outage, not only one caused by a storm. Of those earlier outages in 2011, less than 60 percent were caused by storms. The aging electrical grid, heat waves with the affiliated demands for power and what you could call "freak" events caused many of the 7,000 outages.
Portable generators can be among the most popular and practical helpmates for people with power outages after storms—and not just for residential customers. Portable generators can do more than most people realize. Generac Power Systems is one example of a company that supplies standby, stationary backup generators.
"Generac makes portable generators that can keep the power running during and after a storm," said Duane Nelson, vice president of marketing at Generac Power Systems. "What a lot of people don't know is that we also offer a permanent solution that eliminates the worry and inconvenience of a power outage."
The stationary backup generator connects to a home's existing natural gas or liquid propane fuel supply, automatically turns on after the electrical power goes out and provides power to the home until the electrical grid returns. Installing a stationary generator basically eliminates the risk of having spoiled food, a crashed computer or even a flooded basement.
Distributors and contractors often help during storm restoration, and they are prepared for such emergencies. Some are companies with multi-state capabilities, but your own local distributors might be good resources as long as you let them know in advance the kind of help you'll be looking for.
Possibly the most famous company in this area of expertise is Pike Electric Inc. Pike has the reputation for speed and efficiency in its many efforts to re-establish power with its power line construction services. The company claims that its linemen are usually the first to arrive and the last to leave in communities where damaged power systems need repair, at any time of year. Vaughn Industries, based in Carey, Ohio, is another respected company to turn to for storm restoration projects. Vaughn has a diversified workforce and equally diverse equipment that can handle all restoration problems—whether they are high voltage, low voltage, energized or de-energized. Vaughn has a history of successful assistance to utilities in all kinds of weather and on all types of terrain; the crews can work with overhead or underground repairs.
Stuart C. Irby Co., a supplier to more than 650 electric utilities across the U.S., reports: "We understand the utility industry from point of generation to the end user. We know the infrastructure and we know the technology. We also know the regulatory environment. And, we know how to help you succeed."
Stuart C. Irby has a 24-hour emergency response program that has proven its value many times over the years, making sure customers get the products and resources they need—when they need them most. With a network of strategically located branches, Stuart C. Irby can respond rapidly when storms strike.
Another experienced restoration company is Elliot. Its crews have provided emergency power restoration assistance when outages have been caused by ice and snowstorms, hurricanes, tornadoes and floods. Elliot has a large fleet of specialized power-line equipment that can be quickly mobilized. Utility companies, municipalities and electric cooperatives have relied on Elliot's expertise for more 60 years to provide fast, safe restoration services.
Those are four of the best-known companies that can help utilities—but don't ignore smaller, more local businesses. When you are planning your response to storm outages, consider including the expertise of your own local distributors and contractors.
More Utility Products Current Issue Articles
More Utility Products Archives Issue Articles