Always Clear
The temperature outside my office was -17 F when my utility called to say they would be trimming a cottonwood with a branch that was getting too close to their power line, the one that feeds the hospital, too. The trimming would not be done that day. The utility was preparing to clear all obstructions and potential obstructions for the year. That cottonwood has been trimmed before, not every year, but as necessary.
Apr 1st, 2011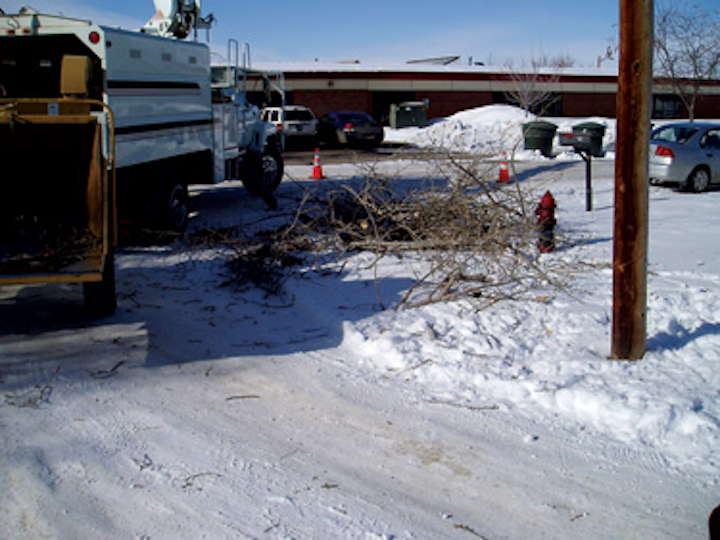 The Path for Power Must be Kept Free of Natural Intrusion
By Paul Hull
The temperature outside my office was -17 F when my utility called to say they would be trimming a cottonwood with a branch that was getting too close to their power line, the one that feeds the hospital, too. The trimming would not be done that day. The utility was preparing to clear all obstructions and potential obstructions for the year. That cottonwood has been trimmed before, not every year, but as necessary.
There are definite rules about how close a tree can approach power lines; it's 8 feet for my existing trees, but I suggested the utility do more. It varies from one place to another, and rules for new construction show good judgment and safety for future situations. For Crawford Electric Cooperative in Bourbon, Mo., one of more than 600 cooperatives in some 45 states that provide power and energy for more than 22 million customers, new construction right of way (ROW) should have the corridor cleared to a minimum of 15 feet on each side of the proposed primary line circuits for a total cleared width of at least 30 feet. All the trees trimmed at the edges of the ROW should be trimmed vertically from ground to sky, with no overhanging limbs in the right of way corridor. Newly cleared ROW must be inspected and approved by the cooperative before line construction commences. Crawford Electric Cooperative provides an excellent note and drawing to describe the requirements.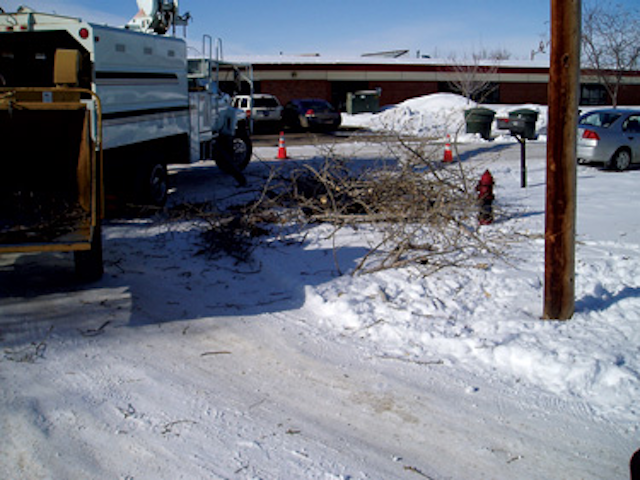 Around town, the disposal of brush is seldom difficult. In remote places, mulching can be a solution.
People don't grow their trees and shrubs too close to the power lines on purpose. Who knows how a tree will grow? When we talk about ROW clearance we tend to think of acres of vegetation up in the hills or somewhere over there, but many of the growing dangers to lines are in the city on a much-used street, along an alley, behind a building and even in a yard. The consolation for utilities is that there is equipment available that can handle all the intrusive branches. I have noticed that many residents will cut back branches that are accessible from the ground or from a standard household ladder, but they do not have the equipment necessary to reach those branches at the top of the trees. Many people, in fact, might not even notice the overhanging branches because they are so accustomed to the trees and power lines. Familiarity can breed contempt in this aspect of utility work. The worst situation would be the postponement of needed clearance, for utility and customer.
Resources for Handling ROW Clearance
Some utilities use their own employees to trim trees, others use outside help. It seems the decision is made according to the difficulty of the job or the skill of the work crews. For my cottonwood, the utility uses an expert contractor from 100 miles away. Why?
"His crew can do in one day what our crew would take three to accomplish," advised a friend who is an executive at the utility. "His work is consistently excellent and fast. And he never leaves a mess."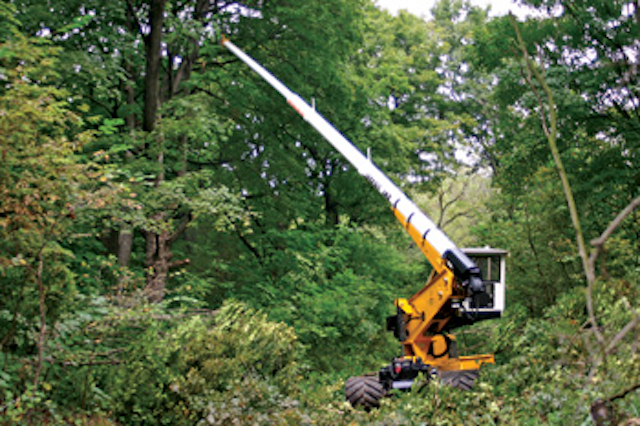 To reach high and awkward places, Jarraff's trimmers have done well.
There are several companies nationwide that handle ROW clearance as part of their normal work; they have the required equipment and the experienced personnel. Townsend Corp., headquartered in Parker City, Ind., is a leader in ROW clearance. The company was founded in 1945 and now has a workforce in 20 states and owns NG Gilbert as its electrical construction division. Like many tree service companies, Townsend also provides tree service for the aftermath of storms. It was a prime responder when Hurricane Katrina struck the Gulf Coast, and 700 representatives from the company provided critical services in the cleanup. Experience–and the ensuing speed in accomplished work–is what companies such as Townsend provide. They have experience in mechanical vegetation clearance–and herbicide application, if necessary.
Lucas Tree Experts was started in 1926, in Portland, Maine. Today, the company uses a wide range of techniques and equipment to provide efficient, cost-effective power line clearance services throughout the U.S. and Canada. Lucas Tree Experts' crews have hand-held computers to record productivity and transmit time. The company's equipment has global positioning system (GPS) telematic units with the customers' geographic information system (GIS) pole information to guide crews, provide electronic work orders and track equipment maintenance. Such tools, along with a well-balanced, supervisor-to-worker ratio in the crews, are reasons why utilities call on the experience and efficiency of contracting companies such as Lucas Tree Experts. Among the job-specific equipment in Lucas Tree Experts' control for reaching tall trees and awkwardly placed poles are specialized units from Feller Bunchers, Harvesters and Skidders, Bronto Mowers and Jarraff. An aspect of Lucas Tree Experts that particularly appeals to me is its expertise not only in trimming trees but also in growing them with a team of qualified arborists.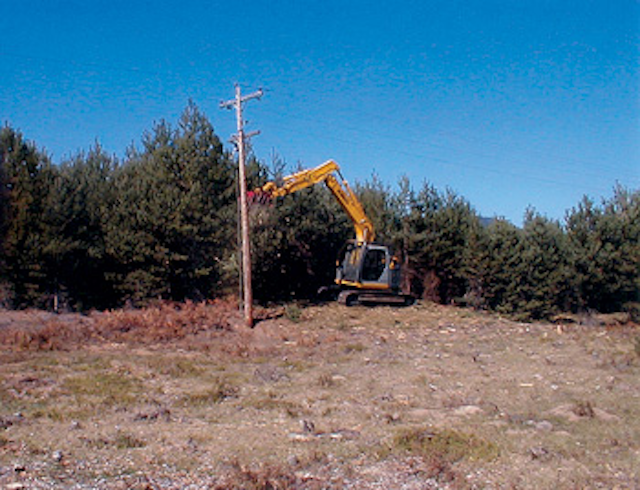 A Fecon attachment cuts and mulches its way in a remote area of Idaho.
More Than Cutting
If you have ever had a tall tree trimmed in your yard, you know how much brush and branches are produced by the cutting. In most towns it's not difficult for the utility to haul away the waste to a local, approved site. But, many miles of ROW are remote–very remote. In northwest Idaho the conifers outnumber the people by a large margin. It is difficult to get equipment and crews to locations where ROW maintenance is required. Imagine trying to economically haul away the waste! D J Eich Timber Service does ROW clearing for Northern Lights Inc., Kutenai Electric Cooperative and others. The company has found a reliable ally in a mulching attachment.
Most of D J Eich Timber Service's projects are maintenance projects, clearing swaths 30 feet wide for mile after mile; one job covered 23 miles between two state highways. The mulcher it used, and is still using after 17,000 work hours, is a BH74 mulching attachment from Fecon. Originally, about a decade ago, the mulcher was installed on a Kobelco short radius excavator for the ROW clearing. The excavator had plenty of hydraulic capacity to power the mulcher head through various stands of pines, other trees and brush.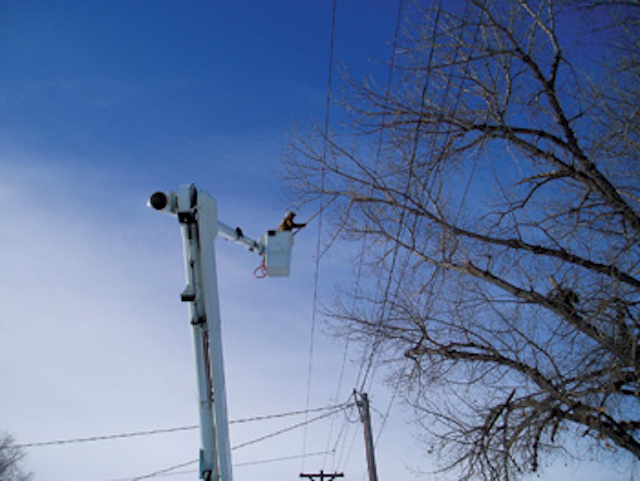 This contractor is trimming a tree that is encroaching on the space of power going across the street to the hospital.
After the power company crews have topped the trees to ensure all limbs are clear of the power lines, D J Eich Timber Service goes to work. The mulcher can fell standing trees and the crews then walk it through the downed trees to leave a carpet of mulch, which provides erosion control. What was once nuisance vegetation, threatening to interrupt power delivery to the residents of the inland Pacific Northwest, is reduced to a mulch that is worked into the soil where it decomposes.
When Access is Difficult
If a worker with a chain saw can reach the treetops easily and safely there are rarely problems, but intrusive growth is seldom that helpful. For the hardest-to-reach areas of ROW maintenance, nothing has earned more praise than the Jarraff All-Terrain Tree Trimmer. It can be wheeled or tracked. It is self-contained and takes little time to set up, so smaller crews can do more in less time. And, because the workers never have to leave the ground, it adds safety to every project.
"The Jarraff can travel in the most difficult and challenging terrain," said Heidi Boyum, president and CEO of Jarraff Industries. "It has two engine options: a turbo-charged, 97-hp, air cooled Deutz diesel engine or a Tier III, 130-hp Cummins diesel." The 24-inch diameter carbide tip saw blade operates up to 3,200 rpm, while the telescopic boom extends up to 75 feet with a 90-degree range of motion and a 40-degree lateral tilt.
"While the cab of the Jarraff offers a dynamic operational range, it is also ergonomically designed to reduce noise and vibration, providing the operator a safer and more comfortable working environment," Boyum said. "Within the last several years, and after extensive testing, the cab of the Jarraff has received Rollover Protective Structure (ROPS), Falling Object Protective Structure (FOPS), operations security and operator restraint certifications for all International Organization for Standardization (ISO) and Society of Automotive Engineers (SAE) standards. That's an industry first for self-contained, all-terrain tree trimmers."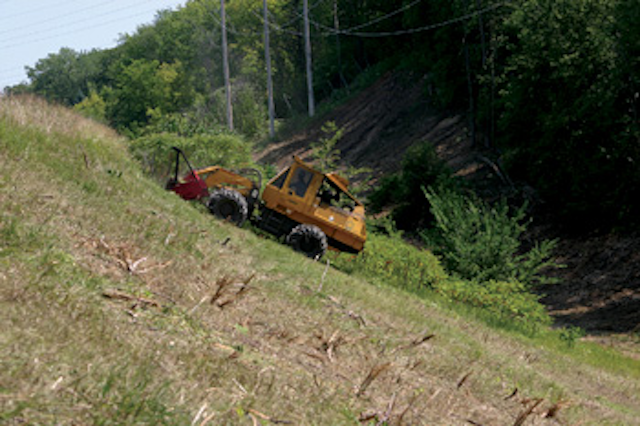 The Geo-Boy from Jarraff can clear an impressive right of way.
Lack of equipment is not an excuse for inferior ROW maintenance today. If one aspect of this essential work for utilities is emphasized repeatedly by customers and utilities, it must be safety. You can get the right equipment. Equally important is that you get the right people to run it, and that might often mean hiring a contractor who specializes in tree trimming. Yes, anyone can go up in a bucket with a chain saw, but experienced utility professionals will stress that it takes more than willingness to do the trimming efficiently, quickly and safely.
More Utility Products Current Issue Articles
More Utility Products Archives Issue Articles